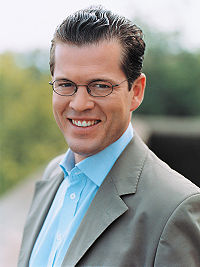 Karl-Theodor zu Guttenberg
Karl-Theodor zu Guttenberg got into some trouble for apparently plagiarizing part of his doctoral thesis:
Los Angeles Times –
BERLIN, Feb 25 (Reuters) – The popularity of Chancellor Angela Merkel's ally, Defence Minister Karl-Theodor zu Guttenberg, fell after he admitted to flaws in his doctorate that is the focus of a plagiarism row, a poll found on Friday.
Karl-Theodor zu Guttenberg loses Dr title after he admits making serious errors by submitting unoriginal work for university thesis…

"I did not deliberately cheat, but made serious errors," said Guttenberg to loud jeers in the chamber.
FWIW, I have believed for some time that Karl Guttenberg could fall out of favor.  Actually this is the second time in the past year  (he had problems related to Afghanistan in 2010.  In my paper, Might German Baron Karl-Theodor zu Guttenberg become the King of the North?, I have long had the following:
…the Baron is not always popular, and he may become unpopular for a time.
While Herr Guttenberg is down, currently he is not out:
The Teflon minister

24 Feb 2011

HE IS married to a Bismarck, wears bespoke suits and pays photogenic visits to the troops in Afghanistan. He even held a doctorate. Karl-Theodor zu Guttenberg, Germany's defence minister, is without doubt the country's coolest politician. But as of February 23rd he is a doctor no longer. He renounced the title days after the discovery that much of his 2006 doctoral thesis was copied from other sources without proper attribution…

His powers of survival seem preternatural…Mr zu Guttenberg's allies envy his popularity, but they need him. His charisma has lifted the sagging poll ratings of his Christian Social Union (CSU), the Bavarian branch of Mrs Merkel's Christian Democratic Union…

According to a poll, nearly three-quarters want Mr zu Guttenberg to stay in office.
And it is possible that he could end up out of the limelight, or even out of a political office, for a while.   We will see.
As regular readers of this page are aware, I have had my eye on Karl Guttenberg since late 2009 when I initially reported about him. And he may be one to watch to rise up as the final "King of the North".  We in the Living Church of God have long taught that a powerful army led by a "strongman" would ultimately arise in Europe. And this will be fulfilled by a single leader, known as the Beast in Revelation 13 & 17 and the final King of the North in Daniel 11. The Bible shows that the other leaders in Europe will give their power to him (Revelation 17:12-14) and that he will lead a military machine that will cause the rest of the world to marvel at (Revelation 13:3-4).
The Living Church of God reported the following related to the Baron:
…German Defense Minister Karl-Theodor zu Guttenberg urged Germany to "be prepared to use its military to defend the country's economic interests." Baron Guttenberg noted that the competing demands of nations today for raw materials made it imperative that Germany—a nation whose export-driven economy is heavily dependent upon imported raw materials—should be prepared to use its military forces to secure trade routes for raw materials and exported goods. While his political opponents were quick to challenge these strong statements as contrary to the German constitution, the Defense Minister saw his position as only logical (Der Spiegel, November 10, 2010). Bible prophecies have long foretold the re-emergence of Germany (modern Assyria) as a major player on the world scene (see Isaiah 10:5-14). The words and actions of this popular German Defense Minister, who is also a lawyer and of Habsburg lineage, will be interesting to watch. (World Ahead Weekly Update, Living Church of God, November 18, 2010).
And the Baron is certainly one to watch, as he is obviously inclined to be a warrior. He has made several interesting military statements.
As I wrote before, if Karl-Theodor zu Guttenberg is part of a major Middle East peace deal, if he establishes armies (or a great army), and if he establishes something like a new religious order within his version of the "Catholic" faith, he likely will get more people's attention–and even more of mine.
On the other hand, Karl-Theodor zu Guttenberg could simply be a rising politician, like many others. And all his intentions could be fine. We will see.
Much is happening in the world, and a leader known as the final King of the North (or Beast) in Bible prophecy, will ultimately become the leader of Europe. And according to the Bible, he will have military abilities (Revelation 13:1-4) and apparently be charismatic (cf. Daniel 7:20,11:21-24,31; Revelation 13:3-5).  Karl Guttenberg fulfills these requirements.  Is he, despite this current setback, going to be the one?
Watch (cf. Mark 13:37).
Some articles of possibly related interest may include:
Europa, the Beast, and Revelation Where did Europe get its name? What might Europe have to do with the Book of Revelation? What about "the Beast"?
Who is the King of the North? Is there one? Do biblical and Roman Catholic prophecies point to the same leader? Should he be followed? Who will be the King of the North discussed in Daniel 11? Is a nuclear attack prophesied to happen to the English-speaking peoples of the United States, Great Britain, Canada, Australia, and New Zealand? When do the 1335 days, 1290 days, and 1260 days (the time, times, and half a time) of Daniel 12 begin? What MUST happen BEFORE the Great Tribulation?
Might German Baron Karl-Theodor zu Guttenberg become the King of the North? Is the German Defense Minister one to watch? What do Catholic, Byzantine, and biblical prophecies suggest?