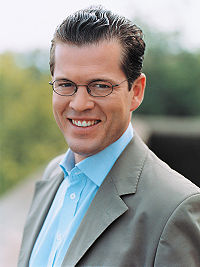 Karl-Theodor zu Guttenberg
Karl-Theodor zu Guttenberg has resigned as German Defense Minister:
Berlin – German Defence Minister Karl-Theodor zu Guttenberg's resignation Tuesday was a dramatic fall from grace for one of the rising stars of the nation's political stage.

Regularly voted the country's most popular politician, the 39-year-old baron was forced to quit Chancellor Angela Merkel's cabinet amid a deepening political row triggered by allegations that he had plagiarised part of his doctorate thesis.  http://www.monstersandcritics.com/news/europe/news/article_1622843.php/PROFILE-Guttenberg-from-chancellor-hopeful-to-Dr-Googleberg

Mr. zu Guttenberg said at the defense ministry that submitting his resignation to Chancellor Angela Merkel was "the most difficult step of my life," but that outrage from academics and opposition lawmakers had overshadowed his ability to fulfill the duties of his office effectively…Overall support for Mr. zu Guttenberg, a Bavarian baron who was featured with his attractive, young family on newspapers' society pages as often as he made political headlines, has remained strong even since the plagiarism allegations surfaced two weeks ago.  http://online.wsj.com/article/SB10001424052748704506004576173970765020528.html
So, despite having retained much of his popularity, the Baron has resigned in a manner that may allow him to rise up again.  Karl-Theodor zu Guttenberg may end up getting involved, perhaps behind the scenes, in defense and peace matters (cf. Daniel 9:26-27) and other matters involving Germany and the EU.
As I recently reported about the plagiarism issue (see Guttenberg Down, But Not Out), I have believed for some time that Karl Guttenberg could fall out of favor.  In my paper, Might German Baron Karl-Theodor zu Guttenberg become the King of the North?, I have long had the following statement:
…the Baron is not always popular, and he may become unpopular for a time.
On a possibly related note, the Eastern Orthodox have long had a prophecy that I have wondered if it might apply to the Baron:
Anonymou Paraphrasis (10th century): The one true King, who is inhabiting a humid place to avoid the heat; whom men have expulsed from his own dwelling and gave a place to live in the islands; who is engaged in navigation and fishing every week; (this King): will be revealed when the time of the power of the Ishmaelites comes to an end. (Tzima Otto H.  The Great Monarch and WWIII in Orthodox, Roman Catholic, and Scriptural Prophecies. Verenika Press, Rock City (SC), 2000,, p. 30)
So, we will see if the Baron goes to the islands and perhaps goes fishing and/or gets involved with some type of navigation.
The Catholics of Rome have also had a prophecy that I have wondered if it might apply to Herr Guttenberg:
Josefa von Bourg (d. 1807): God will choose a descendant of Constantine, Pepin, and St. Louis, who has been tried by a long period of exile to rule over Europe. He will have the sign of the cross on his breast…Under him the Catholic religion will spread as never before (Culleton, The Prophets and Our Times, pp. 181-182; Connor, p.37).
So, it is possible that the leader that many Roman and Eastern Orthodox Catholics expect (as the ""Great Monarch/King" who sounds a lot like the biblical King of the North of Daniel 11 or Beast of Revelation 13) will have period of unpopularity before rising up.  Whether or not either of these are accurate or may apply to Karl-Theodor zu Guttenberg remains to be seen.
As regular readers of this page are aware, I have had my eye on Karl Guttenberg since late 2009 when I initially reported about him. And he may be one to watch to rise up as the final "King of the North".   We in the Living Church of God have long taught that a powerful army led by a "strongman" would ultimately arise in Europe. And this will be fulfilled by a single leader, known as the Beast in Revelation 13 & 17 and the final King of the North in Daniel 11. The Bible shows that the other leaders in Europe will give their power to him (Revelation 17:12-14) and that he will lead a military machine that will cause the rest of the world to marvel at (Revelation 13:3-4).
On the other hand, Karl-Theodor zu Guttenberg could simply be a normal politician, with ups and downs like many others.  We will see.
Much is happening in the world, and a leader known as the final King of the North (or Beast) in Bible prophecy, will ultimately become the leader of Europe. And according to the Bible, he will have military abilities (Revelation 13:1-4) and apparently be charismatic (cf. Daniel 7:20,11:21-24,31; Revelation 13:3-5). Karl Guttenberg fulfills these requirements. Is he, despite this current setback, going to be the one?
We all should watch (cf. Mark 13:37).
Some articles of possibly related interest may include:
Europa, the Beast, and Revelation Where did Europe get its name? What might Europe have to do with the Book of Revelation? What about "the Beast"?
Who is the King of the North? Is there one? Do biblical and Roman Catholic prophecies point to the same leader? Should he be followed? Who will be the King of the North discussed in Daniel 11? Is a nuclear attack prophesied to happen to the English-speaking peoples of the United States, Great Britain, Canada, Australia, and New Zealand? When do the 1335 days, 1290 days, and 1260 days (the time, times, and half a time) of Daniel 12 begin? What MUST happen BEFORE the Great Tribulation?
Might German Baron Karl-Theodor zu Guttenberg become the King of the North? Is the German Defense Minister one to watch? What do Catholic, Byzantine, and biblical prophecies suggest?