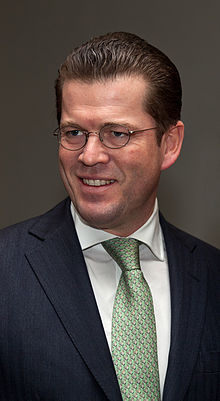 Karl-Theodor zu Guttenberg
Many in the German press have called what Karl zu Guttenberg has been doing lately a failed comeback.  Here is an interview that he was discussed in:
German Finance Minister Wolfgang Schäuble…talks about…the failed comeback of former Defense Minister Karl-Theodor zu Guttenberg…
SPIEGEL: When you recently congratulated (former Defense Minister) Karl-Theodor zu Guttenberg on his 40th birthday, you added that if he were from (the southwestern German region of) Swabia, he would now become clever. Wasn't that a nasty thing to say?

Schäuble: There's a Swabian saying that goes: "You become clever when you turn 40." You can interpret that in any way you want.

SPIEGEL: Did Guttenberg handle his attempt at a comeback cleverly?

Schäuble: I assume you're asking a purely rhetorical question. I feel bad for him. I knew and liked his father, a conductor, and I saw a lot of potential in Karl-Theodor. It would be best for him to take a little break. (12/19/2011 http://www.spiegel.de/international/germany/0,1518,804592,00.html)
It should be pointed out that Baron Guttenberg said himself that his recent acceptance of an advisory role in the EU was not yet his political comeback:
"This is not a political comeback. I went to the U.S. and I do not plan to return in the next few weeks or months" (see Guttenberg Appointed Advisor to EU Commission).
But he has been criticized and essentially been rejected by the press at this time.
Notice that the problems Karl zu Guttenberg is having seem consistent with Daniel 11:21. Here are three translations of that:
21 And there shall stand up in his place one despised, and the kingly honour shall not be given him: and he shall come privately, and shall obtain the kingdom by fraud. (Daniel 11:21, Douay-Rheims)

21 "'His place will be taken by a reject, a man spurned and passed over for advancement. He'll surprise everyone, seemingly coming out of nowhere, and will seize the kingdom. (Daniel 11:21 from THE MESSAGE: The Bible in Contemporary Language © 2002 by Eugene H. Peterson. All rights reserved.)

21 And in his place shall stand up a contemptible person, to whom they had not given the honor of the kingdom: but he shall come in time of security, and shall obtain the kingdom by flatteries. (Daniel 11:21, ASV)
Interestingly, the Baron was considered to have had a major chance to become Chancellor of Germany before the plagiarism scandal. In a sense, he was "a man spurned and passed over for advancement" as THE MESSAGE version of Daniel 11:21 indicates.
Also interestingly, even though many have rejected, ridiculed, and despised him for plagiarism, after the Baron resigned, some have suggested that he should rise up again as Germany needs him:
"I hope that we keep him as a politician and see his return as soon as possible," Hans-Peter Uhl, the domestic affairs spokesperson of the conservative Union bloc in parliament, said in the Wednesday edition of the daily Mitteldeutsche Zeitung…

Peter Altmaier, parliamentary chief of the Union bloc, also said he can imagine Guttenberg returning to politics in the foreseeable future.

According to political scientist Gerd Langguth from the University of Bonn, Guttenberg will not likely stay out of the public eye for long. He told the Wednesday edition of the Thüringer Allgemeine newspaper that he sees a comeback in about three years…Langguth said Guttenberg's "honorable statements" on Tuesday had made such a return feasible. (Talk begins about a Guttenberg comeback. The Local, 3 March 2011. http://www.thelocal.de/politics/20110302-33437.html)

Karl-Theodor zu Guttenberg, Germany's Defense Minister, resigned Tuesday amid pressures related to plagiarism in his doctoral dissertation. Apparently, more than 20% of his dissertation was copied without attribution. Mr. zu Guttenberg was one politician whom many Germans still trusted. The scandal has changed that view for many.

Mr. zu Guttenberg is considered by many as "Germany's most promising politician." Although Chancellor Merkel tried to protect him, his action of essentially "lying" in an academic setting is forcing people to question his integrity in other areas and responsibilities. Thousands of graduate students across Germany also wrote an open letter to Mrs. Merkel calling for zu Guttenberg to step down.

An article describing the scandal ended with the observation: "As for Mr. zu Guttenberg himself, it would be unwise to write him off. By stepping down now, he hopes to preserve much of the goodwill he has accumulated over the past few years. His resignation may be a prelude to resurrection rather than the end of a brilliant career" (The Economist, March 1, 2011).

Even though plagiarism appears to be a "minor" sin in relation to other horrendous abuses by public officials, it breaks the 8th and 9th commandments and results in consequences. Mr. zu Guttenberg may reemerge in politics in the future (and this bears watching), yet his actions and their ramifications reinforce the biblical principle, "be sure your sin will find you out" (Numbers 32:23). (TW News & Prophecy, LCG, March 4, 2011).

Could Karl-Theodor zu Guttenberg make a comeback? Perhaps if he does a stint in the European Parliament first, as some suggest. It is unlikely, however, that he could ever be chancellor—Germans do not take lightly to academic fraud. Guttenberg is still popular, however. There is a Facebook fan page entitled "Against Going After Karl-Theodor zu Guttenberg" which boasts more than 400,000 fans. (Alles (not) in Ordnung Weekly Standard, Washington DC – April 4, 2011 http://www.weeklystandard.com/blogs/alles-not-ordnung_556221.html)

According to a latest poll by German public television ARD, some 72 percent of respondents thought Guttenberg should make a comeback in the future. http://news.xinhuanet.com/english2010/world/2011-03/03/c_13758223.htm
It should be noted that both biblical and non-biblical prophecies suggest that a major European leader will be have problems before he rises up.
The final Beast, the final King of the North, will ultimately become the political leader of Europe. And according to the Bible, he will have military abilities (Revelation 13:1-4), have problems (Daniel 11:21-22), will be apparently be popular and charismatic (cf. Daniel 7:20,11:21-24,31; Revelation 13:3-5), and be able to attain economic control (Revelation 13:15-18).
Baron Guttenberg has displayed confirming characteristics.  And he was clever in stating that his current comeback, was not really his comeback as he seems to be biding his time.
He is one we all should watch (cf. Mark 13:37).
Some articles of possibly related interest may include:
Europa, the Beast, and Revelation Where did Europe get its name? What might Europe have to do with the Book of Revelation? What about "the Beast"?
Who is the King of the North? Is there one? Do biblical and Roman Catholic prophecies point to the same leader? Should he be followed? Who will be the King of the North discussed in Daniel 11? Is a nuclear attack prophesied to happen to the English-speaking peoples of the United States, Great Britain, Canada, Australia, and New Zealand? When do the 1335 days, 1290 days, and 1260 days (the time, times, and half a time) of Daniel 12 begin? What MUST happen BEFORE the Great Tribulation?
Might German Baron Karl-Theodor zu Guttenberg become the King of the North? Is the German Defense Minister one to watch? What do Catholic, Byzantine, and biblical prophecies suggest?
Anglo – America in Prophecy & the Lost Tribes of Israel Are the Americans, Canadians, British, Scottish, Welsh, Australians, Anglo (non-Dutch) Southern Africans, and New Zealanders descendants of Joseph? Where are the lost ten-tribes of Israel? Who are the lost tribes of Israel? What will happen to Jerusalem and the Jews in Israel? Will God punish the U.S.A., Canada, United Kingdom, and other Anglo nations? Why might God allow them to be punished first? How will Europeans be involved in this?
2012 and the Rise of the Secret Sect This is a link related to a book by Bob Thiel (COGwriter). This link also has YouTube videos. This book documents and explains hundreds of prophecies. And since it was published, world events have aligned with at least 18 predictions in the book and many more will to come to pass.
2012 und das Auftreten der geheimen Sekte (German Edition) 2012 Buch von Dr. Thiel in deutscher Sprache. 2012 und das Auftreten der geheimen Sekte (German Kindle Edition)