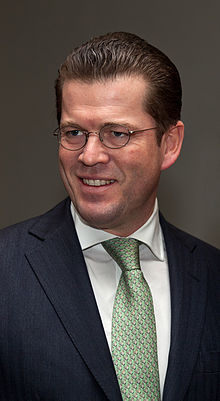 Karl-Theodor zu Guttenberg
Today's TW New & Prophecy from the Living Church of God has the following:
Guttenberg to Run for German Office in 2013?
In September 2011, Baron Karl-Theodor zu Guttenberg said he would leave Germany for the U.S. His decision stemmed from a plagiarism scandal that resulted in his resignation as German Defense Minister, and the stripping of his doctorate by his alma mater. His plan was to spend two years in the U.S. on a type of "sabbatical," in order to "rethink his political career" (Der Spiegel, September 6, 2011). Now fast-forward just four months… Herr Guttenberg appeared on the scene in Germany two weeks ago related to a technology project. This week's headlines ran, "Disgraced former Defence Minister Karl-T heodor zu Guttenberg is taking his first steps towards a political come-back, less than a year after his plagiarised doctorate forced him to resign." Guttenberg hasnow "agreed to meet [Christian Democratic Union] party officials in Bavaria to discuss his participation in the 2013 general election, Der Spiegel magazine reported on Sunday" (The Daily, January 8, 2012).
The Baron's star was on the rise until his fiasco several months ago. At the time, the German press was calling him "Germany's most popular and promising politician." It appears that his star may be on the rise again, perhaps in the near future (2013), as he could once again become "Germany's most popular and promising politician." Bible prophecies reveal that a charismatic and influential leader will one day head a European, German-led Beast power (Daniel 9:27; 11:21-23; Revelation 13:1-10). We need to keep our eyes on this up-and-coming political force.
As regular readers know, I have long had my eye on former German Defense Minister Baron Karl-Theodor zu Guttenberg as one to watch as a possible candidate to be the final King of the North of Daniel 11 and Beast of Revelation.
I have warned for some time that he would return to politics if he is the one.
His actions show that he is one we all should watch (cf. Mark 13:37).
Some articles of possibly related interest may include:
Europa, the Beast, and Revelation Where did Europe get its name? What might Europe have to do with the Book of Revelation? What about "the Beast"?
Who is the King of the North? Is there one? Do biblical and Roman Catholic prophecies point to the same leader? Should he be followed? Who will be the King of the North discussed in Daniel 11? Is a nuclear attack prophesied to happen to the English-speaking peoples of the United States, Great Britain, Canada, Australia, and New Zealand? When do the 1335 days, 1290 days, and 1260 days (the time, times, and half a time) of Daniel 12 begin? What MUST happen BEFORE the Great Tribulation?
Might German Baron Karl-Theodor zu Guttenberg become the King of the North? Is the German Defense Minister one to watch? What do Catholic, Byzantine, and biblical prophecies suggest?
Anglo – America in Prophecy & the Lost Tribes of Israel Are the Americans, Canadians, British, Scottish, Welsh, Australians, Anglo (non-Dutch) Southern Africans, and New Zealanders descendants of Joseph? Where are the lost ten-tribes of Israel? Who are the lost tribes of Israel? What will happen to Jerusalem and the Jews in Israel? Will God punish the U.S.A., Canada, United Kingdom, and other Anglo nations? Why might God allow them to be punished first? How will Europeans be involved in this?
2012 and the Rise of the Secret Sect This is a link related to a book by Bob Thiel (COGwriter). This link also has YouTube videos. This book documents and explains hundreds of prophecies. And since it was published, world events have aligned with at least 18 predictions in the book and many more will to come to pass.
2012 und das Auftreten der geheimen Sekte (German Edition) 2012 Buch von Dr. Thiel in deutscher Sprache. 2012 und das Auftreten der geheimen Sekte (German Kindle Edition)