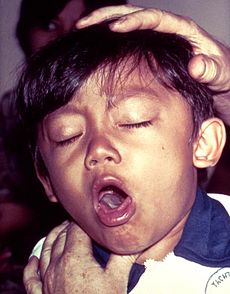 The flu has spread to at least 47 states in the USA:
The U.S. Centers for Disease Control and Prevention says the worst influenza epidemic in the United States in a decade might be easing in some places.The CDC flu advisory report released Friday finds widespread outbreaks in 47 states, up from 41 last week…

oseph Bresee, who heads the CDC's Influenza Division, said Friday that the vaccine developed to combat the most prevalent strains of flu is "62 percent effective." That means that almost four in 10 people who get the vaccine and are exposed to the virus will still become infected. Bresee says the vaccine's performance is on par with other recent vaccines…

.

The mayor of Boston declared a public health emergency Wednesday, with 10 times more cases reported compared to last year in the northeastern U.S. city.U.S. health authorities say the flu arrived a month earlier than usual this year, in November, and the most prevalent flu strain – H3N2 – has a reputation for causing fairly severe illness, especially in the elderly.

http://www.voanews.com/content/us_flu_season_hits_47_states/1582324.html
While various forms of the flu hit pretty much every years, infections are part of the pestilences that the Bible warned about for the end times. Jesus taught:
7…And there will be famines, pestilences, and earthquakes in various places. 8 All these are the beginning of sorrows. (Matthew 24:6-8)
We seem to be in the time Jesus called "the beginning of sorrows". There have been "earthquakes in various places" this past year. There are some famines and they may increase soon. Candida, other fungi, bacteria, and viruses are not the only pestilences starting to rise up either.
As Jesus said:
37 And what I say to you, I say to all: Watch! (Mark 13:36-37)
Three articles of related interest may include:
Anglo – America in Prophecy & the Lost Tribes of Israel Are the Americans, Canadians, British, Scottish, Welsh, Australians, Anglo-Southern Africans, and New Zealanders descendants of Joseph? Where are the lost ten-tribes of Israel? Who are the lost tribes of Israel? Will God punish the U.S.A., Canada, United Kingdom, and other Anglo nations? Why might God allow them to be punished first?
Can the Great Tribulation Begin in 2013 or 2014? Can the Great Tribulation begin today? When is the earliest that the Great Tribulation can begin? What happens in the "beginning of sorrows"? What is the Day of the Lord?
Fourth Horseman of the Apocalypse What is the pale horse of death and pestilence? What will it bring and when?