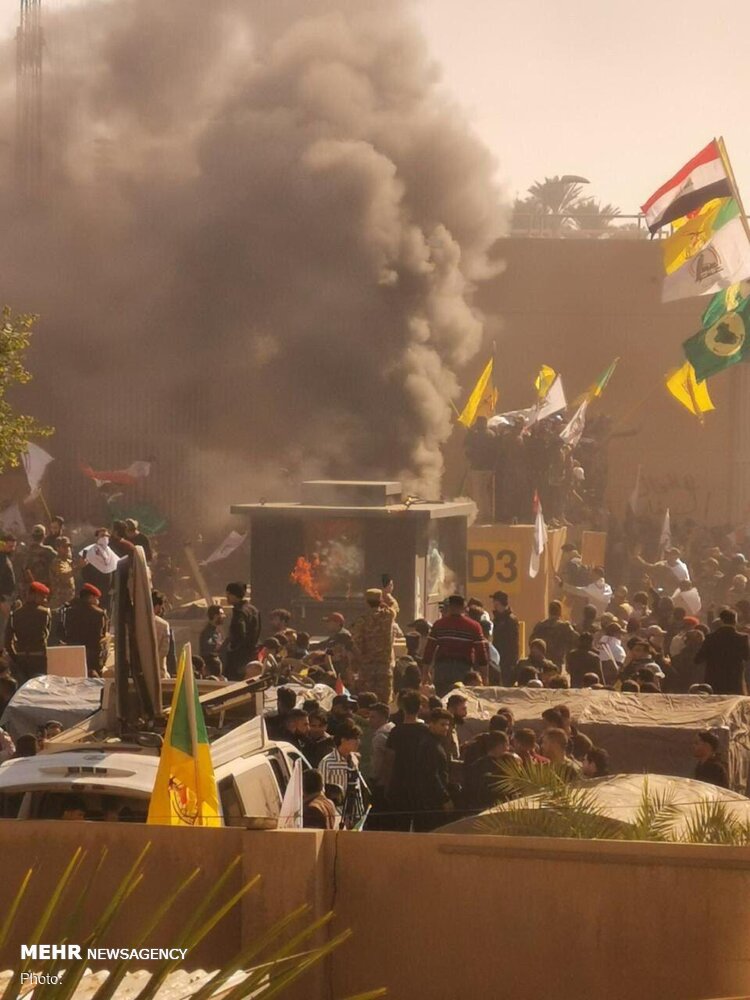 Here are some views about the situation between the US and Iran:
Iran Will Respond: Here Are Some Thoughts On "How"

January 3, 2020

In one line: Iran will respond; the how and when is uncertain but full-scale war is unlikely.

It's hard to overstate the geopolitical importance of Friday's assassination of Qassim Soleimani, architect of Iran's external military activity for more than 20 years and perhaps the most powerful man in the country after the Supreme Leader. …

Our base case here is that a full-blown war between the U.S. and Iran is unlikely, though we appreciate the old adage that nothing brings a country together more effectively than an external threat, and Iran's government right now is extremely unpopular.  Sanctions imposed by the U.S. have crushed the economy and driven up inflation, triggering protests last month in which several hundred protesters were killed by army and police.  It is reasonable to think, then, that the leadership will seek to use the assassination to divert attention from the grim economy.  But Iran's leaders probably aren't suicidal; we doubt they will take action that will trigger air strikes on Tehran.  The infrastructure of the oil sector, though, is a likely target in the event of tit-for-tat escalation.

Iran's military reach via proxies across the Middle East gives the leadership plenty of options, including retaliatory assassination attempts, kidnappings, bombings of U.S. government facilities, and attacks on shipping and other privately-owned U.S. entities.  Iran might also seek to draw Israel into a conflict via Hezbollah in Lebanon.  We can't rule out some sort of grand-scale attack, but an array of smaller-scale activity is our core bet.  The risk that something bigger will trigger a real war, however, likely will put a premium on oil prices for the next few months, at least.

Higher oil prices represent a tax on oil consumers and a windfall for producers.  …

The likely further weakening of the dollar, as capital heads to safer havens and the Fed continues its bill-buying program, will add to the case against easing domestic policy.

The wild card is whether turmoil in the Middle East triggers a sustained sell-off in equities, depressing business and consumer confidence to the point where labor market and inflation concerns become secondary. …

To repeat: Iran will respond. https://www.zerohedge.com/economics/iran-will-respond-here-are-some-thoughts-how
The above attack came after pro-Iranian protesters attacked the US Embassy in Iraq earlier this week (see 'Iraqi Protesters Attack US Embassy in Baghdad') and after Iran issued threats against the USA (see CNN: Iran warns of 'consequences' after US strikes in Iraq and Syria). The protests were sparked by an attack by the USA in response to an attack that killed an American contractor. "Sunday's US airstrikes against a pro-Iran group in Iraq … killed at least 25 fighters" (https://aawsat.com/english/home/article/2059876/zarif-lavrov-say-us-attacks-iraq-syria-unacceptable).

Well, yes, Iran will respond.
But Iran may end up responding in ways that have unexpected consequences for itself as well as the USA.
Ultimately, I expect that Iran, along with allies like Syria, will attack and damage Israel in accordance with Isaiah 22:8-10.
Ultimately, Iran and its allies will be defeated in accordance with Ezekiel 32:24-25.
That does not mean that the USA will not be impacted.
As I have written for many years (e.g. Thiel B. Iran Slams Russia. COGwriter, May 26, 2010), one day Iran will be at least neutralized.
Ezekiel 32:24-25 will be fulfilled.
Today, we made the following related video:
On December 27, 2019, Iranian-connected individuals were believed to have killed an American contractor. On Sunday, December 29, 2019, US President Donald Trump ordered a strike in Iraq that killed dozens of Iranian supporting Iraqis. The next two days there were protests at the US Embassy in Iraq. Then on January 2, 2020, US President authorized a drone strike that killed Iranian General Qasem Soleimani, a top commander of Iran's Islamic Revolutionary Guards Corps, the Baghdad International Airport. Could this be related to prophecies such as Ezekiel 32:24-25? What about Ezekiel 38? Is Iran (and allies like Syria) prophesied to attack Israel and cause damage to Jerusalem? Could Iran use EMP weapons and/or terrorism in retaliation against the US? Will Iran one day be neutralized? Will Ezekiel 32 be completely fulfilled in the future? Dr. Thiel addresses these issues and more.
Here is a link to our video: Is Donald Trump fulfilling Ezekiel 32 related to Iran?
The USA, despite its military strength, is vulnerable to being hurt by EMP weapons as well as nuclear weapons, chemical weapons, dirty bombs, terrorism, and biological weapons that Iran and/or its ally Syria possess. It has been shown in a test that EMPs can basically work as advertised, and this may give the Iranians more reason to look further into using them if they feel pressed.
Even if the USA is not directly affected, tensions with Iran could very well result in a regional conflict in the Middle East that will bring about the 'peace deal' of Daniel 9:27 (see also The 'Peace Deal' of Daniel 9:27). But since peace deals normally come after war, a significant regional conflict may well happen first.
Yet, while Iran can harm Israel, and even the USA, it simply is not in a military position to defeat the USA or take over the lead of the Islamic world.
Some items of possibly-related interest may include:
Iran in Prophecy Is Iran in Bible prophecy? If so, what does the Bible teach? What names, other than Persia, may be used to describe Iran? There is also a YouTube video titled Iran In Prophecy.
Iraq, the King of the South, Armageddon, and Prophecy What will happen to Iraq? Is it the prophesied Mystery Babylon? What is Armageddon and how does that have to do with Iraq? Here is a related video Iraq, Armageddon, & Prophecy.
Damascus and Syria in Prophecy Will Bashar Assad hold power as he has it? Does the Bible show that Damascus, the capital of Syria, will be destroyed? What will happen to Syria? Will the Syrians support the final King of the South that the Bible tells will rise up? Which scriptures discuss the rise and fall of an Arabic confederation? Does Islamic prophecy predict the destruction of Syria.
Electrical End of the USA? Could problems with the electrical power grid caused by one or more electro-magnetic pulse bombs, solar flares, and/or other phenomena help weaken the USA to the point of allowing it to be taken over? Does such potential exist? If so, is this consistent with any biblical prophecies? What are some of the severe consequences that the USA would face in the event of a electrical power grid failure? Is there evidence in scripture that the USA will be taken over in the 21st century? This is a video.
Is the Future King of the South Rising Up? Some no longer believe there needs to be a future King of the South. Might Egypt, Islam, Iran, Arabs, or Ethiopia be involved? Might this King be called the Mahdi or Caliph? What does the Bible say? A YouTube video of related interest may be: The Future King of the South is Rising.
The Muslim Brotherhood and the Rise of the King of the South The Bible tells of the formation of a power of nations that are in the Middle East and North Africa that are part of the final "King of the South" (Daniel 11:40-43) The Muslim Brotherhood wishes to have an Islamic empire with basically the same nations. This YouTube video explains what to expect from such a confederation.
Why Terrorism? Is Terrorism Prophesied? What does the Bible teach? Which nations may be affected? Here is a link to a related sermon: Terrorism, Christianity, and Islam.
The Arab and Islamic World In the Bible, History, and Prophecy The Bible discusses the origins of the Arab world and discusses the Middle East in prophecy. What is ahead for the Middle East and those who follow Islam? What about the Imam Mahdi? What lies ahead for Turkey, Iran, and the other non-Arabic Muslims? An item of possibly related interest in the Spanish language would be: Líderes iraníes condenan la hipocresía de Occidente y declaran que ahora es tiempo para prepararse para el Armagedón, la guerra, y el Imán Mahdi.
The Prophesied 'Islamic' Confederation Where is an Islamic caliphate prophesied? Will one happen? Should you be concerned about it? A related video is Will an Arabic Calphiphate Destroy the West?
The 'Peace Deal' of Daniel 9:27 This prophecy could give up to 3 1/2 years advance notice of the coming Great Tribulation. Will most ignore or misunderstand its fulfillment? Here is a link to a related sermon video Daniel 9:27 and the Start of the Great Tribulation.
How Will Middle East Peace be Brought About? Can humans bring peace to the Middle East? Here is a link to a related video: Middle East Peace? When?
Does God Have a 6,000 Year Plan? What Year Does the 6,000 Years End? Was a 6000 year time allowed for humans to rule followed by a literal thousand year reign of Christ on Earth taught by the early Christians? Does God have 7,000 year plan? What year may the six thousand years of human rule end? When will Jesus return? 2027 or 20xx? There is also a video titled 6000 Years: When will God's Kingdom Come? Here is a link to the article in Spanish: ¿Tiene Dios un plan de 6,000 años?
When Will the Great Tribulation Begin? 2020, 2021, or 2022? Can the Great Tribulation begin today? What happens before the Great Tribulation in the "beginning of sorrows"? What happens in the Great Tribulation and the Day of the Lord? Is this the time of the Gentiles? When is the earliest that the Great Tribulation can begin? What is the Day of the Lord? Who are the 144,000? Here is a version of the article in the Spanish language: ¿Puede comenzar la Gran Tribulación en 2018 o 2019? ¿Es el Tiempo de los Gentiles? You can also see the English language sermon videos: The Great Tribulation from the Mount of Olives and Can the Great Tribulation begin before 2020? A shorter and newer video is: Could the Great Tribulation Begin in 2020?
The Times of the Gentiles Has there been more than one time of the Gentiles? Are we in it now or in the time of Anglo-America? What will the final time of the Gentiles be like? A related sermon is available and is titled: The Times of the Gentiles.
Armageddon Who is involved and when will this gathering happen? Here is also a video from Dr. Thiel, from Tel Megiddo in Israel: Armageddon. Other videos include: Armageddon Will it come on Trump's watch?, Iraq, Armageddon, & Prophecy, Freemasonry, Armageddon, and Rome, Is China paving roads to Armageddon?, and Jordan, Petra, and Armageddon.
Is Russia the King of the North? Some claim it is. But what does the Bible teach? Here is a link to a video, also titled Is Russia the King of the North?
Anglo – America in Prophecy & the Lost Tribes of Israel Are the Americans, Canadians, English, Scottish, Welsh, Australians, Anglo-Saxon (non-Dutch) Southern Africans, and New Zealanders descendants of Joseph? Where are the lost ten-tribes of Israel? Who are the lost tribes of Israel? What will happen to Jerusalem and the Jews in Israel? Will God punish the U.S.A., Canada, United Kingdom, and other Anglo-Saxon nations? Why might God allow them to be punished first? Here is a link to the Spanish version of this article: Anglo-América & las Tribus Perdidas de Israel. Information is also in the YouTube sermons titled Where are the Ten Lost Tribes? Why does it matter? and British are the Covenant People. A short YouTube of prophetic interest may be: Are Chinese threats against Australia for real?
Will the Anglo-Saxon Nations be Divided and Have People Taken as Slaves? Will the lands of the United States, United Kingdom, Canada, Australia, and New Zealand be divided? What about Jerusalem? What does Bible prophecy teach? Are there non-biblical prophecies that support this idea? Who will divide those lands? Who will end up with the lands and the people? Here is a link to a video titled Will the USA and other Anglo-nations be Divided and Their People Made Slaves? Here is a related item in the Spanish language ¿Serán divididas las naciones anglosajonas?
British are the Covenant People What do 'British' and 'Britain' mean in Hebrew? Are the descendants of the Anglo-Saxons people of the covenant? Does the British royal family connect to the throne of David? What does the Bible teach? What does history show us? Is there any DNA evidence related to British-Israelism? When did Christianity make it to the British Isles? Could Jeremiah have made it to the British Isles? What type of Christians made it to the British Isles? Did the last King of England believe in British Israelism?
Donald Trump in Prophecy Prophecy, Donald Trump? Are there prophecies that Donald Trump may fulfill? Are there any prophecies that he has already helped fulfill? Is a Donald Trump presidency proving to be apocalyptic? Two related videos are available: Donald: 'Trump of God' or Apocalyptic? and Donald Trump's Prophetic Presidency.
Trump Presidency Magic 8 Ball or Bible Prophecy? BBC reported that one might as well use a 'Magic Eight-Ball' to try to predict what will happen in the remaining time of Donald Trump's presidency. What is a 'Magic Eight-Ball'? Dr. Thiel not only explains that, but also briefly goes over 10 biblically-based warnings he wrote would happen if Donald Trump were elected that have already began to come to pass. He also goes over something he wrote back in 2008 that the Trump presidency is also helping lead to fulfillment. Should you trust Bible prophecy or not? Dr. Thiel says that Bible prophecy can be trusted, despite the view of skeptics and others that either overlook or despise the Bible. This is a video.
Donald Trump and America's Apocalypse This 188 page book is for people truly interested in prophecies related to Donald Trump and the United States, including learning about several that have already been fulfilled and those that will be fulfilled in the future. The physical book can be purchased at Amazon for $12.99 from the following link: Donald Trump and America's Apocalypse.
Donald Trump and America's Apocalypse-Kindle Edition This electronic version of the 188 page print edition is available for only US$3.99. And you do not need an actual Kindle device to read it. Why? Amazon will allow you to download it to almost any device: Please click HERE to download one of Amazon s Free Reader Apps. After you go to for your free Kindle reader and then go to Donald Trump and America's Apocalypse-Kindle Edition.
World War III: Steps in Progress Are there surprising actions going on now that are leading to WWIII? Might a nuclear attack be expected? Does the Bible promise protection to all or only some Christians? How can you be part of those that will be protected? A related video would be Is World War III About to Begin? Can You Escape?
Syria and the start of World War 3 On April 14, 2018, Syrians were awoken by the sounds of about 120 missiles/bombs sent against areas of their country. The United States of America, United Kingdom, and France launched this attack related to claims of chemical weapons use earlier that week. Will Syria's capital one day be destroyed as prophesied in Isaiah chapter 17? If so, could this be before the start of the Great Tribulation? Are there prophecies about Syrians and the UK and USA? Is this attack against Syria leading to WWIII between the USA/UK/France and Russia/Syria/Iran? Is there an Arabic power that will rise up and be destroyed before the Great Tribulation as Tim McHyde has written related to Psalm 83? Is Ezekiel 38/39 about to be fulfilled? Who is the biblical King of the North and the biblical King of the South? Will the Beast power destroy the USA and its Anglo-Saxon descended allies (like the UK, Canada, Australia, & New Zealand)? Could this be WWIII and the start of the Great Tribulation? What is the prophetic sequence of events according to Jesus and Daniel the prophet? Dr. Thiel addresses all of these matters and more. This is a video.
The Gospel of the Kingdom of God This free online pdf booklet has answers many questions people have about the Gospel of the Kingdom of God and explains why it is the solution to the issues the world is facing. Here are links to three related sermons: The World's False Gospel, The Gospel of the Kingdom: From the New and Old Testaments, and The Kingdom of God is the Solution.
Universal OFFER of Salvation, Apokatastasis: Can God save the lost in an age to come? Hundreds of scriptures reveal God's plan of salvation Will all get a fair chance at salvation? This free book is packed with scriptures showing that God does intend to offer salvation to all who ever lived–the elect in this age, and the rest in the age to come. Here is a link to a related sermon series: Universal Offer of Salvation 1: Apocatastasis, Universal Offer of Salvation 2: Jesus Desires All to be Saved, Mysteries of the Great White Throne Judgment (Universal Offer of Salvation part 3), Is God Fair, Will God Pardon the Ignorant?, Can God Save Your Relatives?, Babies, Limbo, Purgatory and God's Plan, and 'By the Mouth of All His Holy Prophets'.