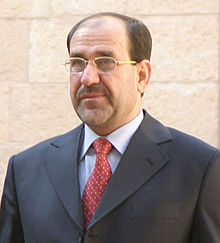 Iraq's Nouri al-Maliki

Iraq's Nouri al-Malaki does not wish to accept the result of a vote that replaces with with someone that both the USA and Iran are endorsing:
August 12, 2014

Iraq's new prime minister-designate won endorsements from uneasy mutual allies the United States and Iran on Tuesday as he called on political leaders to end crippling feuds that have allowed Sunni militants to seize a third of the country.

Haider al-Abadi still faces opposition closer to home, where his Shi'ite party colleague Nouri al-Maliki has refused to step aside after eight years as premier that have alienated Iraq's once dominant Sunni minority and irked Washington and Tehran.

However, Shi'ite militia and army commanders long loyal to Maliki signaled their backing for the change, as did many people on the streets of Baghdad, eager for an end to fears of a further descent into sectarian and ethnic bloodletting.

European aid

Meanwhile, Europe boosted its aid for thousands of Iraqis attempting to flee the onslaught of Islamic State militants in northern Iraq. http://www.voanews.com/content/kerry-urges-iraqi-pm-nominee-quickly-form-government/2410486.html
Iran and the USA are on different sides when it comes to Syria, yet both are backing the replacement of Nouri al-Maliki.  Iran backs the current Syrian President Assad, while the USA wants him and his regime replaced.
The Islamic State used to be called the Islamic State of Iraq and Syria.  Its aim was to carve out a Sunni Islamic caliphate in Syria and Iraq and then expand to include all Muslim regions.  The Islamic State is also trying to replace Syria's President Assad.
In the past several years, Iran has been able to increase its influence in Iraq.
The situation is Iraq is perilous in many areas and the people there need our prayers.
Bible prophecy indicates that at least part of Iraq will be part of an alliance called the King of the South(Daniel 11:40-43). Because of that, certain changes will have to take place in Iraq, and some are starting to happen. It may be that Iraq will split then two or more pieces of it will end up aligning with the coming confederation (cf. Ezekiel 30:3-5) of the King of the South.
Some items of possibly related interest may include:
Iraq, the King of the South, Armageddon, and Prophecy What will happen to Iraq? Is it the prophesied Mystery Babylon? What is Armageddon and how does that have to do with Iraq? Here is a related video Iraq, Armageddon, & Prophecy.
Iran in Prophecy Is Iran in Bible prophecy? If so, what does the Bible teach? What names, other than Persia, may be used to describe Iran? There is also a YouTube video titled Iran in Prophecy. Here is a related video Iran In Prophecy.
Is the Future King of the South Rising Up? Some no longer believe there needs to be a future King of the South. Might Egypt, Islam, Iran, Arabs, or Ethiopia be involved? Might this King be called the Mahdi or Caliph? What does the Bible say? A YouTube video of related interest may be: The Future King of the South is Rising.
The Muslim Brotherhood and the Rise of the King of the South The Bible tells of the formation of a power of nations that are in the Middle East and North Africa that are part of the final "King of the South" (Daniel 11:40-43) The Muslim Brotherhood wishes to have an Islamic empire with basically the same nations. This YouTube video explains what to expect from such a confederation.
The Arab and Islamic World In the Bible, History, and Prophecy The Bible discusses the origins of the Arab world and discusses the Middle East in prophecy. What is ahead for the Middle East and those who follow Islam? What about the Imam Mahdi? What lies ahead for Turkey, Iran, and the other non-Arabic Muslims? An item of possibly related interest in the Spanish language would be: Líderes iraníes condenan la hipocresía de Occidente y declaran que ahora es tiempo para prepararse para el Armagedón, la guerra, y el Imán Mahdi.
Egypt in Prophecy Does Egypt have a special role in end time prophecy? Will Egypt rise up and then be defeated. What does God teach will happen to those in Egypt? Here is a link to a YouTube video titled Egypt and End Time Prophecy.
Gaza and the Palestinians in Bible Prophecy What does the Bible teach about Gaza and the fate of the Palestinians? Here is a link to a related video: Gaza and Palestine in Prophecy.
What Should You Know About Turkey in Prophecy Do you know the Turkish people descended from? Did the Ottoman Empire possibly fulfill a promise in Genesis? Will Turkey support the European King of the North or Arabic King of the South? Will it betray one of them? Will Turkey be involved in the encouraging the destruction of Israel? Is Turkey going to become Catholic? Is Turkey mentioned in Psalm 83, Daniel 11, and elsewhere in the Bible? This video provides answers.
Damascus and Syria in Prophecy Will Bashar Assad hold power as he has it? Does the Bible show that Damascus, the capital of Syria, will be destroyed? What will happen to Syria? Will the Syrians support the final King of the South that the Bible tells will rise up? Which scriptures discuss the rise and fall of an Arabic confederation? Does Islamic prophecy predict the destruction of Syria. This is a YouTube video.
Is There an Islamic Antichrist? Is Joel Richardson correct that the final Antichrist will be Islamic and not European? Find out.
Anglo – America in Prophecy & the Lost Tribes of Israel Are the Americans, Canadians, British, Scottish, Welsh, Australians, Anglo-Southern Africans, and New Zealanders descendants of Joseph? Where are the lost ten-tribes of Israel? Who are the lost tribes of Israel? Will God punish the U.S.A., Canada, United Kingdom, and other Anglo nations? Why might God allow them to be punished first?
Will the Anglo-Nations be Divided and Have People Taken as Slaves? Will the lands of the United States, United Kingdom, Canada, Australia, and New Zealand be divided? What about Jerusalem? What does Bible prophecy teach? Are there non-biblical prophecies that support this idea? Who will divide those lands? Who will end up with the lands and the people? Here is a link to a video titled Will the USA and other Anglo-nations be Divided and Their People Made Slaves?
Barack Obama in Islamic Prophecy? There is actually a 17th century Shiite prophecy that some believe that Barack Obama will fulfill that will lead to a rising up of Islam.
Barack Obama, Prophecy, and the Destruction of the United States-Second Edition for Second Obama Term This is a 160 page book for people truly interested in prophecies related to Barack Obama and the United States, including learning about many that have already been fulfilled (which the book documents in detail) and those that will be fulfilled in the future. It also has a chapter about a Republican choice. This book is available to order at www.barackobamaprophecy.com. The physical book can also be purchased at Amazon from the following link: Barack Obama, Prophecy, and the Destruction of the United States: Is Barack Obama Fulfilling Biblical, Islamic Catholic, Kenyan, and other America-Related Prophecies? What About Republican Leaders? Second Edition for Second Obama Term.
Barack Obama, Prophecy, and the Destruction of the United States-Second Term-Amazon Kindle edition. This electronic version is available for only US$2.99. And you do not need an actual Kindle device to read it. Why? Amazon will allow you to download it to almost any device: Please click HERE to download one of Amazon s Free Reader Apps. After you go to for your free Kindle reader and then go to Barack Obama, Prophecy, and the Destruction of the United States-Second Term-Amazon Kindle edition.