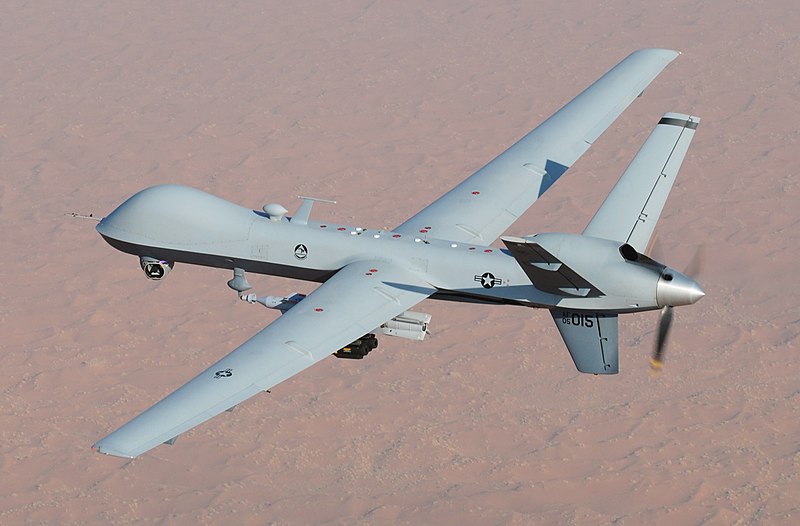 MQ-9 Reaper (USAF)
US President Donald Trump ordered a strike in Iraq via an MQ-9 drone that killed a top Iranian military official:
January 3, 2020

The killing of General Qasem Soleimani, a top commander of Iran's Islamic Revolutionary Guards Corps, happened near the busy Baghdad International Airport. The location came as a surprise for many experts simply because of the precision of the attack in Baghdad. The United States drone attack eliminated a target from miles away in the sky. The execution was perfect as there was no collateral damage. Indiatvnews.com takes a look at the MQ-9 Reaper drone, the beautiful machine that helped the United States eliminate one of the most potent foes in the Middle-East.

To start with, MQ-9 Reaper drone has a laser range finder/designator, which precisely designates targets for employment of laser-guided munitions, such as the Guided Bomb Unit-12 Paveway II. It was this technology that the United States used to attack the convoy of Iran General Qasem Soleimani. Soleimani, along with five others, was killed in the drone strike that was authorised by United States President Donald Trump at Baghdad International Airport. https://www.indiatvnews.com/news/world/mq-9-reaper-drone-capabilities-features-qasem-soleimani-death-575981
The above attack came after pro-Iranian protesters attacked the US Embassy in Iraq earlier this week (see 'Iraqi Protesters Attack US Embassy in Baghdad') and after Iran issued threats against the USA (see CNN: Iran warns of 'consequences' after US strikes in Iraq and Syria). The protests were sparked by an attack by the USA in response to an attack that killed an American contractor. "Sunday's US airstrikes against a pro-Iran group in Iraq … killed at least 25 fighters" (https://aawsat.com/english/home/article/2059876/zarif-lavrov-say-us-attacks-iraq-syria-unacceptable).

In response to the attack that killed General Qasem Soleimani, Iran is making more threats:
January 3, 2020

BAGHDAD (AP) — Iran vowed "harsh retaliation" for a U.S. airstrike near Baghdad's airport that killed a top Iranian general who had been the architect of its interventions across the Middle East, as tensions soared in the wake of the targeted killing.

The killing of Gen. Qassem Soleimani, the head of Iran's elite Quds Force, marks a major escalation in the standoff between Washington and Iran, which has careened from one crisis to another since President Donald Trump withdrew from the 2015 nuclear deal and imposed crippling sanctions. …

Iran's Supreme Leader Ayatollah Ali Khamenei warned that "harsh retaliation is waiting" for the U.S. after the airstrike, calling Soleimani the "international face of resistance." Khamenei declared three days of public mourning and appointed Maj. Gen. Esmail Ghaani, Soleimani's deputy, to replace him as head of the Quds Force, .

Iranian President Hassan Rouhani called the killing a "heinous crime" and vowed his country would "take revenge."

Thousands of worshippers in the Iranian capital Tehran took to streets after Friday Muslim prayers to condemn the killing, chanting "Death to deceitful America." https://apnews.com/e36db7c72c1adba1a6cae75091bc273d
Iran is upset.
Here is something from my book, Donald Trump and America's Apocalypse, related to Iran and Donald Trump:
Iran and Prophecy

Donald Trump has stated that he wants to eliminate or at least change the "nuclear deal" with Iran. …

Despite its posturing and relative military strength, Iran will be somehow effectively neutralized (cf. Ezekiel 32:24). This could perhaps be from an attack involving Israel and/or internal civil unrest — this could also include electromagnetic (EMP) or similar weapons used against Iran (Jeremiah 49:34-39).

It is of prophetic interest to note that the small nation of Israel is prophesied to one day be attacked by some that seem to have connection to Iran (Isaiah 22:1-14).

Iran may decide to strike out against Israel, and possibly Jerusalem (cf. Isaiah 22:7-8) if a Trump Administration and/or Israel takes actions it does not like.

Iran has weapons that can cause damage. Furthermore, the U.S.A. itself (as well as is the State of Israel) is vulnerable to EMP type attacks and/or items such as biological weapons, chemical weapons, terrorism, nuclear weapons, dirty bombs, etc. because of a conflict involving Iran, Syria, and/or others.

But should this occur, this would NOT be the final destruction of the U.S.A. Prophetically, Iran would not end up faring well (cf. Ezekiel 32:24-25).
Could Donald Trump be taking actions consistent with a prophecy in Ezekiel?
24 "There is Elam and all her multitude,
All around her grave,
All of them slain, fallen by the sword,
Who have gone down uncircumcised to the lower parts of the earth,
Who caused their terror in the land of the living;
Now they bear their shame with those who go down to the Pit.
25 They have set her bed in the midst of the slain,
With all her multitude,
With her graves all around it,
All of them uncircumcised, slain by the sword;
Though their terror was caused
In the land of the living,
Yet they bear their shame
With those who go down to the Pit;
It was put in the midst of the slain.
Prophetic references to Elam are pointing to at least parts of Iran. Also, notice that "Elam and all her multitude" have caused terror and are subject to destruction. Hence, groups highly supportive of Iran are prophesied to be struck as well. Between Sunday's strike and the latest one, some associated with the multitude of Elam have been "slain, fallen by the sword."
Now, consider also the following:
January 3, 2020

The targeted strike, and any retaliation by Iran, could ignite a conflict that engulfs the whole region, endangering U.S. troops in Iraq, Syria and beyond. Over the last two decades, Soleimani had assembled a network of heavily armed allies stretching all the way to southern Lebanon, on Israel's doorstep. https://apnews.com/e36db7c72c1adba1a6cae75091bc273d
We may very well see a regional war–or worse. A war that could possibly lead to the deal of Daniel 9:27 and the seven year countdown to the end.
The Bible shows that God will allow what looks to be a Iranian-Syrian confederation, to strike the nation of Israel:
1 The burden against the Valley of Vision.

What ails you now, that you have all gone up to the housetops, 2 You who are full of noise, A tumultuous city, a joyous city? Your slain men are not slain with the sword, Nor dead in battle. 3 All your rulers have fled together; They are captured by the archers. All who are found in you are bound together; They have fled from afar. 4 Therefore I said, "Look away from me, I will weep bitterly; Do not labor to comfort me Because of the plundering of the daughter of my people."

5 For it is a day of trouble and treading down and perplexity By the Lord God of hosts In the Valley of Vision — Breaking down the walls And of crying to the mountain. 6 Elam bore the quiver With chariots of men and horsemen, And Kir uncovered the shield. 7 It shall come to pass that your choicest valleys Shall be full of chariots,And the horsemen shall set themselves in array at the gate.

8 He removed the protection of Judah. You looked in that day to the armor of the House of the Forest; 9 You also saw the damage to the city of David, That it was great; And you gathered together the waters of the lower pool. 10 You numbered the houses of Jerusalem, And the houses you broke down To fortify the wall. 11 You also made a reservoir between the two walls For the water of the old pool. But you did not look to its Maker, Nor did you have respect for Him who fashioned it long ago.

12 And in that day the Lord God of hosts Called for weeping and for mourning,For baldness and for girding with sackcloth. 13 But instead, joy and gladness, Slaying oxen and killing sheep, Eating meat and drinking wine: "Let us eat and drink, for tomorrow we die!"

14 Then it was revealed in my hearing by the Lord of hosts,"Surely for this iniquity there will be no atonement for you, Even to your death," says the Lord God of hosts.  (Isaiah 22:1-14 NKJV)
Elam, as mentioned before, seems to be a reference to at least some in Iran.  Kir is of interest as it has several possibilities. One is that the Bible tells that after Tiglath-Pileser king of Assyria took over Damascus, he moved Syrians to Kir. While this does not mean that Kir must (or must only) be a reference to Syria, the fact that Syria is an ally of Iran is interesting. Some believe Kir is an area in the south of Iran, while others suggest closer to the Black Sea.
The Bible tells of a time when Kir will be destroyed (Isaiah 15:1b) and also says that Syria's capital Damascus will be destroyed (Isaiah 17:1).
In Isaiah 22: 8, "Judah" is a reference to those in the land commonly called Israel–God will allow Israel to be attacked! In Isaiah 22:9, consider that "the damage to the city of David" is a reference to at least part of Jerusalem–and notice that the damage will be great. This, in turn, would be expected to result in a massive Israeli, possibly with US involvement, attack against Iran and its allies, like Syria.
Not only does Ezekiel 32 tell of destruction coming to Iran, it also says her multitude will be hit. That would be expected to include non-Elamite peoples in Iran, as well as Iranian allies. Notice a prophecy related to the destruction of the capital of Syria:
1 The burden against Damascus.

"Behold, Damascus will cease from being a city,
And it will be a ruinous heap. (Isaiah 17:1)
Yes, Iran's ally Syria is prophesied to have destruction.
Here is something posted at this COGwriter Church of God News page back in April of 2016:
Expect Iran to overplay its hand and believe it is more powerful than it really is. Israel, and perhaps even the USA, apparently will be negatively affected by Iran. But I should also point out that the Bible shows that Iran will not end up faring well. Notice the following prophecy which indicates at least part of its destruction before the latter days:

34 The word of the Lord that came to Jeremiah the prophet against Elam, in the beginning of the reign of Zedekiah king of Judah, saying, 35 "Thus says the Lord of hosts:

'Behold, I will break the bow of Elam,
The foremost of their might.
36 Against Elam I will bring the four winds
From the four quarters of heaven,
And scatter them toward all those winds;
There shall be no nations where the outcasts of Elam will not go.
37 For I will cause Elam to be dismayed before their enemies
And before those who seek their life.
I will bring disaster upon them,
My fierce anger,' says the Lord;
'And I will send the sword after them
Until I have consumed them.
38 I will set My throne in Elam,
And will destroy from there the king and the princes,' says the Lord. (Jeremiah 49:34-38)

So, what's next for Iran?

It will complain and try to work around the nuclear agreement until it violates it so much that the USA will decide it has to take further steps (beyond those it has recently taken).

Iran will attempt to improve aspects of its economy and its military so that it can try to persuade the Islamic world to follow it. It may well have a military attack against Israel (Isaiah 22:1-11) and others.(Thiel B. AP: Nuclear deal puts US between Iran and a hard place. COGwriter, April 10, 2016)
Iran still wants to lead the Islamic world.
And while it is not a military match for the USA, the USA is at risk for terrorist attacks from 'dirty bombs' (bombs that have radioactive components) and possibly nuclear bombs in the future from Iran. Iran also may have EMP capability which could hurt the USA or Israel (watch Electrical End of the USA?).
Notice also the following, which was written BEFORE the MQ-9 Iraqi airport attack:
January 2, 2020

Warning in their story that Iran could also use Mexico and other countries to the south of our border as launching pads for major attacks upon US interests, keep in mind that the excerpt below from the Free Beacon story was written back in April of 2018, making today's Iran news sound like a broken record.:

Iranian agents tied to the terror group Hezbollah have already been discovered in the United States plotting attacks, giving rise to fears that Tehran could order a strike inside America should tensions between the Trump administration and Islamic Republic reach a boiling point.

Intelligence officials and former White House officials confirmed to Congress on Tuesday that such an attack is not only plausible, but relatively easy for Iran to carry out…

Warning that targets of Iranian-tied terror cells here in the US could be our critical infrastructure including our electrical grid, gas and oil processing facilities, gas stations, sporting events, music concerts, shopping malls, grocery stores and eventually spilling into open bloodshed in the streets, would it be worth it to you to get into a war against Iran if it ended up causing you to lose your own freedom and rights? From this story over at The Express.:

Any conflict (with Iran) would spill over onto the streets of mainland USA with multiple terror attacks. He added: "Iran will undoubtedly use terrorism to strike the US if push came to shove.

"It's easy to be brave NOW, but the US isn't under attack. If a real war happened, we would have MULTIPLE Shiite attacks on targets like Times Square, Mall of the Americas, Disneyland…. You get the idea. So does Iran. So does Hezbollah."

And then their source alluded to something that most Americans would call an absolute nightmare.

"These attacks may take place YEARS after the war… literally. Kiss your freedom of movement goodbye, for YEARS."

"I'm not sure any American would say that is a good trade-off."

Is President Trump walking into a major trap on Iran, with Iran already possessing weapons of mass destruction, potentially already having nuclear weapons and Iranian sleeper agents all across America? http://allnewspipeline.com/Iran_War_A_Globalist_Ploy_Death_And_Destruction.php
Iran has been planning on what to do to retaliate against the USA for some time.
Yes, I expect terrorist attacks. Terrorist attacks tied to Iran will happen.
Notice that the Bible says:
25 The sword shall destroy outside; There shall be terror within (Deuteronomy 32:25)
Since those in Ezekiel 32:24 are involved in terrorism, expect some to cause some of the prophesied "terror within."
That does not mean that Iran will not be impacted.
As I have written for many years (e.g. Thiel B. Iran Slams Russia. COGwriter, May 26, 2010), one day Iran will be at least neutralized.
Ezekiel 32:24-25 will be fulfilled.
Actions by US President Donald Trump this week are consistent with that.
More death and destruction is prophesied to come.
UPDATE 1145 PST: Today, we made the following related video:
On December 27, 2019, Iranian-connected individuals were believed to have killed an American contractor. On Sunday, December 29, 2019, US President Donald Trump ordered a strike in Iraq that killed dozens of Iranian supporting Iraqis. The next two days there were protests at the US Embassy in Iraq. Then on January 2, 2020, US President authorized a drone strike that killed Iranian General Qasem Soleimani, a top commander of Iran's Islamic Revolutionary Guards Corps, the Baghdad International Airport. Could this be related to prophecies such as Ezekiel 32:24-25? What about Ezekiel 38? Is Iran (and allies like Syria) prophesied to attack Israel and cause damage to Jerusalem? Could Iran use EMP weapons and/or terrorism in retaliation against the US? Will Iran one day be neutralized? Will Ezekiel 32 be completely fulfilled in the future? Dr. Thiel addresses these issues and more.
Here is a link to our video: Is Donald Trump fulfilling Ezekiel 32 related to Iran?
Some items of possibly-related interest may include:
Iran in Prophecy Is Iran in Bible prophecy? If so, what does the Bible teach? What names, other than Persia, may be used to describe Iran? There is also a YouTube video titled Iran In Prophecy.
Iraq, the King of the South, Armageddon, and Prophecy What will happen to Iraq? Is it the prophesied Mystery Babylon? What is Armageddon and how does that have to do with Iraq? Here is a related video Iraq, Armageddon, & Prophecy.
Damascus and Syria in Prophecy Will Bashar Assad hold power as he has it? Does the Bible show that Damascus, the capital of Syria, will be destroyed? What will happen to Syria? Will the Syrians support the final King of the South that the Bible tells will rise up? Which scriptures discuss the rise and fall of an Arabic confederation? Does Islamic prophecy predict the destruction of Syria.
Electrical End of the USA? Could problems with the electrical power grid caused by one or more electro-magnetic pulse bombs, solar flares, and/or other phenomena help weaken the USA to the point of allowing it to be taken over? Does such potential exist? If so, is this consistent with any biblical prophecies? What are some of the severe consequences that the USA would face in the event of a electrical power grid failure? Is there evidence in scripture that the USA will be taken over in the 21st century? This is a video.
Is the Future King of the South Rising Up? Some no longer believe there needs to be a future King of the South. Might Egypt, Islam, Iran, Arabs, or Ethiopia be involved? Might this King be called the Mahdi or Caliph? What does the Bible say? A YouTube video of related interest may be: The Future King of the South is Rising.
The Muslim Brotherhood and the Rise of the King of the South The Bible tells of the formation of a power of nations that are in the Middle East and North Africa that are part of the final "King of the South" (Daniel 11:40-43) The Muslim Brotherhood wishes to have an Islamic empire with basically the same nations. This YouTube video explains what to expect from such a confederation.
Why Terrorism? Is Terrorism Prophesied? What does the Bible teach? Which nations may be affected? Here is a link to a related sermon: Terrorism, Christianity, and Islam.
The Arab and Islamic World In the Bible, History, and Prophecy The Bible discusses the origins of the Arab world and discusses the Middle East in prophecy. What is ahead for the Middle East and those who follow Islam? What about the Imam Mahdi? What lies ahead for Turkey, Iran, and the other non-Arabic Muslims? An item of possibly related interest in the Spanish language would be: Líderes iraníes condenan la hipocresía de Occidente y declaran que ahora es tiempo para prepararse para el Armagedón, la guerra, y el Imán Mahdi.
The Prophesied 'Islamic' Confederation Where is an Islamic caliphate prophesied? Will one happen? Should you be concerned about it? A related video is Will an Arabic Calphiphate Destroy the West?
The 'Peace Deal' of Daniel 9:27 This prophecy could give up to 3 1/2 years advance notice of the coming Great Tribulation. Will most ignore or misunderstand its fulfillment? Here is a link to a related sermon video Daniel 9:27 and the Start of the Great Tribulation.
How Will Middle East Peace be Brought About? Can humans bring peace to the Middle East? Here is a link to a related video: Middle East Peace? When?
Does God Have a 6,000 Year Plan? What Year Does the 6,000 Years End? Was a 6000 year time allowed for humans to rule followed by a literal thousand year reign of Christ on Earth taught by the early Christians? Does God have 7,000 year plan? What year may the six thousand years of human rule end? When will Jesus return? 2027 or 20xx? There is also a video titled 6000 Years: When will God's Kingdom Come? Here is a link to the article in Spanish: ¿Tiene Dios un plan de 6,000 años?
When Will the Great Tribulation Begin? 2020, 2021, or 2022? Can the Great Tribulation begin today? What happens before the Great Tribulation in the "beginning of sorrows"? What happens in the Great Tribulation and the Day of the Lord? Is this the time of the Gentiles? When is the earliest that the Great Tribulation can begin? What is the Day of the Lord? Who are the 144,000? Here is a version of the article in the Spanish language: ¿Puede comenzar la Gran Tribulación en 2018 o 2019? ¿Es el Tiempo de los Gentiles? You can also see the English language sermon videos: The Great Tribulation from the Mount of Olives and Can the Great Tribulation begin before 2020? A shorter and newer video is: Could the Great Tribulation Begin in 2020?
The Times of the Gentiles Has there been more than one time of the Gentiles? Are we in it now or in the time of Anglo-America? What will the final time of the Gentiles be like? A related sermon is available and is titled: The Times of the Gentiles.
Armageddon Who is involved and when will this gathering happen? Here is also a video from Dr. Thiel, from Tel Megiddo in Israel: Armageddon. Other videos include: Armageddon Will it come on Trump's watch?, Iraq, Armageddon, & Prophecy, Freemasonry, Armageddon, and Rome, Is China paving roads to Armageddon?, and Jordan, Petra, and Armageddon.
Is Russia the King of the North? Some claim it is. But what does the Bible teach? Here is a link to a video, also titled Is Russia the King of the North?
Anglo – America in Prophecy & the Lost Tribes of Israel Are the Americans, Canadians, English, Scottish, Welsh, Australians, Anglo-Saxon (non-Dutch) Southern Africans, and New Zealanders descendants of Joseph? Where are the lost ten-tribes of Israel? Who are the lost tribes of Israel? What will happen to Jerusalem and the Jews in Israel? Will God punish the U.S.A., Canada, United Kingdom, and other Anglo-Saxon nations? Why might God allow them to be punished first? Here is a link to the Spanish version of this article: Anglo-América & las Tribus Perdidas de Israel. Information is also in the YouTube sermons titled Where are the Ten Lost Tribes? Why does it matter? and British are the Covenant People. A short YouTube of prophetic interest may be: Are Chinese threats against Australia for real?
Will the Anglo-Saxon Nations be Divided and Have People Taken as Slaves? Will the lands of the United States, United Kingdom, Canada, Australia, and New Zealand be divided? What about Jerusalem? What does Bible prophecy teach? Are there non-biblical prophecies that support this idea? Who will divide those lands? Who will end up with the lands and the people? Here is a link to a video titled Will the USA and other Anglo-nations be Divided and Their People Made Slaves? Here is a related item in the Spanish language ¿Serán divididas las naciones anglosajonas?
British are the Covenant People What do 'British' and 'Britain' mean in Hebrew? Are the descendants of the Anglo-Saxons people of the covenant? Does the British royal family connect to the throne of David? What does the Bible teach? What does history show us? Is there any DNA evidence related to British-Israelism? When did Christianity make it to the British Isles? Could Jeremiah have made it to the British Isles? What type of Christians made it to the British Isles? Did the last King of England believe in British Israelism?
Donald Trump in Prophecy Prophecy, Donald Trump? Are there prophecies that Donald Trump may fulfill? Are there any prophecies that he has already helped fulfill? Is a Donald Trump presidency proving to be apocalyptic? Two related videos are available: Donald: 'Trump of God' or Apocalyptic? and Donald Trump's Prophetic Presidency.
Trump Presidency Magic 8 Ball or Bible Prophecy? BBC reported that one might as well use a 'Magic Eight-Ball' to try to predict what will happen in the remaining time of Donald Trump's presidency. What is a 'Magic Eight-Ball'? Dr. Thiel not only explains that, but also briefly goes over 10 biblically-based warnings he wrote would happen if Donald Trump were elected that have already began to come to pass. He also goes over something he wrote back in 2008 that the Trump presidency is also helping lead to fulfillment. Should you trust Bible prophecy or not? Dr. Thiel says that Bible prophecy can be trusted, despite the view of skeptics and others that either overlook or despise the Bible. This is a video.
Donald Trump and America's Apocalypse This 188 page book is for people truly interested in prophecies related to Donald Trump and the United States, including learning about several that have already been fulfilled and those that will be fulfilled in the future. The physical book can be purchased at Amazon for $12.99 from the following link: Donald Trump and America's Apocalypse.
Donald Trump and America's Apocalypse-Kindle Edition This electronic version of the 188 page print edition is available for only US$3.99. And you do not need an actual Kindle device to read it. Why? Amazon will allow you to download it to almost any device: Please click HERE to download one of Amazon s Free Reader Apps. After you go to for your free Kindle reader and then go to Donald Trump and America's Apocalypse-Kindle Edition.
World War III: Steps in Progress Are there surprising actions going on now that are leading to WWIII? Might a nuclear attack be expected? Does the Bible promise protection to all or only some Christians? How can you be part of those that will be protected? A related video would be Is World War III About to Begin? Can You Escape?
Syria and the start of World War 3 On April 14, 2018, Syrians were awoken by the sounds of about 120 missiles/bombs sent against areas of their country. The United States of America, United Kingdom, and France launched this attack related to claims of chemical weapons use earlier that week. Will Syria's capital one day be destroyed as prophesied in Isaiah chapter 17? If so, could this be before the start of the Great Tribulation? Are there prophecies about Syrians and the UK and USA? Is this attack against Syria leading to WWIII between the USA/UK/France and Russia/Syria/Iran? Is there an Arabic power that will rise up and be destroyed before the Great Tribulation as Tim McHyde has written related to Psalm 83? Is Ezekiel 38/39 about to be fulfilled? Who is the biblical King of the North and the biblical King of the South? Will the Beast power destroy the USA and its Anglo-Saxon descended allies (like the UK, Canada, Australia, & New Zealand)? Could this be WWIII and the start of the Great Tribulation? What is the prophetic sequence of events according to Jesus and Daniel the prophet? Dr. Thiel addresses all of these matters and more. This is a video.
The Gospel of the Kingdom of God This free online pdf booklet has answers many questions people have about the Gospel of the Kingdom of God and explains why it is the solution to the issues the world is facing. Here are links to three related sermons: The World's False Gospel, The Gospel of the Kingdom: From the New and Old Testaments, and The Kingdom of God is the Solution.
Universal OFFER of Salvation, Apokatastasis: Can God save the lost in an age to come? Hundreds of scriptures reveal God's plan of salvation Will all get a fair chance at salvation? This free book is packed with scriptures showing that God does intend to offer salvation to all who ever lived–the elect in this age, and the rest in the age to come. Here is a link to a related sermon series: Universal Offer of Salvation 1: Apocatastasis, Universal Offer of Salvation 2: Jesus Desires All to be Saved, Mysteries of the Great White Throne Judgment (Universal Offer of Salvation part 3), Is God Fair, Will God Pardon the Ignorant?, Can God Save Your Relatives?, Babies, Limbo, Purgatory and God's Plan, and 'By the Mouth of All His Holy Prophets'.