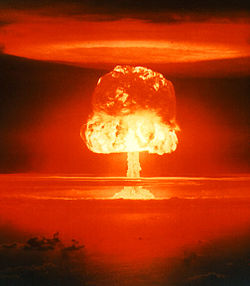 Many are concerned that the nuclear deal that the USA helped negotiate with Iran is full of problems. Here is an analysis from the Associated Press (AP):
Nuclear deal puts US between Iran and a hard place

April 10, 2016

WASHINGTON (AP) — The Obama administration is in a bind. Between Iran and a hard place.

As it seeks to implement, preserve and strengthen the landmark nuclear deal it negotiated with Iran, the administration is being buffeted by criticism from all sides: Iran, Europe, Asia, the Middle East, not to mention members of Congress, including some who supported the agreement.

Eager that a successful deal and a new era in the U.S.-Iran relationship be part of President Barack Obama's legacy, his administration finds itself encouraging foreign trade with Iran even as it forbids most American commerce with the Islamic Republic. Those efforts are complicated by the fact that the United States continues to condemn and try to punish Iranian actions in non-nuclear arenas such as Tehran's support of terrorist groups and belligerence toward Israel.

Under the nuclear deal that took effect in January, Iran curtailed its nuclear program in exchange for billions of dollars in sanctions relief. Iran has complied with its obligations to date.

But Iran says the economic boon isn't enough because of remaining U.S. economic penalties for its other behavior, and some officials have threatened to walk away from one of Obama's chief foreign policy achievements …

Asian and European government and companies, primarily banks, are balking at doing now-legal business with Iran, because of uncertainty over those remaining sanctions. They want written clarification about what current U.S. laws and financial regulations allow them to do. Essentially, they want a promise that the U.S. will not prosecute or punish them for transactions that involve Iran.

Adding to their unease is the 2016 U.S. presidential election, in which the top Republican prospects have pledged to rip up the nuclear deal.

At the same time, Israel, its supporters and Arab nations are crying foul over Iran's continued testing of ballistic missiles as well as its ongoing support for Lebanon's Hezbollah movement, Syrian President Bashar Assad's government and Yemen's Houthi rebels.

They say Iran is as dangerous as ever. Many members of Congress agree and are demanding new sanctions.

While the administration says it remains vehemently opposed to Iran's missile tests and destabilizing activities throughout the Middle East, it insists the nuclear deal has made Iran less of a threat. The cost of walking away from the deal, U.S. officials maintain, will be even more destabilization and a graver threat.

Thus, the U.S. has been thrust into a role of defending Iran on its nuclear deal compliance and condemning its other actions as it simultaneously promotes business with Iran in the context of the new leeway afforded by sanctions relief. http://hosted.ap.org/dynamic/stories/U/US_UNITED_STATES_IRAN_ANALYSIS?SITE=AP&SECTION=HOME&TEMPLATE=DEFAULT&CTIME=2016-04-10-09-23-49
The USA did not negotiate a good deal with Iran and many realize that.
The Obama Administration, ignoring what the Iranians really want, wanted a deal so much that they seemed almost oblivious to the realities of it.
The Obama Administration claims that Israel and Saudi Arabia are close USA allies, yet Iran wants to wipe Israel off the map, takeover Jerusalem and lead the Islamic world. It then wants to takeover the world. The Israelis and Saudis are aware of this, protested against the Iranian nuclear agreement, and have pointed to Iranian actions since as proof that they were right and that Iran is a threat.
Iran itself would like to knock out the USA whenever it can and it believes that mystical powers will one day allow it to do that.
Most people in Iran subscribe to the Shi'ite (often called Shia) Muslim faith. Shi-ites consider that they have a purer understanding of Islam than the Sunni Muslims. Shi-ites represent about 10-20% of Muslims and nearly all the rest are Sunni (there are also Sufis, but they seem to represent less than 1% of all Muslims).  Shia Islam has several branches, the largest of which is the Twelvers, followed by Zaidis and Ismailis (Wikipedia, viewed 11/25/13).
The Twelvers (and many of the other Shia) basically have had a world view based on their understanding of prophecy, and that understanding is not peaceful.  Notice some reports about that:
Shiite Muslims, the majority in Iran, believe Jesus will accompany the Imam Mahdi when he reappears in a future apocalypse to save the world…

Shiites believe the Mahdi's reappearance will usher in a new era of peace and harmony.

"We Muslims pray for the 'Return' (of Imam Mahdi) and Jesus is part of the return and the end of time," Talebzadeh said ('Islamic Jesus' hits Iranian movie screens AFP – Jan 13, 2008 http://www.breitbart.com/article.php?id=080113231632.1q3rt654&show_article=1).

According to the tradition, Imam Ali Ibn Abi-Talib (the prophet's cousin and son-in-law) prophesied that at the End of Times and just before the return of the Mahdi, the Ultimate Saviour, a "tall black man will assume the reins of government in the West." Commanding "the strongest army on earth," the new ruler in the West will carry "a clear sign" from the third imam, whose name was Hussein Ibn Ali. The tradition concludes: "Shiites should have no doubt that he is with us."

In a curious coincidence Obama's first and second names–Barack Hussein–mean "the blessing of Hussein" in Arabic and Persian. His family name, Obama, written in the Persian alphabet, reads O Ba Ma, which means "he is with us," the magic formula in Majlisi's tradition (Taheri A. Obama and Ahmadinejad. Forbes – Oct 26, 2008 http://www.forbes.com/2008/10/26/obama-iran-ahmadinejad-oped-cx_at_1026taheri_print.html viewed 11/14/08).

The Mahdi (Arabic for "the guided one"), is supposed to return before Judgment Day to eliminate injustice and tyranny. The appearance of the Mahdi is not mentioned in the Quran or the Sunnah (Prophet's teachings), and many Sunni scholars view it as a Shiite invention…in the 132-volume work by Shiite scholar Mullah Majlisi (Nayouf, Hayyan. Translated from Arabic by Sonia Farid. Shiite scholar denies Obama link to Muslim savior. Dubai. November 4, 2008. http://www.alarabiya.net/articles/2008/11/04/59490.html viewed 05/19/09).
Why is any of this 'Imam Mahdi' rhetoric of any value?
Well, among other reasons, various ones seem to think his return, as well as a prophecy about someone who sounds like US President Barack Hussein Obama, is a signal for Iran to act militarily (details are in the article Iran in Prophecy).
We in the Continuing Church of God do not believe that Iran will be the final King of the South of Bible prophecy (cf. Daniel 11:40-43). Because of that, I have tended to believe that Iran may somehow get "neutralized" before this final king rises up. And it may be that provoking some type of conflict with Israel (through an attack or through simply possessing nuclear bombs) may result in Israel hitting Iran hard enough militarily to greatly reduce Iran's influence in the Islamic world. Since no later than May of 2010, I have been writing that since Iran cannot be the final King of the South that it may be neutralized (see Iran Slams Russia).
Iran could be neutralized because of internal unrest or perhaps a region conflict involving Israel.
Expect Iran to overplay its hand and believe it is more powerful than it really is. Israel, and perhaps even the USA, apparently will be negatively affected by Iran.  But I should also point out that the Bible shows that Iran will not end up faring well. Notice the following prophecy which indicates at least part of its destruction before the latter days:
34 The word of the Lord that came to Jeremiah the prophet against Elam, in the beginning of the reign of Zedekiah king of Judah, saying, 35 "Thus says the Lord of hosts:

'Behold, I will break the bow of Elam,
The foremost of their might.
36 Against Elam I will bring the four winds
From the four quarters of heaven,
And scatter them toward all those winds;
There shall be no nations where the outcasts of Elam will not go.
37 For I will cause Elam to be dismayed before their enemies
And before those who seek their life.
I will bring disaster upon them,
My fierce anger,' says the Lord;
'And I will send the sword after them
Until I have consumed them.
38 I will set My throne in Elam,
And will destroy from there the king and the princes,' says the Lord. (Jeremiah 49:34-38)
So, what's next for Iran?
It will complain and try to work around the nuclear agreement until it violates it so much that the USA will decide it has to take further steps (beyond those it has recently taken).
Iran will attempt to improve aspects of its economy and its military so that it can try to persuade the Islamic world to follow it. It may well have a military attack against Israel (Isaiah 22:1-11) and others.
But Iran will not do well and will not be the power that leads the Islamic nations in the Middle East and North Africa–that will be an Arabic power (cf. Daniel 11:40-43; Ezekiel 30:2-8). Arabic powers that also have concerns about Iran and have taken steps of their own (e.g. World's largest military exercise taking place in Saudi Arabia–a prelude to the King of the South?).
Some items of possibly related interest may include:
Iran in Prophecy Is Iran in Bible prophecy? If so, what does the Bible teach? What names, other than Persia, may be used to describe Iran? There is also a YouTube video titled Iran In Prophecy.
Damascus and Syria in Prophecy Will Bashar Assad hold power as he has it? Does the Bible show that Damascus, the capital of Syria, will be destroyed? What will happen to Syria? Will the Syrians support the final King of the South that the Bible tells will rise up? Which scriptures discuss the rise and fall of an Arabic confederation? Does Islamic prophecy predict the destruction of Syria.
Is the Future King of the South Rising Up? Some no longer believe there needs to be a future King of the South. Might Egypt, Islam, Iran, Arabs, or Ethiopia be involved? Might this King be called the Mahdi or Caliph? What does the Bible say? A YouTube video of related interest may be: The Future King of the South is Rising.
The Muslim Brotherhood and the Rise of the King of the South The Bible tells of the formation of a power of nations that are in the Middle East and North Africa that are part of the final "King of the South" (Daniel 11:40-43) The Muslim Brotherhood wishes to have an Islamic empire with basically the same nations. This YouTube video explains what to expect from such a confederation.
Why Terrorism? Is Terrorism Prophesied? What does the Bible teach? Which nations may be affected? Here is a link to a related sermon: Terrorism, Christianity, and Islam.
The Arab and Islamic World In the Bible, History, and Prophecy The Bible discusses the origins of the Arab world and discusses the Middle East in prophecy. What is ahead for the Middle East and those who follow Islam? What about the Imam Mahdi? What lies ahead for Turkey, Iran, and the other non-Arabic Muslims? An item of possibly related interest in the Spanish language would be: Líderes iraníes condenan la hipocresía de Occidente y declaran que ahora es tiempo para prepararse para el Armagedón, la guerra, y el Imán Mahdi.
The Prophesied 'Islamic' Confederation Where is an Islamic caliphate prophesied? Will one happen? Should you be concerned about it? A related video is Will an Arabic Calphiphate Destroy the West?
The 'Peace Deal' of Daniel 9:27 This prophecy could give up to 3 1/2 years advance notice of the coming Great Tribulation. Will most ignore or misunderstand its fulfillment? Here is a link to a related sermon video Daniel 9:27 and the Start of the Great Tribulation.
How Will Middle East Peace be Brought About? Can humans bring peace to the Middle East? Here is a link to a related video: Middle East Peace? When?
Anglo – America in Prophecy & the Lost Tribes of Israel Are the Americans, Canadians, English, Scottish, Welsh, Australians, Anglo-Saxon (non-Dutch) Southern Africans, and New Zealanders descendants of Joseph? Where are the lost ten-tribes of Israel? Who are the lost tribes of Israel? What will happen to Jerusalem and the Jews in Israel? Will God punish the U.S.A., Canada, United Kingdom, and other Anglo-Saxon nations? Why might God allow them to be punished first? Here is a link to the Spanish version of this article: Anglo-América & las Tribus Perdidas de Israel. Information is also in the YouTube sermons titled Where are the Ten Lost Tribes? Why does it matter? and British are the Covenant People. A short YouTube of prophetic interest may be Barack Obama and the State of the Apocalypse.
Will the Anglo-Saxon Nations be Divided and Have People Taken as Slaves? Will the lands of the United States, United Kingdom, Canada, Australia, and New Zealand be divided? What about Jerusalem? What does Bible prophecy teach? Are there non-biblical prophecies that support this idea? Who will divide those lands? Who will end up with the lands and the people? Here is a link to a video titled Will the USA and other Anglo-nations be Divided and Their People Made Slaves? Here is a related item in the Spanish language ¿Serán divididas las naciones anglosajonas?
United Nations: Humankind's Last Hope or New World Order? Is the UN the last hope for humanity? Or might its goals end up with sinister results? A related video would be United Nations and Vatican Are Planning the New World Order.
Hillary Clinton, Prophecy, and the Destruction of the United States-Amazon Kindle edition. This electronic version of the 188 page print edition is available for only US$3.99. And you do not need an actual Kindle device to read it. Why? Amazon will allow you to download it to almost any device: Please click HERE to download one of Amazon s Free Reader Apps. After you go to for your free Kindle reader and then go to Hillary Clinton, Prophecy, and the Destruction of the United States-Amazon Kindle edition.
Barack Obama, Prophecy, and the Destruction of the United States-Second Edition for Second Obama Term This is a 160 page book for people truly interested in prophecies related to Barack Obama and the United States, including learning about many that have already been fulfilled (which the book documents in detail) and those that will be fulfilled in the future. It also has a chapter about a Republican choice. This book is available to order at www.barackobamaprophecy.com. The physical book can also be purchased at Amazon from the following link: Barack Obama, Prophecy, and the Destruction of the United States: Is Barack Obama Fulfilling Biblical, Islamic Catholic, Kenyan, and other America-Related Prophecies? What About Republican Leaders? Second Edition for Second Obama Term.
Barack Obama, Prophecy, and the Destruction of the United States-Second Term-Amazon Kindle edition. This electronic version is available for only US$2.99. And you do not need an actual Kindle device to read it. Why? Amazon will allow you to download it to almost any device: Please click HERE to download one of Amazon s Free Reader Apps. After you go to for your free Kindle reader and then go to Barack Obama, Prophecy, and the Destruction of the United States-Second Term-Amazon Kindle edition.