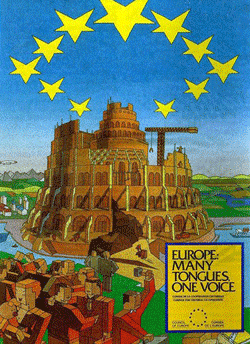 European Union unity poster

Supporters from both northern and southern Europe sent me links related to the upcoming 2016 Mekudeshet Festival:
Is 2016 Mekudeshet Festival leading to a One-World Religion?
The 2016 Mekudeshet Festival might accurately be dubbed a predecessor of the one world religion. Christians, Jews and Muslims are flocking to the Holy City for a "spiritual gathering" dubbed Amen—A House of Prayer For All Believers.

The goal of the event is to create "a single home for the world's three major religions to harness the city's ancient powers to inspire artists, musicians and cultural figures from around the world to redefine their art and traditions and connect amid troubling times."

"We will see if it is possible, despite all the corporeal difficulties and earthly obstacles, to create a new reality," says Mekudeshet artistic director Itay Mautner. …

"Many think differently, feel differently, seeking God or meeting God in different ways," says Pope Francis when speaking to a similar audience recently. "In this crowd, in this range of religions, there is only one certainty we have for all: We are all children of God."

The Bible teaches that there's only one way to the Father – through Jesus Christ. To suggest anything else causes confusion and deceives.

"Jesus saith unto him, I am the way, the truth, and the life: no man cometh unto the Father, but by me." John 14:6. 0/22/16 http://ktfnews.com/2016-mekudeshet-festival-leading-one-world-religion/

A new interfaith and spiritual gathering of Christians, Jews and Muslims will take place in Jerusalem this September.

"Amen-A House of Prayer For All Believers", part of the 2016 Mekudeshet Festival from September 4-23, is an initiative created by the Jerusalem Season of Culture, an annual festival in Jerusalem, to bring together the world's three major faiths "who share a belief in one God and a boundless love for Jerusalem to dialogue, study, sing and pray together in one temporary house of worship," said a press release. 08/14/16 http://www.breakingisraelnews.com/73887/jerusalem-interfaith-event-bring-together-leaders-abrahamic-faiths/#IS0WiGm4o5ApbYMb.99

There will soon be an ecumenical gathering between the three monotheist faiths. Thee event will take place from September 4-23, 2016. This monumental event will occur in the Old City of Jerusalem.
The leaders of the multi-religious, pagan event, have named this unholy gathering as "Mekudeshet". They have announced plans to perform an 11 day consecration. This can only mean one thing. This is the beginning of the mandatory One World Religion. This is something that Francis has been working towards. However, this is not the only thing that the Pope, or more accurately, the anti-Pope has been pursuing over the last couple of years. …
This is the same Pope who has stated that Islam and Christianity are basically one and the same religion. This false doctrine sets the stage for the official state sponsored (United Nations) approved religion which we commonly call Gaia which is about as a pagan of a religion that there is. In light of these facts, does anyone have any questions as to why I have great trepidation with regard to the upcoming religious unification conference? 08/25/16 http://www.thecommonsenseshow.com/2016/08/25/is-the-pope-about-to-make-an-et-disclosure-at-world-religion-unification-conference/
Some have wondered if Pope Francis will declare a one world religion from Jerusalem during that conference. While the world is not quite willing to accept that yet type of declaration, the time will come when what becomes the world's religion will be widely accepted.
Notice who the Bible says the world will worship one day:
1 Then I stood on the sand of the sea. And I saw a beast rising up out of the sea, having seven heads and ten horns, and on his horns ten crowns, and on his heads a blasphemous name. 2 Now the beast which I saw was like a leopard, his feet were like the feet of a bear, and his mouth like the mouth of a lion. The dragon gave him his power, his throne, and great authority. 3 And I saw one of his heads as if it had been mortally wounded, and his deadly wound was healed. And all the world marveled and followed the beast. 4 So they worshiped the dragon who gave authority to the beast; and they worshiped the beast, saying, "Who is like the beast? Who is able to make war with him?"

5 And he was given a mouth speaking great things and blasphemies, and he was given authority to continue for forty-two months. 6 Then he opened his mouth in blasphemy against God, to blaspheme His name, His tabernacle, and those who dwell in heaven. 7 It was granted to him to make war with the saints and to overcome them. And authority was given him over every tribe, tongue, and nation. 8 All who dwell on the earth will worship him, whose names have not been written in the Book of Life of the Lamb slain from the foundation of the world. (Revelation 13:1-8)
The 'sea' mentioned above is called "the Great Sea" in Daniel's vision of the Beasts (Daniel 7:2-8) and is the Mediterranean Sea (cf. (Numbers 34:6-7; Joshua 1:4; 9:1; 23:4; Ezekiel 47:13-16). Here is a link to a video titled: Can You Prove that the Beast to Come is European?
Pope Francis even has won the Charlemagne Prize for his work on European unity (see Pope Francis given 'Charlemagne Prize;' EU leaders worried about EU's future). He is working on political and religious unity.
It should be an affront to all who call themselves Christian to state that Muslims and Jews are 'believers.' Yet, Pope Francis and others are promoting "Amen-A House of Prayer For All Believers" at the 2016 Mekudeshet Festival.
As I stated on WOCA radio two days ago (click on Dr. Bob Thiel Interview – Hillary Clinton), one MUST accept Jesus in order to be saved.  The Apostle Peter made that clear in Acts 2:38 as well as in Acts 4:
8 Then Peter, filled with the Holy Spirit, said to them, "Rulers of the people and elders of Israel: 9 If we this day are judged for a good deed done to a helpless man, by what means he has been made well, 10 let it be known to you all, and to all the people of Israel, that by the name of Jesus Christ of Nazareth, whom you crucified, whom God raised from the dead, by Him this man stands here before you whole. 11 This is the 'stone which was rejected by you builders, which has become the chief cornerstone.'  12 Nor is there salvation in any other, for there is no other name under heaven given among men by which we must be saved." (Acts 4:8-12)
Pope Francis is promoting a false gospel (cf. Galatians 1:6-9; view also Galatians 1 and the False Gospel).
From his Laudato Si encyclical to his endorsement of the United Nation's 'New Universal Agenda' to his recent statements at World Youth Day (Pope Francis promotes worldly ecumenical and interfaith agenda at 'World Youth Day mass' in Poland), etc. Pope Francis has demonstrated he does not believe that it will take Kingdom of God to solve humanities' ills. He promotes an ecumenical, interfaith, agenda that is contrary to Christianity (see also BibleNewsProphecy: Pope Francis dreams of a Babylonian utopia).
Does that make him an Antipope?
To some it clearly does.
A while back, Australian Cardinal George Pell even hinted that may be so (see Australian Cardinal hints Francis could be an antipope; US Cardinal also expresses doubts about Pope Francis an/or watch Anti-Pope Francis?).
What is an antipope/anti-pope? Here is a short definition from The Catholic Encyclopedia:
Antipope

A false claimant of the Holy See in opposition to a pontiff canonically elected. ("Antipope." The Catholic Encyclopedia. Vol. 1. New York: Robert Appleton Company, 1907. Nihil Obstat. March 1, 1907. Remy Lafort, S.T.D., Censor. Imprimatur. +John Cardinal Farley, Archbishop of New York. 25 Feb. 2013 <http://www.newadvent.org/cathen/01582a.htm> )
While historically most have considered that antipopes falsely claimed the Roman Bishopric when others had it, I would contend that it is reasonable to conclude that one who was elected under false pretenses would also be a false claimant and hence antipope. Or if a pope changed and became demonically-possessed, such as the situation involving the False Prophet of Revelation 16:13, would that not make him an antipope? Most Catholics, at least now, would tend to agree that such a one would be a false claimant to the papal role. If so, that would seem to make him an antipope.
Although there have not been any recognized antipopes for several centuries, The Catholic Encyclopedia shows a list of thirty individuals that have been considered antipopes (Ibid) .This is roughly one for every ten claimed "Bishops of Rome."
To many in the world, he looks like a lamb (cf. Revelation 13:11a), but his words are really those of a dragon (Revelation 13:11b).
Notice something from a Catholic priest:
Priest E. Sylvester Berry (published 1920): The two horns denote a twofold authority  spiritual and temporal. As indicated by the resemblance to a lamb, the prophet will probably set himself up in Rome as a sort of anti-pope. Antichrist will establish himself in Jerusalem with his 'lying wonders' (Berry ES.  The Apocalypse of St. John, 1920.  Quoted in Culleton RG. The Reign of Antichrist.  Reprint 1974, TAN Books, Rockford (IL), pp. 199-200).
Notice that the above Catholic scholar ties the Antipope with the Antichrist and with Rome.
Pope Francis is working on unity, but is not likely to be the last one to do so (watch also Anti-Pope Francis?).
What about the idea of unity now?
Jesus did NOT come to bring worldwide unity in this age:
51 Do you suppose that I came to give peace on earth? I tell you, not at all, but rather division. (Luke 12:51)
The Apostle Paul taught that true unity of faith would not happen until after Jesus returns:
13 till we all come to the unity of the faith and of the knowledge of the Son of God, to a perfect man, to the measure of the stature of the fullness of Christ; (Ephesians 4:13)
Those who believe this unity comes prior to Jesus' return are in error. We are not 'perfect' until after He comes (cf. 1 John 1:8). The prophesied unity of faith does not happen prior to Jesus' return.
The beginning of this post shows a poster for European Babylonian unity. The poster has a tower that strongly resembles the Tower of Babel in Genesis 11.  The Bible warns of the rise of a coming Babylonian religious unity in the end times (Revelation 17), that is tied to the 'great city' (Revelation 17:18) that sits on seven-hills (Revelation 17:9)–that is Rome. Even Catholic scholars realize that Revelation 17 is a reference to Rome (see What Do Roman Catholic Scholars Actually Teach About Early Church History?).
Christians are warned not to be part of this false, Babylonians, ecumenical unity:
2 And he cried mightily with a loud voice, saying, "Babylon the great is fallen, is fallen, and has become a dwelling place of demons, a prison for every foul spirit, and a cage for every unclean and hated bird! 3 For all the nations have drunk of the wine of the wrath of her fornication, the kings of the earth have committed fornication with her, and the merchants of the earth have become rich through the abundance of her luxury."

4 And I heard another voice from heaven saying, "Come out of her, my people, lest you share in her sins, and lest you receive of her plagues. 5 For her sins have reached to heaven, and God has remembered her iniquities. (Revelation 18:2-5)
Notice also some passages from the Old Testament:
6 "Up, up! Flee from the land of the north," says the Lord; "for I have spread you abroad like the four winds of heaven," says the Lord. 7 "Up, Zion! Escape, you who dwell with the daughter of Babylon." (Zechariah 2:6-7)
Notice that even true believers are warned to get away from this. The next few verses tell about the timing and that God will cause the unity He wants:
8 For thus says the Lord of hosts: "He sent Me after glory, to the nations which plunder you; for he who touches you touches the apple of His eye. 9 For surely I will shake My hand against them, and they shall become spoil for their servants. Then you will know that the Lord of hosts has sent Me.

10 "Sing and rejoice, O daughter of Zion! For behold, I am coming and I will dwell in your midst," says the Lord. 11 "Many nations shall be joined to the Lord in that day, and they shall become My people. And I will dwell in your midst. Then you will know that the Lord of hosts has sent Me to you. 12 And the Lord will take possession of Judah as His inheritance in the Holy Land, and will again choose Jerusalem. 13 Be silent, all flesh, before the Lord, for He is aroused from His holy habitation!" (Zechariah 2:8-13)
So, the Bible is saying that GOD–not a 'new humanity'–will bring unity. And that does not come until AFTER Jesus returns. What Pope Francis and others are trying to do next month is in opposition to the Bible.
Also, understand that the Bible also teaches that when Jesus actually returns, He will destroy the unity of nations that are against Him (Revelation 11:15-18, 19:6,19-21).
The Bible says that Jesus is the 'Prince of Peace' (Isaiah 9:6) and it will take the return of Jesus Christ and the establishment of the millennial kingdom of God to bring peace–not the false interfaith/ecumenical movement–which is what Pope Francis seems to mean when he calls for a "new humanity."
Some items of related interest may include:
Will the Interfaith Movement Lead to Peace or Sudden Destruction? Is the interfaith movement going to lead to lasting peace or is it warned against? A video of related interest could be Do You Know That Babylon is Forming?
Jesus: The Son of God and Saviour Who was Jesus? Why did He come to earth? What message did He bring? Is there evidence outside the Bible that He existed? Here is a YouTube sermon titled Jesus: Son of God and Saviour.
Some Doctrines of Antichrist Are there any doctrines taught outside the Churches of God which can be considered as doctrines of antichrist? This article suggests at least three. It also provides information on 666 and the identity of "the false prophet." Plus it shows that several Catholic writers seem to warn about an ecumenical antipope that will support heresy. You can also watch a video titled What Does the Bible teach about the Antichrist?
The Gospel of the Kingdom of God This free online pdf booklet has answers many questions people have about the Gospel of the Kingdom of God and explains why it is the solution to the issues the world is facing.
The Gospel of the Kingdom of God was the Emphasis of Jesus and the Early Church Did you know that? Do you even know what the gospel of the kingdom is all about? You can also see a YouTube video sermon The Gospel of the Kingdom.
United Nations: Humankind's Last Hope or New World Order? Is the UN the last hope for humanity? Or might its goals end up with sinister results? Two related videos include UN's 'New Universal Agenda' is a False Gospel! and United Nations and Vatican Are Planning the New World Order.
Europa, the Beast, and the Book of Revelation discusses the largest church since the second/third century, which in a real sense is the eighth church mentioned in the Book of Revelation (it also endorses "eighth day" worship). What church would support the Beast? Here is a link to a video titled: Europe and the 'Holy Roman Empire'.
Laudato Si: Pope's Agenda or Kingdom of God? Pope Francis' 2nd encyclical is titled 'Laudato Si.' In it, he goes over his views related to environmental, economic, social, moral, agricultural, and spiritual issues. He advocates international cooperation to solve various problems he believes are affecting humanity. Is that Pope's agenda the solution? What about the Kingdom of God? does the Bible teach? Two related articles include Laudato Si: Will Pope Francis' economic actions match his words? and Laudato Si: A call for a one-world government?
Pope Francis: Could this Marian Focused Pontiff be Fulfilling Prophecy? Pope Francis has taken many steps to turn people more towards his version of 'Mary.' Could this be consistent with biblical and Catholic prophecies? This article documents what has been happening. There is also a video version titled Pope Francis: Could this Marian Focused Pontiff be Fulfilling Prophecy?
The Malachy Prophecies and "Peter the Roman" An Irish bishop allegedly predicted something about 112 popes in the 12th century. Pope Benedict XVI was number 111. Francis would seem to be number 112–if he is that one–and if so, he is to reign until Rome is destroyed. May he be an antipope/final Antichrist?
Beware: Protestants Going Towards Ecumenical Destruction! What is going on in the Protestant world? Are Protestants turning back to their 'mother church' in Rome? Does the Bible warn about this? What are Catholic plans and prophecies related to this? Is Protestantism doomed? See also World Council of Churches Peace Plan.
Why Should American Catholics Fear Unity with the Orthodox? Are the current ecumenical meetings a good thing or will they result in disaster? Is doctrinal compromise good? Here is a link to a related video Should you be concerned about the ecumenical movement?
Mary, the Mother of Jesus and the Apparitions Do you know much about Mary? Are the apparitions real? What happened at Fatima? What might they mean for the rise of the ecumenical religion of Antichrist? Are Protestants moving towards Mary? How do the Eastern/Greek Orthodox view Mary? How might Mary view her adorers? See also the video Marian Apparitions May Fulfill Prophecy.
Feast of the Immaculate Conception? Did early Christians teach Mary had an immaculate conception and led a sinless life?
Origin of the Marian Dogmas: Where Do Catholic Scholars Say The Four Dogmas of Mary Came From?
Assumption of Mary Did Mary die? Was she taken to heaven on August 15th? What is known? What does the Bible show?
Will You Be Deceived by Antichrist? 1964 article by David Jon Hill, originally published in the old Good News magazine.
Could Pope Francis be the Last Pope and Antichrist? According to some interpretations of the prophecies of the popes by the Catholic saint and Bishop Malachy, Pope Francis I is in the position of "Peter the Roman," the pontiff who reigns during tribulations until around the time of the destruction of Rome. Do biblical prophecies warn of someone that sounds like Peter the Roman? Could Francis I be the heretical antipope of Catholic private prophecies and the final Antichrist of Bible prophecy? This is a YouTube video.