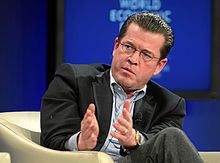 Karl-Theodor zu Guttenberg (World Economic Forum)
Former German Defense Minister, Baron Karl-Theodor zu Guttenberg met with Germany's Chancellor Merkel (what comes after the original is machine translated from German to English):
Berlin (RPO). Der frühere Verteidigungsminister Karl-Theodor zu Guttenberg (CSU) hat sich mit Kanzlerin Angela Merkel (CDU) in Berlin getroffen. Ein Regierungssprecher bestätigte am Dienstag entsprechende Medienberichte. Selbst Merkels engste Mitarbeiter sollen von dem Termin nichts gewusst haben.


Guttenberg habe die Kanzlerin bereits am Montag im Kanzleramt besucht. Zu Anlass und Inhalt machte der Sprecher keine Angaben. Laut "Welt" handelte es sich um einen persönlichen Termin bei Angela Merkel. Es gilt in Unionskreisen als ausgeschlossen, dass Merkel dem CSU-Politiker einen Ministerposten in der neuen Bundesregierung in Aussicht gestellt hat.

Laut "Bild" sprachen sie über die Affäre um den US-Geheimdienst NSA und die Folgen für die deutsch-amerikanischen Beziehungen. Guttenberg war 2011 zurückgetreten, nachdem bekanntgeworden war, dass er seine Doktorarbeit in weiten Teilen von anderen abgeschrieben hatte. Danach zog er mit seiner Familie in die USA.  Dort ist Guttenberg unter dem Titel "renommierter Staatsmann" für ein Washingtoner Politik-Institut als Vortragsredner tätig…

Bei einer Veranstaltung in Österreich ließ der Ex-CSU-Star jüngst eine mögliche Rückkehr in die Politik offen. In der CSU wird spekuliert, dass sich Guttenberg 2014 in der Europapolitik engagieren könnte. Als Internet-Berater ist er für die EU-Kommission tätig…  http://www.rp-online.de/politik/deutschland/angela-merkel-empfaengt-karl-theodor-zu-guttenberg-1.3794237

Berlin (RPO).'s Former Defence Minister Karl-Theodor zu Guttenberg (CSU) has (CDU), met with Chancellor Angela Merkel in Berlin. A government spokesman confirmed on Tuesday appropriate media reports. Even Merkel's closest associates are said to have known nothing of the appointment.Guttenberg visited the Chancellor on Monday at the Chancellery. To cause and content of the speaker did not specify. According to " World "it was a personal meeting with Angela Merkel. It is in union circles as possible that Merkel has asked the CSU politician made a minister in the new government in sight.

According to the "Bild" they talked about the affair to the U.S. NSA and the consequences for German-American relations…

At an event in Austria the former CSU star a possible return to politics was recently open. In the CSU is speculated that Guttenberg could engage in the Europe 2014 policy. As an Internet consultant, he has worked for the European Commission…
I believe that Baron Guttenberg not only has concerns about USA espionage and internet surveillance, I believe that he still has political ambitions.
Baron Guttenberg was embarrassed by a plagiarism scandal in 2011, then voluntarily resigned (Angela Merkel had said that he did not have to leave or resign) and went on a self-imposed exile to the USA. He is one who, however, could possibly be the final Beast of biblical prophecy or at least one who may be involved in his rise.
Currently, Baron Guttenberg is involved in certain policy positions in various groups, including one that is part of the European Union.
Most in the media realize that Baron Karl-Theodor zu Guttenberg was disgraced by the plagiarism scandal that cost him his Ph.D. and his ministry position and persuaded him to leave politics for a time.  Yet, few are aware that a disgraced individual is apparently one who will become the final King of the North or Beast of biblical prophecy.
Bible prophecy warns about a leader who was rejected and seemingly comes out of nowhere who will rise up and lead Europe per Daniel 11:21-44. One verse to focus on is verse 21. Here are four translations of it from Catholic and Protestant sources:
21 And there shall stand up in his place one despised, and the kingly honour shall not be given him: and he shall come privately, and shall obtain the kingdom by fraud. (Daniel 11:21, Douay-Rheims)

21 "'His place will be taken by a reject, a man spurned and passed over for advancement. He'll surprise everyone, seemingly coming out of nowhere, and will seize the kingdom. (Daniel 11:21 from THE MESSAGE: The Bible in Contemporary Language © 2002 by Eugene H. Peterson. All rights reserved.)

21 And in his place shall stand up a contemptible person, to whom they had not given the honor of the kingdom: but he shall come in time of security, and shall obtain the kingdom by flatteries. (Daniel 11:21, ASV)

21 'And stood up on his station hath a despicable one, and they have not given unto him the honour of the kingdom, and he hath come in quietly, and hath strengthened the kingdom by flatteries. (Daniel 11:21, Young's Literal Translation)
The fact that he has had problems, is out of political office, and has been rejected by various ones is consistent with biblical and other predictions. He has confirmed seven speculative predictions I posted related to him after I posted them (for details see Might German Baron Karl-Theodor zu Guttenberg become the King of the North?). It should be understood that just because he fulfilled various predictions does not prove that he must be the final King of the North. But they certainly give me reason, combined with biblical and other prophetic sources to consider that he could fulfill that role or at least aid the one who will have it.
I do believe that Baron Guttenberg will take steps at a political comeback, but not all of those steps will go well or succeed as he will hope.  But if he is the one, eventually he will surprise very many.
Yet, Karl-Theodor zu Guttenberg could simply be a somewhat politician with many ups and downs. And all his intentions could be fine, despite him being rejected, etc. We will see.
It is important to remember that there are more than a dozen New Testament admonitions to watch and be alert to the signs of the times in the last days (see Matthew 24:42-44; 25:13; Mark 13:33-37; Luke 21:34-36; Acts 20:31; 1 Thessalonians 5:6, 20).
Although Karl Guttenberg is not about to become the Beast leader at this time, it still seems that the Baron is one to watch.  His meeting with Angela Merkel proves that he still has political connections and influence.
Some links of possibly related interest may include:
Europa, the Beast, and Revelation Where did Europe get its name? What might Europe have to do with the Book of Revelation? What about "the Beast"? Is an emerging European power "the daughter of Babylon"? What is ahead for Europe? Here is a link to a video titled: Can You Prove that the Beast to Come is European?
Might German Baron Karl-Theodor zu Guttenberg become the King of the North? Is the former German Defense Minister (who is also the former German Minister for Economics and Technology) one to watch? What do Catholic, Byzantine, and biblical prophecies suggest?
Germany's Assyrian Roots Throughout History Are the Germanic peoples descended from Asshur of the Bible? Have there been real Christians in Germanic history? What about the "Holy Roman Empire"? There is also a You-Tube video sermon on this titled Germany's Biblical Origins.
Germany in Biblical and Catholic Prophecy Does Assyria in the Bible equate to an end time power inhabiting the area of the old Roman Empire? What does prophecy say Germany will do and what does it say will happen to most of the German people?
Who is the King of the North? Is there one? Do biblical and Roman Catholic prophecies for the Great Monarch point to the same leader? Should he be followed? Who will be the King of the North discussed in Daniel 11? Is a nuclear attack prophesied to happen to the English-speaking peoples of the United States, Great Britain, Canada, Australia, and New Zealand? When do the 1335 days, 1290 days, and 1260 days (the time, times, and half a time) of Daniel 12 begin? When does the Bible show that economic collapse will affect the United States? Here is a link to a video titled: The Future King of the North.
Is Russia the King of the North? Some claim it is. But what does the Bible teach?
The Snowden Leaks are Leading to the Destruction of the USA Can what happened with the leaks of what the NSA has done help the USA to be taken over? What does the Bible teach that seems to be related to this?
Will USA Spying Help the Beast Power? Various allegations have surfaced about the United States government spying on its own citizens as well as its supposed allies in the European Union. Whether or not all the espionage allegations are true, and the main ones have not been publicly denied by the government of the USA, the reality is that this does have prophetic ramifications and will help the Beast of Revelation. This video provides quotes from the Bible showing how this is so. The USA is placing itself in a position to be taken over and its response to the allegations will make it easier for the Europeans to do so.
Can You Prove that the Beast to Come is European? The Book of Revelation tells of a beast power that will rise up. Some think that this must be Russia or could be Islamic, while others say that this power is European. The Book of Daniel tells of the rise of an end time King of the North that some think must be referring to a Russian leader, while others say that this power is European. How can you be sure? This YouTube video has all the scriptural proofs that you should need to prove that this power must be a European one.