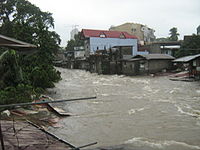 In today's TW News & Prophecy, LCG reported:
Thailand's epic flooding continues.

Three months of flooding across the nation has left more than 500 dead and one quarter of Thailand's 76 provinces still feeling the effects of flood waters. For three weeks, much of the nation's capital, Bangkok, has been submerged under waist-deep water. The sad part is that the water has nowhere to go and is predicted to remain for several more weeks.

Analysts estimate that 1,000 factories are closed due to flooding and at least one major airport is under neck-deep water. The president's offices have been moved twice due to rising waters. According to one reporter, "By many measures, Thailand is working at half speed." Food and water are becoming scarce in some areas and mosquitos are swarming (New York Times, November 8, 2011).

Across the Pacific Ocean this week, the "Bering Sea Superstorm" smacked into Alaska bringing hurricane-force winds of 90 miles per hour, more than a foot of snow in some places, and tidal surges 10 feet (two meters) high (WashingtonPost.com, November 9, 2011). Worldwide weather is getting more extreme.

Jesus warned that "pestilences" and "fearful sights" will come more frequently as the end of age approaches (Luke 21:11). For more information on this topic, see our booklet, Who Controls the Weather?
The situation in Thailand is a concern, and is one that I have reported on before (see ).
Jesus warned about a time of troubles called the beginning of sorrows:
8 … And there will be…famines and troubles. These are the beginnings of sorrows. (Mark 13:8)
Two articles of possibly related interest may include:
Asia in Prophecy What is Ahead for Asia? Who are the "Kings of the East"? What will happen to nearly all the Chinese, Russians, Indians, and others of Asia, like those in Thailand? China in prophecy, where? Who has the 200,000,000 man army related to Armageddon?
Can the Great Tribulation Begin in 2011 or 2012? Can the Great Tribulation begin today? When is the earliest that the Great Tribulation can begin? What is the Day of the Lord? What is "the beginning of sorrows"? Have we begun or are we about ready for "the beginning of sorrows" to begin.