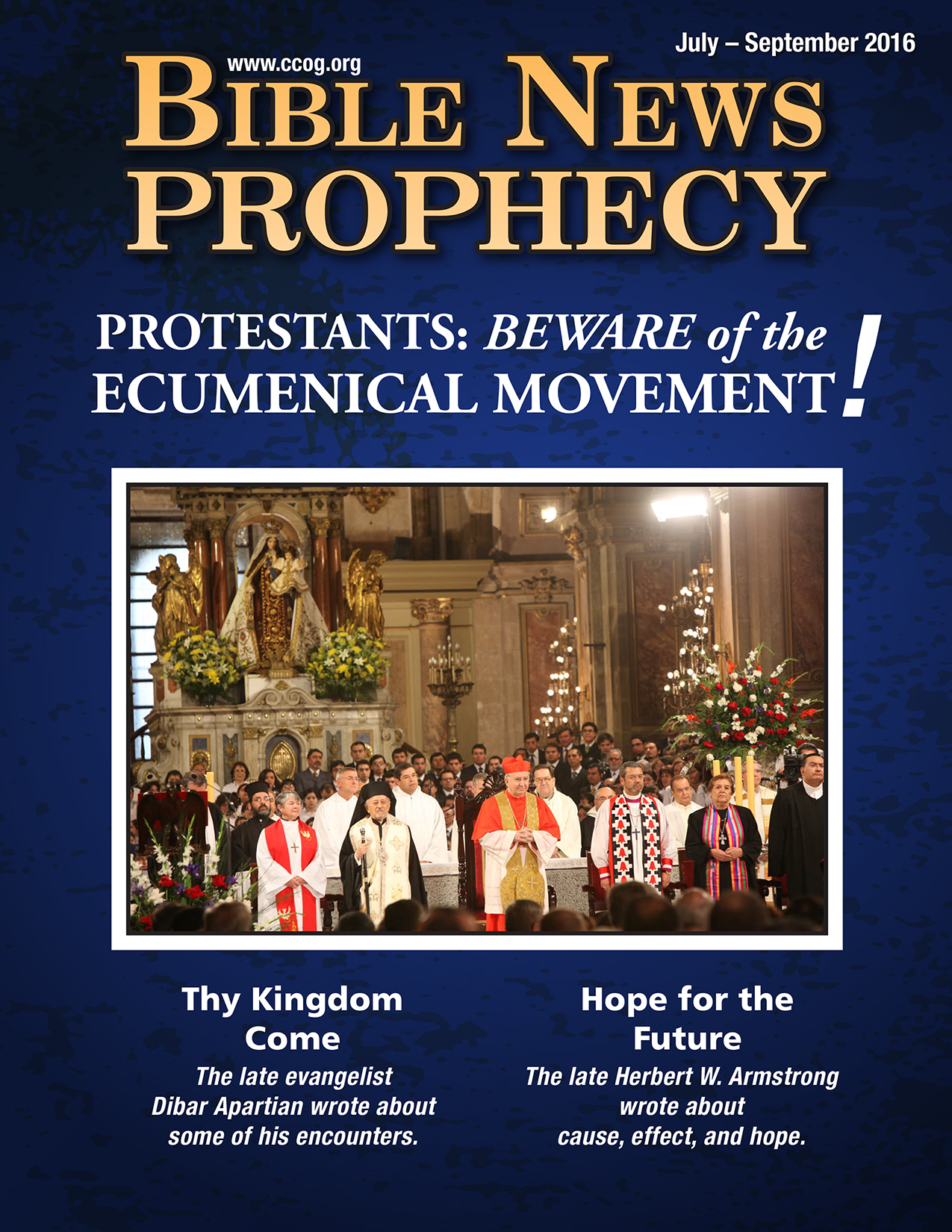 July – September 2016 edition of BibleNewsProphecy magazine.
Former Roman Catholic, and now Protestant, Mike Gendron put out the following in his latest newsletter:
Professing Evangelicals Are Assisting the Pope in His Agenda to Reverse the Reformation

On July 16th, Pope Francis will be calling for unity among all Christians at an ecumenical prayer rally in Washington, D.C. Hundreds of thousands of Christians will hear his video message along with messages from evangelical leaders Ronnie Floyd, Ravi Zacharias, Luis Palau, Josh McDowell, Francis Chan, Ann Voskamp, and others. Organizers of the event are attempting to gather one million Christians and Catholics in unified prayer and worship with a goal to bring unity to all who "love Jesus." The event, called Together 2016, is about laying aside what divides us to lift up Jesus who unites us.

Nick Hall, the founder of PULSE, who came up with the idea for Together 2016, said adding the Pope to the lineup is the best news yet. He said, "We are humbled and honored by his involvement and are eager to share his message with the crowd that gathers. That His Holiness would choose to speak into this historic day is a testament to the urgency and the need for followers of Jesus to unite in prayer for our nation and our world." While some may admire Hall's zeal, it is clearly not based on knowledge. For him to refer to a wolf in sheep's clothing as "His Holiness" demonstrates his lack of knowledge of God's Word. God alone is holy! Anyone who does not know Scripture cannot discern between holiness and depravity or between true and false prophets

The evangelicals who will speak with the pope need to know that the Lord Jesus did not come to bring peace on earth but rather division (Luke 12:51). His Gospel has always divided believers from unbelievers. The Lord Jesus said He is the door that must be entered for salvation (John 10:9). Those words caused division among the people who heard them (John 10:19). Clearly, those who have been sanctified by the Gospel must avoid uniting with those who embrace another gospel and have deserted Christ (Gal. 1:6-9).

The evangelical leaders scheduled to speak with the false prophet of Rome either do not know the exclusivity of the true Gospel of Jesus Christ, or they do not know the false and fatal gospel of Catholicism; or perhaps they know, but chose to be disobedient to Scripture. God's Word gives us a clear command: "Do not be unequally yoked with unbelievers. For what partnership has righteousness with lawlessness? Or what fellowship has light with darkness? What accord has Christ with Belial? Or what portion does a believer share with an unbeliever? What agreement has the temple of God with idols?" (2 Cor. 6:14-16). Evangelicals who worship God in Spirit and truth must have no agreement with Catholics who worship idols, relics and a false Christ. To do so would be seeking to please men over God (Gal. 1:10).

The evangelical leaders who are planning to stand with the Pope will betray the Gospel, the Reformation, and all those martyred by Rome. It was the Word of God proclaimed by the Reformers that broke the tyrannical hold of the popes over the visible church. Now these evangelicals are aiding and abetting the Pope's attempt to reverse the Reformation. The truths that set the Reformers free from religious bondage and deception are being suppressed or ignored.

It is very disturbing to see evangelical leaders cooperating with the enemies of Christ and His Gospel. The apostate church of Rome has condemned Christians with over 100 anathemas for believing the infallible truths of God's Word. We must wonder if these evangelicals know that the worship of the Eucharist and veneration of Mary is idolatry (Ex. 20:3-5)? Don't they know that Rome's plan of salvation is a false gospel that condemns those who teach it (Gal. 1:6-9)? Don't they know that the sacrifice of the Mass and the dogma of Purgatory is a blatant denial of the finished, perfect, and sufficient work of Christ's atonement (Heb. 10:10-18)?

As more and more evangelical leaders embrace the Pope as a brother-in-Christ, they must be warned and called to repentance. Those who promote unity with false teachers, without challenging their errors, leave their own convictions and beliefs open to question. Anyone who embraces false teachers is giving credibility to their heresies. All Christians will be held accountable to God for the souls that are misled by our unwillingness to contend for the faith. For more of Mike's comments, read his interview conducted by Christian News Network.
While we in the Continuing Church of God are NOT Protestant, do not consider the Reformation leaders as related to us, nor do we endorse evangelical protestantism, we agree with Mike Gendron's implication that a Roman pontiff will be the False Prophet of Revelation, and that many who profess Christ do not truly have the real Gospel (see also our free online booklet The Gospel of the Kingdom of God). (As far as purgatory goes, check out the article Did the Early Church Teach Purgatory?)
Although real Christians strive, as much as should be done, to live peaceably with all others (Romans 12:18), that does NOT include religious unity with those that are not true Christians.
Jesus did NOT come to bring worldwide unity in this age:
51 Do you suppose that I came to give peace on earth? I tell you, not at all, but rather division. (Luke 12:51)
The Bible shows that a false ecumenical unity will come (Revelation 13:4-8).
Notice also:
6 "Up, up! Flee from the land of the north," says the Lord; "for I have spread you abroad like the four winds of heaven," says the Lord. 7 "Up, Zion! Escape, you who dwell with the daughter of Babylon." (Zechariah 2:6-7)
Notice that even true believers are warned to get away from this.
The Apostle Paul also taught that true unity of faith would not happen until after Jesus returns:
13 till we all come to the unity of the faith and of the knowledge of the Son of God, to a perfect man, to the measure of the stature of the fullness of Christ; (Ephesians 4:13)
Those who believe this unity comes prior to Jesus' return are in error. We are not 'perfect' until after He comes (cf. 1 John 1:8). The prophesied unity of faith does not happen prior to Jesus' return.
Also, when Jesus actually returns, He will destroy the unity of nations that are against Him (Revelation 11:15-18, 19:6,19-21).
Furthermore, while the true Christian faith will continue (Matthew 16:18), Protestantism as most understand it is doomed as that movement does not truly accept scripture as it should (see also Hope of Salvation: How the Continuing Church of God differ from most Protestants).
Please, if you are Protestant, believe what the Bible actually teaches, turn to God, and resist the coming, more powerful, ecumenical appeals which will deceive all but the very elect (Matthew 24:24).
Consider that the New Testament teaches:
4 There is one body and one Spirit, just as you were called in one hope of your calling; 5 one Lord, one faith, one baptism (Ephesians 4:4-5)
The Bible does not endorse multiple religions along with multiple 'lords' and baptisms.  The time for true religious unity is not now–all religions would have to convert to the true Christian faith (Where is the True Christian Church Today? and Continuing History of the Church of God) and that is not what the ecumenical/interfaith movements are all about.
As far as timing for unity, notice the following:
10 "Sing and rejoice, O daughter of Zion! For behold, I am coming and I will dwell in your midst," says the Lord. 11 "Many nations shall be joined to the Lord in that day, and they shall become My people. And I will dwell in your midst. Then you will know that the Lord of hosts has sent Me to you. 12 And the Lord will take possession of Judah as His inheritance in the Holy Land, and will again choose Jerusalem. 13 Be silent, all flesh, before the Lord, for He is aroused from His holy habitation!" (Zechariah 2:10-13)
It is only after Babylon falls (Zechariah 2:6-7) and Jesus returns that true Christian unity will occur (Zechariah 2:10-11).
Do not be deceived by the Babylonian ecumenical movement. The Bible warns that nearly all on the earth in the final end times will be deceived (2 Thessalonian 2:9-12) and fall for it (Revelation 13:8). Have the 'love of the truth' so that you will not fall for this as more and more are coming to believe that the interfaith/ecumenical movement is the key to peace.
Yet, the Bible says that Jesus is the 'Prince of Peace' (Isaiah 9:6) and it will take the return of Jesus Christ and the establishment of the millennial kingdom of God to bring peace–not the false interfaith/ecumenical movement.
Some items related to Holy Days that may also be of interest could include the following:
Beware: Protestants Going Towards Ecumenical Destruction! What is going on in the Protestant world? Are Protestants turning back to their 'mother church' in Rome? Does the Bible warn about this? What are Catholic plans and prophecies related to this? Is Protestantism doomed? See also World Council of Churches Peace Plan.
The Similarities and Dissimilarities between Martin Luther and Herbert W. Armstrong This article clearly shows some of the doctrinal differences between in the two. At this time of doctrinal variety and a tendency by many to accept certain aspects of Protestantism, the article should help clarify why the genuine Church of God is NOT Protestant. Do you really know what the Protestant Reformer Martin Luther taught and should you follow his doctrinal example? Here is a related sermon video: Martin Luther and Herbert Armstrong: Reformers with Differences.
Why Should American Catholics Fear Unity with the Orthodox? (And the Protestants) Are the current ecumenical meetings a good thing or will they result in disaster? Is doctrinal compromise good? Here is a link to a related video Should you be concerned about the ecumenical movement?
Will the Interfaith Movement Lead to Peace or Sudden Destruction? Is the interfaith movement going to lead to lasting peace or is it warned against? A video sermon of related interest is: Will the Interfaith Movement lead to World War III? and a video sermon is also available: Do You Know That Babylon is Forming?
Prayer: What Does the Bible Teach? This free booklet contains 28 biblically-based tips on improving the effectiveness of your prayers. This is a pdf. A related two part sermon is available: What Does the Bible Teach About Prayer? and What does the Bible Teach About Prayer (& Healing)?
Universal Offer of Salvation: There Are Hundreds of Verses in the Bible Supporting the Doctrine of True Apocatastasis Do you believe what the Bible actually teaches on this? Will all good things be restored? Will God call everyone? Will everyone have an opportunity for salvation? Does God's plan of salvation take rebellion and spiritual blindness into account? Related sermon videos include Universal Offer of Salvation I: God is love  and Universal Offer of Salvation II: The Age to Come and the 'Little Flock' and Universal Offer of Salvation III: All Are to Know Jesus, But When? and Universal Offer of Salvation IV: Will the Guilty be Pardoned? and Universal Offer of Salvation V: All Israel Will be Saved? A version of the main article was also translated in the Spanish language: Oferta universal de salvación: Hay cientos de versículos en la Biblia que apoyan la verdadera doctrina de la Apocatastasis.
Did the Early Church Teach Purgatory? Is there a place called purgatory? Does God have a plan to help those who did not become saints in this life?
What is Limbo? Is There Such a Place as Limbo? What Happens to Babies When They Die? When did Limbo start being taught? What is the truth about dead babies?
Did The Early Church Teach Millenarianism? Was the millennium (sometimes called chiliasm) taught by early Christians? Who condemned it? Will Jesus literally reign for 1000 years on the earth? Is this time near? Two related sermons are available Millennial Utopia and The Millennium.