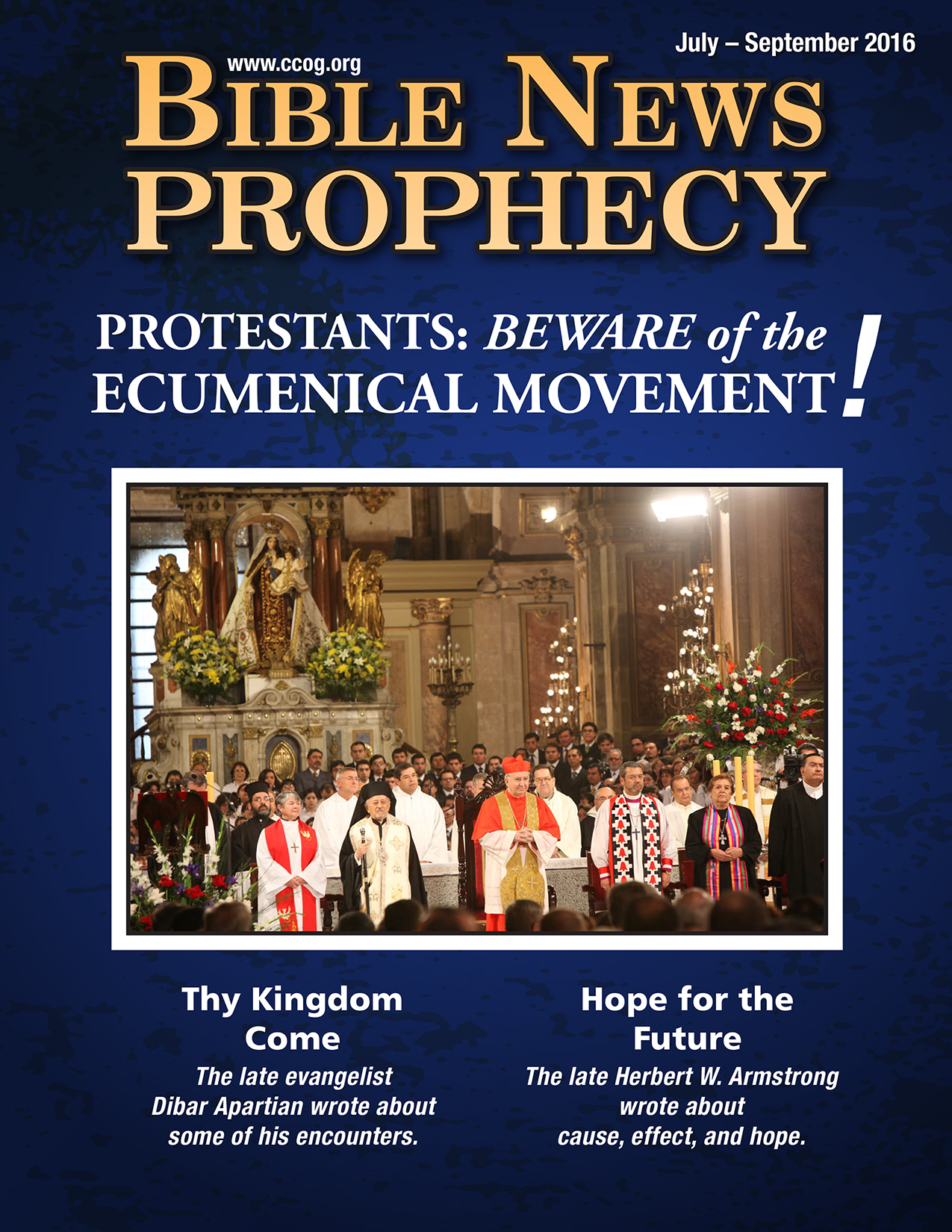 Here is a pdf link to the July – September 2016 edition of BibleNewsProphecy magazine.
Contents:
From the Editor:  Protestants: Beware of the Ecumenical Movement!
Study the Bible Course Lesson 9:  WHY Science Hasn't "Discovered" God.  And why evolutionary explanations for early life are scientifically false.
Thy Kingdom Come The late evangelist Dibar Apartian wrote about some of his encounters.
Hope for the Future The late Herbert W. Armstrong wrote about cause, effect, and hope.
Twenty-Eight Tips for More Effective Prayers: Part 4. What is prayer?  What are some teachings from the Bible that can improve your prayers?
Here is a pdf link to the July – September 2016 edition of BibleNewsProphecy magazine.
Some items related to Holy Days that may also be of interest could include the following:
Beware: Protestants Going Towards Ecumenical Destruction! What is going on in the Protestant world? Are Protestants turning back to their 'mother church' in Rome? Does the Bible warn about this? What are Catholic plans and prophecies related to this? Is Protestantism doomed? See also World Council of Churches Peace Plan.
The Similarities and Dissimilarities between Martin Luther and Herbert W. Armstrong This article clearly shows some of the doctrinal differences between in the two. At this time of doctrinal variety and a tendency by many to accept certain aspects of Protestantism, the article should help clarify why the genuine Church of God is NOT Protestant. Do you really know what the Protestant Reformer Martin Luther taught and should you follow his doctrinal example? Here is a related sermon video: Martin Luther and Herbert Armstrong: Reformers with Differences.
Why Should American Catholics Fear Unity with the Orthodox? (And the Protestants) Are the current ecumenical meetings a good thing or will they result in disaster? Is doctrinal compromise good? Here is a link to a related video Should you be concerned about the ecumenical movement?
Will the Interfaith Movement Lead to Peace or Sudden Destruction? Is the interfaith movement going to lead to lasting peace or is it warned against? A video sermon of related interest is: Will the Interfaith Movement lead to World War III? and a video sermon is also available: Do You Know That Babylon is Forming?
Prayer: What Does the Bible Teach? This free booklet contains 28 biblically-based tips on improving the effectiveness of your prayers. This is a pdf. A related two part sermon is available: What Does the Bible Teach About Prayer? and What does the Bible Teach About Prayer (& Healing)?