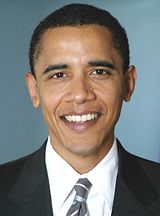 Barack Obama
The following was reported by AOL news this morning:
Plot to Kill Obama Uncovered, Feds Say
Two white supremacists allegedly plotted to go on a national killing spree, shooting and decapitating black people and ultimately targeting Democratic presidential candidate Barack Obama, federal authorities said Monday.
In all, the two men whom officials described as neo-Nazi skinheads planned to kill 88 people — 14 by beheading, according to documents unsealed in U.S. District Court in Jackson, Tenn. The numbers 88 and 14 are symbolic in the white supremacist community.
The spree, which initially targeted an unidentified predominantly African-American school, was to end with the two men driving toward Obama, "shooting at him from the windows," the documents show.
This is sad, but not unexpected.  As regular readers of this page are aware, I have had concerns about whether Barack Obama or John McCain would eventually be killed (see John McCain Picks a Woman for VP).
We do live in perilous times.
Several articles of possibly related interest may include:
Barack Obama, Prophecy, and the Destruction of the United States Some claim that Barack Obama is the prophesied "son of Kenya". Might Bible prophecy be fulfilled if he is elected president?
Anglo – America in Prophecy & the Lost Tribes of Israel Are the Americans, Canadians, British, Scottish, Welsh, Australians, Anglo-Southern Africans, and New Zealanders descendants of Joseph? Where are the lost ten-tribes of Israel? Who are the lost tribes of Israel? Will God punish the U.S.A., Canada, United Kingdom, and other Anglo nations? Why might God allow them to be punished first?
Barack Obama Carries Hindu Monkey God Although there are some strange and false stories about Barack Obama, this one seems to be true.
Might Sarah Palin Fulfill Prophecy? Why might Sarah Palin fulfill Bible prophecy?
Barack Obama is Not the Antichrist Some have suggested that he may be, but neither he nor John McCain will be.  Find out why they cannot be.
Some Doctrines of Antichrist Are there any doctrines taught outside the Churches of God which can be considered as doctrines of antichrist? This article suggests at least three. It also provides information on 666 and the identity of "the false prophet". Plus it shows that several Catholic writers seem to warn about an ecumenical antipope that will support heresy.
Do Certain Catholic Prophecies About Antichrist Warn Against Jesus? Will the final "Anti-Christ" be Jewish, insist on Saturday, be opposed to the trinity, and bring in the millennium? Catholic writings indicate this, but what does the Bible show?
Two Horned Beast of Revelation and 666 This article explains how the LCG views this, and compares this to Ellen White.  Neither John McCain nor Barack Obama are 666.
Can the Great Tribulation Begin in 2009, 2010, or 2011? Can the Great Tribulation begin today? When is the earliest that the Great Tribulation can begin? What is the Day of the Lord?
Should a Christian Vote? This article gives some of the Biblical rationale on this subject. Would Jesus vote for president? Is voting in the Bible? This is a subject Christians need to understand.