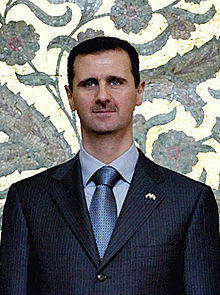 Syria's President Bashar al-Assad (Source: Agência Brasil, Wikipedia)
As the USA debates whether to attack Syria as well as how it may do so, Syria's President Assad put out some warnings:
9 September 2013

President Bashar al-Assad has warned against possible reprisal attacks if the United States attacks Syria, saying that if there were military strikes, Americans can "expect every action."

Assad's comments came as part of a television interview with CBS conducted in Damascus in which he also denied involvement in an alleged August 21 attack involving chemical weapons.

Assad said that if there were U.S. attacks on Syria in response, the United States "should expect everything."  http://www.voanews.com/content/reu-us-should-expect-everything-in-response-to-any-syria-strikes-says-assad/1745879.html

Assad used the interview to challenge the Obama administration's claims that his regime used chemical weapons in an attack that killed hundreds on Aug. 21. He said his soldiers were "in another area" at the time of the attack.

It comes as President Obama prepares to deliver a national address on Tuesday making his case for a military strike on Syria. The matter is currently before Congress, which will begin a set of votes this week on a resolution authorizing the use of force.

Obama on Monday also planned to make his case, in a string of interviews, for punishing Assad.

Top administration officials are heading to Capitol Hill for more classified briefings. And White House national security adviser Susan Rice is scheduled for a speech at a Washington think tank timed to the public relations blitz aimed at ensuring people the administration isn't contemplating another commitment like Iraq and Afghanistan.

In an interview Sunday in Damascus, Assad told American journalist Charlie Rose there is no conclusive evidence about who is to blame for the chemical weapons attacks and again suggested the rebels were responsible. Rose said Assad also warned him previous U.S. military efforts in the region have proved disastrous.

And Assad argued the evidence Secretary of State John Kerry has disclosed amounts to a "big lie" that resembles the case for war in Iraq that Secretary of State Colin Powell made to the United Nations over a decade ago. http://www.foxnews.com/politics/2013/09/09/assad-threatens-repercussions-if-us-launches-strike-on-syria/#ixzz2eP2FXLOC

(CBS News) In an exclusive interview with CBS News' Charlie Rose, President Bashar Assad said he is "disappointed" in the Obama administration for pursuing a strike against Syria, claiming faulty intelligence and a foreign policy comparable with the policy of former President George W. Bush. He also said any U.S. involvement in Syria's two-year-old civil war would only embolden America's enemies.

At first offering a more tempered argument against a U.S. strike, Assad explained it would not serve U.S. security interests…

The Syrian president again called on the U.S. and Congress to present hard evidence proving a chemical attack was launched within Syria and warned that a strike against Syria would only foster the growth of al Qaeda within his borders.

"First of all, because this is the war that is going to support Al Qaeda and the same people that kill Americans in the 11 of September. The second thing that we all want to tell to the Congress, that they should ask and that what we expect, we expect them to ask this administration about the evidence that they have regarding the chemical story and the allegations that they presented," Assad said.  http://www.cbsnews.com/8301-505263_162-57601934/assad-says-any-u.s-strike-on-syria-is-going-to-support-al-qaeda/
There are several points to be made.
First, it is true that the USA will ultimately not like the changes that will happen in Syria.  Eventually Syria, and others in the Middle East and North Africa, will plot to eliminate the USA based upon the 83rd Psalm.  A December 1979 Plain Truth article by Keith Stump's titled The Arab World in Prophecy had the following to say:
King David of ancient Israel in a prophetic psalm (Psalm 83) provides additional insight into the Mideast picture. Germany (Assyria in Bible prophecy) and perhaps the rest of Europe will be in league in the future with a union of Arab nations–a vast confederacy bound together in an effort to crush out the name "Israel" from the face of the earth! This Arab-Moslem confederacy may very well be the previously mentioned "king of the south"–a sphere of power encompassing vast portions of the Islamic world.

"They have said, Come, and let us cut them off from being a nation; that the name of Israel may be no more in remembrance. For they have consulted together with one consent: they are confederate against thee: The tabernacles of Edom [Esau or modern-day Turkey, a non-Arab but Islamic nation], and the Ishmaelites [Saudi Arabia]; of Moab [part of Jordan], and the Hagarenes [anciently these peoples dwelt in the area known as Syria today]; Gebal [Lebanon], and Ammon [modern Jordan], and Amalek [part of the Turks]; the Philistines [the modern Palestinians] with the inhabitants of Tyre [Lebanon]; Assur [whose descendants, the Assyrians, migrated to Germany] also is joined with them: they have holpen the children of Lot [Jordan and Western Iraq]" (Psalm 83:4-8).
Because Syria is expected to be part of the conspirators in Psalm 83, as well as a supporter of the future King of the South (Daniel 11:40-43) and aligned with Egypt per Ezekiel 30:1-9, I have been certain for quite some time that the situation in Syria would change.  Either Bashar Assad will change, die, or be exiled.
While what US President Obama seems to be proposing will not destroy Damascus–yet–more trouble is coming to Damascus as it will be destroyed (Isaiah 17:1). A confederation of Arabic states and Turkey (who is currently quite opposed to Syria's Assad) will form (Daniel 11:40-43; Ezekiel 30:1-8; Psalm 83:4-8) so change is coming–and this confederation most likely will be ran by one considered to be an Islamist.  This will not bode well for that area or Israel.
In the event of a regional conflict, Israel needs to realize that it can be damaged, perhaps severely by retaliation from Syria and/or its ally  Iran (cf. Isaiah 22:1-14).  And the USA will not end up unscathed–it can only spread itself so far.
Syria's Assad mentioned "every action" would be taken in the event of a USA attack.  What might that include?  Well, the U.S.A. itself is vulnerable to Electromagnetic pulse (EMP) type attacks (EMP attack can do more than knock-out electricity).  And they could cause major damage.  Syria's ally Iran has been working on this type of attack for years (UCG on Iran's EMP Threat and USA EMP Works, But USA Itself is at Risk) and is believed to have test-launched a missile capable of an emp attack just over a year ago.  Iran and even Syria could also cause disruptions of the internet (see also (Iran Believed to be Behind Cyber-Attacks Against US Banks).
Furthermore, Syria may utilize items such as biological weapons, chemical weapons, terrorism, arson, cyber crime, dirty bombs, etc.   This could affect the U.S.A.  The release of biological weapons, which Syria and Iran allegedly have, would be difficult to prove and could cause major problems.  The USA is not exempt from these types of "pestilences" (cf. Matthew 24:4-8) and "troubles" (Mark 13:8).
Wars do not always go as planned, for either side (or their allies).
Watch (Mark 13:37).
Some items of possibly related interest may include:
Damascus and Syria in Prophecy Will Bashar Assad hold power as he has it? Does the Bible show that Damascus, the capital of Syria, will be destroyed? What will happen to Syria? Will the Syrians support the final King of the South that the Bible tells will rise up? Which scriptures discuss the rise and fall of an Arabic confederation? Does Islamic prophecy predict the destruction of Syria. This is a YouTube video.
The Arab World In the Bible, History, and Prophecy The Bible discusses the origins of the Arab world and discusses the Middle East in prophecy. What is ahead for the Middle East and those who follow Islam? What does Islam teach about the Imam Mahdi?
Is the Future King of the South Rising Up? Some no longer believe there needs to be a future King of the South. Might Egypt, Islam, Iran, Arabs, or Ethiopia be involved? Might this King be called the Mahdi or Caliph? What does the Bible say?
The Future King of the South is Rising Does the Bible teach that there will be a future King of the South in Daniel 11? Is this kingdom rising up now? Did the old Worldwide Church of God (WCG) teach that there would be another one? And who is the King of the South? How will this involve Egypt? Is the final King of the South some type of Arab-Muslim confederation? Can Iran be involved? Is there a group that seems to be supporting the goals of the King of the South? Has the Obama Administration supported the rise of this power? This is a YouTube video.
The Muslim Brotherhood and the Rise of the King of the South The Bible tells of the formation of a power of nations that are in the Middle East and North Africa that are part of the final "King of the South" (Daniel 11:40-43) The Muslim Brotherhood wishes to have an Islamic empire with basically the same nations. This YouTube video explains what to expect from such a confederation.
Four Horsemen of the Apocalypse What do each of the four horseman of the Apocalypse represent? Have they began their ride? Did Jesus discuss the any of this? Might their rides coincide with the "beginning of sorrows? Do they start their ride prior to the Great Tribulation? Did Nostradamus or any other 'private prophets' write predictions that may mislead people so that they may not understand the truth of one or more of the four horseman? There is also a related YouTube video titled The Four Horsemen of the Apocalypse.
Fourth Horseman of the Apocalypse What is the pale horse of death and pestilences? What will it bring and when? Spanish: El cuarto jinete de Apocalipsis, el caballo pálido de muerte y pestilencia.
Barack Obama, Prophecy, and the Destruction of the United States-Second Edition for Second Obama Term This is a 160 page book for people truly interested in prophecies related to Barack Obama and the United States, including learning about many that have already been fulfilled (which the book documents in detail) and those that will be fulfilled in the future. It also has a chapter about a Republican choice. This book is available to order at www.barackobamaprophecy.com. The physical book can also be purchased at Amazon from the following link: Barack Obama, Prophecy, and the Destruction of the United States: Is Barack Obama Fulfilling Biblical, Islamic Catholic, Kenyan, and other America-Related Prophecies? What About Republican Leaders? Second Edition for Second Obama Term.
Barack Obama, Prophecy, and the Destruction of the United States-Second Term-Amazon Kindle edition. This electronic version is available for only US$2.99. And you do not need an actual Kindle device to read it. Why? Amazon will allow you to download it to almost any device: Please click HERE to download one of Amazon s Free Reader Apps. After you go to for your free Kindle reader and then go to Barack Obama, Prophecy, and the Destruction of the United States-Second Term-Amazon Kindle edition.