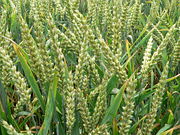 Wheat
While I reported about lower grain production outside the USA a couple of days ago (see Argentina, Brazil, and Canada Have Grain Concerns), the following about Texas and Oklahoma (and also Australia) caught my attention:
Markets trending up following slow start

Southwest Farm Press – June 10, 2009    excerpt…

Blake Bennett, Texas AgriLife Extension economist, says overestimates of the 2009 wheat crop have moved prices up in recent weeks. Trouble with the Southwest winter wheat crop and problems with spring wheat planting support a price increase.

Texas and Oklahoma wheat production will be down as much as 50 percent from 2008. Kansas farmers are not as hard hit, but are still not expecting a bin buster, Bennett said during the North Texas Small Grains Field Day in Leonard, Texas.

"The Kansas crop is not good enough to overcome the losses in Texas and Oklahoma," he said. Estimates put Oklahoma production at about 20 bushels per acre and about a 77 million-bushel crop. Texas wheat will make about 62 million bushels.

Crop conditions in mid-May showed Texas and Oklahoma wheat trending toward the low end of the scale, with much of the crop rated poor or very poor. Kansas was showing 53 percent of the crop in the good to excellent range.

For the 18 primary wheat producing states, 37 percent of the crop is rated good and 27 percent is fair…

He said concern for drought in Australia at planting time also may affect the market. Western Australia, where 40 percent of the country's total wheat crop grows, is dry. "Australia is a big player and that may affect prices."

He said the trend line for the wheat market is up…

He said wet weather in the Midwest may affect corn prices. "Growers have not been able to get into the fields and production could be running into trouble."

By May 10, only 43 percent of the U.S. corn crop had been planted. The typical 5-year average is 71 percent by that date…

An increased ethanol mandate also would encourage better corn prices. A recent finding that ethanol use results in a 16 percent environmental advantage over fossil fuels, if international land use is considered, may be a negative for the ethanol industry. Without that land use, which many observers consider misleading, the advantage is more than 60 percent.

Bennett said maintaining momentum in an upward corn market remains "a big question mark. If the pork industry improves and if we get more positive news about the economy and if beef demand comes back, we could see a positive effect on the corn market." http://southwestfarmpress.com/grains/grain-markets-0610/
Thus, wheat and other grain prices seem possibly poised to rise.
While we are not there yet, the Bible points to a time when wheat will be considered much more valuable than most tend to consider it:
6 And I heard a voice in the midst of the four living creatures saying, "A quart of wheat for a denarius, and three quarts of barley for a denarius; and do not harm the oil and the wine."  (Revelation 6:6).
The situation may be a little tight now, but the end is not yet. The end (meaning the Great Tribulation) CANNOT (biblically) start before 2012.
Some articles of possibly related interest may include:
Physical Preparation Scriptures for Christians. We all know the Bible prophecies famines. Should we do something?
Anglo – America in Prophecy & the Lost Tribes of Israel Are the Americans, Canadians, British, Scottish, Welsh, Australians, Anglo-Southern Africans, and New Zealanders descendants of Joseph? Where are the lost ten-tribes of Israel? Who are the lost tribes of Israel? Will God punish the U.S.A., Canada, United Kingdom, and other Anglo nations? Why might God allow them to be punished first?
Prophecies of Barack Obama? Are there biblical and non-biblical prophecies about Barack Obama. Did Nostradamus predict Barack Obama dealing with the Antichrist?  Might Barack Obama set the stage for the kings of the North and South as his timing and at least one Shiite prophecy suggests?  This is the longest and most detailed of the articles here at COGwriter related to prophecy and Barack Obama.
Barack Obama, Prophecy, and the Destruction of the United States Some claim that Barack Obama is the prophesied "son of Kenya". Might Bible prophecy be fulfilled since he is to be the USA president?
Can the Great Tribulation Begin in 2009, 2010, or 2011? Can the Great Tribulation begin today? What is the "beginning of sorrows"?  When is the earliest that the Great Tribulation can begin? What is the Day of the Lord?
End of Mayan Calendar 2012–Might 2012 Mean Something?There is a Mayan calendar prediction for change in 2012. 2012 changes were also centuries ago predicted by the Hopi Native Americans. Do Mayan/Hindu/Hopi/Buddhist/New Age/Nostradamus prophecies have any value here? Why might Satan have inspired this date? Does the Dresden codex show destruction of the earth by flood? Can the great tribulation start before 2012?