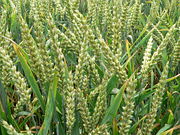 Wheat
Grain concerns have been reported in South America and Canada:
South American grain production falls drastically

Southeast Farm Press – June 8, 2009

Farmers in Argentina and Brazil are expected to harvest 675 million fewer bushels of corn and 711 million fewer bushels of soybeans than they did in 2007-08.

Robert Wisner says he's never seen the kind of drop that occurred in grain production in South America this spring.

Farmers in Argentina and Brazil are expected to harvest 675 million fewer bushels of corn and 711 million fewer bushels of soybeans than they did in 2007-08.

The decrease, which could prove to be even greater when USDA issues a new forecast on June 12, was not good news for pork producers attending the World Pork Expo in Des Moines, Iowa. Those producers, struggling with higher feed costs for months, have been hoping for some relief in the corn and soybean markets.

"I've been analyzing grain markets for almost 43 years, and I've never seen anything close to the decline we're looking at in South America this year," said Wisner, an agricultural economist with Iowa State University, who spoke at a marketing seminar at the Expo…

Some grain analysts are expecting USDA to lower its forecast for Argentina's soybean production by another 36 million to 72 million bushels when it issues its June world supply and demand outlook estimates (June 12).

"They could also reduce the soybean crop estimate for Paraguay," said Wisner, who works with Iowa State's Ag Marketing Resource Center. "Those numbers won't be anywhere near as large as in Argentina, but it's part of a trend of decreased South American production…

• Meanwhile, dry conditions are causing concerns in northeast China, where most of the country's corn and soybeans are grown, and in western Canada. Officials in the Ukraine have said wheat production in that country could be down 200 million to 240 million bushels due to weather problems last year. http://southeastfarmpress.com/grains/soybean-acreage-0608/

Cold puts Western Canada crops behind schedule

Reuters – June 8, 2009

WINNIPEG, Manitoba (Reuters) – Cool weather has pushed growth of Western Canada's wheat and barley crop at least 10 days behind schedule, the Canadian Wheat Board said on Monday.

"You're pushing development into a period with better likelihood of getting a (pre-harvest) frost," said Bruce Burnett, director of weather and market analysis for the Canadian Wheat Board. "It's not particularly what we need at this moment. It's just too cool."

There's little relief in forecasts for the Prairie region. Southern Manitoba, parts of which are still seeding, will have cool, wet weather through Wednesday, according to Environment Canada. Daily low temperatures of just above freezing are also forecast for much of Saskatchewan and Alberta.

The Wheat Board, which has a government-granted marketing monopoly on Western Canada's wheat and barley, releases its planting and production estimates on Thursday.  http://www.reuters.com/article/environmentNews/idUSTRE55749420090608
Previously, I reported about concerns regarding wheat in China (see Drought, Wheat, & China), the USA (see Weather & Wheat), and Argentina (see (Argentina, Drought, & Wheat).
While I am not saying that massive famine is an immediate certainty, the Bible contains many warnings about future famines.  Massive disruptions in grain supplies would be expected to be necessary for some of these biblically-predicted famines to come-to-pass.
Some articles of possibly related interest may include:
Physical Preparation Scriptures for Christians. We all know the Bible prophecies famines. Should we do something?
Mexico, Central America, South America, and Brazil in Prophecy [Español: México, America Central, Suramérica, y el Brasil en profecíal] [Português: México, América Central, Ámérica do Sul, e Brasil na profecia] What will happen to those of Latin America? Will they have prosperity? Will they cooperate with Europe? Will they suffer in the future? What rule might the various Caribbean nations/territories play?
Anglo – America in Prophecy & the Lost Tribes of Israel Are the Americans, Canadians, British, Scottish, Welsh, Australians, Anglo-Southern Africans, and New Zealanders descendants of Joseph? Where are the lost ten-tribes of Israel? Who are the lost tribes of Israel? Will God punish the U.S.A., Canada, United Kingdom, and other Anglo nations? Why might God allow them to be punished first?
Prophecies of Barack Obama? Are there biblical and non-biblical prophecies about Barack Obama. Did Nostradamus predict Barack Obama dealing with the Antichrist?  Might Barack Obama set the stage for the kings of the North and South as his timing and at least one Shiite prophecy suggests?  This is the longest and most detailed of the articles here at COGwriter related to prophecy and Barack Obama.
Barack Obama, Prophecy, and the Destruction of the United States Some claim that Barack Obama is the prophesied "son of Kenya". Might Bible prophecy be fulfilled since he is to be the USA president?
Can the Great Tribulation Begin in 2009, 2010, or 2011? Can the Great Tribulation begin today? What is the "beginning of sorrows"?  When is the earliest that the Great Tribulation can begin? What is the Day of the Lord?