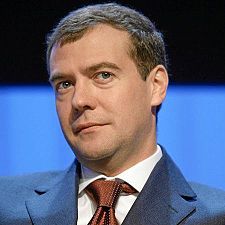 Dmitry Anatolyevich Medvedev

Russia is heavily involved in putting together a military confederation of several of the former states of the old Soviet Republic.  Here is another story that happened while I was in Italy:
Russia wants CSTO to be as strong as NATO

RIA Novosti – May 29, 2009

MOSCOW (RIA Novosti) – Russia is planning to build a strong military contingent in Central Asia within the framework of the Collective Security Treaty Organization (CSTO) comparable to NATO forces in Europe, a Russian business daily said on Friday.

The CSTO, a post-Soviet regional security bloc comprising Armenia, Belarus, Kazakhstan, Kyrgyzstan, Russia, Uzbekistan and Tajikistan, has already agreed to create a joint rapid-reaction force, but Russia is preparing a new, larger-scale project.

"The work is being conducted in all areas, and a number of documents have been adopted," the Kommersant newspaper quoted an unidentified source in the Foreign Ministry as saying.

"It will be a purely military structure, built to ensure security in Central Asia in case of an act of aggression," the source said.

Russia already has joint military contingents with Belarus and Armenia in the CSTO framework.

The new force will comprise large military units from five countries – Kazakhstan, Kyrgyzstan, Russia, Uzbekistan and Tajikistan.

"It will include armored and artillery units, and a naval flotilla in the Caspian Sea," CSTO press secretary Vitaly Strugovets said earlier.

The creation of a powerful military contingent in Central Asia reflects Moscow's drive to make the CSTO a pro-Russian military bloc, rivaling NATO forces in Europe.

Russia's security strategy until 2020, recently approved by President Dmitry Medvedev, envisions the CSTO as "a key mechanism to counter regional military challenges and threats."

CSTO leaders are scheduled to gather for a summit in Moscow on June 14 to sign an agreement on the creation of a joint rapid-reaction force as an interim step toward the creation of a larger military grouping.

The rapid-reaction force will include an airborne division and an air assault brigade from Russia, and an air assault brigade from Kazakhstan. The remaining members will contribute a battalion-size force each, although Uzbekistan would "delegate" its detachments to take part in operations on an ad hoc basis. http://en.rian.ru/russia/20090529/155118377.html
Russia is destined to be a major military power again in the future.
I believe that Bible prophecy indicates that at some point in time, NATO will collapse as it shows that the Europeans will ultimately turn against the American and the British-descended peoples.
However, the same Bible suggests that Russia will (almost 3 1/2 years later) deal with the Europeans.
Some articles of possibly related interest may include:
Russia: Its Origins and Prophesied Future Where do the Russians come from? What is prophesied for Russia? What will it do to the Europeans that supported the Beast in the end?
Europa, the Beast, and Revelation Where did Europe get its name? What might Europe have to do with the Book of Revelation? What about "the Beast"? What is ahead for Europe?
Asia in Prophecy What is Ahead for China? Is it a "King of the East"? What will happen to nearly all the Chinese, Russians, Indians, and others of Asia? China in prophecy, where? Who has the 200,000,000 man army related to Armageddon?
Does God Have a 6,000 Year Plan? What Year Does the 6,000 Years End? Was a 6000 year time allowed for humans to rule followed by a literal thousand year reign of Christ on Earth taught by the early Christians? When does the six thousand years of human rule end?