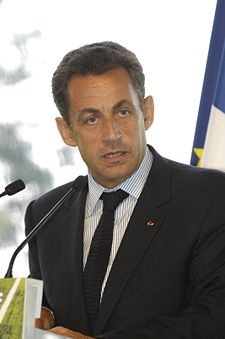 French President Nicolas Sarkozy
It was recently reported that France may join NATO and that a NATO command post with Europeans may be based in the USA.  Here are two related stories:
France eyeing NATO post in US
Associated Press – Feb 5, 2009
France is in talks to take control of two NATO command posts, including a prestigious one in the U.S. that has never been led by a foreign commander, defense officials in Europe said Thursday.
Such a move could also be accompanied by the injection of hundreds more French troops into NATO, a European defense official said. The official spoke on condition of anonymity because no deal has been finalized.
French President Nicolas Sarkozy has been looking to tighten France's links with NATO, particularly ahead of its April summit that will celebrate the alliance's 60th anniversary.
The European official and a French military official said France is in talks to put a French general in charge of two command posts: one in Norfolk, Virginia, responsible for laying out the long-term vision of the Atlantic alliance; the other an operational command based in the Portuguese capital, Lisbon.
The French official also spoke on condition of anonymity because the talks are still under way.
The Norfolk command, known as the Allied Command Transformation, is particularly prestigious. It is responsible for helping lay out the alliance's doctrine and for training and preparing for future scenarios, among other duties.
The U.S. and U.K. Must Oppose French Plans to Weaken NATO
Heritage Foundation – Feb 10, 2009
The Obama Administration has announced it will back the full reintegration of France into the NATO command structure, with French officers reportedly in line to take two senior Alliance command positions: Allied Command Transformation (one of NATO's two supreme commands, based in Norfolk, Virginia) and Joint Command Lisbon (one of NATO's three main operations headquarters, which also commands the NATO Rapid Reaction Force).[1]
This is a highly significant development that would put France at the heart of NATO military planning and reform proposals and represents an ill-thought-out and risky concession by Washington to the Sarkozy administration.
In a major speech at the Munich Security Conference on February 7,[2] Vice President Joe Biden welcomed France's decision "to fully participate in NATO structures" and also made it clear that the United States will "support the further strengthening of European defense, an increased role for the European Union in preserving peace and security, [and] a fundamentally stronger NATO-EU partnership." Biden's remarks echoed the views of British Defence Secretary John Hutton, who recklessly backed French plans for a European Union army last October…
America Has Little to Gain–and a Lot to Lose
It is likely that the Obama Administration will regard France's reintegration into NATO as a diplomatic masterstroke. The Administration will claim that it has rebuilt the Franco-American relationship in a mutually beneficial way, and Sarkozy will in turn claim that it tangibly demonstrates France's commitment to standing alongside America.
However, the Administration must ask itself what the U.S. actually gains from such a quid pro quo…
French reintegration into NATO command structures offers little additional value to Washington but gives immense momentum to French ambitions for an autonomous EU foreign and defense policy. When French presidents talk about European foreign policy, they more often than not mean French foreign policy. Equally, when Sarkozy talks about increasing European security capabilities, he means decreasing American involvement in Europe…
Simply Unacceptable
It is difficult to see how a greater EU defense capability will actually strengthen the NATO mission or the broader transatlantic alliance. Indeed, encouraging a bigger military role for the EU can only make NATO's task more complicated. http://www.heritage.org/Research/Europe/wm2285.cfm.
The USA has a lot more to lose than most news analysts will consider.
It has been my personal belief for over two decades that when the Europeans ultimately invade the USA, they will do it by surprise and likely under the pretext of conducting joint military exercises with the USA on USA soil.
And while that scenario might not come to pass, the recent news suggests that this is a certainly plausible speculation.
The USA is on shaky grounds and ultimately is likely to rely on some (like the Euroopeans) that will turn upon it.  And I believe that the USA will be taken off guard by this invasion (which I also suspect will be supported by ground troops likely based in Mexico).
The stage for the destruction of the USA is being set more and more lately.
Several articles of possibly related interest may include:
Europa, the Beast, and Revelation Where did Europe get its name? What might Europe have to do with the Book of Revelation? What about "the Beast"? What is ahead for Europe?
Who is the King of the North? Is there one? Do biblical and Roman Catholic prophecies point to the same leader? Should he be followed? Who will be the King of the North discussed in Daniel 11? Is a nuclear attack prophesied to happen to the English-speaking peoples of the United States, Great Britain, Canada, Australia, and New Zealand? When do the 1335 days, 1290 days, and 1260 days (the time, times, and half a time) of Daniel 12 begin? When does the Bible show that economic collapse will affect the United States?
Anglo – America in Prophecy & the Lost Tribes of Israel Are the Americans, Canadians, British, Scottish, Welsh, Australians, Anglo-Southern Africans, and New Zealanders descendants of Joseph? Where are the lost ten-tribes of Israel? Who are the lost tribes of Israel? Will God punish the U.S.A., Canada, United Kingdom, and other Anglo nations? Why might God allow them to be punished first?
Mexico, Central America, South America, and Brazil in Prophecy [Español: México, America Central, Suramérica, y el Brasil en profecíal] [Português: México, América Central, Ámérica do Sul, e Brasil na profecia] What will happen to those of Latin America? Will they have prosperity? Will they cooperate with Europe? Will they suffer in the future? What rule might the various Caribbean nations/territories play?
Prophecies of Barack Obama? Are there biblical and non-biblical prophecies about Barack Obama. Did Nostradamus predict Barack Obama dealing with the Antichrist?  Might Barack Obama set the stage for the kings of the North and South as at least one Shiite prophecy suggests.
Can the Great Tribulation Begin in 2009, 2010, or 2011? Can the Great Tribulation begin today? When is the earliest that the Great Tribulation can begin? What is the Day of the Lord?