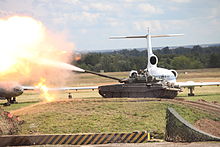 Russian T-90A Tank (Vitaly Kuzmin)
The Kiev government in Ukraine said that Russia has invaded east Ukraine:
August 28, 2014

Kiev, Ukraine (CNN) — A top Ukrainian army officer said a "full-scale invasion" of his country was under way Thursday, as a U.S. official said up to 1,000 Russian troops had crossed Ukraine's southern border to fight alongside pro-Russian rebels.

U.S. officials said Russian troops were directly involved in the latest fighting, despite Moscow's denials.

Rebels backed by Russian tanks and armored personnel carriers fought Ukrainian forces on two fronts Thursday: southeast of rebel-held Donetsk, and along the nation's southern coast in the town of Novoazovsk, about 12 miles (20 km) from the Russian border, according to Mykhailo Lysenko, the deputy commander of the Ukrainian Donbas battalion.

"This is a full-scale invasion," Lysenko said, referring to the fighting in the south.

Intelligence now indicates that up to 1,000 Russian troops have moved into southern Ukraine with heavy weapons and are fighting there, a U.S. official told CNN Thursday.  http://www.cnn.com/2014/08/28/world/europe/ukraine-crisis/
Russia has denied it from an official perspective:
August 28, 2014

MOSCOW, August 28 (RIA Novosti) – The claims concerning Russian troops entering Ukraine are groundless, Leonid Slutsky, the head of the State Duma Committee for CIS Affairs, said Thursday.

"Lies have become habitual for the so-called Ukrainian authorities, so [Ukrainian President] Poroshenko is not going to surprise anyone in Russia, or in the West. I can only say that there are no grounds for such claims," Slutsky told RIA Novosti.

According to the official, Poroshenko's cancelation of his scheduled visit to Turkey under the pretext of Russian troops crossing into Ukraine is nothing but a publicity stunt.

"I think that very soon the international community will make an objective assessment of the Kiev junta's actions, and many countries, members of the European Council, the representatives of which we are constantly in touch with, are beginning to realize that Kiev is leaking lies," Slutsky said.  http://en.ria.ru/russia/20140828/192425605/Kievs-Claims-About-Russian-Troops-in-Ukraine-Groundless–Russian.html
US President Obama made some comments about all of this:
August 28, 2104

President Obama said Thursday that the world now has evidence that Russia has been funding and arming separatists in Ukraine, but stopped short of labeling Russia's actions an "invasion," as Ukrainian officials claim.

"The violence is encouraged by Russia," Obama told reporters Thursday. "New images of Russian forces inside Ukraine make that plain for the world to see."

The remarks came just hours after Ukrainian officials reported that Russian tanks and military vehicles had fired missiles at a border post in southeastern Ukraine and then crossed into the country as Ukrainian border guards scattered.

The missiles were fired from Russia in the morning, a spokesman for the Ukrainian security council said, and followed in the early afternoon by vehicles entering Ukraine from Veselo-Voznesenka, just across the border from Novoazovsk.  http://www.latimes.com/nation/nationnow/la-na-nn-obama-ukraine-20140828-story.html
There certainly is Russian influence:
August 28, 2014

Ukraine argues that its recent military reverses have been caused by the direct intervention of Russian troops. President Petro Poroshenko canceled a planned visit to Turkey on Thursday to deal with the crisis. Moscow and rebel leaders deny that Russian soldiers or hardware are directly involved in the conflict.

But the prime minister of the self-proclaimed Donetsk Peoples Republic, Alexander Zakharchenko, said Thursday that up to 4,000 Russian "volunteers" have been fighting alongside the insurgents. "We have never concealed that many Russians are fighting in our ranks without aid of which we would be in a very difficult situation," the official ITAR-Tass agency quoted him as saying.

Mr. Zakharchenko added that Russian volunteers "unfortunately sustained some casualties" – a comment that will fuel a dawning controversy in Russia.

Opinion polls continue to show robust public support among Russians for the east Ukrainian rebels, with 55 percent saying in August that they support the movement of Russian volunteer fighters into Ukraine to back up the insurgents, according to Alexei Grazhdankin, deputy director of the independent Levada Center in Moscow.

But the number of Russians who would support sending Russian troops to fight in Ukraine has fallen from 28 percent in April, to 16 percent this month.

News that Russian troops may already be fighting – and dying – in Ukraine is starting to appear in the Russian media. http://www.csmonitor.com/World/Europe/2014/0828/As-Ukraine-fighting-surges-so-too-do-Russian-Ukrainian-doubts-about-the-war
The situation in Ukraine remains tense.  Russia wants Ukraine.  Much of Ukraine wants to be part of the European Union.
The European Union wants Ukraine, and the USA wants Ukraine to be part of the European Union.
The Bible tells of the rise of a European power (see Europa, the Beast, and Revelation) and a Eurasian power (see The Eurasian Union, the Kings of the East, and Bible Prophecy).  Ukraine is somewhat in the middle and as I wrote late last year, some type of split could come to Ukraine.  With the Russian annexation of Crimea this past Spring, that could be the first of more acquisitions, though it could take time for that to happen.  Although with serious military action, that could be sped up dramatically.
Some items of possibly related interest may include:
Russia and Ukraine: Origins and Prophesied Future Where do the Russians come from? What about those in the Ukraine? What is prophesied for Russia and its allies? What will they do to the Europeans that supported the Beast in the end? You can also watch the short video Ukraine in Prophecy?
Russia in the Bible and in Prophecy Is Russia mentioned in the Bible? It it is where is it? Is there any evidence of a people moving to the land that the Russians now occupy? What do Catholic and other prophecies say about Russia? What does the Bible teach? How are Protestants often in error on this? Is there more in biblical prophecy for Russia than war? Does God have a plan to save Russia and her allies? Does Russia have a history involving Sabbath keepers? Does scripture tie Russia in with Armageddon? Will Russia help defeat the end time Babylonian power? What did the Apostle John, and the prophets Isaiah, Jeremiah, and Daniel, write about Russia? This is a sermon-length video.
Ezekiel 38: For Russia & Iran in Our Day? Is Ezekiel 38 about to be fufilled? A related video is available titled Ezekiel 38: For Russia, Ukraine, & Iran Now?
Bible News Prophecy July-Sept. 2014: The Coming Eurasian Union Here is the latest magazine from the Continuing Church of God. The cover of which shows Vladimir Putin and features an article about the coming Eurasian Union.
Europa, the Beast, and Revelation Where did Europe get its name? What might Europe have to do with the Book of Revelation? What about "the Beast"? Is an emerging European power "the daughter of Babylon"? What is ahead for Europe? Here is a link to a video titled: Can You Prove that the Beast to Come is European?
European Technology and the Beast of Revelation Will the coming European Beast power would use and develop technology that will result in the taking over of the USA and its Anglo-Saxon allies? Is this possible? What does the Bible teach? Here is a related YouTube video: Military Technology and the Beast of Revelation.
Must the Ten Kings of Revelation 17:12 Rule over Ten Currently Existing Nations? Some claim that these passages refer to a gathering of 10 currently existing nations together, while one group teaches that this is referring to 11 nations getting together. Is that what Revelation 17:12-13 refers to? The ramifications of misunderstanding this are enormous. A related sermon is titled Ten Kings of Revelation and the Great Tribulation.
World War III: Steps in Progress Are there surprising actions going on now that are leading to WWIII? Might a nuclear attack be expected? Does the Bible promise protection to all or only some Christians? How can you be part of those that will be protected? A related video would be Is World War III About to Begin? Can You Escape?
Wars, rumors of wars, and the Apocalypse Jesus foretold a time before the end where there would be wars and rumors of wars. The Apocalypse (the Book of Revelation) warns of the red horseman of war. Now, even secular writers, like Larry Edelson, are worried that wars and rumors of war are the most menacing problem that now haunts the earth? Are they right? What is the solution? This is a sermonette-length video.
Is Russia the King of the North? Some claim it is. But what does the Bible teach? Here is a link to a video, also titled Is Russia the King of the North?
The Eurasian Union, the Kings of the East, and Bible Prophecy Is there a Eurasian union that will be formed? Is one being formed right now? Are any leaders working on that in the 21st century? Does the Bible teach that there will be a Eurasian union? If some type of Eurasian union is formed, who might it benefit and who will it destroy? A related video would be Is The Eurasian Union Rising?
Who is the King of the North? Is there one? Do biblical and Roman Catholic prophecies for the Great Monarch point to the same leader? Should he be followed? Who will be the King of the North discussed in Daniel 11? Is a nuclear attack prophesied to happen to the English-speaking peoples of the United States, Great Britain, Canada, Australia, and New Zealand? When do the 1335 days, 1290 days, and 1260 days (the time, times, and half a time) of Daniel 12 begin? When does the Bible show that economic collapse will affect the United States? In the Spanish language check out ¿Quién es el Rey del Norte? Here is a link to a video titled: The Future King of the North.
Germany's Assyrian Roots Throughout History Are the Germanic peoples descended from Asshur of the Bible? Have there been real Christians in Germanic history? What about the "Holy Roman Empire"? There is also a You-Tube video sermon on this titled Germany's Biblical Origins.
Germany in Biblical and Catholic Prophecy Does Assyria in the Bible equate to an end time power inhabiting the area of the old Roman Empire? What does prophecy say Germany will do and what does it say will happen to most of the German people? Here is a link to a video Is the USA Pushing Germany to Start WWIII?
Barack Obama, Prophecy, and the Destruction of the United States-Second Edition for Second Obama Term This is a 160 page book for people truly interested in prophecies related to Barack Obama and the United States, including learning about many that have already been fulfilled (which the book documents in detail) and those that will be fulfilled in the future. It also has a chapter about a Republican choice. This book is available to order at www.barackobamaprophecy.com. The physical book can also be purchased at Amazon from the following link: Barack Obama, Prophecy, and the Destruction of the United States: Is Barack Obama Fulfilling Biblical, Islamic Catholic, Kenyan, and other America-Related Prophecies? What About Republican Leaders? Second Edition for Second Obama Term.
Barack Obama, Prophecy, and the Destruction of the United States-Second Term-Amazon Kindle edition. This electronic version is available for only US$2.99. And you do not need an actual Kindle device to read it. Why? Amazon will allow you to download it to almost any device: Please click HERE to download one of Amazon s Free Reader Apps. After you go to for your free Kindle reader and then go to Barack Obama, Prophecy, and the Destruction of the United States-Second Term-Amazon Kindle edition.