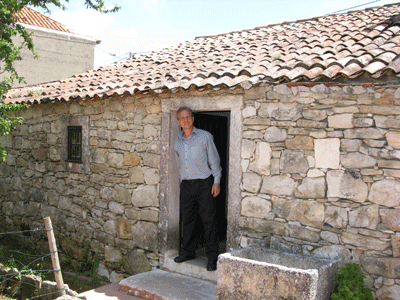 COGwriter at Jacinta's and Francisco's House (Photo by Joyce Thiel, May 2011)
A Roman Catholic saint's days calendar shows the following for February 20th:
20
Blessed Jacinta and Francisco Marto
Jacinta Marto died on February 20, 1919, so presumably this is why today was chosen.  She is one of three children who claimed to see a "Lady" in Fatima, Portugal in 1917.  Many venerate her and the other two (the most famous was her cousin Lucia who lived until 2005).
In its article on Jacinta and Francisco Marto, Wikipedia reported:
The cause for the siblings' canonization began during 1946. Exhumed in 1935 and again in 1951, Jacinta's face was found incorrupt. Francisco's had decomposed. On May 13, 2000, they were declared "blessed" in a decree from the Congregation for the Causes of Saints. Jacinta is the youngest non-martyred child ever to be beatified.
Although Jacinta is officially called "blessed" by the Church of Rome, my own investigation into her life and statements suggest to me that she had trouble with the truth and also did not understand much about the Bible.  As far as being currently "incorrupt," her face/body is not on public display, so this is based upon a decades old report–that while it may likely have been accurate when made, it seems unlikely that this "preservation" has remained.
My wife Joyce and I saw thousands of visitors in Fatima when we visited there in May of 2011. Millions visit Fatima, Portugal each year, with the vast majority of them believing that Mary actually appeared there.  It should be noted that the female-appearing apparition in Fatima never actually identified herself as Mary–and according to an account from Jacinta Marto to one of the priests (Canon Manuel Nunes Formigão) investigating the matter in 1917, there is no way that Catholics should consider that Mary was seen in Fatima in 1917.  Here is some of what Canon Manuel Nunes Formigão wrote:
Jacinta confirms…a serious problem, opposing the very validity of the Apparition, giving rise in the spirit to the dread that this whole affair is a mystification, prepared by the Prince of Darkness. (Fernandes, p. 153; also in Santo ME. Os Mouros Fatimidas e as Aparições de Fátima.  Assírio & Alvim, 2006, pp. 271-218)
Yet, a major shrine complex was built in Fatima (which partially reminds me of how Vatican City looks) and many millions believe that Mary, the Mother of Jesus, actually appeared there.
Notice some of what the Bible teaches (using Catholic and Protestant versions respectively) that seems related to this:
10 Neither let there be found among you any one that…consulteth soothsayers, or observeth dreams and omens, neither let there be any wizard, 11 Nor charmer, nor any one that consulteth pythonic spirits, or fortune tellers, or that seeketh the truth from the dead.  12 For the Lord abhorreth all these things, and for these abominations he will destroy them at thy coming (Deuteronomy 18:10-12, DRB).

10 There shall not be found among you anyone…who practices witchcraft…11 or one who conjures spells…or one who calls up the dead. 12 For all who do these things are an abomination to the Lord…( Deuteronomy 18:10-12, NKJV)

5…the dead know not any thing (Ecclesiastes 9:5, KJV)

5…the dead know nothing whatever (Ecclesiastes 9:5, NJB)
Mary, who died nearly two thousand years ago, did not appear to Jacinta and Francisco Marto.  I believe that the children were deceived and have inadvertently helped deceive others.
The Bible warns of a more widespread deception coming:
9 The coming of the lawless one is according to the working of Satan, with all power, signs, and lying wonders, 10 and with all unrighteous deception among those who perish, because they did not receive the love of the truth, that they might be saved. 11 And for this reason God will send them strong delusion, that they should believe the lie, 12 that they all may be condemned who did not believe the truth but had pleasure in unrighteousness. (2 Thessalonians 2:9-12, NKJV)

24 For false christs and false prophets will rise and show great signs and wonders to deceive, if possible, even the elect.  25 See, I have told you beforehand.  (Matthew 24:24-25, NKJV)
It is my position that it is very likely that apparitions that people will claim will be Mary will be part of the signs and lying wonders that are mentioned in 2 Thessalonians 2:9 and Matthew 24:24–and this seems consistent with statements made related to the "Lady of the Kingdoms" in Isaiah 47.
There has been increased interest in Marian apparitions because of Fatima, the internet, Pope John Paul II's statements, and reports of apparitions in other places (even Wisconsin).  Many events are helping set the stage for the coming deception warned about that will come to the world relatively soon.
An article of possibly related interest may be:
Mary, the Mother of Jesus and the Apparitions Do you know much about Mary? Are the apparitions real? What happened at Fatima? What might they mean for the rise of the ecumenical religion of Antichrist? Are Protestants moving towards Mary? How do the Orthodox view Mary? How might Mary view her adorers?
Origin of the Marian Dogmas: Where Do Catholic Scholars Say The Four Dogmas of Mary Came From?
Assumption of Mary Did Mary die? Was she taken to heaven on August 15th? What is known? What does the Bible show?