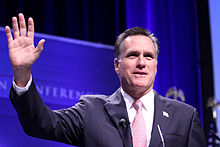 Mitt Romney (Gage Skidmore, 2011)
Not surprisingly, a new poll finds that Republican presidential candidate Mitt Romney is popular with members of the LDS church:
25 June 2012

Most Mormons in Utah believe that Mitt Romney's rise to become the likely GOP presidential nominee is a good thing for the Church of Jesus Christ of Latter-day Saints. But many do not trust the media to cover the church fairly, according to a new poll released Monday (June 25)…

More than eight in 10 Utah Mormons said they are "very excited" or "somewhat excited" about Romney's feat…Kelly Patterson, a political science professor at Brigham Young University, said it is not clear whether the positive feelings toward Romney derive from shared faith or politics. http://www.usatoday.com/news/religion/story/2012-06-25/romney-poll-mormons/55819212/1?csp=34news
And, that of itself, is not surprising.
One item that is not being covered much is that the LDS have a belief that one or more of their elders essentially will save the USA (see Mitt Romney and Mormon Prophecy).  Others within the LDS movement often vote Republican and may or may not be influenced as much by LDS eschatology.
As far as end time prophecy goes, the USA will be destroyed unless it has national repentance soon–irrespective of who wins the election this November. Jesus and His kingdom, not a Mormon, the current president, or other similar leader, will solve what the USA really needs solved.
Some articles of possibly related interest may include:
Some Dissimilarities Between The Church of Jesus Christ of Latter Day Saints and the Living Church of God The Living Church of God is not related to the Mormons and this article explains some differences and a couple of similarities.
Should a Christian Vote? This article gives some of the Biblical rationale on this subject. Would Jesus vote for president/prime minister? Is voting in the Bible? This is a subject Christians need to understand.
Taxes What caused the descendants of Israel to pay taxes? Should Christians pay taxes?
What is the Gospel? True religion should be based upon the true gospel. What are some of the different gospels and where did they come from? Do you believe the true or a false gospel?
The Gospel of the Kingdom of God was the Emphasis of Jesus and the Early Church Did you know that? Do you even know what the gospel of the kingdom is all about?
Are You Saved? Do You Love Jesus? What is a True Christian? What is the Gospel? Evangelist Richard Ames answers those important questions.
True vs. False Conversion Are you really converted or willing to be? What is true conversion? What is false conversion? What are the dangers of false conversion? Evangelist Roderick Meredith provides information on those important questions.
Anglo – America in Prophecy & the Lost Tribes of Israel Are the Americans, Canadians, English, Scottish, Welsh, Australians, Anglo (non-Dutch) Southern Africans, and New Zealanders descendants of Joseph? Where are the lost ten-tribes of Israel? Who are the lost tribes of Israel? What will happen to Jerusalem and the Jews in Israel? Will God punish the U.S.A., Canada, United Kingdom, and other Anglo nations? Why might God allow them to be punished first?
Will the Anglo-Nations be Divided and Have People Taken as Slaves? Will the lands of the United States, United Kingdom, Canada, Australia, and New Zealand be divided? What about Jerusalem? What does Bible prophecy teach? Are there non-biblical prophecies that support this idea? Who will divide those lands? Who will end up with the lands and the people?