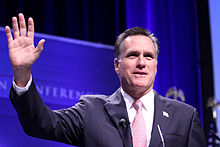 Mitt Romney (Gage Skidmore, 2011)
Ann Romney, wife of Republican presidential nominee Mitt Romney, was interviewed by Jay Leno.  Here is something from that interview:
Sep 26, 2012

Ann Romney: Electing Mormon would show progress

By Catalina Camia, USA TODAY

Ann Romney took her turn on Jay Leno's couch last night, talking about her husband's caring ways and his chance to make history as President Obama did four years ago.

"I love the fact that we have the first African-American president," Romney said on The Tonight Show. "That means to me that we're leaving prejudices behind. I would hope that if Mitt were elected, we would see more of the same, that prejudices are left behind."

Mitt Romney is the first major-party presidential nominee who is Mormon.
Mitt Romney is also a lay priest, and former bishop, in the Church of Jesus Christ of Latter Day Saints (LDS), a group commonly referred to as Mormons.
Exactly what kind of progress would electing a Mormon show?
It would seem that it would show that the USA has less concern about religion as a criteria for USA president (although the election of Barack Obama, in various ways, also suggests that).
There is a Mormon belief passed down, supposedly unofficially, that the USA will need a Mormon leader:
Mitt is a high priest in the Church priesthood hierarchy…the "White Horse Prophecy" or the prophecy of the "One mighty and strong." Now, this is not public, formal LDS doctrine, but it was taught by many leaders of the Church and is still taught today. It is said by LDS leadership that when the Constitution is in dire peril, one will come who is mighty and strong. He will come riding (figuratively perhaps) on a white horse and will wield awesome political and spiritual power.

This mysterious priesthood elder would somehow seize control of the US government to prevent the total abrogation of the Constitution. He would assume total power and create an LDS "Kingdom" in America. At that time, this "one mighty and strong" would be proclaimed the new "Prophet " (First President) of the LDS church and would also be president of the United States. Thus, he would wield both supreme political power of the most powerful nation on earth and also be the "Prophet, Seer and Revelator" of the LDS Church. (Schnoebelen W. Republican Mitt Romney and the "Mormon Plan for America." Cutting Edge Ministries, 2007 http://www.cuttingedge.org/news/n2226.cfm)

White Horse Prophecy," … describes as "a belief ingrained in Mormon culture and passed down through generations by church leaders."

Former candidate for Nevada governor Michael Moody writes in his memoir that the prophecy "motivated me to seek a career in government and politics" because he felt he had been divinely directed to "expand our kingdom" and help Romney "lead the world into the Millennium." Now a critic of the Mormon church, Moody says he was indoctrinated with the White Horse Prophecy.

"We were taught that America is the Promised Land," he said in an interview. "The Mormons are the Chosen People. And the time is now for a Mormon leader to usher in the second coming of Christ and install the political Kingdom of God in Washington, D.C." (Kerby R. Are "unacceptable religions" fatal for U.S. presidential candidates? BeliefNet, http://blog.beliefnet.com/news/2012/05/are-unacceptable-religions-fatal-for-u-s-presidential-candidates.php#ixzz1wDiR2U6g)

Apparently there is a Mormon prophecy that when the US CONSTITUTION IS HANGING BY A THREAD, that a Mormon or American would come along and probably be President or a leader to help the nation so that the US CONSTITUTION would not be destroyed. Apparently a lot of Mormons consider Barack Obama to be the anitchirst (Lolly. Is Romney Fulfilling the Mormon White Horse Prophecy? The Daily Paul, March 19, 2012 http://www.dailypaul.com/221808/is-romney-fulfilling-the-mormon-white-horse-prophecy)
While it could be argued that the US Constitution is hanging by a thread, there is no way that U.S. President Barack Obama is the final Antichrist (nor, will Mitt Romney be the final Antichrist, even if he were to become USA president).
Mitt Romney, it should be noted, unlike his church, favors allowing homosexuals becoming Boy Scouts (see Romney and Obama Agree on Having 'Gay' Boy Scouts). So, even the LDS should have some moral concerns about him (his prior support of abortion would be another pause for concern).
Of course, I do not intend to endorse any USA presidential candidate (see Should a Christian Vote?), and thus do not believe that an LDS leader will somehow save the USA–the USA needs the return of Jesus Christ.
Neither the current US President nor Candidate Romney has called for national repentance and, even if either did, it is not likely that they would call for repentance for Americans to go to the faith of the original Church of God of the New Testament.  But personal repentance still remains an option–and all should decide that is the direction now to go.
Some articles of possibly related interest may include:
Some Dissimilarities Between The Church of Jesus Christ of Latter Day Saints and the Genuine Church of God The genuine Church of God is not related to the Mormons and this article explains some differences and a couple of similarities.
Anglo – America in Prophecy & the Lost Tribes of Israel Are the Americans, Canadians, English, Scottish, Welsh, Australians, Anglo (non-Dutch) Southern Africans, and New Zealanders descendants of Joseph? Where are the lost ten-tribes of Israel? Who are the lost tribes of Israel? What will happen to Jerusalem and the Jews in Israel? Will God punish the U.S.A., Canada, United Kingdom, and other Anglo nations? Why might God allow them to be punished first?
Will the Anglo-Nations be Divided and Have People Taken as Slaves? Will the lands of the United States, United Kingdom, Canada, Australia, and New Zealand be divided? What about Jerusalem? What does Bible prophecy teach? Are there non-biblical prophecies that support this idea? Who will divide those lands? Who will end up with the lands and the people?
Canada in Prophecy: What Does Bible Prophecy, Catholic Prophecy, and other Predictions Suggest About the Future of Canada? There are prophecies that suggest involvement with Canada. And many are not positive about its future.
Who is the King of the West? Why is there no End-Time King of the West in Bible Prophecy? Is the United States the King of the West?
Who is the King of the North? Is there one? Do biblical and Roman Catholic prophecies for the Great Monarch point to the same leader? Should he be followed? Who will be the King of the North discussed in Daniel 11? Is a nuclear attack prophesied to happen to the English-speaking peoples of the United States, Great Britain, Canada, Australia, and New Zealand? When do the 1335 days, 1290 days, and 1260 days (the time, times, and half a time) of Daniel 12 begin? When does the Bible show that economic collapse will affect the United States?
Prophecies of Barack Obama? Eight reasons why Barack Obama is apocalyptic and eight reasons why Barack Obama is not the Antichrist. This article includes many biblical and non-biblical prophecies, from around the world, that seem to discuss Barack Obama. Did Nostradamus predict Barack Obama dealing with the Antichrist? Might Barack Obama set the stage for the kings of the North and South as at least one Shiite prophecy suggests? This is the longest and most complete article on this page on Barack Obama prophecies. Read it and decide for yourself if President Obama seems to be fulfilling various prophecies.
Barack Obama, Prophecy, and the Destruction of the United States Some claim that Barack Obama is the prophesied "son of Kenya", based up an early 20th century writing.