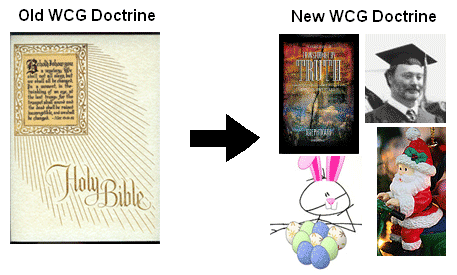 The July-August issue of WCG's Together (formerly known as the Worldwide News) came out today.
It announced the following three retirements:
Paul Kroll…, senior editor of Christian Odyssey, author of numerous articles on our website, and writer in the Personal Correspondence Department, retired on June 6. He began full-time work with the WCG in 1964 and served as Professor of Journalism at Ambassador College and in many other capacities.
Don Mason…, pastor in Cary and Wilson, NC, retired on May 30, after almost 40 years of full-time service.
Dennis Pelley, pastor of New Hope Christian Fellowship in Eagle Rock, CA, will retire on July 4, after 24 years of full-time service.
Dennis Pelley was temporarily our minister in WCG for a couple of months in 1994. It is sad that people like him, Don Mason, and Paul Kroll originally defended biblical truths for a number of years and then turned their backs to teach against those same truths when the Tkach administrations changed doctrine. WCG made a lot of changes (WCG Announces 35 Beliefs Book) in the past 22 years.
The BIble seems to use the term "hireling" for the type of "shepherds" who do not defend the flock (John 10:12-13).
Anyway, to me it is sad.
But the Bible does warn:
Let no one deceive you by any means; for that Day will not come unless the falling away comes first, and the man of sin is revealed, the son of perdition (2 Thessalonians 2:3).
And those who accepted the changes away from the Bible certainly have fallen away.
So, in not too many years, the man of sin will be revealed–the one we in the Living Church of God call "the King of the North".