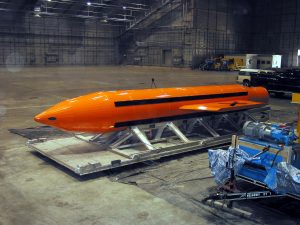 'Massive Ordnance Air Blast' (MOAB) weapon

The USA hit part of Afghanistan with a 21,600 pound bomb:
A calculated step toward the apocalypse?

The US has deployed its biggest non-nuclear bomb. The target was the "IS" group in Afghanistan, but the message was directed at Russia and North Korea. It's a dangerous near-nuclear game to play, says Florian Weigand.

14 April 2017

Who would've thought it: On Maundy Thursday of all times, the start of the Easter holiday, the USA deploys its biggest non-nuclear bomb for the first time. According to eyewitnesses, the blast yielded by the "mother of all bombs" in eastern Afghanistan was gigantic. The real motivations for the bomb drop are not yet completely clear. But what at first glance seems to be another dip into US President Donald Trump's mysterious bag of tricks could this time be following military and political logic. …
The US military won't reap much international criticism for the operation, even though it remains only one step away from nuclear escalation – something that should be shocking!
And that's exactly why the "mother of all bombs" is sending a thoroughly calculated signal of brute force and decisiveness. Above all, North Korea and Russia must feel like they are being sent a message.

Warning to Moscow and Pyongyang

Today, on Good Friday, an international meeting is being held in Moscow with the goal of finally bringing peace to war-torn Afghanistan. But unlike earlier, similar meetings in other places, neither the US nor other NATO states, which have soldiers stationed in Afghanistan, are taking part. Russia seems to have taken it upon itself to take the initiative in the stalled negotiations – for good reason: Afghanistan is right on its doorstep. That must really rile Washington. The bombing surely qualifies as a convenient way to show Moscow, as well as those in power in Kabul, that the US isn't prepared to hand over control of the Hindu Kush.

Further east in Asia, the mushroom cloud over the drop zone could be seen as a precursor to a much bigger crisis. The US has dispatched warships to the waters off North Korea as Pyongyang threatens new nuclear tests. Trump countered with his own typically brief brand of rhetoric: The US will "deal with" North Korea by itself if it must, with or without neighboring China. …

Who can really 100 percent guarantee that nobody will push the limits further and respond to an attack with even bigger bombs, if he had the means and will to do so? Then there's danger of apocalyptic proportions by default. http://www.dw.com/en/opinion-a-calculated-step-toward-the-apocalypse/a-38425558

April 14, 2017

Afghanistan says a massive bomb dropped Thursday by a U.S. warplane killed 36 members of Islamic State group and destroyed a large cache of weapons.

A statement released by the Afghan defense ministry Friday said there were no civilian casualties in this attack. The 10,000-kilogram GBU-43 bomb, known as "the mother of all bombs" (MOAB), was dropped on an Islamic State bunker complex in northeastern Nangarhar Province of Afghanistan Thursday. http://www.voanews.com/a/afghan-government-says-36-islamic-state-killed-in-moab-bombing-/3810056.html
As far as "danger of apocalyptic proportions" go, North Korea sent out another threat today:
North Korea threatens pre-emptive nuclear attack

April 14, 2017

North Korea says it is "on the brink of war" with the U.S.

In an interview with CBS News' Ben Tracy, one of the nation's senior officials has accused the Trump administration of wanting to "annihilate" his country and blamed the escalating tension on the Korean Peninsula squarely on the U.S. and South Korea. …

North Korea's Vice Minister of Foreign Affairs, Han Song Ryol sat down with Tracy in Pyongyang for a 40 minute interview, and he didn't mince any words. …

"If the U.S. comes up with a dangerous military option, then the first card is in our hands. We'll deal with it with our pre-emptive strike. This means war," Han said.

Tracy sought to clarify Han's remark; "So you are saying if you feel North Korea is going to be attacked, you will use nuclear weapons?"

"Of course," Han replied.

April 14, 2017

WASHINGTON — 

U.S. President Donald Trump has renewed threats to take "care of" the North Korean nuclear threat amid expectations of a new nuclear test this weekend, prompting a defiant response Friday from a senior official in Pyongyang.

"If the U.S. comes with reckless military maneuvers then we will confront it with the DPRK's pre-emptive strike," said

North Korean Vice Foreign Minister Han Song Ryol, referring to North Korea by its official name, the Democratic People's Republic of Korea.

"We've got a powerful nuclear deterrent already in our hands, and we certainly will not keep our arms crossed in the face of a U.S. pre-emptive strike," Han said in an exclusive interview with the Associated Press.

A day earlier, Trump had responded emphatically to reports that North Korea is poised to detonate an underground nuclear device as early as Saturday to mark the anniversary of the birth of the nation's founder, Kim Il Sung.

"North Korea is a problem," Trump said at the White House. "The problem will be taken care of."

Han, in the interview Friday, blamed Trump for raising tensions on the Korean peninsula, saying that his "aggressive" tweets were "making trouble." He said the situation is now in a "vicious cycle" of escalating tensions. http://www.voanews.com/a/trump-in-fresh-warning-north-korea-will-be-taken-care-of/3809090.html

April 14, 2017

North Korea's army vowed a "merciless" response to any US provocation, the official news agency reported Friday. A statement of KCNA, which cited Washington's recent missile strike on Syria, said the administration of President Donald Trump had "entered the path of open threat and blackmail against the DPRK". http://www.zerohedge.com/news/2017-04-14/air-china-suspends-flights-north-korea-kim-vows-merciless-response-any-us-provocatio
So, two North Korean leaders in two separate interviews, plus another one on the radio, are basically threatening the USA with a preemptive nuclear attack. North Korean mouthpieces seem unified on this. This is not good for North Korea.
I mentioned last week, Donald Trump, in my view, decided to send a message to many around the world in general and Syria, North Korea (Korea in Prophecy, Any Witness?) and Iran (Iran in Prophecy) in particular with his attack in Syria that he may not take time to negotiate, before taking military action. The release of M.O.A.B. on Afghanistan seems to be another message. Plus Donald Trump is having US Naval forces heading closer to North Korea. North Korean has been upset by this and has upped its rhetoric.
As I have said before, North Korea will NOT continue as it has been. For more about that, see our video Syria, North Korea, and Prophecy.
As far as the 'apocalypse goes,' notice the following from the New Zealand press:
Donald Trump the warmonger could spark WWIII

14 April 2017

It has taken Donald Trump less than three months to flex his military muscle, and now the doomsday clock is ticking ever louder.

First Mr Trump's US forces attacked an air force base in Syria last week, before detonating the world's largest non-nuclear weapon on an Islamic State (IS) complex in Afghanistan …

Mr Trump talked up a big anti-IS game when he campaigned for the White House, but it is the speed and enormity of the attacks that have surprised many, especially perhaps the enemies of the US.

Russia, North Korea, and Iran will no doubt be awakened, and perhaps a little frightened, by Mr Trump's forceful military actions. …

He has already hit Bashar al-Assad's Syrian government and the IS heartland in eastern Afghanistan with a couple of right-hooks; why wouldn't he do the same thing to Kim Jong-un?

The next few weeks will be defining for Mr Trump's presidency, and perhaps for world peace.

There are now almost 15,000 nuclear weapons stockpiled around the world, and if North Korea decides to use its small arsenal, then Mr Trump is not only playing with fire, but possibly with the end of the world. http://www.newshub.co.nz/home/world/2017/04/opinion-donald-trump-the-warmonger-could-spark-wwiii.html
What Donald Trump has been doing is NOT about to spark WWIII or some major war with Russia (see also our video, related to this, which is titled: Syria, North Korea, and Prophecy).
Some items of possibly related interest may include:
Syria, North Korea, and Prophecy On April 7, 2017, 59 US Tomahawk missiles hit a military installation in Syria. While praised by NATO nations, Israel, and Saudi Arabia, this was denounced by Syria, Russia, and North Korea. Is this the start of World War III? Will the Bashar al-Assad regime remain as it is? What about North Korea? What does the Bible show will happen? Dr. Thiel answers these questions and more. This is a video.
Korea in Prophecy, Any Witness? Where did the Korean people come from? Does God have a plan for the Koreans? Is Korea mentioned in any prophecies? Will Koreans be among the first in the Kingdom of God? Here is a machine-translated link to that article in Korean: 한국의 언어로 : 한국 예언, 모든 증인에?; here is a link to that article in Mandarin Chinese: 在预言中的韩国:有任何证人吗?.
What is the Gospel? True religion should be based upon the true gospel. What are some of the different gospels and where did they come from? Do you believe the true or a false gospel? Who is preaching the gospel? Here is a version in Korean 복음이란 무엇인가?.
China, Its Biblical Past and Future, Part 1: Genesis and Chinese Characters Where did the Chinese people come from? This article provides information showing that the Chinese peoples must have known about various accounts in the Book of Genesis up until their dispersion after the Tower of Babel. Here is a link to a version of this article in Spanish: ¿Prueban los caracteres chinos la exactitud de la Biblia?
China, Its Biblical Past and Future, Part 2: The Sabbath and Some of God's Witness in China When did Christianity first come to China? And is there early evidence that they observed the seventh day sabbath?
Asia in Prophecy What is Ahead for Asia? Who are the "Kings of the East"? What will happen to nearly all the Chinese, Russians, Indians, and others of Asia? China in prophecy, where? Who has the 200,000,000 man army related to Armageddon? A YouTube video of interest may be Is China THE Threat to the United States of America?
Damascus and Syria in Prophecy Will Bashar Assad hold power as he has it? Does the Bible show that Damascus, the capital of Syria, will be destroyed? What will happen to Syria? Will the Syrians support the final King of the South that the Bible tells will rise up? Which scriptures discuss the rise and fall of an Arabic confederation? Does Islamic prophecy predict the destruction of Syria. This is a YouTube video.
The Arab and Islamic World In the Bible, History, and Prophecy The Bible discusses the origins of the Arab world and discusses the Middle East in prophecy. What is ahead for the Middle East and those who follow Islam? What about the Imam Mahdi? What lies ahead for Turkey, Iran, and the other non-Arabic Muslims? An item of possibly related interest in the Spanish language would be: Líderes iraníes condenan la hipocresía de Occidente y declaran que ahora es tiempo para prepararse para el Armagedón, la guerra, y el Imán Mahdi.
Is the Future King of the South Rising Up? Some no longer believe there needs to be a future King of the South. Might Egypt, Islam, Iran, Arabs, or Ethiopia be involved? Might this King be called the Mahdi or Caliph? What does the Bible say? A YouTube video of related interest may be: The Future King of the South is Rising.
Iran in Prophecy Is Iran in Bible prophecy? If so, what does the Bible teach? What names, other than Persia, may be used to describe Iran? There is also a related YouTube video titled Iran In Prophecy.
The Muslim Brotherhood and the Rise of the King of the South The Bible tells of the formation of a power of nations that are in the Middle East and North Africa that are part of the final "King of the South" (Daniel 11:40-43) The Muslim Brotherhood wishes to have an Islamic empire with basically the same nations. This YouTube video explains what to expect from such a confederation.
Why Terrorism? Is Terrorism Prophesied? What does the Bible teach? Which nations may be affected? Here is a link to a related sermon: Terrorism, Christianity, and Islam.
World War III: Steps in Progress Are there surprising actions going on now that are leading to WWIII? Might a nuclear attack be expected? Does the Bible promise protection to all or only some Christians? How can you be part of those that will be protected? A related video would be Is World War III About to Begin? Can You Escape?
Russia and Ukraine: Their Origins and Prophesied Future Russia in prophecy. Where do the Russians come from? What about those in the Ukraine? What is prophesied for Russia and its allies? What will they do to the Europeans that supported the Beast in the end? There is also a video sermon available: Russia in the Bible and in Prophecy and a video sermonette available: Ukraine in Prophecy?
Is Russia the King of the North? Some claim it is. But what does the Bible teach? Here is a link to a video, also titled Is Russia the King of the North?
Ezekiel 38: For Russia & Iran in Our Day? Is Ezekiel 38 about to be fulfilled? A related video is available titled Ezekiel 38: For Russia, Ukraine, & Iran Now? Another could be Russia, Iran, Syria, & the Bible (Code).
When Will the Great Tribulation Begin? 2017, 2018, or 2019? Can the Great Tribulation begin today? What happens before the Great Tribulation in the "beginning of sorrows"? What happens in the Great Tribulation and the Day of the Lord? Is this the time of the Gentiles? When is the earliest that the Great Tribulation can begin? What is the Day of the Lord? Who are the 144,000? Here is a version of the article in the Spanish language: ¿Puede comenzar la Gran Tribulación en 2016 o 2017? ¿Es el Tiempo de los Gentiles? You can also see the English language sermon videos: The Great Tribulation from the Mount of Olives and Can the Great Tribulation begin before 2020? A shorter video is: Will the Great Tribulation Start in 2017?
Donald Trump in Prophecy Prophecy, Donald Trump? Are there prophecies that Donald Trump may fulfill?  Are there any prophecies that he has already helped fulfill?  Could a Donald Trump presidency be apocalyptic?  A related video is titled: Donald: 'Trump of God' or Apocalyptic?
Donald Trump and America's Apocalypse This 188 page book is for people truly interested in prophecies related to Donald Trump and the United States, including learning about several that have already been fulfilled and those that will be fulfilled in the future. The physical book can be purchased at Amazon for $12.99 from the following link: Donald Trump and America's Apocalypse.
Donald Trump and America's Apocalypse-Kindle Edition This electronic version of the 188 page print edition is available for only US$3.99. And you do not need an actual Kindle device to read it. Why? Amazon will allow you to download it to almost any device: Please click HERE to download one of Amazon s Free Reader Apps. After you go to for your free Kindle reader and then go to Donald Trump and America's Apocalypse-Kindle Edition.