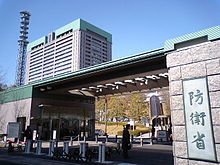 Japanese Ministry of Defense (本屋)
North Korea has decided to continue its sabre rattling via a propaganda film:
February 5, 2013

In propaganda video, N. Korea "bombs" the U.S…

The video, interspersed with an animated space shuttle and patriotic flag waving, culminates with an all-out aerial assault on an unspecified U.S. metropolis, followed by a massive explosion.

Then we see (presumably) real footage of a Pyongyang rocket launch, punctuated by the image of a dreaming North Korean man.

The translation of the text at one point reads: "I see some black smoke somewhere in America. Perhaps the devil's dungeon dictating to everyone is burning by the fire I created."  http://www.cbsnews.com/8301-202_162-57567675/in-propaganda-video-n-korea-bombs-the-u.s/
I have long felt that the North Korean politicians have often been playing a dangerous game with their country and their people.
While North Korea is not prophesied to take over the USA (Europe is per Daniel 11:39, etc.), it certainly is possible that it may decided to actually launch one or more missiles at the USA in the future.
In Japan, there are concerns about the next nuclear test that North Korea announced:
TOKYO — Japan's government is indicating it is preparing for all contingencies that would result from North Korea conducting a third nuclear test.

Japan's top government spokesman has told VOA the international community is making full preparations for another threatened North Korean nuclear test.

South Korea has warned the North it faces "grave consequences" if it goes ahead with another nuclear test.  Seoul has not explained what measures it might take, but some observers say South Korea may punish the North with some kind of military action.

In a VOA interview, Japan's chief Cabinet secretary, Yoshihide Suga, was asked how Japan views the possibility of rising tensions on the Korean peninsula flaring into open conflict.

Suga said the government's job is to always protect its people's lives and assets, and Japan is doing its best in that regard.  He said Tokyo "will deal with the worst case scenario the Japanese people might face."…

In maneuvers being viewed in part as a timely show of force directed at Pyongyang, the United States and South Korea are holding a three-day naval drill off the east coast of the Korean peninsula. It includes a U.S. nuclear-powered submarine and a South Korean destroyer equipped with the advanced Aegis combat system.

North Korean state media have characterized the joint exercise as preparations for a pre-emptive attack on the country.  http://www.voanews.com/content/japan-preparing-worst-case-scenario-for-north-korea-nuke-test/1597004.html
North Korea could push the USA, Japan, and/or South Korea too far and may find that it will no longer be able to sabre rattle as its has.  But it may take stronger actions by North Korea for that to happen.
Eventually, I believe that there will be major change in the approach of the government of North Korea.
Why?
Because the Koreans are Asians and occupy some of the "land of the sunrise" (Revelation 16:2).  Thus I also believe that they are to be part of the kings of the east that the Book of Revelation discusses having a role in the end time (Revelation 9:16).  So, eventually North Korea will cooperate more with various ones in Asia.
However, North Korea may take unusual actions before then, and it may regret doing so.
Some articles of possibly related interest would include the following:
Korea in Prophecy, Any Witness? Does God have a plan for the Koreans? Is Korea mentioned in any prophecies? Will Koreans be among the first in the Kingdom of God? 한국의 언어로 : 한국 예언, 모든 증인에?
Japan, Its Biblical Past and Future, Part 1: Any Witness? Where did the Japanese people come from? Have they had any witness?
Japan, Its Biblical Past and Future, Part 2: Prophecy Japan in prophecy. What is prophesied for Japan? Will God save the Japanese?
Asia in Prophecy What is Ahead for Asia? Who are the "Kings of the East"? What will happen to nearly all the Chinese, Russians, Indians, Koreans, and others of Asia? China in prophecy, where? Who has the 200,000,000 man army related to Armageddon?
Barack Obama, Prophecy, and the Destruction of the United States-Second Edition for Second Obama Term This is a 160 page book for people truly interested in prophecies related to Barack Obama and the United States, including learning about many that have already been fulfilled (which the book documents in detail) and those that will be fulfilled in the future. It also has a chapter about a Republican choice. This book is available to order at www.barackobamaprophecy.com. The physical book can also be purchased at Amazon from the following link: Barack Obama, Prophecy, and the Destruction of the United States: Is Barack Obama Fulfilling Biblical, Islamic, Catholic, Kenyan, and other America-Related Prophecies? What About Republican Leaders? Second Edition for Second Obama Term.
Barack Obama, Prophecy, and the Destruction of the United States-Second Term-Amazon Kindle edition. This electronic version is available for only US$2.99. And you do not need an actual Kindle device to read it. Why? Amazon will allow you to download it to almost any device: Please click HERE to download one of Amazon s Free Reader Apps. After you go to for your free Kindle reader and then go to Barack Obama, Prophecy, and the Destruction of the United States-Second Term-Amazon Kindle edition.