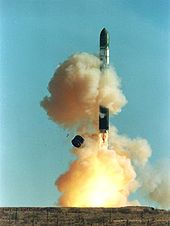 (Photo by ISC Kosmotras))
Voice of America (VOA) reports that North Korea has been upset about a movie. It allegedly has hacked into Sony Pictures, and now it is threatening the US White House:
N. Korea Threatens Nuclear Attack on US

September 15, 2015

SEOUL—
North Korea appears to be intensifying nuclear and ballistic missile development efforts that could lead to further international sanctions against the Kim Jong Un regime.

North Korea's state controlled media KCNA said Tuesday the country's main nuclear complex in Yongbyon was in full operation. The reactor was shut down in 2007. However following North Korea's third nuclear test in 2013, Pyongyang said it would restart the facility.

Some military analysts, studying satellite images of the complex, asserted back in January that the nuclear bomb fuel reactor was again operational. But until now there had not been any official confirmation.

North Korea's National Aerospace Development Administration indicated Monday it is preparing for a possible satellite launch that would likely utilize ballistic missile technology

"The world will clearly see a series of satellites of [North] Korea soaring into the sky at the times and locations determined by the Central Committee of the Workers' Party of Korea," KCNA reported.

Rocket launch

Outside analysts have speculated that North Korea has been planning a long-range rocket launch, possibly in October, to celebrate the 70th anniversary of the ruling party.

North Korea maintains that such launches are for peaceful, non-military purposes. But the United States and its allies say they are mainly aimed at developing long-range ballistic missile technology, which is banned under United Nations Security Council resolutions.

The announced nuclear enrichment and rocket launching developments come weeks after a border incident threatened a major conventional military conflict between the two Koreas.  Emergency high level inter-Korean talks resolved the standoff and both sides promised to hold reunions for families separated since the Korean War divided the peninsula in 1950, and to pursue further talks to reduce regional tensions.

An additional factor, according to Korea analyst Daniel Pinkston, a visiting research fellow at Babes-Bolyai University's Conflict Studies Center in Romania, is that South Korea holds a significant advantage in modern conventional weapons over the North's cold war era arsenal.

"I think at some point the North Koreans realized their weakness in this strategic interaction and they were looking for a way out," said Pinkston.

North Korea maintains it needs nuclear weapons to defend itself against a possible U.S. invasion.  http://www.voanews.com/content/south-korea-warns-north-against-rocket-launch/2964186.html
Notice also the following:
September 15, 2015

(CNN) In its latest bout of saber rattling, North Korea says it is ready to use nuclear weapons against the United States and other foes if they pursue "their reckless hostile policy" toward Kim Jong Un's regime.

In a statement carried by the North's state-run Korean Central News Agency on Tuesday, an atomic energy official said Pyongyang is improving its nuclear weapons arsenal "in quality and quantity." http://www.cnn.com/2015/09/15/asia/north-korea-nuclear-program/
North Korea has long had nuclear weapons, but it apparently thinks they are better now.
North Korean politicians have often been playing a dangerous game with their country and their people, and hopefully they will realize that a military conflict is not in their interests.
While North Korea is not prophesied to take over the USA (Europe is per Daniel 11:39, etc.), as I wrote in the past, it certainly is possible that it may decided to actually launch one or more missiles at the USA in the future (or take other "terroristic actions; cf. Leviticus 26:26).
North Korea, sadly, is certainly capable of terrorism.  It has threatened the USA and its White House in the past (see North Korea threatens the White House).
And while some may find it hard to believe, North Korea is believed to have the ability to knock out a lot of the USA's power supply with its electromagnetic pulse (EMP) weapon capability (see VOA: 'US Defenseless Against North Korean EMP Threat'). (This type of weapon may also be used by the coming prophesied King of the South and/or the King of the North.)
The USA, despite its military strength, is vulnerable to being hurt by EMP weapons as well as nuclear weapons, chemical weapons, dirty bombs, terrorism, and biological weapons. Everyone knows that EMPs can basically work as advertised, this may give the North Koreans more reason to look further into using them if they feel pressed.
If North Korea does take certain steps to sufficiently aggravate the USA into a full military conflict, it needs to realize that it likely will no longer exist as it is.  At some point in time, however, I believe that both Koreas will be reunited based upon certain verses in Revelation, yet whether this will be because of a war involving the USA or something else, that is not clear.
Of course, if North Korea did so, it would not do well once the USA retaliated. So, North Korea is not likely to publicly and direct nuke the USA. But with its despotic leader, almost anything is possible.
The Koreans are Asians and occupy the "land of the sunrise" (Revelation 16:2) and I believe that they are part of the kings of the east that the Book of Revelation discusses having a role in the end time (Revelation 9:16). For years I have written that I expect that they will reunify. The unification of North and South Korea is consistent with biblical prophecy. But North Korea may take unusual actions before then, and it may regret doing so.
Whether this reunification will be because of a war involving the USA, South Korea, or something else (such as waiting until Revelation 9:16; & 16:2), is not clear. But the situation in Korea will change.
Some items of possibly related interest may include:
Korea in Prophecy, Any Witness? Where did the Korean people come from? Does God have a plan for the Koreans? Is Korea mentioned in any prophecies? Will Koreans be among the first in the Kingdom of God? Here is a machine-translated link to that article in Korean: 한국의 언어로 : 한국 예언, 모든 증인에?; here is a link to that article in Mandarin Chinese: 在预言中的韩国:有任何证人吗?
What is the Gospel? True religion should be based upon the true gospel. What are some of the different gospels and where did they come from? Do you believe the true or a false gospel? Who is preaching the gospel? Here is a version in Korean 복음이란 무엇인가?
When Will the Great Tribulation Begin? 2015, 2016, or 2017? Can the Great Tribulation begin today? What happens before the Great Tribulation in the "beginning of sorrows"? What happens in the Great Tribulation and the Day of the Lord? Is this the time of the Gentiles? When is the earliest that the Great Tribulation can begin? What is the Day of the Lord? Who are the 144,000? Here is a version of the article in the Spanish language: ¿Puede comenzar la Gran Tribulación en 2014 o 2015? ¿Es el Tiempo de los Gentiles? You can also see the English language sermon video: The Great Tribulation from the Mount of Olives.
Asia in Prophecy What is Ahead for Asia? Who are the "Kings of the East"? What will happen to nearly all the Chinese, Russians, Indians, and others of Asia? China in prophecy, where? Who has the 200,000,000 man army related to Armageddon? A YouTube video of interest may be Is China THE Threat to the United States of America?
The Eurasian Union, the Kings of the East, and Bible Prophecy Is there a Eurasian union that will be formed? Is one being formed right now? Are any leaders working on that in the 21st century? Does the Bible teach that there will be a Eurasian union? If some type of Eurasian union is formed, who might it benefit and who will it destroy? A related video would be Is The Eurasian Union Rising?
Anglo – America in Prophecy & the Lost Tribes of Israel Are the Americans, Canadians, English, Scottish, Welsh, Australians, Anglo-Saxon (non-Dutch) Southern Africans, and New Zealanders descendants of Joseph? Where are the lost ten-tribes of Israel? Who are the lost tribes of Israel? What will happen to Jerusalem and the Jews in Israel? Will God punish the U.S.A., Canada, United Kingdom, and other Anglo-Saxon nations? Why might God allow them to be punished first? Here is a link to the Spanish version of this article: Anglo-América & las Tribus Perdidas de Israel. Information is also in the YouTube sermons titled Where are the Ten Lost Tribes? Why does it matter? and British are the Covenant People. A short YouTube of prophetic interest may be Barack Obama and the State of the Apocalypse.
Will the Anglo-Saxon Nations be Divided and Have People Taken as Slaves? Will the lands of the United States, United Kingdom, Canada, Australia, and New Zealand be divided? What about Jerusalem? What does Bible prophecy teach? Are there non-biblical prophecies that support this idea? Who will divide those lands? Who will end up with the lands and the people? Here is a link to a video titled Will the USA and other Anglo-nations be Divided and Their People Made Slaves? Here is a related item in the Spanish language ¿Serán divididas las naciones anglosajonas?
Barack Obama, Prophecy, and the Destruction of the United States This is a 160 page book for people truly interested in prophecies related to Barack Obama and the United States, including learning about many that have already been fulfilled (which the book documents in detail) and those that will be fulfilled in the future. It also has a chapter about Mitt Romney. This book is available to order at www.barackobamaprophecy.com. The physical book can also be purchased at Amazon from the following link: Barack Obama, Prophecy, and the Destruction of the United States: Is Barack Obama Fulfilling Biblical, Islamic, Catholic, Kenyan, and other America-Related Prophecies? What About Mitt Romney?
Barack Obama, Prophecy, and the Destruction of the United States–Amazon Kindle edition. This electronic version is available for only US$2.99. And you do not need an actual Kindle device to read it. Why? Amazon will allow you to download it to almost any device: Please click HERE to download one of Amazon's Free Reader Apps. After you go to for your free Kindle reader and then go to Barack Obama, Prophecy, and the Destruction of the United States–Amazon Kindle edition.)