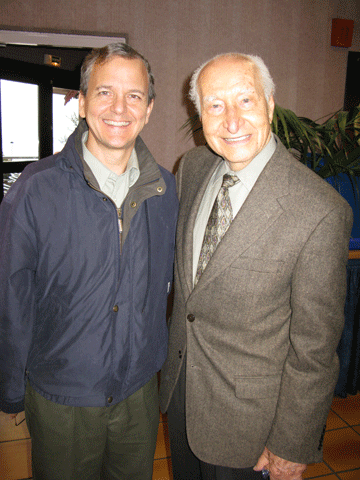 COGwriter and Dibar Apartian
Dibar Apartian died on December 8, 2010. For those unfamiliar with him, he had been an evangelist in the Church of God (COG) for decades.
He was born of Armenian parents and his family had to flee when he was quite young because of persecution from the Turks (known as the Armenian genocide). He ended up in the French-speaking portion of Switzerland. During World War II he worked for the US Embassy there and then later came to the USA. In the USA, he met and married his wife Shirley.
Dibar Apartian lived into his mid-90s (there were debates about the year he was born and he himself did not seem to be certain as his early documents were lost). As many know, he was responsible for the French language work in the old Radio Church of God which became the old Worldwide Church of God (WCG), then he was in the old Global Church of God (GCG), and then the Living Church of God (LCG). He also handled other aspects of Church Administration in and out of the USA for LCG.
For decades, he also taught French at the old Ambassador College (Pasadena, California campus). He loved the French. He loved the French language, he loved French food, and he loved the French people.
His voice was well known throughout much of the French-speaking world as he did a radio program for decades in the French-language that was heard in several French-speaking nations. He used to sometimes write articles that went into the English language publications and sometimes gave sermons in English.
While my wife Joyce and I were familiar with that, we started to become more familiar with him in the 1980s. As WATS line volunteers for the old Worldwide Church of God in Pasadena, sometimes his Friday night Bible studies were played and we would watch them.
After the apostasy in the old Worldwide Church of God, Dibar Apartian did not run immediately to Dr. Meredith and the new Global Church of God as he was unsure where to go. After a couple of years, he ended up with the Global Church of God mainly because of doctrinal issues he had in discussions with the emerging United Church of God (UCG).
Within a year or less of that, Dibar Apartian and I met. We later counted each other as friends. We would spend time together when my family and I used to visit the Garden Grove congregation of the old Global Church of God in the mid to late 1990s.
Prior to the GCG split in 1998, Dibar Apartian expressed his opinion about various actions and decisions he had issues with that its then presiding evangelist Roderick C. Meredith made. He personally told me in late 1998, that he told Dr. Meredith if he ever did something like this again that he would not follow him into another organization. This clarified, for me at least, some of his views of Dr. Meredith.
Through the years, Dibar Apartian and I worked together on many matters, including when I was looking into a variety of allegations against the late Herbert W. Armstrong (see 15 Accusations and Truthful Responses About Herbert W. Armstrong) as well as the Elijah issue (see The Elijah Heresies).
When some claimed that the proclamation work of Matthew 24:14 was completed, he strongly disagreed. Dibar Apartian was an evangelist who was preaching the Gospel of the Kingdom in the French language over radio while Herbert Armstrong was alive, and he did so after some improper believe that Matthew 24:14 had been fulfilled in total.
Dibar Apartian continued to preach the Gospel until shortly before he died. When I asked him if Herbert Armstrong ever told him to stop doing this in the event of his (HWA's) death, Dibar Apartian responded, "To the contrary, he told me he wanted me to go on more stations." This ended up being reported in the article Should the Church Still Try to Place its Top Priority on Proclaiming the Gospel or Did Herbert W. Armstrong Change that Priority for the Work?
We had various discussions about the Bible and Bible study. Dibar Apartian used to teach that the Bible was not like other books–you do not simply read it, you need to truly study it and live by it (see Read the Bible). And that is true (Matthew 4:4; Luke 4:4).
Dibar Apartian and I worked together on how to reach people better in the third world, including places like Nigeria. Neither of us cared for how the then LCG director of Church Administration handled some of those matters (note: this is NOT a reference to Dr. D. Winnail, who did not hold that office when the Nigeria issue arose), and he made suggestions on how to work to support Matthew 24:14; 28:19-20 without getting some things stopped by that director (who was later removed from that position).
Dibar Apartian had a keen interest on prophecy, as well as history. Notice three items he wrote:
This soon-coming union of ten nations or governments prophetically represents the last "head" of the resurrected "beast"-the revival of the "Holy Roman Empire" (Rev. 17 :9- 1 2). But contrary to what you may think, it wiIl NOT consist only of Gentile nations. It will INCLUDE a group of ISRAELITISH nations. "Come out of her , my people," says God in Revelation 18:4. "My people" means Israelites in Bible prophecy. Yes, once again, Joseph' s own brothers will sell him to the Gentiles!

Once again REUBEN (the first-born of Jacob who anciently conspired with his brothers, will "act" in terms of saving him, but end · up by compromising with his brothers to send him into CAPTIVITY. (Apartian D. De Gaulle and the Next World War. Plain Truth, September 1964, p. 11)

This Union of 10 Kingdoms is already in formation in Europe. In fact, France is at present one of its key members. As this prophecy reveals, this union will receive authority "for one hour" only-that is, a short time-because it is like "iron mixed with miry clay" (Dan. 2:43) …

During the last two WORLD WARS France was at the side of her natural allies, the Anglo-Saxons. They are, indeed, her natural allies because the French people, in turn, are the modern DESCENDANTS of one of the twelve tribes of Israel, namely REUBEN! The situation, however, will be quite different during the next WORLD WAR, France will no longer fight at the side of her former allies; she will turn AGAINST them. The descendants of Reuben will play their part in selling into slavery their brother Joseph – just as Reuben did some 3700 years ago. You are now beginning to see why the relations between the United States of America and France are gradually deteriorating. (Apartian D. France: The Enigma of our Time. Plain Truth, August 1966, pp. 11-12)

On September 3, 1939, the Allies declared war against Germany after its invasion of Poland, and all stores and restaurants were closed. Some did not heed. Some had even scoffed at the warning. As a result, they suffered the consequences. How about us, today? What is our attitude as we see dark clouds hovering over our heads? Recently, the United States, as well as the rest of the world, has gone through unparalleled calamities. How many more wake-up calls do we need before we heed and prepare for the calamities ahead? The Bible tells us, "The way of a fool is right in his own eyes, but he who heeds counsel is wise" (Proverbs 12:15). (Apartian D. World Ahead Weekly Update, September 8, 2005)

Many are becoming perplexed and wondering what's really happening to this world? When will earthquakes, tsunamis, and hurricanes end? When will wars and cruelty among human beings come to a halt? We, as God's people, know the answers but we must constantly be strong and vigilant to help others in the world turn to God, submit to His will, and observe His commandments. That's our mission. Are we doing our part—zealously? Are we ourselves submitting to God—totally? Hurricane Katrina is one of the wake-up calls, not only to Americans but to all mankind. The question is: Will mankind wake up? And will all of God's people around the world wake up? Each of us, individually, holds the answer. Remember Christ's words, "And what I say to you, I say to all: Watch!" (Mark 13:37) (Apartian D. World Ahead Weekly Update, September 1, 2005)
He and I often discussed prophetic, historical, doctrinal, and administrative matters.
Many members in LCG were unaware that Dibar Apartian had issues with LCG's Tomorrow's World magazine. He stated it lacked interest, depth, and relevance. In 2007 and 2008, he pushed Dr. Meredith to agree to have articles in it from me as he told me that my articles were what LCG needed. Dr. Meredith agreed, at least at that time. I agreed, but under the proviso that LCG would first fix errors in its booklet on church history. Although LCG, numerous times agreed to do that and told me numerous times that it was working on doing that, it never happened as various ones promised. The reality is that one of the top people did not want the magazine changed and prevented the booklet changes as a reason to not have me submit articles.
Dibar Apartian frequently used to urge me to try to get the other leaders in LCG to correct doctrinal, prophetic, and literature errors. Although I tried to get him to do more of that himself, he always instructed me to not only do that, but to remind other leaders in Charlotte to keep their promises to fix errors, literature, etc.
But we did have an incident where he got quite angry with me. It was related to something that started on October 3, 2008 when Dr. Roderick C. Meredith (Presiding Evangelist of the Living Church of God) called me and said to me, "God may consider you to be a prophet." Dr . Meredith and I discussed this in depth as Dr. Meredith was the one who brought the topic up.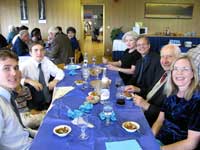 Dibar Apartian shown sitting between COGwriter and my wife Joyce, along with his wife Shirley and our sons Michael and Brian (David is in between them, but hard to see) in Evian, France
Later that month, my family and I went to the Feast of Tabernacles in Evian, France. The conversation with Dr. Meredith weighed on my mind, so I asked Dibar Apartian (who was the Feast site coordinator) and Dr. Jeff Fall (who was my pastor then, and who also attended there that year) to meet with me before services one morning. I told both of them about the conversation with Dr. Meredith.
Upon hearing this, Dibar Apartian got upset. He told me that Dr. Meredith did not say such a thing and I assured him that he had. His emotions got the best of him and he walked out of the meeting and I completed it by discussing what happened in more depth with Dr. Fall.
A couple of days later, after Dibar Apartian calmed down, he came up to me and said that I was either "the one" or the "biggest threat to the church." He also came up to me shortly thereafter and told me how much he appreciated a sermonette I gave during that Feast.
We continued to speak over the telephone. I would bring up issues and Dibar Apartian continued to press me to bring the subjects up to other leaders in Charlotte. So, I did. He told me that I needed to remind those in Charlotte about errors they were making and truths that they were not teaching, so I did.
In the Summer of 2009, Dibar Apartian told me, in quite a positive tone, that Dr. Meredith had been stating in meetings that "Bob Thiel may be a prophet." He seemed very excited. I reminded him that I had told him that in October 2008, and he said yes he knew, but essentially the forthright way Dr. Meredith brought it up struck him in a very positive way.
Anyway, we continued to work together and I would bounce doctrinal, historical, and prophetic issues off of him and as far as I recall, he always agreed with what I was advocating. He kept telling me to remind Dr. Meredith and others of issues there, despite the fact that they often would not resolve matters.
In the late Summer of 2010, I asked Dibar Apartian if he still thought I was "the greatest threat to the church or 'the one.' " He said I was not the threat and said that he would try to talk to Dr. Meredith about my prophetic role, but it is not clear how, or even if, he did before he died later that year. But what was appeared clear was that Dibar Apartian believed then that God had a top/prophetic role for me.
Dibar Apartian got ill at the Feast of Tabernacles in Martinique in late 2010, and never truly recovered from that bout of illness. Here is something he wrote in November 2010:
Dear brethren in Christ: Since the Feast of Tabernacles, my life has known many changes. Humanly speaking, one wonders if the hardship that follows is worth it. The answer is simple: God knows. He knows what every one of us goes through in life and how much we can each take. This has been my strength. Without such hope, life would be worthless. During the last few weeks, while lying in my bed, I have come to understand more and more that God is in control of everything. You and I are simple servants. We should do what He leads us to do. At times, all seems dark. But just like night and day, the light of the day overshadows the darkness of yesterday.
Dibar Apartian was buried at Forest Lawn cemetery in Weddington, North Carolina.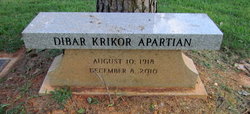 In one of our last conversations, he concluded with the words, "I love you." I was emotionally touched.
Some have attempted to discount and discredit what happened between Dibar Apartian and myself, but what is reported here is true. There should be several in Charlotte who at least used to know this, as well as one or more LCG ministers not in Charlotte who did.
It should be noted that Dibar Apartian had major issues with LCG in general and Dr. Meredith in particular. And I was not the only one who knew this. Someone once in the employ of LCG in Charlotte sent me the following:
I just wanted to write you about Mr. Apartian and what he REALLY felt about LCG and its leaders.

I know that Dibar Apartian expressed serious concern for the LCG brethren, as he made comments about the "true colors" of LCG's upper leadership would come out after his death-which is exactly what happened.

Mr. Apartian told several LCG members, whom he trusted, that LCG was no longer God's true Church, and was no longer even a Godly church.

Mr. Apartian was against the "falling away" doctrine, just as John Ogwyn was against it also.

Mr. Apartian also knew that Herbert W. Armstrong was vehemently against Rod Meredith being the human leader of the church. Mr. Apartian always felt uneasy about following Rod Meredith, since he knew HWA's feelings about that.

Mr. Apartian was also having private meetings, near the end of his life, with ministers of different Church of God groups-one of those ministers, whom Mr. Apartian met with, told me about their meetings in person. Those private meetings were about Mr. Apartian leaving LCG.

However, due to his rapidly failing health and a few other reasons, he stayed with LCG.

He did make it very clear though, that LCG was heading the wrong direction, in terms of doctrine and other major decisions as well.

Mr. Apartian was also very upset about Rod Meredith's lack of compassion and concern for him, while he was near his death.

Rod Meredith had heard about some of Mr. Apartian's revealing comments about LCG, and Meredith was not happy.

Therefore, Rod Meredith did not visit much with Mr. Apartian towards the end, and Meredith even discouraged other LCG members from visiting with Mr. Apartian-worried that more negative facts about LCG would "get out."

I hope this info is helpful-God's people need to know the truth about LCG and about Rod Meredith

. . .

Mr. Apartian actually said that LCG was no longer a Godly church!

He also said that we would all see LCG's "true colors" after he died.

He made these statements to several LCG members, but most of them are still working at HQ, so they just keep quiet and don't say a word.
After Dibar Apartian's death, certain problems with LCG became clearer and certain ones accelerated. Many of those have been documented at the COGwriter.com website. The "true colors" are out there for those who really will love and believe the truth. But sadly, most seem to not understand the depth of the integrity issues, etc.
Since Dibar Apartian died, LCG changed several doctrines.  As many know, LCG now teaches that the 'falling away' is for the world (and not for those claiming to be COG) and that it specifically identifies its uniqueness by this heretical doctrinal change. Details of their position and why it is in error are in the article The Falling Away: The Bible, WCG, and LCG Teachings.
I left LCG because it had serious integrity matters and that it would not correct errors its top leaders had acknowledged (see Why Bob Thiel Left the Living Church of God). Dibar Apartian realized LCG had them as well. The integrity matters also spill into matters of doctrine and LCG has made many improper changes since Dibar Apartian's death.
Many have asked me for a list of doctrinal differences between LCG and the Continuing Church of God. As far as doctrines, unlike the Charlotte-based Living Church of God, the CCOG believes:
That the word of God and not Protestant commentaries should be the basis for changing doctrine (it remains my view that the "falling away" logic was primarily based upon Protestant interpretations, overlooked a lot of what HWA's actually church taught about it, and was not consistent with many scriptures in the Bible).  See also The Falling Away: The Bible and WCG Teachings.
The Falling Away on 2 Thessalonians 2:3 mainly has to do those affiliated with the COG (see also The Falling Away: The Bible and WCG Teachings).
That the leader of CCOG keep his word, as should the leader of LCG–really (see Why Bob Thiel Left the Living Church of God and Response to a Letter from Dr. Roderick C. Meredith Dated December 28, 2012).
That since a prophet is higher in "spiritual authority" than an evangelist, that those who believe in hierarchical governance would support a prophet of God over an evangelist, irrespective of how long he has been an evangelist (see also The Bible, Peter, Paul, John, Polycarp, Herbert W. Armstrong, Roderick C. Meredith, and Bob Thiel on Church Government and How To Determine If Someone is a True Prophet of God).
That faith is not the first step towards salvation, but that God calls and send out His messengers to teach the word of God (Romans 10:14-17), and then comes faith (the Official Statement of Fundamental Beliefs of LCG differs; see also proposed changes to LCG's Official Statement of Fundamental Beliefs).
That it is inappropriate to suggest that those that do not agree to an unscriptural doctrinal change have somehow been led by or blinded by Satan (this is related to statements in two sermons by Dr. Douglas Winnail; see also The Falling Away: The Bible and WCG Teachings).
That it is not necessary to rebuild a Jewish Temple in Jerusalem before Jesus returns (both a TW telecast and one or more LCG sermons have stated a view that disagrees with that; see also Why is a Jewish Temple in Jerusalem Not Required?).
That literature corrections and/or retractions should be made when known. The work of God MUST be done in truth (Psalm 33:4).
That the COG must be bolder in certain areas if it wants to fulfill Matthew 24:14 (see also The Final Phase of the Work).
Matthew 18:15-17, about going to your brother to try to resolve a matter before going public with it, applies to leaders and members.
That institutional idolatry is still wrong and that proper church governance does not include being loyal to a church or leader's teachings which contradict scripture (see also The Bible, Peter, Paul, John, Polycarp, Herbert W. Armstrong, Roderick C. Meredith, and Bob Thiel on Church Government).
That it is wrong to knowingly send out tens of thousands of booklets with admitted and known errors for several years (tens of thousands of the GCA booklet have gone out, despite LCG being told that they contain known errors years ago and that they perpetuate certain Catholic myths (consider also Psalm 101:7); on 10/18/12 I was informed that over 20,000 incorrect booklets remained and were expected to be sent out; see also October 2012 Emails Related to GCA Booklet).
That it is wrong to continue to have one or more known errors/contradictions in an Official Statement of Fundamental Beliefs, but still keep it unchanged for years after learning what they are (one is a seeming contradiction within the Statement, and the others are covered in points 4 and 18, though point four I had not brought that up before, but wanted to when I first noticed it). (See also December 2011 Proposed changes to LCG's Official Statement of Fundamental Beliefs.)
That Philadelphians should expect persecution (Daniel 11:28-35; Revelation 12:13-14; see also Persecutions by Church and State) and not excessively pull-back proclamation to avoid it (I was specifically told that some, who I will not mention now by name, were afraid I, Bob Thiel, could trigger end time persecution, despite the fact that they in LCG also specifically realize that the Philadelphians will be persecuted).
That improving literature and doctrinal errors will greatly assist in the final phase of the work. (Briefly, what this refers to is when the COG publicly identifies the King of the North and media coverage gets generated, the Catholic scholars will tear through COG literature and find many, many simple to fix errors that will hurt the COG's credibility. LCG Evangelists agreed to fix many of them with me over the years, but often have yet not done so. My being distant from LCG assists as I will not have to apologize for why a group that supposedly has enough of the "love of the truth" kept publishing known and serious errors. And several of those errors perpetuate Catholic myths. This could greatly damage the credibility of God's work.)
It has a better grasp of The Final Phase of the Work. (Briefly, basically this begins no later than when the King of the North is identified and continues until Jesus returns–it has multiple parts including fulfilling Matthew 24:14–which may happen because of related media attention, persecution, the angels' messages of Revelation, the two witnesses, and supporting those witnesses. If John Ogwyn was correct about the "short work" on Romans 9:28, this could possibly, temporarily swell the ranks of the COG prior to the persecution.)
Jesus is present at Passover (Matthew 18:20; 26:26-27; John 6:51,53; 1 Corinthians 11:24-25; LCG's Passover DVD for 2012 stated that Jesus was not present).
People should be more loyal to the word of God and leaders that God appoints than a corporation (see also The Bible, Peter, Paul, John, Polycarp, Herbert W. Armstrong, Roderick C. Meredith, and Bob Thiel on Church Government).
Ignatius' writings did not do away with the Sabbath (see Another Look at the Didache, Ignatius, and the Sabbath) as that is a mistranslation (the God's Church Through the Ages' booklet has this and many other errors as does the book LCG printed and gave to all in the Fall of 2014 by Ivor Fletcher).  Accurate details about COG history, that do NOT perpetuate Catholic and other myths like two publications distributed by LCG do, are in the free booklet: Continuing History of the Church of God.
Various divorce and remarriage (D&R) matters. Though since I have only been married once (we have been married for 34 plus years, and are not planning on divorcing), this was not a major personal item, but has long been a concern as LCG seemed to allow remarriage where the Bible did not.
That adultery, does not mean multiple adultery, as far as Jesus' words about divorce go (Dr. Meredith has said in sermons that adultery here means multiple violations. That is not how I read this and I called Charlotte about it in 2012, with no satisfactory resolution.)
Marriages performed by the ministry are not to include believers to unbelievers per 2 Corinthians 6:14-18 (unless certain other biblically-sanctioned reasons are present; e.g. Deuteronomy 22:28). See also the 2015 post, NBC: 'Exposed in Ashley Madison Hack? Here's What to Do Now'.
That the Great Tribulation, the time of Jacob's troubles, does not start at Daniel 11:40 when the King of the South pushes at the King of the North–it starts the prior verse (this is something that still needs to be corrected in the LCG Official Statement of Fundamental Beliefs; this is something many have known about for years and had promised to address; see also When Will the Great Tribulation Begin?).
That the King of the North attacks the USA and its Anglo-Saxon allies (Daniel 11:39) before he attacks the King of the South (Daniel 11:40; LCG teaches both versions of this and leans towards the wrong one; LCG's Fourteen Signs booklet, for one example, teaches that Daniel 11:31 comes AFTER Daniel 11:40-43 and that the USA and Anglo-Saxon nations are destroyed afterwards–this means LCG WILL NOT KNOW WHEN THE GREAT TRIBULATION WILL BEGIN AND THOSE THAT PREFER TO SUPPORT LCG WILL NOT FLEE TO BE PROTECTED WHEN IT IS TIME).
That Daniel 11:31 is fulfilled prior to Daniel 11:40-43 (LCG's Fourteen Signs booklet teaches the opposite order).
That since the ten kings have not yet received their kingdoms, that the ten kings mentioned in Revelation 17:16 are not limited to 10-11 currently existing nations (LCG sometimes takes a different view, which will mean that they will not realize when the Beast power is at the end stage of its rising up, see also LCG and PCG insisting on 10 or 11 'nations' for the Beast? What does the Bible teach?).
Do not believe that any in the ministry should promote the sport of American tackle football (the Bible, in Romans 13:9-10 clearly teaches "You shall love your neighbor as yourself." 10 Love does no harm to a neighbor; therefore love is the fulfillment of the law"). HWA also specifically warned against this violent sport (see Is American Football Evil?). There are also other "love" issue matters.
We do not believe that we should encourage the pagan sun-god (Shamash 888 B.C.) worship practice (cf. Deuteronomy 12:29-32) of praying with clasped hands (see our booklet Prayer: What Does the Bible Teach?), whereas LCG has published photos promoting this.
While the Bible seemingly allows for eating out while traveling (Matthew 12:1-8) and certain emergencies (Luke 6:3-5), that it does not condone regular eating out in restaurants on the Sabbath for those who are simply at their homes (cf. Nehemiah 10:30-31; watch also The Christian Sabbath and How and Why to Keep It).
That the "mark of the Beast" includes idolatry and likely a physical object, and is not limited to Sunday worship (see Mark of the Beast and The Mark of Antichrist).
That the "word of the law" needs to be preached as part of the Feast of Tabernacles every seven years (Deuteronomy 31:10-13; cf. Nehemiah 6:73;7:1-3,8,13-17; Joshua 8:34; see also The Feast of Tabernacles: A Time to Learn the Law). This has been conveyed to those given sermons at the CCOG Feast of Tabernacles' Sites for 2013.
That Habakkuk 2 clearly is referring to these end times and thus has prophetic applicability to the Anglo-descended nations (LCG has ministers and at least one evangelist who believe Habakkuk 2 was fulfilled in its entirety and does not have end time applications, even though it clearly does–see also Habakkuk: His message is for us now).
Some of the prophecies in the Bible (e.g. Isaiah 10:5-11) seem to use the term 'Samaria' to refer to the modern United States of America (see also Anglo – America in Prophecy & the Lost Tribes of Israel). Although one LCG leader seemed open to this when told in 2012, LCG does not seem to formally teach this.
France will support the Beast power (LCG is no longer certain; see Must the Ten Kings of Revelation 17:12 Rule over Ten Currently Existing Nations? And this disagrees with the late Dibar Apartian's position as shown in The 'Lost Tribe' of Reuben: France in Prophecy?).
That Matthew 28:19 is part of the Bible and needs to be part of the baptismal ceremony (see also Is Matthew 28:19 in the Bible?). Evangelist Richard Ames personally expressed his doubts to me once about whether Matthew 28:19 was scripture or not–he, at that time at least, was not convinced that it was. Although the Bible teaches, "one Lord, one faith, one baptism" (Ephesians 4:5), in late June 2013 I was told by someone else who inquired that LCG has two different baptisms because some do not believe that Matthew 28:19 applies. Although it ends with an option for an appropriate ceremony, LCG's L049 letter specifically states, "Is Matthew 28:19 the only commanded formula that must be used in a baptism ceremony? Again, we say no, it is not, based on the actual procedures the early church used in baptizing," which seems to substantiate what I was told about more than one baptismal option.
That the man of sin in 2 Thessalonians 2 is the first beast, the final King of the North, and not the second beast, the false prophet (see also Who is the Man of Sin of 2 Thessalonians 2?; or, in English, see the You Tube video Who is the Man of Sin?). In his co-worker letter dated, April 17, 2013, Dr. Meredith indicated that not agreeing with his improper assertion about this individual means that one does not understand biblical prophecy–since Dr. Meredith is not correct on this, but CCOG is, those in his church should realize that LCG has major problems in understanding various parts of prophecy. This will not bode well for any who will believe LCG over CCOG in the future.
It is wrong to tell members that "the end" is closer than the leadership believes (LCG has done this repeatedly as I tended to find out when I checked with its top leadership).
That it is not necessary that a red heifer be sacrificed as part of the final end time sequence (LCG has published that "those who are watching end-time prophetic events know that the slaughter of the red heifer is one of the first major milestones in this final sequence of end-time events"; see The Red Heifer, Jewish Beliefs, and the End of the World).
That God is restoring "all things" (Matthew 17:11; Jude 3). While both CCOG and LCG believe that there has to be some type of an end-time Elijah, LCG has not specifically taught that it has been restoring what needs to be restored (the church history book it distributed at the Feast of Tabernacles in 2014 perpetuated Catholic and other myths and DID NOT restore 'apostolic Christianity.' Furthermore its Dr. Winnail has also taught that the final Elijah could be the church and not a person. Yet CCOG does teach that there is a final person coming in the spirit and power of Elijah, (see Statement of Beliefs of the Continuing Church of God and The Feast of Tabernacles: A Time to Learn the Law), that it is in the process of restoring all things, and the final Elijah will come from it (see the sermon Elijah, Herbert W. Armstrong, and CCOG).
That Jesus is NOT the one who will "will turn the hearts of the fathers to the children, and the hearts of the children to their fathers" (Malachi 4:6) as LCG taught in 2015, but that this is part of the work of the final Elijah (Malachi 4:5-6; details on LCG's and CCOG's positions are in the article The Elijah Heresies).
The EU will NOT collapse like the old Roman Empire as LCG asserted last week as the LCG view is contrary to prophetic scriptures (some details on LCG's and CCOG's positions are in the article Must the Ten Kings of Revelation 17:12 Rule over Ten Currently Existing Nations?).
Anyway, while there are others, the above gives some reasons why those who wish to truly be part of the Philadelphia remnant would want to consider supporting the Continuing Church of God.
Some time ago, LCG ceased to have the 'Philadelphia mantle' (proper leadership authority for the true and faithful church). It seems that Dibar Apartian realized this would happen, though even today, most within LCG (including those who know about the integrity and other issues) do not wish to take the biblically appropriate steps about that.
Though this is not a total surprise as Jesus prophesied that most in the end would not see the need to change as they should per His comments in Revelation 3:14-21.
Anyway, I considered Dibar Apartian as a friend and still miss him.
For those that prefer to read an earlier version of this post in the Spanish language, here is a link: http://www.cdlidd.es/dibar-apartian/.
Some items of possibly related interest may include:
Why Bob Thiel Left the Living Church of God Several have speculated reasons, but here is the truth. (En el idioma español: ¿Por qué Bob Thiel dejó la Iglesia del Dios Viviente?)
The 'Lost Tribe' of Reuben: France in Prophecy? What is the origin of this in France? What is prophesied to happen to them? A two-part sermon related to history and prophecy is available online: The 'Lost Tribe' of Reuben and France and Prophecy.
Dreams, the Bible, the Radio Church of God, and the Continuing Church of God How has God used dreams in the past? Does God still use dreams? Did He use any involving those in the Continuing Church of God? A related sermon is also available: Dreams, COGs, and One Man Rule.
Journal Report on Continuing Church of God Leader Bob Thiel Bob Thiel was interviewed by The Journal News of the Churches of God related to him being a prophet, the proclamation goals of the Continuing Church of God, and why he left LCG.
Response to a Letter from Dr. Roderick C. Meredith Dated December 28, 2012 In violation of Matthew 18, Dr. Meredith publicly sent out a letter that forced Dr. Thiel to conclude that the Continuing Church of God must be formed. Here is that letter and some of Bob Thiel's comments about it. Here is a version in the Spanish language Respuesta a una carta del Dr. Roderick C. Meredith fechada el 28 de diciembre, 2012.
What About the Living Church of God? Are there Doctrinal Differences with the Continuing Church of God? This article explains some information and doctrines of the Living Church of God as led by Roderick C. Meredith and some concerns about them. (En el idioma español: ¿Qué hay acerca de la Iglesia de Dios Viviente? ¿Hay diferencias doctrinales con la Continuación de la Iglesia de Dios?)
Where is the True Christian Church Today? This free online pdf booklet answers that question and includes 18 proofs, clues, and signs to identify the true vs. false Christian church. Plus 7 proofs, clues, and signs to help identify Laodicean churches. A related sermon is also available: Where is the True Christian Church? Here is a link to the booklet in the Spanish language: ¿Dónde está la verdadera Iglesia cristiana de hoy? Here is a link in the German language: WO IST DIE WAHRE CHRISTLICHE KIRCHE HEUTE? Here is a link in the French language: Où est la vraie Église Chrétienne aujourd'hui?
Continuing History of the Church of God This pdf booklet is a historical overview of the true Church of God and some of its main opponents from Acts 2 to the 21st century. Related sermon links include Continuing History of the Church of God: c. 31 to c. 300 A.D. and Continuing History of the Church of God: 4th-16th Centuries. The booklet is available in Spanish: Continuación de la Historia de la Iglesia de Dios, German: Kontinuierliche Geschichte der Kirche Gottes, and Ekegusii Omogano Bw'ekanisa Ya Nyasae Egendererete.
The Philadelphia Church Era was predominant circa 1933 A.D. to 1986 A.D. The old Radio Church of God and old Worldwide Church of God, now the remnant of that era is basically the most faithful in the Church of God, like who hold to the beliefs and practices of the Continuing Church of God.
The Laodicean Church Era has been predominant circa 1986 A.D. to present. The Laodiceans are non-Philadelphians who mainly descended from the old WCG or its offshoots. They do not properly understand the work or biblical prophecies and will face the Great Tribulation if they do not repent.