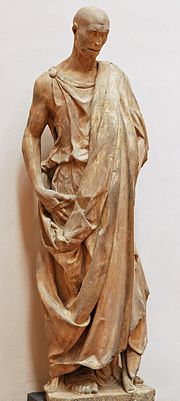 Statue Intended to be Habakkuk by Donatello (15th century)
Habakkuk was a Hebrew prophet.  Some observe a memorial to him on January 15th.
The Jewish Encyclopedia of 1906 reports this about him:
HABAKKUK (; LXX. Ἀμβακούμ; Vulgate, "Habacuc"):

Prophet; author of the eighth in the collection of the twelve minor prophetical books. The etymology of the name of the prophet is not clear. It seems to be a loan-word representing the Assyrian "hambaḳûḳu," a garden-plant (Friedrich Delitzsch, "Prolegomena," p. 84; König, "Historisch-Kritisches Lehrgebäude der Hebräischen Sprache," ii. 1. 473, on the vocalization), and has the appearance of being a writer's pseudonym (F. E. Peiser, "Der Prophet Habakuk," in "Mitteilungen der Vorderasiatischen Gesellschaft," 1903, i. 12). That he was a Levite has been urged on the strength of the postscript to ch. iii. (verse 19, "on my stringed instruments"), which indicates that he owned instruments: only a Levite was authorized to use an instrument to accompany his songs in the Temple. The superscription of the Septuagint apocryphon Βὴλ καὶ Δράκωυ, in the Codex Chisianus, also designates him a Levite.
Around 605-625 B.C. Habakkuk wrote a short book of the Bible that has a lot of implications for the time that we are now in.
Here are some passages from it (italics are not inspired but were headings in the translation):
1 The burden which the prophet Habakkuk saw.

The Prophet's Question

2 O Lord, how long shall I cry, And You will not hear? Even cry out to You, "Violence!"And You will not save. 3 Why do You show me iniquity, And cause me to see trouble? For plundering and violence are before me;There is strife, and contention arises. 4 Therefore the law is powerless, And justice never goes forth. For the wicked surround the righteous; Therefore perverse judgment proceeds.

The Lord's Reply

5 "Look among the nations and watch — Be utterly astounded! For I will work a work in your days Which you would not believe, though it were told you. 6 For indeed I am raising up the Chaldeans, A bitter and hasty nation Which marches through the breadth of the earth,To possess dwelling places that are not theirs. 7 They are terrible and dreadful;Their judgment and their dignity proceed from themselves. 8 Their horses also are swifter than leopards,And more fierce than evening wolves. Their chargers charge ahead; Their cavalry comes from afar; They fly as the eagle that hastens to eat.   9 "They all come for violence; Their faces are set like the east wind. They gather captives like sand. 10 They scoff at kings, And princes are scorned by them. They deride every stronghold,For they heap up earthen mounds and seize it. 11 Then his mind changes, and he transgresses;He commits offense, Ascribing this power to his god."  ( Habakkuk 1:1-11)
Notice that the above states that the end time work will not believed by many even though God will reveal it through–which He does through His prophets, like Habakkuk.
The Prophet's Second Question

12 Are You not from everlasting, O Lord my God, my Holy One? We shall not die. O Lord, You have appointed them for judgment; O Rock, You have marked them for correction. 13 You are of purer eyes than to behold evil, And cannot look on wickedness. Why do You look on those who deal treacherously, And hold Your tongue when the wicked devours A person more righteous than he? 14 Why do You make men like fish of the sea, Like creeping things that have no ruler over them? 15 They take up all of them with a hook, They catch them in their net, And gather them in their dragnet. Therefore they rejoice and are glad. 16 Therefore they sacrifice to their net, And burn incense to their dragnet; Because by them their share is sumptuous And their food plentiful. 17 Shall they therefore empty their net, And continue to slay nations without pity?  ( Habakkuk 1:12-17)
Notice that in the above the one getting punished will be punished by someone who in certain ways is worse than the one who will be punished.  So while some believe that in certain ways that the USA and its Anglo-allies are more "righteous" than the Beast power that will destroy it, the reality is that this is part of God's plan.
2:1 I will stand my watch And set myself on the rampart, And watch to see what He will say to me, And what I will answer when I am corrected.

The Just Live by Faith

2 Then the Lord answered me and said: "Write the vision And make it plain on tablets,That he may run who reads it. 3 For the vision is yet for an appointed time; But at the end it will speak, and it will not lie.Though it tarries, wait for it; Because it will surely come, It will not tarry.  4 "Behold the proud, His soul is not upright in him; But the just shall live by his faith.( Habakkuk 2:1-4)
Notice that the prophecy that is being discussed is for the appointed time of the end.  It is a prophecy for our time–and will affect the proud.
Woe to the Wicked

5 "Indeed, because he transgresses by wine,He is a proud man,And he does not stay at home.Because he enlarges his desire as hell, And he is like death, and cannot be satisfied, He gathers to himself all nationsAnd heaps up for himself all peoples. 6 "Will not all these take up a proverb against him, And a taunting riddle against him, and say,'Woe to him who increases What is not his — how long? And to him who loads himself with many pledges'? 7 Will not your creditors rise up suddenly? Will they not awaken who oppress you? And you will become their booty. 8 Because you have plundered many nations, All the remnant of the people shall plunder you, Because of men's blood And the violence of the land and the city, And of all who dwell in it.   ( Habakkuk 2:5-8)
Actually, with an admitted $16+ trillion dollar debt and plans to increase that much further, the USA has increased pledges more than any nation in the history of the planet.  And on a per capita basis, the United Kingdom is one of the most indebted nations on the earth itself.
Since the above prophecy in Habakkuk will be fulfilled at the time of the end (cf. "The message was true, but the appointed time was long…in the latter days, for the vision refers to many days yet to come", Daniel 10:1,14). Daniel 8:19, 11:27,29,35 use same the Hebrew term for "appointed time" as Habakkuk 2:3, while Daniel 10, using a different term, ties the latter days to the time in Daniel 8:19. Habakkuk 2 was not fulfilled in its entirety anciently.  Also, it makes little sense that Habakkuk would be directed towards the modern nation of Israel as it does not have enemy creditors. It must be a nation or group of nations with some prominence at the appointed time of the end. As far as "violence of the land" as a contributing factor, this would seem to include crime, military missions, and perhaps riots/civil unrest, but might it also include promotion of violent sports?
Whether or not Habakkuk himself died on January 15th, the reality is that since much of his message is for the appointed time of the end, his writing (that God inspired) is applicable today.
Do you believe the words that God inspired Habakkuk to write?  If so, do you really understand what is going to happen to the USA, UK, and their Anglo-descended allies relatively soon?
To learn more, please, with your Bible, check out the following:
Anglo – America in Prophecy & the Lost Tribes of Israel Are the Americans, Canadians, British, Scottish, Welsh, Australians, Anglo-Southern Africans, and New Zealanders descendants of Joseph? Where are the lost ten-tribes of Israel? Who are the lost tribes of Israel? Will God punish the U.S.A., Canada, United Kingdom, and other Anglo nations? Why might God allow them to be punished first?
Will the Anglo-Nations be Divided and Have People Taken as Slaves? Will the lands of the United States, United Kingdom, Canada, Australia, and New Zealand be divided? What about Jerusalem? What does Bible prophecy teach? Are there non-biblical prophecies that support this idea? Who will divide those lands? Who will end up with the lands and the people?
Europa, the Beast, and Revelation Where did Europe get its name? What might Europe have to do with the Book of Revelation? What about "the Beast"? Is an emerging European power "the daughter of Babylon"? What is ahead for Europe?
Barack Obama, Prophecy, and the Destruction of the United States This is a 160 page book for people truly interested in prophecies related to Barack Obama and the United States, including learning about many that have already been fulfilled (which the book documents in detail) and those that will be fulfilled in the future. This book is available to order at www.barackobamaprophecy.com. The physical book can also be purchased at Amazon from the following link: Barack Obama, Prophecy, and the Destruction of the United States: Is Barack Obama Fulfilling Biblical, Islamic, Catholic, Kenyan, and other America-Related Prophecies?
Barack Obama, Prophecy, and the Destruction of the United States–Amazon Kindle edition. This electronic version is available for only US$2.99. And you do not need an actual Kindle device to read it. Why? Amazon will allow you to download it to almost any device: Please click HERE to download one of Amazon's Free Reader Apps. After you go to for your free Kindle reader and then go to Barack Obama, Prophecy, and the Destruction of the United States–Amazon Kindle edition.)