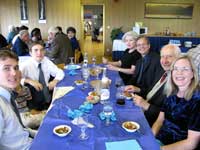 Dibar Apartian shown sitting between COGwriter and my wife Joyce
Since many seem concerned about Dibar Apartian, I thought I would share the contents of an email that I received from LCG pastor Roger Bardo:
Mr. Apartian is out of the hospital as of yesterday, the pacemaker procedure was a success. He is now in physical therapy for 2 weeks at an assisted living place. He would have been able to go home as both parts of his heart are now working together, doubling his pulse rate; but the Apartians have all bedrooms upstairs and so this was the temporary solution until they decided what to do. The good news is Mr. Apartian is doing much better. He did not have any blockages or staints as was reported by someone (don't know where that came from), the pneumonia is almost done, with a little remaining congestion. He is up walking around with assistance, in very good spirits.
Dibar Apartian was hospitalized first in San Juan, Puerto Rico and then Charlotte, North Carolina after attending the Feast of Tabernacles in Martinque this year.  I speak with him on a fairly regular basis, and did speak with his wife since his recent illness.
Dibar Apartian was an evangelist in the old WCG and currently remains one in the Living Church of God.  He is known around the French-speaking world for his radio telecasts on prophetic and other COG topics.  He is in his mid-upper 90s (his original birth certificate was lost/destroyed).
He is the oldest person who was ordained an evangelist by the late Herbert Armstrong to be alive.
(FWIW, the person who has been an evangelist the longest, that was so ordained by Herbert Armstrong, is LCG's R.C. Meredith.)