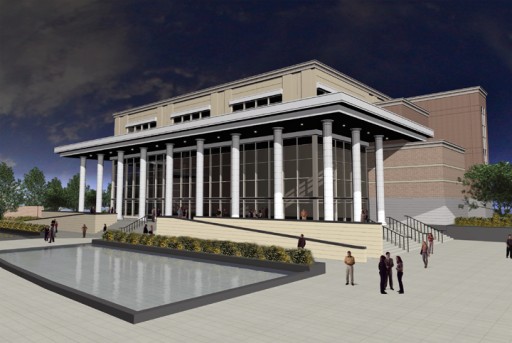 Rendering of "Armstrong Auditorium" (Rees Associates)
Here are brief updates on many groups claiming to be part of the Church of God.
The first is from the Philadelphia Church of  God (PCG) which sent out a press release this week that was reported as follows:
The Oklahoman – July 7, 2010

EDMOND — The new $20 million, eight-story Armstrong Auditorium will open Sept. 5 on the campus of Herbert W. Armstrong College in Edmond. Immediately after grand opening ceremonies, the Armstrong College Choral Union and a professional orchestra will perform an encore presentation of Mendelssohn's "Elijah."
PCG tries hard to have the physical appearance of the old WCG.  It also sometimes acquires relics of it as well (for example, see PCG Added Another Relic).
The following concerns Christian Education Ministries' (CEM) leader Ron Dart:
Wednesday, July 7, 2010 10:22 AM, CDT

After a visit with Ron and Allie last evening I just wanted to let everyone know that Ron is still making steady, but slow progress. Over the weekend Allie took Ron with her to run a few errands and get something to eat. This is the first time he has been out of the hospital or rehab facility in over 12 weeks and it was emotional, but encouraging and helpful. Also, he is eating better, but still needs to gain a better appetite. His physical rehab is going better and his daily walks are getting longer, up to 500 feet. Hopefully, they will remove the catheter today and start that process again to regain independence. His aphasia is becoming noticeably less, but it is still a big problem.
Ronald Dart has been struggling with health issues for some time now (see also CEM's Ron Dart Injured).
The Church of God International (CGI) reported the following in its latest edition of its International News:
Are you considering writing for the International News? We welcome
you! Below are writers' guidelines for your consideration.

·  Pays $.03 (3 cents) per published word for articles and booklets
on biblical/theological topics.
·  Accepts unsolicited manuscripts.
·  Pays on publication.
·  Does not pay for church reports, poetry, human-interest stories,
or personality profiles (items normally run in the International
News).
·  Buys all rights, including the right to reprint, in whole or in part,
in any format.
CGI is the first COG group I am aware of that actually apparently feels it needs to pay to get articles, other from its own staff (maybe others do it, but I am unaware of any).  CGI has not done well in the USA, but mainly has had its most success in Jamaica.
Church of God of Southern California (COGSC) intents to somehow support the troops of the US military:
" TREATS FOR THE TROOPS"

On July 10th, COGSC is supporting a new outreach brought
to us by John, Lorraine, and Jerry Norris. The Norris' will
bring materials for us to assemble for those serving in
the Military. We will assemble them every other month.
It would seem that there are more appropriate projects for a group claiming to be COG than to provide "treats" (which probably are not "health food") for the military, but this is apparently a COGSC priority.  More on Christians and military service can be found in the article Military Service and the Churches of God: Do Real Christians Participate in Carnal Warfare?
The United Church of God (UCG) wanted to remind its people that it is finally going to be on its first significant commercial television station:
July 9, 2010 Don't forget that beginning on Sunday, July 11, 2010, our 30-minute Beyond Today television program will air on WGN America television, in 209 U.S. media markets, reaching a potential audience of 75 million U.S. households.. This includes every large and small city in the country except Chicago.
UCG began over 15 years ago and is finally trying to catch up to groups like the Living Church of God which has been on WGN for more than a decade.  Some, however, within UCG are opposed to this as a waste of funds.  We will see if UCG stays on the station for long or if it decides to eliminate it after a trial run or if when faced with what it perceives to be greater financial priorities.
Dr. Douglas Winnail of the Living Church of God (LCG) made the following as part of its official announcements earlier today:
This Saturday and Sunday, we will hold three Tomorrow's World Special Presentations. Mr. Meredith will speak in Dallas, Texas; Mr. Ames will speak in Port-of-Spain, Trinidad; and I will make a presentation in the Roanoke, Virginia area…Mr. Wayne Pyle reports that Mr. Ames' Tomorrow's World television program, titled "Teach Me to Pray," is expected to generate about 4,600 responses.
Perhaps I should also add that LCG reported the following about these lectures last week:
This week also, we mailed brochures for TWSPs in Thomasville, Georgia, and Lake City, Florida, scheduled for the end of July. Fifty-five presentations have been held so far this year, with more than 2,160 unique subscribers in attendance!
Essentially, LCG has been holding lectures throughout North America and the Caribbean to give people who watch its telecast/read its magazine an opportunity to learn more in person.  And many seem to be responding to these lectures (Mario Hernandez also puts on lectures for LCG for Latin America, in the Spanish language).
Some articles of possibly related interest may include the following:
Attending the Church of Choice This article discusses whose choice is important to worship God; should you attend the church of your choice or the church of God's choice?
Unity: Which COG for You? Why so many groups? Why is there lack of unity in the Churches of God? Has it always been this way? What can/should be done about it?
The Philadelphia Church Era was predominant circa 1933 A.D. to 1986 A.D. The old Radio Church of God and old Worldwide Church of God, now basically the Living Church of God.
The Laodicean Church Era has been predominant circa 1986 A.D. to present. These are non-Philadelphians who mainly descended from the old WCG.
Here are Some Quotes from Herbert W. Armstrong on Laodicea and Holding Fast to Doctrine.
Teachings Unique to the Philadelphia Church of God Simply calling oneself 'Philadelphia' does not make one so (see Revelation 3:7-9), nor does Gerald Flurry calling himself "that prophet" make it so. This article provides many quotes from this group which tries to look faithful.
Teachings of Christian Educational Ministries Ron Dart's confederation (not a church).
Teachings of the Church of God, International This article focuses on where CGI differs from the old WCG.
Church of God, Southern California This article discusses some of how David Antion's group differs from the old WCG.
Differences between the Living Church of God and United Church of God This article provides quotes information from the two largest groups which had their origins in WCG as well as commentary.
There are Many COGs: Why Support the Living Church of God? This is an article for those who wish to more easily sort out the different COGs. It really should be a MUST READ for current and former WCG/GCI members or any interested in supporting the faithful church. It also explains a lot of what the COGs are all about.