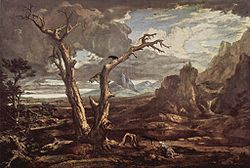 "Elijah in the wilderness"
Shepherd's Voice had an article by Norman Edwards (who was a former board member of the old Global Church of God and now runs Nashville Christian is called "the spirit of prophecy" at the end of the Bible:
"… I [an angel] am your fellow servant, and of your brethren who have the testimony of Jesus. Worship God! For the testimony of Jesus is the spirit of prophecy" (Revelation 19:10).

With dozens of New Testament Scriptures explaining and encouraging the ongoing prophecy in the New Testament and with no scriptures clearly declaring its end, one must conclude that prophets and prophecy are something that God wants for His Church today!

Implementing These Truths

In this 21 st century, most who call themselves Christian neither observe the Sabbath nor seek prophets or prophecies in their congregations. A few teach and practice one or the other. Only a tiny fraction accepts both.

The single biggest difficulty in acquiring any truth, no matter how valuable, is overcoming our own human pride. It is very difficult to accept that we have been wrong about something for many years— especially when we have been right on other things. The lessons of the books of Kings and Chronicles come to mind. Each king's life is frequently summed up in a single statement— explaining what he did right and where he fell short. If we hunger and thirst for God as King David did (Psalm 63:1; 107:9), we can receive all that he has for us—and obtain a good report (Acts 22:12; Hebrews 11:2, 39).

If we confess our sins, He is faithful and just to forgive us our sins and to cleanse us from all unrighteousness (1 John 1:9).

Beyond our personal decision to accept a biblical truth, we find difficulty dealing with Christian friends with whom we will differ. From our long friendships, we see each other as fellow believers. But our difference in Biblical understanding raises the questions in each person's mind: If I do this and they do that, am I wrong? Are they wrong? Should I continue to fellowship with them?

These things often require prayer and patience by all involved. When the Gospel was taken to non-Jews, many Jewish believers had trouble with the concept (John 4, Acts 10 & 11). When the apostles taught that circumcision was not necessary for salvation, again, some believers could not accept it and formed a "circumcision" subgroup within the church that was sometimes helpful and sometimes not (Acts 15; Colossians 4:11; Titus 1:10). We need to learn to coexist in peace, in spite of our differences, as the Apostle Paul encouraged (1 Corinthians 1:11-15).

Finally, for members of a church group with a doctrinal statement that is decades or centuries old, growth is rarely quick or even possible. Both religious and civil leaders struggle with prophets today for the same reason they did in the Old and New Testaments. The prophets speak for God, not for the religious or civil leaders of the day. People who always prophesy what the leaders want are probably false prophets.

This writer heard a church leader put forth this argument against prophets in the church: "If there are real prophets today, then we could ask them and know for sure when Christ will come back. But the Bible says that no man knows that time, so there cannot be prophets today." We should never underestimate God. He is quite able to not answer the questions we do not need answered now. Jesus already explained this leader's question:

Therefore, when they had come together, they asked Him, saying, "Lord, will You at this time restore the kingdom to Israel?" And He said to them, "It is not for you to know times or seasons which the Father has put in His own authority. But you shall receive power when the Holy Spirit has come upon you; and you shall be witnesses to Me in Jerusalem, and in all Judea and Samaria, and to the end of the earth" (Acts 1:6-8).

Individual believers can choose to accept and practice the Scriptural truth about prophets quietly. But if they speak openly and often, they will probably be required to depart for a new congregation. This takes faith to "walk in the wilderness" until new believing friends are established. …

One can quietly come to understand that God grants the gift of prophecy today and continue to fellowship and serve with the same brethren. But when a believer receives a prophecy in a church meeting (1 Corinthians 1 4:30) or makes important life decisions based on a current prophesy, then division often arises. Is this person hearing from God? Should we take action on what he says?

For example, when Agabus prophesied the famine throughout the world (Acts 11:30-31), should the believers have agreed to send relief to the brethren in Judea? Or should they have been suspicious that someone was going to profit from that operation—maybe steal some of the offerings? Or was this giving simply unnecessary? When we think about it, there is no reason for God to speak unless His people are going to listen to what He says and act upon it. We also need to realize that God gives the congregation the responsibility of judging prophecies:

"If there arises among you a prophet or a dreamer of dreams, and he gives you a sign or a wonder, and the sign or the wonder comes to pass, of which he spoke to you, saying, 'Let us go after other gods'—which you have not known—'and let us serve them,' you shall not listen to the words of that prophet or that dreamer of dreams, for the LORD your God is testing you to know whether you love the LORD your God with all your heart and with all your soul" (Deuteronomy 13:1-3).

Let two or three prophets speak, and let the others judge (1 Corinthians 14:29).

Do not quench the Spirit. Do not despise prophecies. Test all things; hold fast what is good (1 Thessalonians 5:19-21).

Hearing from God by a current prophetic word can be an awesome experience. It can be a frightening one. This writer has experienced both. Keeping the Sabbath can be an awesome experience—rest, relaxation and leisurely fellowship with God's people. It can also be a doctrine of contention with one brother judging another. This writer has experienced both.

With the Judgment You Judge, You Will Be Judged

Brethren who have practiced both of these Biblical teachings know what a blessing they can be. Even so, most probably did not understand these things on the day when they were baptized. We have to grow in grace and knowledge (2 Peter 3:18). So we ought to not be judgmental of others who take time to learn these things.

Judge not, that you be not judged. For with what judgment you judge, you will be judged; and with the measure you use, it will be measured back to you (Matthew 7:1-2).

Unfortunately, many Sabbath- keeping church groups judge others as unbelievers because they do not observe the Sabbaths. Also, many "charismatic" or "Pentecostal" groups judge others as unbelievers because they do not accept the gift of prophecy in their congregations. Furthermore, many other groups consider both teachings obsolete, legalistic, Jewish, phony or just plain weird. We all need to get back to the Scriptures and learn. But more specifically, we need to ask ourselves, if we judge others as unbelievers because of a truth they are missing, will we be judged by God as unbelievers for a truth we are missing? Will God be merciful to us and not to all the others? Why?

Some people dismiss one of these truths by simply saying, "God obviously is not working that way anymore" because He has not worked that way among them. But how many really seek God and ask Him, "Do you want our congregation to meet on the seventh day Sabbath?" or "Do you want our congregation to seek the gift of prophecy and allow prophets to speak in our meetings?"

One of the most dangerous things we can do is begin thinking we already have everything important (Revelation 3:17-19). We must forever be humble before God and realize that He is bringing about His will. He is not there to back up our will or the policies of our church group. He also knows when is the right time to teach each truth to each person. Even Jesus could not teach His apostles everything at once:

"I still have many things to say to you, but you cannot bear them now" (John 16:12).

There is so much in the Scripture. This writer realizes he will not master it all before he dies. But he will be thankful for what He has given, and trust Him for the future. (Edwards N. New Testament Sabbaths and Prophets. Shepherd's Voice, Fall 2016).
A while back, Norman Edwards also wrote an article Need Prophets More than Prophecy. where he went through additional scriptures. Here are some items from that article:
Do people today have faith that God is able to prophecy through people in their congregations?

1Jo 4:1-2 Beloved, do not believe every spirit, but test the spirits, whether they are of God; because many false prophets have gone out into the world. By this you know the Spirit of God: Every spirit that confesses that Jesus Christ has come in the flesh is of God,

Note: If there were no true prophets, there would be no need to "test the spirits"—because every prophet would be a "false prophet". But because there are both true prophets and false prophets, we need to "test the spirits".

Rev 1:1-3 The Revelation of Jesus Christ, which God gave Him to show His servants — things which must shortly take place. And He sent and signified it by His angel to His servant John, who bore witness to the word of God, and to the testimony of Jesus Christ, to all things that he saw. Blessed is he who reads and those who hear the words of this prophecy, and keep those things which are written in it; for the time is near.

The last book of the Bible is a prophecy inspired by Christ, given to the apostle and prophet named John.

Rev 10:7 But in the days of the sounding of the seventh angel, when he is about to sound, the mystery of God would be finished, as He declared to His servants the prophets.

There is no Old Testament prophecy about a "seventh angel" and very little about a "mystery of God".

Rev 10:10-11 Then I took the little book out of the angel's hand and ate it, and it was as sweet as honey in my mouth. But when I had eaten it, my stomach became bitter. And he said to me, "You must prophesy again about many peoples, nations, tongues, and kings."

Here an angel is commanding John (or some end-time fulfillment of him) to prophesy. It does not say what he is to prophesy, but it will be given to the prophets when they need it. …Yes, God might choose to give one of them the gift of prophecy, but since most such groups and their schools do not seek out prophetic gifts, they rarely receive them. Notice these important passages:

Matt 23:37-39 "O Jerusalem, Jerusalem, the one who kills the prophets and stones those who are sent to her! How often I wanted to gather your children together, as a hen gathers her chicks under her wings, but you were not willing! "See! Your house is left to you desolate; for I say to you, you shall see Me no more till you say, 'Blessed is He who comes in the name of the LORD!' "

Matt 21:24-27 But Jesus answered and said to them, "I also will ask you one thing, which if you tell Me, I likewise will tell you by what authority I do these things: The baptism of John — where was it from? From heaven or from men?" And they reasoned among themselves, saying, "If we say, 'From heaven,' He will say to us, 'Why then did you not believe him?' But if we say, 'From men,' we fear the multitude, for all count John as a prophet." So they answered Jesus and said, "We do not know." And He said to them, "Neither will I tell you by what authority I do these things."

If there was no prophet greater than John the Baptist (Matt 11:9-11) and if the leaders of his day refused to recognize him, what makes us think that the leaders of our day will recognize any true prophets today?
Here is a link to this article in the Spanish language: La Voz del Pastor: La Iglesia de Dios necesita más profetas.
Norman Edwards was the editor for Shepherd's Voice magazine. He is not part of the Continuing Church of God, where, I function as its human leader (and am an ordained prophet; the only known such ordained prophet in any legitimate Church of God group).
While Norman Edwards and I have long disagreed about aspects of church governance and various matters of doctrine, we both agree that many who are in or claim to be in the Church of God (COG) wrongly do not accept that God has any prophets today and that Laodicean pride gets in the way. We also agree that most have severe difficulty identifying one who really is a prophet because of various unscriptural biases and improper criteria that they have.
Because of false prophets in a couple of COG-related groups and a disbelief in prophets by most of the COG groups, the non-Philadelphian COGs have a lot of severe prophetic misunderstandings.
Remember that the Bible teaches:
7 Surely the Lord God does nothing, Unless He reveals His secret to His servants the prophets. ( Amos 3:7)
So in the last days, groups who do not believe there are prophets or those who listen to false prophets will not understand.
One thing that I have noticed is that the Laodiceans, as well as those of the Sardis Church, misunderstand end time prophecy.
As far as prophetic misunderstandings in various claimed COG groups that I have personally denounced, here is an abbreviated list:
Some will come up with their preferred rationale as why not to agree with the position of the Continuing Church of God (CCOG) on these matters. Yet not only is CCOG's position biblical, it should be noted that leaders in the Living Church of God and/or the United Church of God confirmed to me personally that I was biblically correct on all the above points, despite the fact that their respective churches hold to several of the errors pointed out above. Those who rely too much on a compromised ministry (Ezekiel 34:7-10) to teach them prophecy that is not truly in accordance with scripture need to realize that according to Jesus' words in Revelation 2 & 3 and Luke 21, only relatively few Christians will be protected from the hour of trial that will come upon the whole world.
As Norman Edward's article points out, it is scriptural to now have prophets according to the New Testament. But many who truly believe that they live by the word of God have discounted or overlooked what the Bible actually teaches and/or have been influenced by others who have done the same or worse. The COG has at least one demonstrably true prophet today, yet most in the greater COG world seem to be able to ignore the truth about that, like most ignored John the Baptist and others in their day.
Pride is a bigger problem for Christians than most realize.
Anyway, an even more detailed article about prophets in the Church of God is How To Determine If Someone is a True Prophet of God. That article not only has scriptures, it also has historical COG writings that should help people who will believe the truth to be able to see the truth.
Some items of possibly related interest may include:
Church of God Leaders on Prophets Have there been prophets throughout the church age? Are any supposed to be around in the last days? What have COG leaders stated or written about prophets? Here is a link to a related sermon: Church of God Leaders on Prophets.
Herbert W. Armstrong, the Philadelphia Church, & the Mantle Herbert Armstrong claims God had him raise the Philadelphia up. Are there reasons to believe that the Philadelphia mantle in now within the CCOG? Here is a link to a related sermon: Herbert W. Armstrong and the Philadelphia Mantle.
Does the CCOG have the confirmed signs of Acts 2:17-18? Does any church have the confirmed dream and prophetic signs of Acts 2:17-18? Should one? Here is a link in the Spanish language: ¿Tiene la CCOG confirmadas las señales de Hechos 2: 17-18? Here is a link in the French language: Est-ce que l'Église Continue de Dieu confirme les signes d'Actes 2:17-18?
How To Determine If Someone is a True Prophet of God There are many false prophets, yet many overlook what the Bible teaches about how to recognize a true one. How can Christians determine who is a true prophet? This article contains a scripture-based checklist to assist with this determination. How to determine if someone is a true prophet of God This is a sermon on YouTube addressing a subject that most in the Church of God do not seem to have looked into very much. It discusses scriptures and dispels some improper assertions that some associated with the COG have made about prophets in this time.
Do You Hold to Any of These Laodicean Prophetic Errors? Most real Christians in the last days are Laodicean and hold to prophetic errors which, unless they repent, will prevent them from being protected from the coming Great Tribulation.
Dreams, the Bible, the Radio Church of God, and the Continuing Church of God How has God used dreams in the past? Does God still use dreams? Did He use any involving those in the Continuing Church of God? Here is a link in Spanish: Sueños, la Biblia, la Iglesia de Dios de la Radio, y la Continuación de la Iglesia de Dios. A related sermon is also available: Dreams, COGs, and One Man Rule.
Elijah: Past and Prophesied Information about the original Elijah and some information about the Elijah-related prophecies.
The Elijah Heresies Does the Bible teach that there will be a future Elijah? Must it be Herbert W. Armstrong?
Why Be Concerned About False and Heretical Leaders? There have been many false leaders–here is some of why you should be concerned about them.
Where is the True Christian Church Today? This free online pdf booklet answers that question and includes 18 proofs, clues, and signs to identify the true vs. false Christian church. Plus 7 proofs, clues, and signs to help identify Laodicean churches. A related sermon is also available: Where is the True Christian Church? Here is a link to the booklet in the Spanish language: ¿Dónde está la verdadera Iglesia cristiana de hoy? Here is a link in the German language: WO IST DIE WAHRE CHRISTLICHE KIRCHE HEUTE? Here is a link in the French language: Où est la vraie Église Chrétienne aujourd'hui?
5. The Sardis Church Era was predominant circa 1600 A.D. to circa 1933 A.D. Discusses early history of the Seventh Day Baptists, Seventh-day Adventists, and COG-7th Day.
6. The Philadelphia Church Era was predominant circa 1933 A.D. to 1986 A.D. The old Radio Church of God and old Worldwide Church of God, now the remnant of that era is basically the most faithful in the Church of God, like who hold to the beliefs and practices of the Continuing Church of God.
7. The Laodicean Church Era has been predominant circa 1986 A.D. to present. The Laodiceans are non-Philadelphians who mainly descended from the old WCG or its offshoots. They do not properly understand the work or biblical prophecies and will face the Great Tribulation if they do not repent. One video of related interest is 17 Laodicean Errors in Prophecy.
Who Are The Two Witnesses? What is their job? What does the Bible reveal? What has the Church of God taught on this subject? Might even Roman Catholic prophecies give some clues here?
The Final Phase of the Work What is the final phase of the work? Who will lead it? Do you have the courage to support it? Here is a related YouTube video titled The Final Phase of the Work. The written article has been translated into Spanish La Fase Final de la Obra.
The Bible, Peter, Paul, John, Polycarp, Herbert W. Armstrong, Roderick C. Meredith, and Bob Thiel on Church Government What form of governance did the early church have? Was it hierarchical? Which form of governance would one expect to have in the Philadelphia remnant? The people decide and/or committee forms, odd dictatorships, or the same type that the Philadelphia era itself had? What are some of the scriptural limits on ecclesiastical authority? Do some commit organizational idolatry? Here is a Spanish language version La Biblia, Policarpo, Herbert W. Armstrong, y Roderick C. Meredith sobre el gobierno de la Iglesia. Here is a link to a sermon titled Church Governance.
Continuing Church of God The group striving to be most faithful amongst all real Christian groups to the word of God. To see how CCOG has done so far, here is a sermon Continuing Church of God (CCOG) first year anniversary: What has been accomplished? Here is a written link to a version of that sermon in the Spanish language: Aniversario del primer año de la Continuación de la Iglesia de Dios: ¿Qué se ha cumplido?
CCOG.ORG Continuing Church of God The group striving to be most faithful amongst all real Christian groups to the word of God.