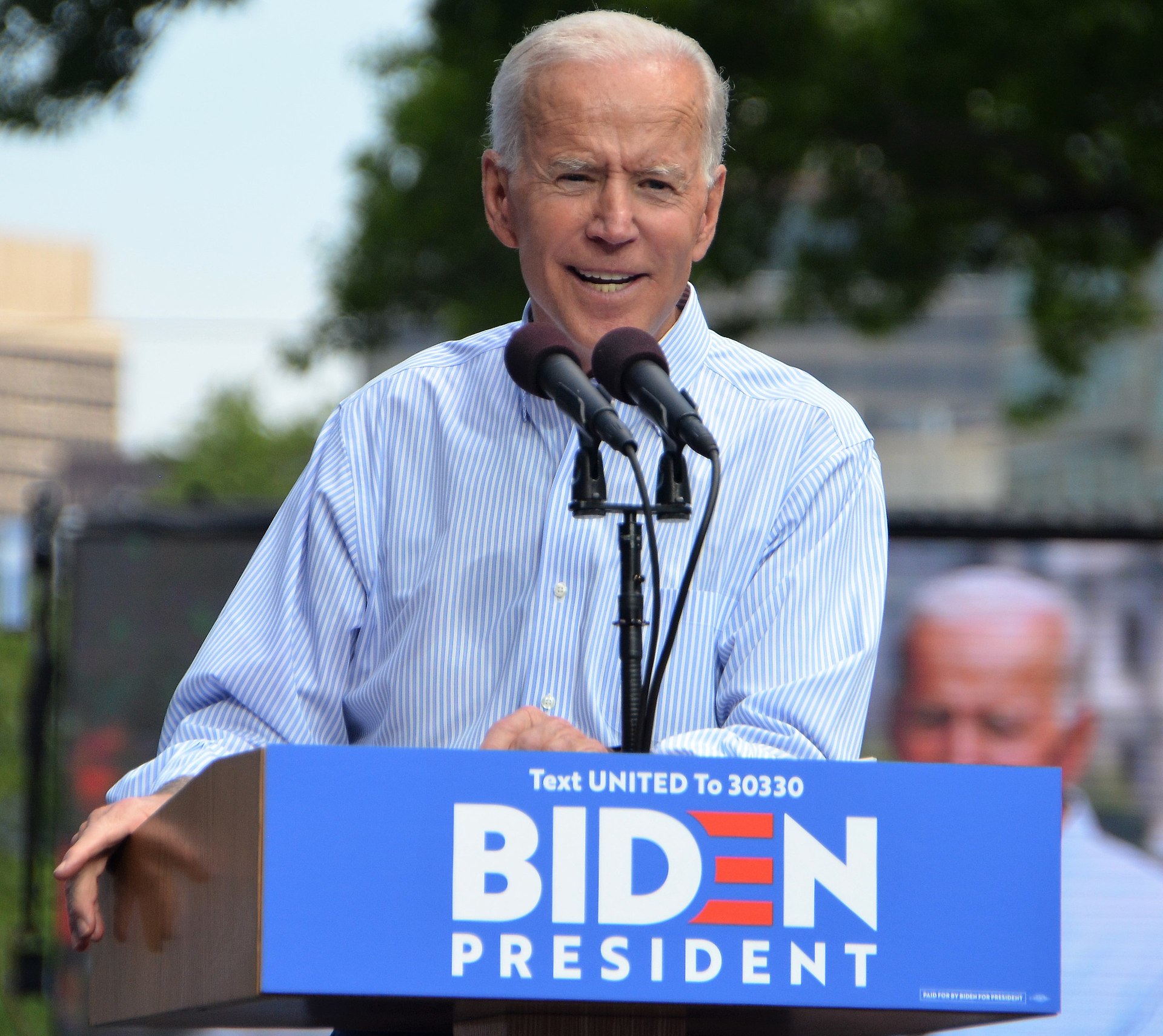 Joe Biden (photo by Michael Stokes)
Joe Biden asserts that he is a Roman Catholic as he regularly attends mass.
Within the Roman Catholic world, there have long been conflicts about him.
Notice the following, which are all from the National Catholic Register:
January 5, 2021

I have never been shy about my admiration for Sen. Elizabeth Warren. … Progressives need Warren to be focusing like a laser on income inequality, her strong suit, as the nation rebuilds a post-pandemic economy. …

Progressive economic policies are wildly popular in both blue and red states, and if President-elect Joe Biden makes such policies the centerpiece of his first 100 days, he will build a governing coalition. https://www.ncronline.org/news/opinion/distinctly-catholic/links-seditious-lunacy-progressive-economic-policies-and-virtual

… the incoming Biden administration is offering us a small sliver of pro-life hope when it comes to climate change, which should be supported and celebrated by Catholics. …

One of the most promising signs of the Biden administration's seriousness in resuming the United States' global leadership role has been the announcement of former Secretary of State John Kerry as "special presidential envoy for climate," which is a newly created cabinet-level position that also includes a place in the president's important National Security Council. The choice of Kerry — who is, like Biden, also a Roman Catholic — reflects the incoming administration's prioritizing of the existential threat climate change poses not only to the future of life on this planet, but also the national security risks such changes pose in the interim. …

Pope Francis, in his congratulatory call to Biden last …, emphasized areas of common ground between the church's social teaching and the Biden administration's priorities, including "addressing the crisis of climate change." 12/09/20 https://www.ncronline.org/news/earthbeat/faith-seeking-understanding/biden-administrations-climate-agenda-reflects-spirit

January 5, 2021

Commentary: The community policing model, recycled by politicians like Joe Biden for decades, promotes a dangerous vision of community that further marginalizes already vulnerable and overpoliced communities. https://www.ncronline.org/person/joe-biden

President-elect Joe Biden has promised to devote $300 million to so-called community policing, the central pillar of his plan to curtail police brutality. Community policing is a framework that places local law enforcement at the center of a web of relationships with some residents, business owners, and governmental and nonprofit agencies. Its stated aims are to use an increased police presence to reduce crime, solve nonemergency problems and build trust between communities and officers.

Policymakers have recycled this strategy in the wake of spectacular acts of police violence, from the 1991 Rodney King beating to the 2014 killing of Michael Brown and once again after police killed George Floyd and Breonna Taylor in 2020.

Unfortunately, there is little empirical evidence to support claims that this model is successful, despite 30 years of practice and near-universal adoption among large departments. There is no evidence that it reduces intracommunal harm. https://www.ncronline.org/news/opinion/so-called-community-policing-perpetuates-throwaway-culture
So, we see Roman Catholics in favor and opposed to Joe Biden.
Notice also the following:
Catholic archbishop: Biden 'irreparable disaster' as president

January 4, 2021

Roman Catholic Archbishop Carlo Maria Viganò, a former papal ambassador to the United States, declared in an interview published Monday that practicing Catholic Joe Biden's ties to China and his globalist policies would make him an "irreparable disaster" as president.

"It would be an irreparable disaster if Joe Biden, who is heavily suspected of being complicit with the Chinese dictatorship, would be designated as president of the United States," …

"I think of his intention to condemn us all to wear masks, as he has candidly admitted. I think of the fact that, incontestably, he is only a puppet in the hands of the elite, who are ready to remove him as soon they decide to replace him with Kamala Harris," Vigano said.

The archbishop noted Pope Francis' support for Biden and "hostility" to Trump.

"It is clear that [the pope] considers Trump as his principal adversary, the obstacle that needs to be removed so that the Great Reset can be put in motion," Vigano said.

"Thus on the one hand we have the Trump administration and the traditional values that it holds in common with those of Catholics; on the other hand, we have the deep state of the self-styled Catholic Joe Biden, who is subservient to the globalist ideology and its perverse, anti-human, antichristic, infernal agenda," he said. (Moore A. Catholic archbishop: Biden 'irreparable disaster' as president. World Net Daily, January 4, 2021 https://www.wnd.com/2021/01/4882053/)
Yes, notice the major division between a Roman Catholic archbishop and the current pontiff. Notice that Carlo Maria Viganò even called Joe Biden antichristic–a type of Antichrist.
Notice also the following:
America, the Jesuit Review, said …

Americans in 2020 opted for the second Catholic president of the United States, six decades after John F. Kennedy became its first.

Joseph R. Biden Jr. will take the oath of office and become the 46th U.S. president on Jan. 21.

In his acceptance speech he quoted the devotional hymn "On Eagles' Wings" with words based on Psalm 91, the Book of Exodus 19, and the Gospel of Matthew 13. in a very public display of his faith.

"He faced intense criticism for his pro-choice position on abortion, including from Catholic bishops, and was even denied Communion by one zealous pastor with a creative take on canon law."

"Ultimately, however, a majority of American voters saw "Uncle Joe" as a better option than four more years of Mr. Trump, though American Catholics were almost evenly split in their support for the two candidates. 01/01/21 https://www.ecumenicalnews.com/article/barr-barret-biden-bryant-fauchi-top-5-us-catholic-2020-newsmakers-also-high-in-national-headlines/60816.htm
Yes, Roman Catholics are divided. Those who favor more globalism and government control of the economy tend to like Joe Biden, whereas those who consider issues like abortion important, oppose him.
Back in November 2008, Roman Catholic Cardinal Stafford (while head of the Apostolic Penitentiary of the Holy See) claimed that Barack Obama and Joe Biden were "aggressive, disruptive, and apocalyptic."  Notice what he reported in November 2008 about the then coming Obama-Biden Administration:
Barack Obama… asserted, "We are not only going to win this election but also we are going to transform this nation………The first thing I will do as President is to sign The Freedom of Choice Act……..I put Roe at the center of my lesson plan on reproductive freedom when I taught Constitutional Law………..On this issue I will not yield.."… The content and rhetoric of Obama and Biden have elements similar to those described earlier: aggressive, disruptive and apocalyptic … My use of the word "apocalyptic" would be emphatically biblical, rooted in the understanding of the Book of the Apocalypse. (Stafford, Cardinal James Francis. Cardinal's Address to Catholic University of America, November 13, 2008.  Catholic News Agency)
Will a Biden-Harris Administration be apocalyptic?
My use of the word "apocalyptic" is intended to emphatically be biblical (not political), as rooted in the understanding of the prophetic books of the Bible, including the Book of Revelation, also called the Apocalypse.
Here are nineteen specific reasons indicating some of how Joe Biden and/or Kamala Harris are "apocalyptic":
The timing of their administration. We are in the last days of God's 6000/7000 year plan. A day to God is like 1000 years (2 Peter 3:8; Psalm 90:4), and since it is wise to know the days (Psalm 90:12), this is a reason that both would seem to be apocalyptic. We are getting close to the end of the time God gave humans to rule themselves. Thus, we are close to the start of the Great Tribulation and the fulfillment of related prophecies in the Book of Revelation. There are prophetic reasons to conclude that the USA cannot last for two-full presidential terms.
The Obama-Biden Administration seemed supportive of the type of confederation that will lead to the formation of the final King of the South of biblical prophecy (Daniel 11:40-43). A Biden-Harris Administration is expected to do the same, if not more.
The Biden-Harris teams is interested in increasing debt, which the Bible condemns as a curse (Deuteronomy 28:15,44). They intend stimulus and other projects that are expected to increase the debt of the USA. Increasing national debt will lead to destruction at the appointed time of the end (Habakkuk 2:3–8). They will not be able to reverse enough of the debt to stop Habakkuk 2:3-8 from being fulfilled.
The Obama-Biden Administration often encouraged increased military spending by the Europeans. And while American taxpayers may see this as a good thing, this increased spending will help lead to the rise of the prophesied King of the North, who is to be the final leader of the Beast of Revelation (Revelation 13:1-10). The Biden-Harris Administration is expected to promote European military spending which would help enable the rise of the King of the North/Beast power who will be in league with the final Antichrist.
Donald Trump's rise has also spurred the Europeans to further unify among themselves, especially when combined with the Brexit vote that Donald Trump encouraged. While the Bible shows the Europeans will have difficulties being together (Daniel 2:41-43), it also shows that they will reorganize and unite (Revelation 17:12-13). Donald Trump has been pointed to by various European leaders as 'proof' that Europe needs more unification and distance from the USA. A Biden-Harris Administration will not stop European distancing—though it may sometimes temporarily appear to do so.
Joe Biden and Kamala Harris both claim to be Christians, yet support restrictions on religious speech and actions, while specifically pushing for a sexual agenda that the Bible says ends in death and destruction (cf. Romans 1:18-32; Jude 7).
Joe Biden does not seem to realize the inherent danger for the USA to rely on Europe's upcoming Galileo "GPS" for part of the U.S.A.'s military defense. This would appear to give the rising European power a unique offensive and defensive capability against the U.S.A. (cf. Daniel 11:39; Revelation 13:3-4). It is dangerous to have a potential enemy control portions of one's military communications systems.
Humans should eat what is good (cf. Isaiah 55:2). Joe Biden, like others before him, has made statements supporting the use of genetically-modified organisms (GMOs) to be consumed as foods (Farm Bureau. Trump v Biden: Where do the candidates stand on GMOs and other key food issues? Genetic Literacy Project, November 17, 2020). Increased reliance on GMOs by the United States puts the nation at major risk for nearly complete crop failures. The Bible warns that famines (Matthew 24:7) and food shortages (Revelation 6:5-6) are coming and the Biden-Harris Administration may further help set the stage for this.
The Biden-Harris Administration wants to increase Islamic immigration into the USA. The Bible prophesies "There shall be terror within" (Deuteronomy 32:25). The Bible also specifically warns of problems from Arabic peoples in the end times (Psalm 83:3-8). Some Syrians, including some already in the USA, may take terroristic actions as that too is consistent with biblical prophecy (cf. Isaiah 9:8-9, 11-12).
By focusing too much on threats from China and almost always considering the Europeans as some type of allies, a Biden-Harris Administration is currently not expected to reverse the Asian 'pivot' strategy of the Obama-Biden Administration. Unless that changes, this pivot will help result in destruction of the USA.
The incoming Biden-Harris Administration has made some statements suggesting they are not fully in agreement with the right of free speech. A "famine" of the word is prophesied (Amos 8:11) and it is possible that they could authorize steps that could lead to that.
Kamala Harris is an admitted adulterer and Joe Biden has been accused of inappropriate behavior by enough women that suggests this charge is credible (as have some comments he has made about it). By encouraging and not discouraging aspects of biblical immorality, they are setting the U.S.A. up for punishment (Isaiah 30:12-13; Romans 1:18-32) that has and will include troubles, violence, weather problems, earthquakes, food shortages, and pestilences (Mark 13:7-8; Luke 21:10-11). The time will come when, these problems will further worsen.
Joe Biden and Kamala Harris believe their policies will lead to more peace. We will one day hear proclamations of false peace and safety and Bible warns repeatedly end time destruction will follow those declarations (1 Thessalonians 5:3; Jeremiah 6:14-15).
Jesus warned about a coming time of pestilences as part of the beginning of sorrows (Matthew 24:4-8).  Actions and/or inactions by Joe Biden and/or Kamala Harris will likely put the USA at increased risk of problems from pestilences.
Joe Biden's misstatements show that he is not always honest. This is not good (Proverbs 29:2; Psalm 15:1-4). Some statements by him and Kamala Harris are consistent with those warned about for the last days in 2 Timothy 3:1-6.
Religious views by Joe Biden and Kamala Harris show that they are somewhat 'ecumenical.' An ecumenical power is warned about in the Bible and is expected to rise up in the end times (Zechariah 2:6-8; Revelation 17; 18). I expect them to make inter-faith/ecumenical supporting statements.
Joe Biden has made statements suggesting a of loss of privacy and favoring unlimited government control. This type of thing will be exploited by 666 of Revelation 13:16-18.
Joe Biden and Kamala Harris seem to be the type of people who would support the 'peace deal' of Daniel 9:27, which precedes the start of the Great Tribulation by a few years.
Divisive statements from Joe Biden and Kamala Harris are expected to result in division and protests. Jesus taught, "Every kingdom divided against itself is brought to desolation, and a house divided against a house falls" (Luke 11:17b).
Because the deal of Daniel 9:27 has not yet been made, let alone confirmed, the Great Tribulation, itself, cannot begin until at least 2025. It thus, however, may possibly begin in a year that Joe Biden or Kamala Harris could be president.
Joe Biden, Kamala Harris, and all others, should open their Bibles and practice genuine Christianity, before they are subject to being misled by the modified, ecumenical religion that will come upon the whole world (cf. Revelation 13:3-4).
The Bible itself does NOT teach true Christian unity until after the return of Jesus Christ (Zechariah 2:10-12), but instead warns against the "Babylonian" movement that will precede it (Zechariah 2:6-9).
Of course, it is not only the United States that needs repentance as God "now commands all men everywhere to repent" (Acts 17:30).
But a nation that has been blessed by God should lead the way (cf. Deuteronomy 4:5-6; Luke 12:48).
Do not expect Joe Biden to truly call for the type of repentance that the USA needs.
Some items of possibly related interest may include:
Who is the King of the West? Why is there no Final End-Time King of the West in Bible Prophecy? Is the United States the King of the West? Here is a version in the Spanish language: ¿Quién es el Rey del Occidente? ¿Por qué no hay un Rey del Occidente en la profecía del tiempo del fin? A related sermon is also available: The Bible, the USA, and the King of the West.
Cross-dressing and other assaults against your children. What should you do? Is there an agenda to turn your children and/or grandchildren away from biblical morality and towards practices promoted by homosexuals? What does the Bible teach about cross-dressing? What should parents do? If there is an agenda, what has been going on? There are also three YouTube videos related to this, titled Transgender 'Woe to those who call evil good' and Cross dressing and Other Assaults Against Your Children and USA pushing gender confusion.
The Bible Condemns Homosexuality "Same-sex marriage" for "gays" and lesbians is becoming more acceptable to many. What does the Bible teach about homosexuality? Can homosexuals change? A related video sermon is titled: What Does the Bible Really Teach about Homosexuality?
Abortion, the Bible, and a Woman's Right to Choose Do you know what the Bible teaches on this? Has the Roman Catholic Church allowed abortions? What about the real Church of God? Some may also, or instead, wish to view the YouTube video Abortion, the Bible, and US Debt.
Christian Repentance Do you know what repentance is? Is it really necessary for salvation? A related sermon is also available titled: Real Christian Repentance.
Is God Calling You? This booklet discusses topics including calling, election, and selection. If God is calling you, how will you respond? Here is a link to a related sermon: Could God be Calling You? A short animation is also available: Is God Calling You?
Should the Church Still Try to Place its Top Priority on Proclaiming the Gospel or Did Herbert W. Armstrong Change that Priority for the Work? Some say the Church should mainly feed the flock now as that is what Herbert W. Armstrong reportedly said. Is that what he said? Is that what the Bible says? What did Paul and Herbert W. Armstrong expect from lower level leaders? A related sermon is available titled Priority of the Philadelphia Work.
USA in Prophecy: The Strongest Fortresses Can you point to scriptures, like Daniel 11:39, that point to the USA in the 21st century? This article does. Two related sermon are available: Identifying the USA and its Destruction in Prophecy and Do these 7 prophesies point to the end of the USA?
Persecutions by Church and State This article documents some that have occurred against those associated with the COGs and some prophesied to occur. Will those with the cross be the persecutors or the persecuted–this article has the shocking answer. There is also a YouTube video sermon you can watch: The Coming Persecution of the Church. Here is information in the Spanish language: Persecuciones de la Iglesia y el Estado.
Orwell's 1984 by 2024? In 1949, the late George Orwell wrote a disturbing book about a totalitarian government called "nineteen-eighty four." Despite laws that are supposed to protect freedom of speech and religion, we are seeing governments taking steps consistent with those that George Orwell warned against. We are also seeing this in the media, academia, and in private companies like Google, Facebook, and Twitter. With the advent of technology, totalitarianism beyond what Orwell wrote is possible. Does the Bible teach the coming a totalitarian state similar to George Orwell's? What about the Antichrist and 666? Will things get worse? What is the solution? Dr. Thiel answers these questions and more in this video.
Anglo – America in Prophecy & the Lost Tribes of Israel Are the Americans, Canadians, English, Scottish, Welsh, Australians, Anglo-Saxon (non-Dutch) Southern Africans, and New Zealanders descendants of Joseph? Where are the lost ten-tribes of Israel? Who are the lost tribes of Israel? What will happen to Jerusalem and the Jews in Israel? Will God punish the U.S.A., Canada, United Kingdom, and other Anglo-Saxon nations? Why might God allow them to be punished first? Here is a link to the Spanish version of this article: Anglo-América & las Tribus Perdidas de Israel. Information is also in the YouTube sermons titled Where are the Ten Lost Tribes? Why does it matter? and British are the Covenant People. A short YouTube of prophetic interest may be: Are Chinese threats against Australia for real?
Will the Anglo-Saxon-Celtic Nations be Divided and Have People Taken as Slaves? Will the lands of the United States, United Kingdom, Canada, Australia, and New Zealand be divided? What about Jerusalem? What does Bible prophecy teach? Are there non-biblical prophecies that support this idea? Who will divide those lands? Who will end up with the lands and the people? Here is a link to a video titled Will the USA and other Anglo-nations be Divided and Their People Made Slaves? Here is a related item in the Spanish language ¿Serán divididas las naciones anglosajonas?
British are the Covenant People What do 'British' and 'Britain' mean in Hebrew? Are the descendants of the Anglo-Saxons people of the covenant? Does the British royal family connect to the throne of David? What does the Bible teach? What does history show us? Is there any DNA evidence related to British-Israelism? When did Christianity make it to the British Isles? Could Jeremiah have made it to the British Isles? What type of Christians made it to the British Isles? Did the last King of England believe in British Israelism?
Canada in Prophecy: What Does Bible Prophecy, Catholic Prophecy, and other Predictions Suggest About the Future of Canada? There are prophecies that suggest involvement with Canada. And many are not positive about its future. A sermon of related interest is also available: Canada in Prophecy.
Australia and New Zealand in Prophecy Do biblical prophecies help explain the wealth blessings for Australia and New Zealand? Might cursings from disobedience come in the 21st century? Here is a link to a related sermon: Australia and New Zealand: Origins and Prophecy.
Does God Have a 6,000 Year Plan? What Year Does the 6,000 Years End? Was a 6000 year time allowed for humans to rule followed by a literal thousand year reign of Christ on Earth taught by the early Christians? Does God have 7,000 year plan? What year may the six thousand years of human rule end? When will Jesus return? 2028 or 20xx? There is also a video titled 6000 Years: When will God's Kingdom Come? Here is a link to the article in Spanish: ¿Tiene Dios un plan de 6,000 años?
The Great Tribulation: What Happens First? What events have happened? What are some events that are now happening? And what events need to happen for the Great Tribulation to start? Here is a link to a related sermon video: Counting Down to the Great Tribulation.
When Will the Great Tribulation Begin? 2021, 2022, or 2023? Can the Great Tribulation begin today? What happens before the Great Tribulation in the "beginning of sorrows"? What happens in the Great Tribulation and the Day of the Lord? Is this the time of the Gentiles? When is the earliest that the Great Tribulation can begin? What is the Day of the Lord? Who are the 144,000? Here is a version of the article in the Spanish language: ¿Puede la Gran Tribulación comenzar en el 2020 o 2021? ¿Es el Tiempo de los Gentiles? A related video is: 2021: The Great Tribulation or the Great Reset?
The Times of the Gentiles Has there been more than one time of the Gentiles? Are we in it now or in the time of Anglo-America? What will the final time of the Gentiles be like? A related sermon is available and is titled: The Times of the Gentiles.
Armageddon Who is involved and when will this gathering happen? Here is also a video from Dr. Thiel, from Tel Megiddo in Israel: Armageddon. Other videos include: Armageddon Will it come on Trump's watch?, Iraq, Armageddon, & Prophecy, Freemasonry, Armageddon, and Rome, Is China paving roads to Armageddon?, and Jordan, Petra, and Armageddon.
Banning the Bible? Could we see a ban of the Holy Bible in North America? Have there been partial bans proposed and enforced by government officials in Canada? Do any USA politicians consider any biblical teachings as fraudulent and hence banning them is NOT a violation of the 1st amendment to the Constitution of the USA? Are there risks associated with AB 2943? Have politicians like Hillary Clinton and California Assemblyman Al Muratsuchi called for long-held religious beliefs to change and "evolve with the times"? What about Jude 1:3 and 2 Timothy 3:14? Are there biblical prophecies about not being able to hear the word of God? Might we see more restrictions on explaining teachings of the Bible on the Internet and other forms of media? What are some of the verses that various government people do not want made public? Dr. Thiel provides facts on these issues and more.