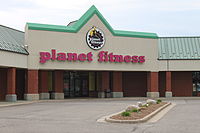 Planet Fitness location in Michigan (Dwight Burdette)
The historical rights to gender privacy are being eroded.  Notice the following:
March 7, 2015
A Michigan woman's Planet Fitness membership was revoked after she complained about a transgender person in the women's locker room.

Yvette Cormier, a 48, said she was walking into the Midland Planet Fitness locker room last Saturday when she saw someone "dressed like a man."

The person was wearing a wig and "a little bit of blush," but was "huge" and appeared "very manly," Cormier told ABC News today.

"I just stopped right there in my tracks," she said. "It was a man for sure."

Cormier, who had been a Planet Fitness member for two months, said she went to the front desk immediately. The man at the desk told her that Planet Fitness policy is "whatever gender you feel you are, that's the locker room you're allowed to go in," she said.

"And then he said, 'We've had lots of complaints about him but we told him to go change in a stall,'" Cormier said.

"He said, 'if you're uncomfortable with that you can wait until he's done in there,'" she said. "I stood back and said, 'How about he waits until I'm done in the women's locker room. Or get a unisex bathroom.' He asked if I would like to talk to the manager and I said, 'I'm calling corporate.'" …

"I wouldn't have signed up for this gym if I knew that ahead of time," Cormier said, adding that the gym is "failing to protect me if anything happens in those locker rooms with a man."

She said she went back to the gym the next few days and "told everyone in the locker room what happened." She said everyone she talked to "was appalled."

On Thursday, Cormier said, Planet Fitness Corporate called and revoked her membership immediately.

"They said, 'You are talking to people about him in the women's locker room. You are making people upset.' That's my whole point," she said. "I'm telling them and warning them because you are not doing that. You allow men in there, and we are appalled by it."

Planet Fitness Director of Public Relations McCall Gosselin said the gym is "committed to creating a non-intimidating, welcoming environment for our members. Our gender identity non-discrimination policy states that members and guests may use all gym facilities based on their sincere self-reported gender identity."

The statement continued, "The manner in which this member expressed her concerns about the policy exhibited behavior that management at the Midland club deemed inappropriate and disruptive to other members, which is a violation of the membership agreement and as a result her membership was cancelled."

Gosselin added, "As our statement outlines, her membership was not cancelled as a result of complaints about our policy, as we welcome all feedback from our members. Rather, it was the manner in which her concerns were expressed that club management felt was inappropriate, which resulted in the cancellation." http://abcnews.go.com/Health/planet-fitness-revokes-womans-membership-transgender-complaint/story?id=29465983

March 7, 2015

A Michigan Planet Fitness canceled a woman's membership after she campaigned to get a transgender person, whom she described as "a man," booted from the women's locker room.

"The manner in which this member expressed her concerns about the policy exhibited behavior that management at the Midland club deemed inappropriate and disruptive to other members," said a statement from the Planet Fitness gym in Midland County, Mich.

The gym called the woman's actions a "violation of the membership agreement" and the chain's policy of a "no judgment zone."http://www.washingtontimes.com/news/2015/mar/7/planet-fitness-mich-revokes-womans-membership-over/#ixzz3TnujhWnZ
This is the type of decision the 'founding fathers' of the USA would have vomited against.  A woman is not entitled to be able to change in her clothes in a locker room without being subject to being watched by a man.  Because she utilizes her freedom of speech, she is condemned as being 'judgmental' and booted from the fitness club.
Planet Fitness has a problem with moral fitness.
Now, in Planet Fitness' defense, it probably felt that its policy was the only way to not violate current and expected anti-discrimination laws, regulations, and statues.  And that may well be.
I recall hearing that part of the reason for the 9/11 disaster was that the legal office of one of the airlines told the employees that they had to allow on the plane the terrorists, despite the perceived security threat, as the airline was afraid of being sued for discrimination.
While most do not consider that loss of freedom of speech or right to privacy from other genders when changing clothes is as risky as terrorism, they should consider that the Bible has warnings related to to those who stray sexually and those that condone such behavior:
26 For this reason God gave them up to vile passions. For even their women exchanged the natural use for what is against nature. 27 Likewise also the men, leaving the natural use of the woman, burned in their lust for one another, men with men committing what is shameful, and receiving in themselves the penalty of their error which was due.28 And even as they did not like to retain God in their knowledge, God gave them over to a debased mind, to do those things which are not fitting; 29 being filled with all unrighteousness, sexual immorality, wickedness, covetousness, maliciousness; full of envy, murder, strife, deceit, evil-mindedness; they are whisperers, 30 backbiters, haters of God, violent, proud, boasters, inventors of evil things, disobedient to parents, 31 undiscerning, untrustworthy, unloving, unforgiving, unmerciful; 32 who, knowing the righteous judgment of God, that those who practice such things are deserving of death, not only do the same but also approve of those who practice them. (Romans 1:26-32)
The legal and moral decline of the USA will have severe consequences.
"Cross-dressing" is condemned as an abomination in the Bible:
5 A woman shall not wear anything that pertains to a man, nor shall a man put on a woman's garment, for all who do so are an abomination to the Lord your God. (Deuteronomy 22:5)
The Bible clearly condemns cross-dressing. It does not consider it to be a right.
The Bible also condemns males acting effeminate:
9 Know ye not that the unrighteous shall not inherit the kingdom of God? Be not deceived: neither fornicators, nor idolaters, nor adulterers, nor effeminate, nor abusers of themselves with mankind,  10 Nor thieves, nor covetous, nor drunkards, nor revilers, nor extortioners, shall inherit the kingdom of God.  (1 Corinthians 6:9-10, KJV)
Allowing 'transgendered' males into female locker rooms is wrong.
Thus, the destruction of Sodom and Gomorrah were to serve as an example to those who would live as they did. Yet despite biblical warnings, many modern leaders are endorsing so-called homosexual  and transgender "rights":
12…Those who lead you cause you to err, And destroy the way of your paths. (Isaiah 3:12)

16 For the leaders of this people cause them to err, And those who are led by them are destroyed (Isaiah 9:16).
So, leaders that ignore what the Bible teaches are leading others toward destruction.
No one should be ignoring the warnings of the Bible. No one should be pushing the homosexual and transgender agenda. Yet, many in the West, corporate leaders included, foolishly are–and this will be to their peril.
Some items of possibly related interest may include:
The Bible Condemns Homosexuality "Same-sex marriage" for "gays" and lesbians is becoming more acceptable to many. What does the Bible teach about homosexuality? Can homosexuals change?
Cross-dressing and other assaults against your children. What should you do? Is there an agenda to turn your children and/or grandchildren away from biblical morality and towards practices promoted by homosexuals? What does the Bible teach about cross-dressing? What should parents do? If there is an agenda, what has been going on? There is also a YouTube video on this, titled Cross dressing and Other Assaults Against Your Children.
Weather Blessings and Sorrows Are weather problems a warning? What should be done? What does the Bible teach about weather? What about floods, droughts, heat, earthquakes, tornadoes, and solar storms? Here is a related YouTube video Does God Use Weather? A related item in the Spanish language would be Bendiciones y maldiciones del clima.
Love, Marriage, and Sex It is important to get them in the right order.
Pornography: A scourge on society Is pornography harmless fun? Does the Bible teach anything about it? What are the views of some involved with it? Here is a link to a YouTube video Pornography: Harmless Fun or a Scourge on Society?
British and American Moral Decay Public nudity is becoming more prevalent in the Anglo-Saxon lands. What are some of the consequences?
Can those in the USA/UK see the Handwriting on the Wall? Is everything fine in the USA/UK or is it like the days of Noah? Can we learn from the handwriting that appeared on a wall thousands of years ago? Here is a link to a related YouTube video Can you see the 'Handwriting on the Wall'?
Anglo – America in Prophecy & the Lost Tribes of Israel Are the Americans, Canadians, English, Scottish, Welsh, Australians, Anglo-Saxon (non-Dutch) Southern Africans, and New Zealanders descendants of Joseph? Where are the lost ten-tribes of Israel? Who are the lost tribes of Israel? What will happen to Jerusalem and the Jews in Israel? Will God punish the U.S.A., Canada, United Kingdom, and other Anglo-Saxon nations? Why might God allow them to be punished first? Here is a link to the Spanish version of this article: Anglo-América & las Tribus Perdidas de Israel. Information is also in the YouTube sermons titled Where are the Ten Lost Tribes? Why does it matter? and British are the Covenant People. A short YouTube of prophetic interest may be Barack Obama and the State of the Apocalypse.
Will the Anglo-Saxon Nations be Divided and Have People Taken as Slaves? Will the lands of the United States, United Kingdom, Canada, Australia, and New Zealand be divided? What about Jerusalem? What does Bible prophecy teach? Are there non-biblical prophecies that support this idea? Who will divide those lands? Who will end up with the lands and the people? Here is a link to a video titled Will the USA and other Anglo-nations be Divided and Their People Made Slaves? Here is a related item in the Spanish language ¿Serán divididas las naciones anglosajonas?
British are the Covenant People What do 'British' and 'Britain' mean in Hebrew? Are the descendants of the Anglo-Saxons people of the covenant? Does the British royal family connect to the throne of David? What does the Bible teach? What does history show us? Is there any DNA evidence related to British-Israelism? When did Christianity make it to the British Isles? Could Jeremiah have made it to the British Isles? What type of Christians made it to the British Isles? Did the last King of England believe in British Israelism?
When Will the Great Tribulation Begin? 2015, 2016, or 2017? Can the Great Tribulation begin today? What happens before the Great Tribulation in the "beginning of sorrows"? What happens in the Great Tribulation and the Day of the Lord? Is this the time of the Gentiles? When is the earliest that the Great Tribulation can begin? What is the Day of the Lord? Who are the 144,000? Here is a version of the article in the Spanish language: ¿Puede comenzar la Gran Tribulación en 2014 o 2015? ¿Es el Tiempo de los Gentiles? You can also see the English language sermon video: The Great Tribulation from the Mount of Olives.
Barack Obama, Prophecy, and the Destruction of the United States-Second Edition for Second Obama Term This is a 160 page book for people truly interested in prophecies related to Barack Obama and the United States, including learning about many that have already been fulfilled (which the book documents in detail) and those that will be fulfilled in the future. It also has a chapter about a Republican choice. This book is available to order at www.barackobamaprophecy.com. The physical book can also be purchased at Amazon from the following link: Barack Obama, Prophecy, and the Destruction of the United States: Is Barack Obama Fulfilling Biblical, Islamic Catholic, Kenyan, and other America-Related Prophecies? What About Republican Leaders? Second Edition for Second Obama Term.
Barack Obama, Prophecy, and the Destruction of the United States-Second Term-Amazon Kindle edition. This electronic version is available for only US$2.99. And you do not need an actual Kindle device to read it. Why? Amazon will allow you to download it to almost any device: Please click HERE to download one of Amazon s Free Reader Apps. After you go to for your free Kindle reader and then go to Barack Obama, Prophecy, and the Destruction of the United States-Second Term-Amazon Kindle edition.