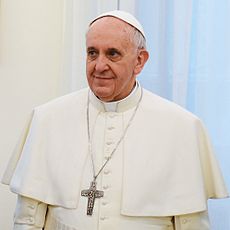 Zenit, a pro-Vatican news agency reported the following:
Pope Francis made an appeal for peace…

"The news coming from Iraq leaves us in disbelief and dismay:…," he said.  "All this greatly offends God and greatly offends humanity. You cannot bring hatred in the name of God. You cannot make war in the name of God!"…

Pope Francis concluded his appeal by inviting all present to pray for peace. "Let us pray to the God of peace, through the intercession of the Virgin Mary: Give peace, Lord, to our days and make us builders of justice and peace. Mary, Queen of Peace, pray for us," he said. (Esteves JA. Pope Francis: You Cannot Make War in the Name of God! Zenit, August 10, 2014. http://www.zenit.org/en/articles/pope-francis-you-cannot-make-war-in-the-name-of-god)
As far as war in the name of God goes, history shows that Francis' church has directly and employed employed violence against perceived opponents throughout the centuries. Muslims and others must be considering these statements from Pope Francis hypocritical at best, whether or not Pope Francis truly meant them.
As far as the Church of Rome goes, history shows it has dealt murderously with opponents throughout the centuries.  Popes called for the crusades which killed Muslims and eventually others:
Urban's main achievement was convoking the Council of Clermont, November 1095, which called the First Crusade. The Byzantine Emperor, Alexius Commenus, had sent a desperate appeal to Urban for armed knights to defend Christianity against the Moslem enemy. When the Pope laid the Emperor's pleas before the knights in Clermont, the main concern of the noblemen there was not so much the defense of Byzantium as the rescue of the Holy land from Moslem domination. Palestine had been under Moslem control since the days of the Caliph Omar, but at least the Arab Moslems had allowed Christian pilgrims to visit the places made sacred by the life of Christ. The SeIjuk Turks, now the dominant Moslem power, had, on the other hand, closed off the Holy Land.

Thus the Pope concluded his speech to the council with these words: "Men of God, men chosen and blessed among all, combine your forces! Take the road to the Holy Sepulcher assured of the imperishable glory that awaits you in God's kingdom. Let each one deny himself and take the Cross!" With a shout — "God wills it" — the Assembly rose. They adopted a red cross as their emblem, and within a few hours no more red material remained in the town because the knights had cut it all up into crosses to be sewn on their sleeves. Because of their emblem (crux is the Latin word for cross) they were given the name Crusaders. (Carrol A. The Crusades. Catholic Education Resource Center. http://catholiceducation.org/articles/history/world/wh0010.html viewed 07/27/14)

Decrees of Pope Urban II at the Council of Clermont, 1095… He established and decreed that knights and footmen, that is whoever were able to go to deliver Jerusalem and the other churches of Asia from the power of the pagans, for the love of God and to obtain remission of all their sins, should set forth with one soul, bearing arms, and he decreed that in their property until their return unbroken peace and security should be observed. At the same time he provided that all who went there should bear the sign of the cross marked on the garments on their shoulders or on their forehead, whereby they would show the piety and pilgrimage of so great a journey and be impeded by no one. All those who were present, hearing such a good and desirable edict, lifted their voices to the heaven in ovation, shouting altogether again and again : God wills it, God wills it, God wills it. (Decrees of Pope Urban II at the Council of Clermont, 1095. In a Historia peregrinorum at Monte Cassino is contained an amplified version of the Cencius-Baluze text (p. 124n.) Translated from Robert Somerville, The Councils of Urban II. vol 1, DECRETA CLAROMONTENSIA, Amsterdam 1972. http://falcon.arts.cornell.edu/prh3/259/texts/clermont.html viewed 07/27/14)

The Crusades were expeditions undertaken, in fulfilment of a solemn vow, to deliver the Holy Places from Mohammedan tyranny. The origin of the word may be traced to the cross made of cloth and worn as a badge on the outer garment of those who took part in these enterprises. Medieval writers use the terms crux (pro cruce transmarina, Charter of 1284, cited by Du Cange s.v. crux), croisement (Joinville), croiserie (Monstrelet), etc. Since the Middle Ages the meaning of the word crusade has been extended to include all wars undertaken in pursuance of a vow, and directed against infidels, i.e. against Mohammedans, pagans, heretics, or those under the ban of excommunication… the extermination of the Albigensian heresy was due to a crusade (Bréhier, Louis. "Crusades." The Catholic Encyclopedia. Vol. 4. New York: Robert Appleton Company, 1908. 27 Jul. 2014 <http://www.newadvent.org/cathen/04543c.htm>)
As the above indicates, it was not just Muslims that the Catholics of Rome made war against.
The Albigenses were pacifists, but they and those who sometimes failed to not turn them in to Catholic authorities were often killed. Notice what a former Roman Catholic priest reported:
It has been reckoned that in the last and most savage persecution under Emperor Diocletian about two thousand Christians perished, worldwide. In the first incident of Pope Innocent's Crusade ten times that number of people were slaughtered. Not all were Albigensians. It comes as a shock to discover that, at a stroke, a pope killed far more Christians than Diocletian (De Rosa, Peter. Vicars of Christ. Poolberg Press, Dublin, 2000, pp. 160-161).
(The entire persecution that Roman Emperor Diocletian unleashed lasted from 303-313 A.D; the inquisition-persecution that Innocent III unleashed lasted hundreds of years.)
Notice this account in the thirteenth century:
After this, the Crusaders moved to Lavaur…Afterwards, 400 perfecti were led out of town and burned in a vast funeral pyre. Vaux de Cernay put on record for the pope's benefit: 'Cum ingenti gaudio combusserunt', 'They set them alight with immense joy'. They were relaxed knowing they had his Holiness's blessing.

Only one of the perfecti renounced his faith. They were pacifists. They died with dignity (De Rosa, Peter. Vicars of Christ. Poolberg Press, Dublin, 2000, p. 161).
It is sad that those killing pacifists believed that the pope's approval meant that persecution and murder was appropriate. Nowhere in my Bible do I see any verse suggesting that real Christians were ever to become murderous persecutors. Actually, the 30 times in the New Testament the NKJV translators used the terms persecute, persecuted, persecution, those terms refer to something happening to Christians–not the other way around (have they not read "Blessed are you when they revile and persecute you," in Matthew 5:11?).
Of course, the true Christians (and some who were not Christian) did not accept papal views on violence–they remembered what the Bible taught. And the position of the true Church of God has not changed throughout the centuries.
Unlike the Church of Rome, the Church of God has always opposed its members participating in military and similar violence. See also Military Service and the Churches of God: Do Real Christians Participate in Carnal Warfare or Encourage Violence?
Mary is NOT the Way to Peace
Pope Francis' solution to war is to tell people to pray to his version of Mary to intervene.  He also called her "the Queen of Peace," a title that the Bible never gives Jesus' mother.
He is not the only Roman Catholic to believe that 'Mary' is what is needed for peace.  Notice something that came out last year after Pope Francis prayed to Mary for peace in Syria:
Father Gruner noted that the Pope has just completed a worldwide day of prayer and fasting for the intention of avoiding war in Syria.  "Pope Francis' Friday message regarding the threat of war invoked the very theme of our conference. As the Pope said: 'Let us ask Mary to help us to respond to violence, to conflict and to war, with the power of dialogue, reconciliation and love. She is our Mother: may She help us to find peace; all of us are Her children!'"

"Indeed, Mary is our Mother — the Mother of the Redeemer — and thus the Mother of all humanity," said Father Gruner.  "And She can indeed help us find peace.  The Catholic Church calls Her the very Queen of Peace, and She gave the whole world a peace plan at Fatima. That is what the Message of Fatima is all about."

The Message of Fatima is contained in a series of Church-approved apparitions of the Blessed Virgin Mary to three shepherd children at Fatima, Portugal in 1917. Two of the children, Francisco and Jacinta, were beatified — declared blessed, the final step before canonization — by Pope John Paul II. The last surviving Fatima visionary, Sister Lucia, died in 2005.  In the Message, the Virgin promises a period of world peace if and when Russia is specifically consecrated to Her Immaculate Heart, which ceremony would, the Virgin said, bring about the religious conversion of Russia and with it a time of peace for all humanity.

"God has chosen Russia as the object of this consecration because Russia is where so much of the suffering of the 20th century began, following the Bolshevik Revolution," Father Gruner noted.  "Furthermore, Our Lady warns that if Her request for the Consecration is not heeded, the world will face even worse chastisements than the two world wars, including what She warned would be the 'annihilation' of 'various nations.'"

"In fact," said Father Gruner, "Pope Francis has had his entire pontificate consecrated to Our Lady of Fatima by the bishops of Portugal.  This shows how seriously the Pope takes the Fatima message, as did his two predecessors, who both made pilgrimages to Fatima."
A brochure that Priest Gruner put out last year states:
And Our Lady has told us that if the consecration is delayed, we risk "the annihilation of nations" and great suffering for the Pope and persecutions of the Faithful. She has also told us "Only I can help you." WE HAVE NOWHERE ELSE TO TURN! OUR LADY IS OUR ONLY HOPE AND HELP!
While the above is blasphemous and many will think that this is only the view of certain Fatima extremists, let me state the Pope Francis continually brings up his version of  'Mary' and tells people to pray to her to intervene for peace.  He even had his pontificate consecrated to the 'Lady of Fatima' (Pope Francis' pontificate consecrated to 'Lady of Fatima').
No verse in the Bible says to pray to, turn to, or call upon, the name of Mary. Notice also that the only two times the DRB (a Roman Catholic Bible) uses the term intercession it is referring to Jesus, not Mary:
34 Who is he that shall condemn? Christ Jesus that died, yea that is risen also again; who is at the right hand of God, who also maketh intercession for us. (Romans 8:34, DRB)

25 Whereby he is able also to save for ever them that come to God by him; always living to make intercession for us. (Hebrews 7:25, DRB)
Mary is not the intercessor of the Bible, nor was she considered to be by the early Christian church (see also Mary, the Mother of Jesus and the Apparitions). Considering that Mary provides intercession is not biblically-proper and has other negative consequences.
We are not to call on, or turn to, Mary, but on the Lord God Jesus:
22 But flee thou youthful desires, and pursue justice, faith, charity, and peace, with them that call on the Lord out of a pure heart. (2 Timothy 2:22, DRB)
Notice who is the Lord of peace according to the Apostle Paul:
16 Now the Lord of peace himself give you everlasting peace in every place. The Lord be with you all.  17 The salutation of Paul with my own hand; which is the sign in every epistle. So I write. 18 The grace of our Lord Jesus Christ be with you all. Amen. (2 Thessalonians 3:16-18)
Pope Francis may look like a lamb to some, but he truly speaks like a dragon (cf. Revelation 13:11).
Mary is NOT the way to peace according to the Bible (cf. Romans 3:17; watch also Wars, rumors of wars, and the Apocalypse).
Some items of possibly related interest may include:
Military Service and the Churches of God: Do Real Christians Participate in Carnal Warfare or Encourage Violence? Here are current and historical perspectives on a matter which show the beliefs of the true church on military participation. Is war proper for Christians? A related sermon would be: Christians, Violence, and Military Service.
Mary, the Mother of Jesus and the Apparitions Do you know much about Mary? Are the apparitions real? What happened at Fatima? What might they mean for the rise of the ecumenical religion of Antichrist? Are Protestants moving towards Mary? How do the Eastern/Greek Orthodox view Mary? How might Mary view her adorers? Here is a link to a YouTube video Marian Apparitions May Fulfill Prophecy. Here is a link to a sermon video: Why Learn About Fatima?
Which Is Faithful: The Roman Catholic Church or the Continuing Church of God? Do you know that both groups shared a lot of the earliest teachings? Do you know which church changed? Do you know which group is most faithful to the teachings of the apostolic church? Which group best represents true Christianity? This documented article answers those questions.
Continuing History of the Church of God This pdf booklet is a historical overview of the true Church of God and some of its main opponents from c. 31 A.D. to 2014. A related sermon link would be Continuing History of the Church of God: c. 31 to c. 300 A.D. Marque aquí para ver el pdf folleto: Continuación de la Historia de la Iglesia de Dios.
Could Pope Francis be the Last Pope and Antichrist? Former Argentinian Cardinal Jorge Mario Bergoglio is now Pope Francis. According to some interpretations of the prophecies of the popes by the Catholic saint and Bishop Malachy, Pope Francis is in the position of "Peter the Roman," the pontiff who reigns during tribulations until around the time of the destruction of Rome. Do biblical prophecies warn of someone that sounds like Peter the Roman? Could Francis be the heretical antipope of Catholic private prophecies and the final Antichrist of Bible prophecy? Could a Jesuit be "the black pope"?
Pope Francis: Could this Marian Focused Pontiff be Fulfilling Prophecy? Pope Francis has taken many steps to turn people more towards his version of 'Mary.' Could this be consistent with biblical and Catholic prophecies? This article documents what has been happening. There is also a video version titled Pope Francis: Could this Marian Focused Pontiff be Fulfilling Prophecy?
Origin of the Marian Dogmas: Where Do Catholic Scholars Say The Four Dogmas of Mary Came From?
Wars, rumors of wars, and the Apocalypse Jesus foretold a time before the end where there would be wars and rumors of wars. The Apocalypse (the Book of Revelation) warns of the red horseman of war. Now, even secular writers, like Larry Edelson, are worried that wars and rumors of war are the most menacing problem that now haunts the earth? Are they right? What is the solution?
World War III: Steps in Progress Are there surprising actions going on now that are leading to WWIII? Might a nuclear attack be expected? Does the Bible promise protection to all or only some Christians? How can you be part of those that will be protected? A related video would be Is World War III About to Begin? Can You Escape?
Fatima Shock! What the Vatican Does Not Want You to Know About Fatima, Dogmas of Mary, and Future Apparitions. Whether or not you believe anything happened at Fatima, if you live long enough, you will be affected by its ramifications (cf. Isaiah 47; Revelation 17). Fatima Shock! provides concerned Christians with enough Catholic-documented facts to effectively counter every false Marian argument. In addition to the print version, there is a Kindle version of Fatima Shock! which you can acquire in seconds.
The Last Pope Do Biblical and Catholic Prophecies Point to Pope Francis? Why might Pope Francis be the last pope? What happens if he is? Biblical and other prophecies help explain what to expect.
The Last Pope: Do Biblical and Catholic Prophecies Point to Pope Francis? Amazon Book What does the Bible say about a pope near this time? Is the final pope to be an antipope and antichrist? Does Catholic prophecy point to Pope Francis as being the dreaded "Peter the Roman"? This 186 page book provides information and answers.
The Last Pope: Do Biblical and Catholic Prophecies Point to Pope Francis? Kindle This electronic version of the printed book which is available for only US$2.99. And you do not need an actual Kindle device to read it. Why? Amazon will allow you to download it to almost any device: Please click HERE to download one of Amazon s Free Reader Apps. After you go to for your free Kindle reader and then go to The Last Pope: Do Biblical and Catholic Prophecies Point to Pope Francis? Kindle.