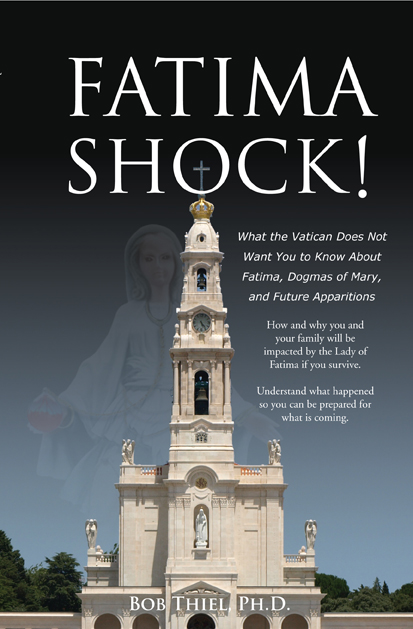 The Fatima Center has been hosting a conference this week in Niagara Falls.  Here are parts of two announcements they sent out about it:
"Fatima: The Path To Peace Conference".

TO SAVE THE EARTH, we must look to:
Consecrate Russia To The Immaculate Heart Of Mary As Our Lady Of Fatima Requested!

Government without God – secularism – has failed! How could anyone ever believe it might have succeeded? How can you ignore the Creator and His laws and think that His Creation is yours to refashion according to your own ideas? Secularism has been the most insane experiment in the history of human folly!

How many times have talks aimed at peace ended in war? How many times will we trust in the wisdom of leaders who have no wisdom, because they have no fear of God? How long will the leaders of the Catholic Church ignore the only hope for peace in the Church and peace in the world? How long will we risk Heaven's wrath by failing to obey Our Lady?

But still we can have Peace Right Now!

PRESS RELEASE REGARDING
"FATIMA: THE PATH TO PEACE!" CONFERENCE

Father Gruner noted that the Pope has just completed a worldwide day of prayer and fasting for the intention of avoiding war in Syria.  "Pope Francis' Friday message regarding the threat of war invoked the very theme of our conference. As the Pope said: 'Let us ask Mary to help us to respond to violence, to conflict and to war, with the power of dialogue, reconciliation and love. She is our Mother: may She help us to find peace; all of us are Her children!'"

      "Indeed, Mary is our Mother — the Mother of the Redeemer — and thus the Mother of all humanity," said Father Gruner.  "And She can indeed help us find peace.  The Catholic Church calls Her the very Queen of Peace, and She gave the whole world a peace plan at Fatima. That is what the Message of Fatima is all about."

      The Message of Fatima is contained in a series of Church-approved apparitions of the Blessed Virgin Mary to three shepherd children at Fatima, Portugal in 1917. Two of the children, Francisco and Jacinta, were beatified — declared blessed, the final step before canonization — by Pope John Paul II. The last surviving Fatima visionary, Sister Lucia, died in 2005.  In the Message, the Virgin promises a period of world peace if and when Russia is specifically consecrated to Her Immaculate Heart, which ceremony would, the Virgin said, bring about the religious conversion of Russia and with it a time of peace for all humanity. 

      "God has chosen Russia as the object of this consecration because Russia is where so much of the suffering of the 20th century began, following the Bolshevik Revolution," Father Gruner noted.  "Furthermore, Our Lady warns that if Her request for the Consecration is not heeded, the world will face even worse chastisements than the two world wars, including what She warned would be the 'annihilation' of 'various nations.'"

      "In fact," said Father Gruner, "Pope Francis has had his entire pontificate consecrated to Our Lady of Fatima by the bishops of Portugal.  This shows how seriously the Pope takes the Fatima message, as did his two predecessors, who both made pilgrimages to Fatima."  

      On October 13 Pope Francis will consecrate the world to Mary in a public ceremony before the original statue of Our Lady of Fatima flown from Portugal to Rome for this ceremony. "We are hoping and praying that the Pope will consecrate Russia specifically to Mary, since this, not a consecration of the world, is what She requested," Father Gruner observed.  "And anyone can see that Russia has yet to be converted and there is obviously no world peace. Furthermore, as we begin this conference the USA and Russia seem to be willing to trigger events that could bring on World War III over Syria." 

      "I invite members of the press who are capable of objectivity and honest reporting to attend our conference and listen to what the participants actually say about the problem of achieving peace in the world. It all involves the Message of Fatima," Father Gruner concluded.
The Fatimists incorrectly believe that Jesus' mother Mary appeared with various messages in Fatima, Portugal in 1917 and the world is suffering now because it did not heed all the messages. A brochure for the Fatima 'peace conference' which is scheduled to end tomorrow states:
And Our Lady has told us that if the consecration is delayed, we risk "the annihilation of nations" and great suffering for the Pope and persecutions of the Faithful. She has also told us "Only I can help you." WE HAVE NOWHERE ELSE TO TURN! OUR LADY IS OUR ONLY HOPE AND HELP!

.
.
The Fatima Center believes that Fatima 'Mary' is the answer to humanity, not really Jesus. Others also seem to share this improper view:
Mary Alone Can Give Us Life?

Pope Francis asked the Virgin Mary to "grant us the health that She alone can give us, to be always signs and instruments of life." His message was given when he officially took possession of the Papal Basilica of St. Mary Major in Rome, which is the oldest Marian Shrine in the West. He said, "Mary is mother, and a mother concerns herself above all with the health of her children, she knows how to care for it with great and tender love…our Lady protects our health."

.
The Bible warns about a "Lady" in the end times (Isaiah 47) who is also called a "harlot" (Revelation 17/18). As I have contended for years, it may well be that some of what is related to Fatima will tie into various end time biblical prophecies about signs and lying wonders (2 Thessalonians 2:9)–that most people will sadly believe as they have insufficient love of the truth (2 Thessalonians 2:9-12).
.
Believing the Lady of Fatima is NOT the path to peace, but the path to deception and destruction.  Those who actually believe the Bible realize this as will any who truly check out the facts about Fatima and what really was reported appeared there.
Some items of related interest may include:
False Conversion Have you really been converted? Herbert W. Armstrong wrote this article on this important subject.
Fatima Shock! What the Vatican Does Not Want You to Know About Fatima, Dogmas of Mary, and Future Apparitions. Whether or not you believe anything happened at Fatima, if you live long enough, you will be affected by its ramifications (cf. Isaiah 47; Revelation 17). Fatima Shock! is a highly documented book by Bob Thiel for those interested in the real truth about Fatima and how future apparitions may affect the future. In addition to the print version, there is a Kindle version of Fatima Shock! which you can acquire in seconds.
Marian Apparitions May Fulfill Prophecy May is consider Mary's month by various Catholics. On May 13, 1917, a Lady appeared in Fatima, Portugal. Pope Francis has asked for his pontificate to be consecrated to Mary. Prophecies in Isaiah 47 and Revelation 18 tell of a woman involved with signs and enchantments. Could you be affected by Marian apparitions?
Feast of the Immaculate Conception? Did early Christians teach Mary had an immaculate conception and led a sinless life?
Origin of the Marian Dogmas: Where Do Catholic Scholars Say The Four Dogmas of Mary Came From?
Assumption of Mary Did Mary die? Was she taken to heaven on August 15th? What is known? What does the Bible show?
Fatima Shock! YouTube Dr. Thiel highlights a few points of why no one would support Fatima, etc., as discussed in the documented book Fatima Shock!
Did the Lady of Fatima Wear a Short Skirt? Some have falsely challenged the idea that the Lady of Fatima wore a culturally-inappropriate skirt. What are the facts?
Pope Francis: Could this Marian Focused Pontiff be Fulfilling Prophecy? Pope Francis has taken many steps to turn people more towards his version of 'Mary.' Could this be consistent with biblical and Catholic prophecies? This article documents what has been happening. There is also a video version titled Pope Francis: Could this Marian Focused Pontiff be Fulfilling Prophecy?
Some Doctrines of Antichrist Are there any doctrines taught outside the Churches of God which can be considered as doctrines of antichrist? This article suggests at least three. It also provides information on 666 and the identity of "the false prophet." Plus it shows that several Catholic writers seem to warn about an ecumenical antipope that will support heresy. You can also watch a video titled What Does the Bible teach about the Antichrist?