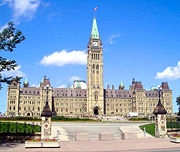 Parliament Hill, Ottawa, Canada
The following news item was of interest:
Canada, Aiming to Curb U.S. Reliance, Starts EU Talks

Bloomberg – May 6, 2009

Canada, the world's eighth-largest economy, kicked off trade talks with the European Union as it seeks to reduce dependence on a slowing U.S. economy. Prime Minister Stephen Harper met European Commission President Jose Barroso today in Prague to discuss an accord. Canada's exports will drop 22 percent this year because of the weak global economy, the country's export development agency predicted last month.

"This is an historic step for Canada," Harper told reporters in Prague. "It is a glimmer of light in the darkness of this global recession."

A trade agreement with the European Union would be the country's largest since the North American Free Trade Agreement. Canada is suffering its deepest slump since the 1930s amid plunging demand for its goods in the U.S., which buys about 80 percent of its exports.

Canada, home to aircraft producer Bombardier Inc. and among the world's 10 largest auto producing nations, will record a 7.3 percent drop in first-quarter output, the country's central bank estimates.

Canadian officials, including Trade Minister Stockwell Day, also have complained about what they say is growing protectionism in the U.S.

Protectionist Risk

A U.S. decision to let states exclude Canadian companies from projects paid for by the $787 billion stimulus package risks igniting a protectionist backlash, Day told reporters last month in Washington. The U.S. also recently imposed $54.8 million in duties on softwood lumber from four Canadian provinces.

Canada and the EU, too, will need to overcome trade disputes as they start negotiations. The European Union yesterday approved a ban on imports of seal products, prompting Canada to threaten action with the WTO.

The EU is targeting products derived from seals that are killed and skinned in ways that cause pain and suffering.

Day told reporters yesterday in Prague the dispute won't affect the trade talks with the EU.

"We're going to pursue a broader trade agreement with the EU but there will always be individual disputes as there will be with this case with the seals," he said.

A trade agreement could boost Canadian exports by C$12 billion ($10.2 billion) annually, Day said.

Beyond Tariffs

The scope of negotiations will reach beyond tariffs, making it a broader agreement than Nafta. Canada and the EU are seeking an "ambitious" agreement including government procurement and regulatory co-operation, according to a statement released by Harper's office today. Canada and the EU traded C$90.4 billion worth of goods in 2008.

An agreement may open up European markets to Canadian aerospace and engineering companies such as Bombardier and SNC Lavalin Group Inc., while providing Europeans access to Canada's energy resources, said Simon Potter, a trade lawyer at McCarthy Tetrault in Montreal.

"This is the very first trade deal we're going to sign with a huge economy after Nafta," Potter said in a telephone interview. "I expect energy is going to be a major part."

Canada sits on the largest pool of oil reserves outside of the Middle East, and is a major exporter of natural gas.

"Europe strategically is looking to work its way out from the yoke of Gazprom and seeking other suppliers," Dale Botting, an economic development official from Saskatchewan, said in a telephone interview. Canada "can try to fill the gap." http://www.bloomberg.com/apps/news?pid=20601082&sid=aA7320P3ohA0&refer=canada
Certainly, the Europeans are looking for alternative nations to supply oil and natural resources and the Canadians always want new paying customers.
Interestingly, to me it least, was something I saw on Canadian television several years ago that indicated that in the future, Quebec would become an ally of the EU and help lead to the destruction of Canada (and possibly also the USA, if I remember that part well enough).
As  I have long believed and reported, the USA and Canada will make various deals with the Europeans, but ultimately, the USA, Canada, and their Anglo-allies, will decide to cooperate more with each other than with the Europeans (Quebec, though, could be in a different category).
However, Anglo-unity is likely to be one of the factors that will lead to the destruction of the Anglo-descended peoples by the coming European Beast power.  An event that may occur sometime next decade.
Some articles of possibly related interest may include:
Anglo – America in Prophecy & the Lost Tribes of Israel Are the Americans, Canadians, British, Scottish, Welsh, Australians, Anglo-Southern Africans, and New Zealanders descendants of Joseph? Where are the lost ten-tribes of Israel? Who are the lost tribes of Israel? Will God punish the U.S.A., Canada, United Kingdom, and other Anglo nations? Why might God allow them to be punished first?  What will happen to the nation of Israel?
Who is the King of the North? Is there one? Do biblical and Roman Catholic prophecies point to the same leader? Should he be followed? Who will be the King of the North discussed in Daniel 11? Is a nuclear attack prophesied to happen to the English-speaking peoples of the United States, Great Britain, Canada, Australia, and New Zealand? When do the 1335 days, 1290 days, and 1260 days (the time, times, and half a time) of Daniel 12 begin? When does the Bible show that economic collapse will affect the United States?
Europa, the Beast, and Revelation Where did Europe get its name? What might Europe have to do with the Book of Revelation? What about "the Beast"? What is ahead for Europe?
End of Mayan Calendar 2012–Might 2012 Mean Something?There is a Mayan calendar prediction for change in 2012. 2012 changes were also centuries ago predicted by the Hopi Native Americans. Do Mayan/Hindu/Hopi/Buddhist/New Age/Nostradaumus prophecies have any value here? Why might Satan have inspired this date? Does the Dresden codex show destruction of the earth by flood? Can the great tribulation start before 2012?
Prophecies of Barack Obama? Are there biblical and non-biblical prophecies about Barack Obama. Did Nostradamus predict Barack Obama dealing with the Antichrist? This is the longest and most detailed of the articles here related to prophecy and Barack Obama.
Does God Have a 6,000 Year Plan? What Year Does the 6,000 Years End? Was a 6000 year time allowed for humans to rule followed by a literal thousand year reign of Christ on Earth taught by the early Christians? When does the six thousand years of human rule end?
Can the Great Tribulation Begin in 2009, 2010, or 2011? Can the Great Tribulation begin today? When is the earliest that the Great Tribulation can begin? What is the Day of the Lord?