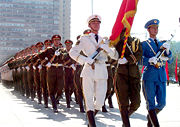 Chinese Army
The following items were in the news of interest:
China's military ambition fuels Asian arms race
China's growing military ambition, matched only by its growing military spending, is fuelling a rapid Asian arms race.
Beijing deploys the world's biggest army, its defence spending is rising faster than any other power and, to cap it all, its forces will this month carry out their first spacewalk.
With India, Japan and Russia also investing heavily in defence, a new Asian arms race is under way. According to official figures, Beijing's military budget this year is 418 billion yuan – £35 billion – a rise of 17.8 per cent on 2007. This already exceeds Britain's defence budget of £34 billion and places China's military spending second only to the US.
According to figures from Jane's, the military specialists, it has risen by 178 per cent in the past seven years, even after adjusting for inflation. At this rate, China will spend £180 billion – half of the Pentagon's current budget and five times Britain's – by 2020. http://www.telegraph.co.uk/money/main.jhtml?xml=/money/2008/09/18/ccambrose118.xml
Analysis: European military budgets still far surpass China and India
The growth military might of China and India has undoubtedly been rapid in the last decade, but their defence budgets still fall short of the combined total of Europe's leading military powers.
Telegraph – Sept 14, 2008
Europe's top five defence spenders have an annual budget of £120 billion, compared to China's £35 billion and India's £15 billion. http://www.telegraph.co.uk/news/newstopics/politics/defence/2958305/Analysis-European-military-budgets-still-far-surpass-China-and-India.html
It should perhaps be noted that India and China made a military pact earlier this year (see China and India Agree to Military Pact: A Prelude to the 200 Million Man Army of Revelation?).
And even though China intends to spend more on its military, the EU intends to spend much more than its military than it currently does.
Additionally, Russia just announced that it intends to increase its military spending by 25%.
Eventually, the military spending of nations other than the USA will greatly impact the USA's current status as the almost unchallenged super-power.  A highly indebted nation like the USA cannot expect to be on top forever–and indeed will not be.
And prophecy shows that ultimately a King of the North (apparently from Europe) will over-power the USA and its Anglo-Allies.
Several articles of possibly related interest may include:
Who is the King of the North? Is there one? Do biblical and Roman Catholic prophecies point to the same leader? Should he be followed? Who will be the King of the North discussed in Daniel 11? Is a nuclear attack prophesied to happen to the English-speaking peoples of the United States, Great Britain, Canada, Australia, and New Zealand? When do the 1335 days, 1290 days, and 1260 days (the time, times, and half a time) of Daniel 12 begin? When does the Bible show that economic collapse will affect the United States?
End of Mayan Calendar 2012–Might 2012 Mean Something? There is a Mayan calendar prediction for change in 2012. 2012 changes were also centuries ago predicted by the Hopi Native Americans (the Hindus may have some predictions for the next decade as well). Do these Mayan/Hindu/Hopi prophecies have any value? Why might Satan have inspired this date? Does the Dresden codex show destruction of the earth by flood? Can the great tribulation start before 2012?
Does God Have a 6,000 Year Plan? What Year Does the 6,000 Years End? Was a 6000 year time allowed for humans to rule followed by a literal thousand year reign of Christ on Earth taught by the early Christians? When does the six thousand years of human rule end?
Africa: Its Biblical Past and Prophesied Future What does the Bible teach about Africa and its future? Did the early Church reach Africa? Will God call all the Africans?
Anglo – America in Prophecy & the Lost Tribes of Israel Are the Americans, Canadians, British, Scottish, Welsh, Australians, Anglo-Southern Africans, and New Zealanders descendants of Joseph? Where are the lost ten-tribes of Israel? Who are the lost tribes of Israel? Will God punish the U.S.A., Canada, United Kingdom, and other Anglo nations? Why might God allow them to be punished first?
The Arab World In the Bible, History, and Prophecy The Bible discusses the origins of the Arab world and discusses the Middle East in prophecy. What is ahead for the Middle East and those who follow Islam?
Asia in Prophecy What is Ahead for China? Is it a "King of the East"? What will happen to nearly all the Chinese, Russians, and others of Asia? China in prophecy, where?
Europa, the Beast, and Revelation Where did Europe get its name? What might Europe have to do with the Book of Revelation? What about "the Beast"? What is ahead for Europe?
India, Its Biblical Past and Future: Any Witness? The Bible discusses the origins of those of Indian heritage and discusses some of the witness to them.
Islands and Bible Prophecy What's ahead for islands? What does the Bible prophesy about them?
Japan, Its Biblical Past and Future, Part 2: Prophecy Japan in prophecy. What is prophesied for Japan. Will God save the Japanese?
Mexico, Central America, South America, and Brazil in Prophecy What will happen to those of Latin America? Will they have prosperity? Will they suffer in the future?
Russia: Its Origins and Prophesied Future Where do the Russians come from? What is prophesied for Russia? What will it do to the Europeans that supported the Beast in the end?