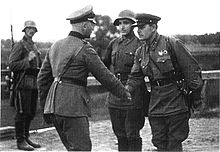 German and Soviet-Russian Troops Shaking Hands After Poland Was Invaded in 1939
A reader sent me a link that contained the following:
Governments from Stockholm to Rome reportedly opposed Juncker, but ultimately none would defy Berlin. Also this weekend, it is worth noting some ostensibly bland comments by Vladimir Putin at a German-Russian official function: "We value the accumulated potential of Russian-German relations and the high level of trade and economic cooperation. Germany, one of the European Union leaders, is our most important partner in enhancing peace, global and regional security."

I would contend that we are seeing a decisive shift in the political character of Eurasia. History tells us that long wars have tended to be fought between maritime empires and continental empires. Think of Athens vs. Sparta, Carthage vs. Rome or Britain vs. Napoleonic France. The last big fight was between the US and the Soviet Union ended in favor of the maritime empire. As a result, since 1989 we have lived in an order ultimately run by the US military. But after some unpleasantness playing the role of global policeman, that maritime empire is in retreat.

The consequence of this move toward isolation is that a bunch of 'continental empires' are starting to challenge the monopoly of "legal" international violence that the US has exercised for the last 25 years. The most obvious challengers can be seen in the shape of Sunni Muslims across the Middle East, or in East Asia where a more confident and assertive China is stating its case for preeminence. Such struggles have the potential to become major regional problems, but what worries me more is the emerging continental alliance between Russia and Germany. Preventing such a partnership has for centuries been an idée fixe for French diplomacy, and for good reason. A combination of German industrial might and Russian raw materials and military strength would instantly create a colossus. The Poles, who have been perennial victims of engagements between Germany and Russia, are already visibly panicking, as they should be…the landscape has shifted from a European Germany to a German Europe.

The UK now seems set on a path to leave the EU within four years. The chances of London achieving the kind of root-and-branch treaty change that would keep it in the EU must rank as being close to nil. And as Winston Churchill said: "England does not belong to Europe, it belongs to the seas." As was the case in the mid-20th century, the UK is unlikely to join a continental empire as a junior member and, when decision time arrives, it will stay allied with the US-led maritime empire.

In the old system, Europe was a kind of protectorate of the US maritime empire, a set-up that worked reasonably well…There will be major political repercussions in the US from such a political carve up.  http://www.zerohedge.com/news/2014-07-02/emerging-german-russian-axis

The USA has abused its political and economic position in the world.  Many in the world have noticed that, and some have taken steps to try to figure out how limit USA influence (e.g. Russians, Chinese, Europeans) and/or live with less of it (Japanese, Europeans).
Prior to WWII, Adolph Hitler made various deals with Russia (then called the Soviet Union).  The purpose of those deals was to give Germany a chance to takeover Europe without also having to fight Russia.  Those deals were ultimately broken and Germany and its allies ended up losing WWII.
What about WWIII?
Cooperation between Germany and Russia may well be part of the behind the scenes moves that will embolden Germany to attack the USA/UK and begin WWIII.
Russia wants the USA out-of-the-way and wants its dollar to lose its position as the world's reserve currency.  Russia is much more likely to support something that Europe puts forth, whether the Euro or some type of modification or replacement in the future than the USA dollar.  Many in Russia still want Alaska back from the USA and they even have predictions that this will happen.
Apparently, even Joseph Stalin may have wanted to regain it according to the following story:
Atlanta Journal Constitution – Aug 7, 2010   excerpt…

Nearly 60 years ago, Alexander Vitebsky was a young Soviet officer stationed in Siberia, part of a massive force assembled to try to fulfill Joseph Stalin's dream of invading Alaska.

"It was very secretive," said Vitebsky, who, for decades afterward, also carried a secret — he dreamed of coming to America. "We didn't buy what we were told about America." (http://www.ajc.com/news/atlanta/atlantas-public-housing-is-587310.html)
In more recent times, a Russian Professor has forecast it:
MOSCOW — For a decade, Russian academic Igor Panarin has been predicting the U.S. will fall apart…Prof. Panarin, 50 years old, is not a fringe figure. A former KGB analyst, he is dean of the Russian Foreign Ministry's academy for future diplomats…

When the going gets tough, he says, wealthier states will withhold funds from the federal government and effectively secede from the union. Social unrest up to and including a civil war will follow. The U.S. will then split along ethnic lines, and foreign powers will move in…

"It would be reasonable for Russia to lay claim to Alaska; it was part of the Russian Empire for a long time." A framed satellite image of the Bering Strait that separates Alaska from Russia like a thread hangs from his office wall. "It's not there for no reason," he says with a sly grin.

(Osborn A. As if Things Weren't Bad Enough, Russian Professor Predicts End of U.S.  Wall Street Journal, Dec 29, 2008 http://online.wsj.com/article/SB123051100709638419.html).
It is certainly possible that if Russia makes a deal with the rising European Beast power that it may end up with Alaska. Bible prophecy indicates that the Anglo-lands will be divided (for details see Will the Anglo-Nations be Divided?).
The Bible does not tell of a specific deal between the Germans and Russians leading to WWIII.  But scriptures in Daniel 11 are consistent with such a deal being made, because there is a change of relations between German and Russian led confederations in the time of the end (Daniel 11:44-45) that will not end well for the Germans.
But before that, it will not end up well for the USA nor its Anglo-Saxon allies like the UK (cf. Daniel 11:39).
Some items of possibly related interest may include:
World War III: Steps in Progress Are there surprising actions going on now that are leading to WWIII? Might a nuclear attack be expected? Does the Bible promise protection to all or only some Christians? How can you be part of those that will be protected? A related video would be Is World War III About to Begin? Can You Escape?
Russia and Ukraine: Origins and Prophesied Future Where do the Russians come from? What about those in the Ukraine? What is prophesied for Russia and its allies? What will they do to the Europeans that supported the Beast in the end? You can also watch the short video Ukraine in Prophecy?
Russia in the Bible and in Prophecy Is Russia mentioned in the Bible? It it is where is it? Is there any evidence of a people moving to the land that the Russians now occupy? What do Catholic and other prophecies say about Russia? What does the Bible teach? How are Protestants often in error on this? Is there more in biblical prophecy for Russia than war? Does God have a plan to save Russia and her allies? Does Russia have a history involving Sabbath keepers? Does scripture tie Russia in with Armageddon? Will Russia help defeat the end time Babylonian power? What did the Apostle John, and the prophets Isaiah, Jeremiah, and Daniel, write about Russia? This is a sermon-length video.
Wars, rumors of wars, and the Apocalypse Jesus foretold a time before the end where there would be wars and rumors of wars. The Apocalypse (the Book of Revelation) warns of the red horseman of war. Now, even secular writers, like Larry Edelson, are worried that wars and rumors of war are the most menacing problem that now haunts the earth? Are they right? What is the solution? This is a sermonette-length video.
Is Russia the King of the North? Some claim it is. But what does the Bible teach? Here is a link to a video, also titled Is Russia the King of the North?
WTO/TTIP and the Babylonian Beast Will international trade agreements like WTO/TTIP/CETA lead to the fulfillment of end time prophecies concerning the Babylonian Beast power that the Book of Revelation warns against? What does the Bible teach? A related video would be WTO Trade Deal and the Rise of the European Beast Power.
Europa, the Beast, and Revelation Where did Europe get its name? What might Europe have to do with the Book of Revelation? What about "the Beast"? Is an emerging European power "the daughter of Babylon"? What is ahead for Europe? Here is a link to a video titled: Can You Prove that the Beast to Come is European?
European Technology and the Beast of Revelation Will the coming European Beast power would use and develop technology that will result in the taking over of the USA and its Anglo-Saxon allies? Is this possible? What does the Bible teach?
Military Technology and the Beast of Revelation Will the coming Beast power use technology to fulfill passages in Revelation 13? What will this mean for the USA, its Anglo-Saxon allies, as well as a coming Arabic-Turkish confederation? What will Russia, China, and others do about this? Who is developing 'Beast' military technology now? What might Galileo, ELI, and supercolliders have to do with this?
The Eurasian Union, the Kings of the East, and Bible Prophecy Is there a Eurasian union that will be formed? Is one being formed right now? Are any leaders working on that in the 21st century? Does the Bible teach that there will be a Eurasian union? If some type of Eurasian union is formed, who might it benefit and who will it destroy? A related video would be Is The Eurasian Union Rising?
Who is the King of the North? Is there one? Do biblical and Roman Catholic prophecies for the Great Monarch point to the same leader? Should he be followed? Who will be the King of the North discussed in Daniel 11? Is a nuclear attack prophesied to happen to the English-speaking peoples of the United States, Great Britain, Canada, Australia, and New Zealand? When do the 1335 days, 1290 days, and 1260 days (the time, times, and half a time) of Daniel 12 begin? When does the Bible show that economic collapse will affect the United States? In the Spanish language check out ¿Quién es el Rey del Norte? Here is a link to a video titled: The Future King of the North.
Barack Obama, Prophecy, and the Destruction of the United States-Second Edition for Second Obama Term This is a 160 page book for people truly interested in prophecies related to Barack Obama and the United States, including learning about many that have already been fulfilled (which the book documents in detail) and those that will be fulfilled in the future. It also has a chapter about a Republican choice. This book is available to order at www.barackobamaprophecy.com. The physical book can also be purchased at Amazon from the following link: Barack Obama, Prophecy, and the Destruction of the United States: Is Barack Obama Fulfilling Biblical, Islamic Catholic, Kenyan, and other America-Related Prophecies? What About Republican Leaders? Second Edition for Second Obama Term.
Barack Obama, Prophecy, and the Destruction of the United States-Second Term-Amazon Kindle edition. This electronic version is available for only US$2.99. And you do not need an actual Kindle device to read it. Why? Amazon will allow you to download it to almost any device: Please click HERE to download one of Amazon s Free Reader Apps. After you go to for your free Kindle reader and then go to Barack Obama, Prophecy, and the Destruction of the United States-Second Term-Amazon Kindle edition.