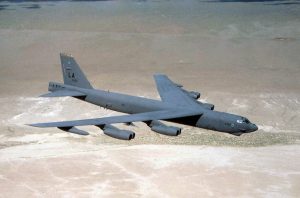 USAF B52

Japan has issued a warning about North Korea:
North Korea threat is 'critical, imminent,' Japan tells U.S., South Korea

October 23, 2017
CLARK FREEPORT ZONE, Philippines (Reuters) – The threat from North Korea has grown to a "critical and imminent level" and the United States, Japan and South Korea must address the matter, Japanese Defense Minister Itsunori Onodera told his U.S. and South Korean counterparts in talks on Monday. …

"(The) threat posed by North Korea has grown to the unprecedented, critical and imminent level. Therefore, we have to take calibrated and different responses to meet with that level of threat," he said, speaking through a translator, at the start of talks in the Philippines.

South Korea's Song also acknowledged that "North Korea's provocative behavior is becoming worse and worse," in public remarks before reporters were escorted out of the meeting room.

Mattis renewed sharp criticism of North Korea's tests, saying they "threaten regional and global security." http://www.reuters.com/article/us-asia-mattis-japan/north-korea-threat-is-critical-imminent-japan-tells-u-s-south-korea-idUSKBN1CS18K?il=0
The USA is taking what appears to be more military steps related to the threats from North Korea:
For The First Time In 26 Years, US To Put Nuclear Bombers On 24 Hour Alert

October 23, 2017

The unexpected decision by President Trump to amend an emergency Sept 11 order signed by George W Bush, allowing the Air Force to recall up to 1,000 retired air force pilots to address what the Pentagon has decribed as "an acute shortage of pilots" caught us by surprise. After all, this was the first time we have heard of this particular labor shortage – perhaps there was more to this executive order than meets the eye. …

Putting the B-52s back on alert is just one of many decisions facing the Air Force as the U.S. military responds to a changing geopolitical environment that includes North Korea's rapidly advancing nuclear arsenal, President Trump's confrontational approach to Pyongyang, and Russia's increasingly potent and active armed forces. …

And now that the US is preparing for immediate nuclear war readiness, all it needs is a provocation, one which a world which has never been more on edge over a stray tweet, may have little difficulty in finding … http://www.zerohedge.com/news/2017-10-22/us-put-nuclear-bombers-24-hour-alert-first-time-26-years

US

Preparing to Put Nuclear Bombers Back on 24-Hour Alert

BARKSDALE AIR FORCE BASE, La. —  The U.S. Air Force is preparing to put nuclear-armed bombers back on 24-hour ready alert, a status not seen since the Cold War ended in 1991.

That means the long-dormant concrete pads at the ends of this base's 11,000-foot runway — dubbed the "Christmas tree" for their angular markings — could once again find several B-52s parked on them, laden with nuclear weapons and set to take off at a moment's notice.

"This is yet one more step in ensuring that we're prepared," Gen. David Goldfein, Air Force chief of staff, said in an interview during his six-day tour of Barksdale and other U.S. Air Force bases that support the nuclear mission. "I look at it more as not planning for any specific event, but more for the reality of the global situation we find ourselves in and how we ensure we're prepared going forward."

Goldfein and other senior defense officials stressed that the alert order had not been given, but that preparations were under way in anticipation that it might come. http://www.defenseone.com/threats/2017/10/exclusive-us-preparing-put-nuclear-bombers-back-24-hour-alert/141957/
Jesus spoke of a time of wars, rumors of war, and troubles prior to the Great Tribulation:
5 And Jesus, answering them, began to say: "Take heed that no one deceives you. 6 For many will come in My name, saying, 'I am He,' and will deceive many. 7 But when you hear of wars and rumors of wars, do not be troubled; for such things must happen, but the end is not yet. 8 For nation will rise against nation, and kingdom against kingdom. And there will be earthquakes in various places, and there will be famines and troubles. These are the beginnings of sorrows (Mark 13:5-8).
North Korea is causing troubles and rumors of war.
For at least three years, my article, Four Horsemen of the Apocalypse, contained the following:
There may also be wars in parts of the world that have rarely had them (perhaps, for example, even between some South American nations), as well as wars in areas that have long been especially tense (like Korea, possibly involving other Asian nations). Damascus ultimately will be destroyed and could be a signal for destruction to come for Jacob (Isaiah 17:1-4). There will likely be civil unrest and perhaps rioting in scales not seen before, including within some Western nations (such as in Europe and North America). This will lead to military leaders rising up in various parts of the world. And one European (the final King of the North) will, after making one or more false peace deals/pronouncements (e.g. Daniel 9:26-27; 11:27; 1 Thessalonians 5:3), become the final Beast leader (Revelation 13:4) and he will take over many nations (Daniel 11:39-43).
North Korea, and US President Trump's reactions to it, are a threat to peace and seem to be related to the ride of the red horseman of war (Revelation 6:3-4).
North Korea poses a variety of threats to the USA.
We are hearing of wars and rumors of war.
Some items of possibly related interest may include:
Syria, North Korea, and Prophecy On April 7, 2017, 59 US Tomahawk missiles hit a military installation in Syria. While praised by NATO nations, Israel, and Saudi Arabia, this was denounced by Syria, Russia, and North Korea. Is this the start of World War III? Will the Bashar al-Assad regime remain as it is? What about North Korea? What does the Bible show will happen? Dr. Thiel answers these questions and more. This is a video.
Donald Trump, Warmongering, and the Red Horse of War  Various Europeans believe that Donald Trump has been 'warmongering' related to North Korea, Iran, Saudi Arabia, Afghanistan, and elsewhere. They believe that Europe must lead and the US President learn from Europe. Jesus spoke of a time called the "beginning of sorrows" that included wars and rumors of war, are we in the time of sorrows now? Could the red horse of the apocalypse be about to ride? Did the old WCG teach this was a future event in 1985? Does this ride start before or after the start of the "great tribulation"? What does the Bible show? Is Satan involved in this? What about Armageddon? How will all of this end? Dr. Thiel addresses these issues and more.
Korea in Prophecy, Any Witness? Where did the Korean people come from? Does God have a plan for the Koreans? Is Korea mentioned in any prophecies? Will Koreans be among the first in the Kingdom of God? Here is a machine-translated link to that article in Korean: 한국의 언어로 : 한국 예언, 모든 증인에?. Here is a link to a magazine with that article in Mandarin Chinese: 在预言中的韩国:有任何证人吗?. A prophetic video is also available: Syria, North Korea, and Prophecy.
What is the Gospel? True religion should be based upon the true gospel. What are some of the different gospels and where did they come from? Do you believe the true or a false gospel? Who is preaching the gospel? Here is a version in Korean 복음이란 무엇인가?.
Electrical End of the USA? Could problems with the electrical power grid caused by one or more electo-magnetic pulse bombs, solar flares, and/or other phenomena help weaken the USA to the point of allowing it to be taken over? Does such potential exist? If so, is this consistent with any biblical prophecies? What are some of the severe consequences that the USA would face in the event of an electrical power grid failure? Is there evidence in scripture that the USA will be taken over in the 21st century? Dr. Thiel addresses these issues and more.
World War III: Steps in Progress Are there surprising actions going on now that are leading to WWIII? Might a nuclear attack be expected? Does the Bible promise protection to all or only some Christians? How can you be part of those that will be protected? A related video would be Is World War III About to Begin? Can You Escape?
Four Horsemen of the Apocalypse What do each of the four horseman of the Apocalypse represent? Have they began their ride? Did Jesus discuss the any of this? Might their rides coincide with the "beginning of sorrows? Do they start their ride prior to the Great Tribulation? Did Nostradamus or any other 'private prophets' write predictions that may mislead people so that they may not understand the truth of one or more of the four horseman? There is also a related YouTube video titled The Four Horsemen of the Apocalypse.
Asia in Prophecy What is Ahead for Asia? Who are the "Kings of the East"? What will happen to nearly all the Chinese, Russians, Indians, and others of Asia? China in prophecy, where? Who has the 200,000,000 man army related to Armageddon? A YouTube video of interest may be Is China THE Threat to the United States of America?
The Eurasian Union, the Kings of the East, and Bible Prophecy Is there a Eurasian union that will be formed? Is one being formed right now? Are any leaders working on that in the 21st century? Does the Bible teach that there will be a Eurasian union? If some type of Eurasian union is formed, who might it benefit and who will it destroy? A related video would be Is The Eurasian Union Rising?
Japan, Its Biblical Past and Future, Part 1: Any Witness? Where did the Japanese people come from? Have they had any witness?
Japan, Its Biblical Past and Future, Part 2: Prophecy Japan in prophecy. What is prophesied for Japan? Will God save the Japanese?
USA in Prophecy: The Strongest Fortresses Can you point to scriptures, like Daniel 11:39, that point to the USA in the 21st century? This article does. A related sermon is titled: Do these 7 prophesies point to the end of the USA?
Is Russia the King of the North? Some claim it is. But what does the Bible teach? Here is a link to a video, also titled Is Russia the King of the North?
Ezekiel 38: For Russia & Iran in Our Day? Is Ezekiel 38 about to be fulfilled? A related video is available titled Ezekiel 38: For Russia, Ukraine, & Iran Now? Another could be Russia, Iran, Syria, & the Bible (Code).
When Will the Great Tribulation Begin? 2017, 2018, or 2019? Can the Great Tribulation begin today? What happens before the Great Tribulation in the "beginning of sorrows"? What happens in the Great Tribulation and the Day of the Lord? Is this the time of the Gentiles? When is the earliest that the Great Tribulation can begin? What is the Day of the Lord? Who are the 144,000? Here is a version of the article in the Spanish language: ¿Puede comenzar la Gran Tribulación en 2016 o 2017? ¿Es el Tiempo de los Gentiles? You can also see the English language sermon videos: The Great Tribulation from the Mount of Olives and Can the Great Tribulation begin before 2020? A shorter video is: Will the Great Tribulation Start in 2017?
Anglo – America in Prophecy & the Lost Tribes of Israel Are the Americans, Canadians, English, Scottish, Welsh, Australians, Anglo-Saxon (non-Dutch) Southern Africans, and New Zealanders descendants of Joseph? Where are the lost ten-tribes of Israel? Who are the lost tribes of Israel? What will happen to Jerusalem and the Jews in Israel? Will God punish the U.S.A., Canada, United Kingdom, and other Anglo-Saxon nations? Why might God allow them to be punished first? Here is a link to the Spanish version of this article: Anglo-América & las Tribus Perdidas de Israel. Information is also in the YouTube sermons titled Where are the Ten Lost Tribes? Why does it matter? and British are the Covenant People. A short YouTube of prophetic interest may be: Are Chinese threats against Australia for real?
Will the Anglo-Saxon Nations be Divided and Have People Taken as Slaves? Will the lands of the United States, United Kingdom, Canada, Australia, and New Zealand be divided? What about Jerusalem? What does Bible prophecy teach? Are there non-biblical prophecies that support this idea? Who will divide those lands? Who will end up with the lands and the people? Here is a link to a video titled Will the USA and other Anglo-nations be Divided and Their People Made Slaves? Here is a related item in the Spanish language ¿Serán divididas las naciones anglosajonas?
British are the Covenant People What do 'British' and 'Britain' mean in Hebrew? Are the descendants of the Anglo-Saxons people of the covenant? Does the British royal family connect to the throne of David? What does the Bible teach? What does history show us? Is there any DNA evidence related to British-Israelism? When did Christianity make it to the British Isles? Could Jeremiah have made it to the British Isles? What type of Christians made it to the British Isles? Did the last King of England believe in British Israelism?
Donald Trump in Prophecy Prophecy, Donald Trump? Are there prophecies that Donald Trump may fulfill? Are there any prophecies that he has already helped fulfill? Could a Donald Trump presidency be apocalyptic? A related video is titled: Donald: 'Trump of God' or Apocalyptic?
Trump Presidency Magic 8 Ball or Bible Prophecy? BBC reported that one might as well use a 'Magic Eight-Ball' to try to predict what will happen in the remaining time of Donald Trump's presidency. What is a 'Magic Eight-Ball'? Dr. Thiel not only explains that, but also briefly goes over 10 biblically-based warnings he wrote would happen if Donald Trump were elected that have already began to come to pass. He also goes over something he wrote back in 2008 that the Trump presidency is also helping lead to fulfillment. Should you trust Bible prophecy or not? Dr. Thiel says that Bible prophecy can be trusted, despite the view of skeptics and others that either overlook or despise the Bible. This is a video.
Donald Trump and America's Apocalypse This 188 page book is for people truly interested in prophecies related to Donald Trump and the United States, including learning about several that have already been fulfilled and those that will be fulfilled in the future. The physical book can be purchased at Amazon for $12.99 from the following link: Donald Trump and America's Apocalypse.
Donald Trump and America's Apocalypse-Kindle Edition This electronic version of the 188 page print edition is available for only US$3.99. And you do not need an actual Kindle device to read it. Why? Amazon will allow you to download it to almost any device: Please click HERE to download one of Amazon s Free Reader Apps. After you go to for your free Kindle reader and then go to Donald Trump and America's Apocalypse-Kindle Edition.