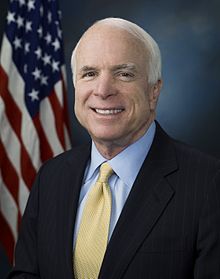 John McCain
American leaders, like John McCain are accusing European leaders of attempting appeasement in their dealings with Russia over Ukraine:
February 8, 2015
The USA has indicated that it might get further involved militarily with Ukraine, and the Europeans are not supporting that:
February 8, 2015

(Bloomberg) — Germany's rejection of supplying weapons to Ukrainian forces fighting pro-Russian rebels may heighten the domestic pressure on a reluctant U.S. President Barack Obama to deliver the arms.

Increasing numbers of senior military and State Department officials are joining Republican lawmakers in a push to arm Ukraine — an option the commander-in-chief personally opposes, according to three people familiar with the dynamics in the Obama administration. They asked not to be named due to the sensitivity of the matter.

German Chancellor Angela Merkel, who pleaded against shipping lethal military support in a Saturday speech at the Munich Security Conference, will brief Obama in Washington on Monday on the issue and the German-French push for a peace deal with Russian President Vladimir Putin. Secretary of State John Kerry said he's confident Obama will make his decision "soon" after the meeting. http://www.bloomberg.com/news/articles/2015-02-08/merkel-objection-to-arms-for-ukraine-may-spur-backlash-for-obama
What Americans do not seem to fully grasp is that the Europeans want to work with Russia:
February 8, 2015

At a security conference in Munich Sunday, German Foreign Minister Frank-Walter Steinmeier said negotiators on the French-German plan are "far from finding a political solution" to Ukraine's conflict after a few days of "intense" debate.

"For us Europeans, this conflict still means permanent security can only be together with and not against Russia, however this cannot be a unilateral recognition. It has to be clear to Moscow as well that there is only a good future for Russia with Europe, together with Europe, and not against Europe," Steinmeier said.

"It's also Moscow's task to define joint and common interests. We've seen too little here so far and you have also heard and listened to my colleague Lavrov and of course this was not also conducive to our discussion," he added.

However, Steinmeier said negotiators are "far from finding a political solution" to the crisis, after a weekend of "intense" debate.

He added that supplying Ukraine with lethal weapons would be "highly risky" and "counterproductive."  http://www.voanews.com/content/leaders-agree-to-new-ukraine-peace-talks-in-minsk/2633616.html
As I have written before, both Europe and Russia want to break the USA's hegemony in the world and believe that they need to work together to do this.
While many in the USA see Russia and/or China as the real threats for World War III (WWIII), hence the concerns about appeasement, the biblical reality is that Europe is the one who will successfully wage WWIII against the USA and its Anglo-Saxon descended allies.
As far as appeasement goes, the USA has engaged in a lot of that with Europe itself.  (The USA has also engaged in a lot of appeasement concerning Iran.)
The USA and UK originally opposed Europe's plans for its own global positioning satellite system called Galileo as they felt that this could be used against them.  Later, the USA decided to embrace Galileo and even rely on it for part of its own military defense–a dangerous move.
Because of the Snowden leaks, USA President Barack Obama said that the USA would share its espionage techniques and more information with Germany in a form of appeasement.  Then after the USA was caught having a double agent in Germany last year, it named a German officer to be in charge of the US Army in Europe.  Here is some of what I wrote about that last Summer (see German general now commands the US Army in Europe):
August 4, 2015

This is a dangerous move. This form of appeasement from the USA for its espionage will not work as the USA probably hopes it will. The UK's Neville Chamberlain attempted to appease Adolf Hitler, but World War II still began. The Obama Administration can attempt to appease Germany now, but World War III will still happen.

We in the Church of God have long taught that Germany would rise again. In the Continuing Church of God, we have specifically taught that because of the USA espionage issues (like Snowden) that the USA would try to appease Germany. …

Now, there is also a German general in charge of the USA Army. Not that I expect that Europe will attack the USA prior to possibly 2018, the reality is that if there is a German general in order to stop the Europeans from turning their technologies against the USA.The power in Europe is starting to rise up. And yes, ultimately, what is likely to come from Europe's Large Hadron Collider and/or Germany's FAIR collider, will be used to as part of an attack on American (USA and possibly Canadian) forces. Additionally, I believe that Europe's Galileo or similar technology (Galileo is an upcoming competitor to GPS that the USA has said it will partially rely on for its own military needs; see also Europe's Galileo 'GPS' Hits Another Milestone and USA GPS and EU Galileo linking was expected) will help the Europeans when that happens as well as to help prevent counter-strikes by the USA.

The USA is more and more putting itself in harm's way with Europe and Germany. If a German or European general is in charge of US armed forces in Europe when Europe attacks and beats the USA (cf. Daniel 11:39), the USA will lose faster than any thought.
It has long been my view, based upon biblical prophecy, that the Europeans will be surprised how relatively easy it will be to take over the USA when it is time.
The USA is being naive about this. But as its political and military leaders do not really believe and understand biblical prophecy, they think their ways to peace will work. The Bible teaches otherwise (cf. Isaiah 59:8).
Some items of related interest may include:
World War III: Steps in Progress Are there surprising actions going on now that are leading to WWIII? What steps has the Obama Administration taken with Germany to assist thie? Might a nuclear attack be expected? Does the Bible promise protection to all or only some Christians? How can you be part of those that will be protected? A related video would be Is World War III About to Begin? Can You Escape?
Russia and Ukraine: Origins and Prophesied Future Where do the Russians come from? What about those in the Ukraine? What is prophesied for Russia and its allies? What will they do to the Europeans that supported the Beast in the end? You can also watch the short video Ukraine in Prophecy?
Russia in the Bible and in Prophecy Is Russia mentioned in the Bible? It it is where is it? Is there any evidence of a people moving to the land that the Russians now occupy? What do Catholic and other prophecies say about Russia? What does the Bible teach? How are Protestants often in error on this? Is there more in biblical prophecy for Russia than war? Does God have a plan to save Russia and her allies? Does Russia have a history involving Sabbath keepers? Does scripture tie Russia in with Armageddon? Will Russia help defeat the end time Babylonian power? What did the Apostle John, and the prophets Isaiah, Jeremiah, and Daniel, write about Russia? This is a sermon-length video.
Ezekiel 38: For Russia & Iran in Our Day? Is Ezekiel 38 about to be fufilled? A related video is available titled Ezekiel 38: For Russia, Ukraine, & Iran Now?
The Snowden Leaks are Leading to the Destruction of the USA Can what happened with the leaks of what the NSA has done help the USA to be taken over? What does the Bible teach that seems to be related to this? Here is a related YouTube video titled Are the Snowden NSA leaks leading to the destruction of the USA?
Europa, the Beast, and Revelation Where did Europe get its name? What might Europe have to do with the Book of Revelation? What about "the Beast"? Is an emerging European power "the daughter of Babylon"? What is ahead for Europe? Here is a link to a video titled: Can You Prove that the Beast to Come is European?
European Technology and the Beast of Revelation Will the coming European Beast power would use and develop technology that will result in the taking over of the USA and its Anglo-Saxon allies? Is this possible? What does the Bible teach? Here is a related YouTube video: Military Technology and the Beast of Revelation.
Must the Ten Kings of Revelation 17:12 Rule over Ten Currently Existing Nations? Some claim that these passages refer to a gathering of 10 currently existing nations together, while one group teaches that this is referring to 11 nations getting together. Is that what Revelation 17:12-13 refers to? The ramifications of misunderstanding this are enormous.
Might German Baron Karl-Theodor zu Guttenberg become the King of the North? Is the former German Defense Minister (who is also the former German Minister for Economics and Technology) one to watch? What do Catholic, Byzantine, and biblical prophecies suggest?
Germany's Assyrian Roots Throughout History Are the Germanic peoples descended from Asshur of the Bible? Have there been real Christians in Germanic history? What about the "Holy Roman Empire"? There is also a You-Tube video sermon on this titled Germany's Biblical Origins.
Germany in Biblical and Catholic Prophecy Does Assyria in the Bible equate to an end time power inhabiting the area of the old Roman Empire? What does prophecy say Germany will do and what does it say will happen to most of the German people? Here is a link to a video Is the USA Pushing Germany to Start WWIII?
Barack Obama, Prophecy, and the Destruction of the United States-Second Edition for Second Obama Term This is a 160 page book for people truly interested in prophecies related to Barack Obama and the United States, including learning about many that have already been fulfilled (which the book documents in detail) and those that will be fulfilled in the future. It also has a chapter about a Republican choice. This book is available to order at www.barackobamaprophecy.com. The physical book can also be purchased at Amazon from the following link: Barack Obama, Prophecy, and the Destruction of the United States: Is Barack Obama Fulfilling Biblical, Islamic Catholic, Kenyan, and other America-Related Prophecies? What About Republican Leaders? Second Edition for Second Obama Term.
Barack Obama, Prophecy, and the Destruction of the United States-Second Term-Amazon Kindle edition. This electronic version is available for only US$2.99. And you do not need an actual Kindle device to read it. Why? Amazon will allow you to download it to almost any device: Please click HERE to download one of Amazon s Free Reader Apps. After you go to for your free Kindle reader and then go to Barack Obama, Prophecy, and the Destruction of the United States-Second Term-Amazon Kindle edition.