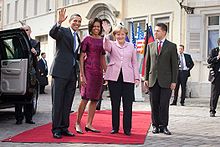 German Chancellor Angela Merkel is to meet US President Barack Obama today:
May 02, 2014

German Chancellor Angela Merkel is in Washington Friday for talks with President Barack Obama…As the crisis in Ukraine has escalated, Merkel has spoken with Putin perhaps more frequently than any other European leader. The United States sees her as a critical channel of communication with the unpredictable Russian leader, and a key player in preventing other European Union members from relaxing sanctions.

The two leaders also will discuss the National Security Agency's spy program, which targeted Merkel's phone conversations and caused tension between the two allies.  http://www.voanews.com/content/obama-merkel-to-discuss-ukraine/1906029.html
May 2, 2014
The uncomfortable issue of NSA spying on America's allies is sure to come up when Germany's Angela Merkel and Obama meet Friday…

German Chancellor Angela Merkel will still be smarting from last year's revelations of US eavesdropping on her cellphone when she visits the White House Friday for lunch and several hours of talks with President Obama…

Yet even as Ukraine receives top billing in Merkel's visit, the outrage she – and indeed much of Germany – felt upon learning last year of NSA spying on German leaders, including Merkel, will not be far below the surface.

When Obama invited Merkel to Washington earlier this year, she said pointedly that the process of reestablishing trust would take "more than one trip." Germany has pressed for a "no-spy" accord with the US like the one the US has with Britain and a few other English-speaking allies, but the US has made it clear it is not prepared to take that step, and Merkel is not expected to insist on that point.

This willingness to downplay an important issue that risks getting in the way of addressing another will put Merkel's pragmatism on full display. It also provides a stark contrast with the response of another world leader who found her country embroiled in the NSA spying controversy.

Brazilian President Dilma Rousseff had been invited for what would have been the only state visit to the Obama White House last year. But with Brazilians still furious over revelations of US spying in their country, Ms. Rousseff called off the visit. US-Brazilian relations have not recovered since.

Merkel also faces heightened anti-American sentiments at home, German experts note.  http://www.csmonitor.com/USA/Foreign-Policy/2014/0502/Merkel-s-White-House-test-suppress-anger-over-NSA-to-show-unity-on-Ukraine
Barack Obama desperately wants Angela Merkel to support his plans to apply more pressure against Russia related to Ukraine.  However, as Germany has major economic ties to Russia, Germany will keep those ties in mind.
Many Germans, including Angela Merkel, have been outraged about how the USA has spied on Germany and how it has treated its Anglo-allies much better.  Specifically, according to an NSA document, the only close friends that the USA has are Canada, the United Kingdom, Australia, and New Zealand.
Despite whatever public statements are released in a planned press conference about this meeting, the reality is that Germany is upset with the USA and is taking steps behind the scenes that some day the USA will truly regret.
Until that time, the crisis in Ukraine will give the appearance of some unity between the USA and Germany as neither wants Russia to dominate Ukraine.  However, even the Ukrainian crisis is showing Germany that it needs to be able to take military and diplomatic steps much more independent of the USA than it does now.  This will also not turn out well for the USA in the long run (cf. Daniel 11:39).
That being said, German businesses do not want sanctions on Russia according to the following from the Wall Street Journal:
May 2, 2014

BERLIN— Angela Merkel is carrying a clear message from Germany's business lobby to the White House: No more sanctions.

Several of the biggest names in German business—including chemical giant BASF BAS.XE +0.70% SE, engineering group Siemens AG SIE.XE -0.96% , Volkswagen AG VOW3.XE -1.70% , Adidas AG ADS.XE +0.27% and Deutsche Bank AG DBK.XE -0.49% —have made their opposition to broader economic sanctions against Russia clear in recent weeks, both in public and in private. (Read the latest updates on the crisis in Ukraine.)

As a result, Germany's position on additional, tougher sanctions is unlikely to shift, barring a dramatic escalation of the conflict in Ukraine—a message Ms. Merkel is expected to deliver to President Barack Obama when they meet in Washington on Friday, officials in Berlin say. http://online.wsj.com/news/articles/SB10001424052702303948104579535983960826054?mg=reno64-wsj&url=http%3A%2F%2Fonline.wsj.com%2Farticle%2FSB10001424052702303948104579535983960826054.html
But as the situation in Ukraine is now involving military action, Angela Merkel may decide she needs to do something to support the USA's position.
Some items of possibly related interest may include:
Europa, the Beast, and Revelation Where did Europe get its name? What might Europe have to do with the Book of Revelation? What about "the Beast"? Is an emerging European power "the daughter of Babylon"? What is ahead for Europe? Here is a link to a video titled: Can You Prove that the Beast to Come is European?
Might German Baron Karl-Theodor zu Guttenberg become the King of the North? Is the former German Defense Minister (who is also the former German Minister for Economics and Technology) one to watch? What do Catholic, Byzantine, and biblical prophecies suggest?
Germany's Assyrian Roots Throughout History Are the Germanic peoples descended from Asshur of the Bible? Have there been real Christians in Germanic history? What about the "Holy Roman Empire"? There is also a You-Tube video sermon on this titled Germany's Biblical Origins.
Germany in Biblical and Catholic Prophecy Does Assyria in the Bible equate to an end time power inhabiting the area of the old Roman Empire? What does prophecy say Germany will do and what does it say will happen to most of the German people?
The Snowden Leaks are Leading to the Destruction of the USA Can what happened with the leaks of what the NSA has done help the USA to be taken over? What does the Bible teach that seems to be related to this? Here is a related YouTube video titled Are the Snowden NSA leaks leading to the destruction of the USA?
Who is the King of the North? Is there one? Do biblical and Roman Catholic prophecies for the Great Monarch point to the same leader? Should he be followed? Who will be the King of the North discussed in Daniel 11? Is a nuclear attack prophesied to happen to the English-speaking peoples of the United States, Great Britain, Canada, Australia, and New Zealand? When do the 1335 days, 1290 days, and 1260 days (the time, times, and half a time) of Daniel 12 begin? When does the Bible show that economic collapse will affect the United States? In the Spanish language check out ¿Quién es el Rey del Norte? Here is a link to a video titled: The Future King of the North.
Can You Prove that the Beast to Come is European? The Book of Revelation tells of a beast power that will rise up. Some think that this must be Russia or could be Islamic, while others say that this power is European. The Book of Daniel tells of the rise of an end time King of the North that some think must be referring to a Russian leader, while others say that this power is European. How can you be sure? This YouTube video has all the scriptural proofs that you should need to prove that this power must be a European one.
The Eurasian Union, the Kings of the East, and Bible Prophecy Is there a Eurasian union that will be formed? Is one being formed right now? Are any leaders working on that in the 21st century? Does the Bible teach that there will be a Eurasian union? If some type of Eurasian union is formed, who might it benefit and who will it destroy? A related video would be Is The Eurasian Union Rising?
Is Russia the King of the North? Some claim it is. But what does the Bible teach? Here is a link to a video, also titled Is Russia the King of the North?
Russia and Ukraine: Their Origins and Prophesied Future Russia in prophecy. Where do the Russians come from? What about those in the Ukraine? What is prophesied for Russia and its allies? What will they do to the Europeans that supported the Beast in the end? There is also a video sermon available: Russia in the Bible and in Prophecy.
Ukraine in Prophecy? What is happening in Ukraine? What is known and what is unsure about its future? What is the origin of those who live in Ukraine? What does the Bible teach about the role of the Medes in the end times? Will Ukraine split? Why might part of Ukraine end up in the European Union? Why might part of Ukraine end up in the Eurasian Union? Is war in the prophesied future for Ukraine? What is the ultimate destiny for nearly all Ukrainians?
Barack Obama, Prophecy, and the Destruction of the United States-Second Edition for Second Obama Term This is a 160 page book for people truly interested in prophecies related to Barack Obama and the United States, including learning about many that have already been fulfilled (which the book documents in detail) and those that will be fulfilled in the future. It also has a chapter about a Republican choice. This book is available to order at www.barackobamaprophecy.com. The physical book can also be purchased at Amazon from the following link: Barack Obama, Prophecy, and the Destruction of the United States: Is Barack Obama Fulfilling Biblical, Islamic Catholic, Kenyan, and other America-Related Prophecies? What About Republican Leaders? Second Edition for Second Obama Term.
Barack Obama, Prophecy, and the Destruction of the United States-Second Term-Amazon Kindle edition. This electronic version is available for only US$2.99. And you do not need an actual Kindle device to read it. Why? Amazon will allow you to download it to almost any device: Please click HERE to download one of Amazon s Free Reader Apps. After you go to for your free Kindle reader and then go to Barack Obama, Prophecy, and the Destruction of the United States-Second Term-Amazon Kindle edition.