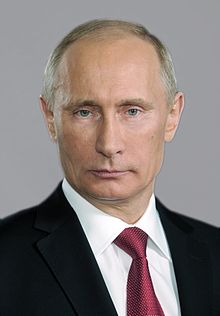 Vladimir Putin (www.kremlin.ru)

Much is going on related to Ukraine:
April 17, 2014

KIEV, Ukraine (AP) – Three pro-Russian protesters were killed and 13 injured during an attempted overnight raid on a Ukrainian National Guard base in the Black Sea port of Mariupol, Ukraine's authorities said.

The Interior Ministry said a mob of around 300 people armed with stun grenades and firebombs were involved in the bloodiest episode to date in the confrontation pitting Ukraine's new government in Kiev against an eastern insurgency tacitly supported by Moscow.

Masked and battle-ready militia bearing sophisticated firearms have been deeply involved in seizing government offices in eastern Ukraine, igniting suspicions that much of the unrest is being stirred with Russia's backing.

But Russia's President Vladimir Putin on Thursday dismissed as "nonsense" claims that Russian special forces were fomenting unrest in eastern Ukraine.

"It's all nonsense, there are no special units, special forces or instructors there," Putin said.  http://www.aol.com/article/2014/04/17/attack-on-national-guard-base-in-mariupol-leaves-3-dead/20871024/?icid=maing-grid7%7Chtmlws-main-bb%7Cdl2%7Csec1_lnk2%26pLid%3D465898
April 17, 2014
MOSCOW — Russian President Vladimir Putin said he has "a right" to send troops into Ukraine but hopes he will "not have to exercise that right."

Speaking live on Russian TV call-in show after a clash in eastern Ukraine in which three pro-Russian protesters were reported killed,  Putin warned the Ukrainian authorities of "the abyss they're heading into" and urged dialogue.

He also admitted for the first time that Russian forces had been active in Crimea, which was annexed by Moscow last month. Previously he insisted that the camouflaged, masked gunmen who took over Crimea were a local "self-defense" force.

But Putin stopped short of saying Russian forces were currently operating in eastern Ukraine…
Putin … also expressed hope for the success of Thursday's talks in Geneva that brings together the United States, the European Union, Russia and Ukraine for the first time since the Ukrainian crisis erupted.

"I think the start of today's talks is very important," he said, "as it's very important now to think together about how to overcome this situation and offer a real dialogue to the people."

Obama administration officials played down any expectations that the meetings in Geneva would yield a breakthrough or Russian concessions meaningful enough to avoid new U.S. penalties.  http://www.voanews.com/content/reu-putin-denounces-ukraine-crimes-but-says-compromise-possible/1895234.html
While Vladimir Putin's next move may be uncertain, what he wants is not.
Vladimir Putin has made statements to the effect that he wants all territory that was once part of the old Soviet Union to either be part of the Russian Federation or his upcoming Eurasian Union. As I have mentioned before, Vladimir Putin wants to minimize the influence of the USA and European Union around the world, and especially near Russia.
He wants to dethrone the USA dollar as the world's reserve currency. He wants an alliance with China, India, and others to dominate the Eurasian portion of the world. And those are all based upon his public statements. He also probably wants world domination.
Vladimir Putin will make whatever moves he feels he needs to in order to accomplish his objectives. Yet, he will avoid conflict with the West when he feels he should as he realizes that he needs economic and other benefits from trade to accomplish his objectives.  But he also will use force and the also the threat of force for his objectives.
Many of his objectives will be accomplished according to biblical prophecy. The USA dollar will be dethroned, the USA will have its international influence eliminated (though this will come more from the final European Beast power than from Russia), a type of end time Eurasian power will rise up and destroy much of the end time European Babylonian power (Jeremiah 51:11-32).
But this will not be good for Russia or the rest of the world. Yet, many of Vladimir Putin's objectives will come to pass in ways neither he nor others not well versed in biblical prophecy will realize.
Notice also the following news item
April 17, 2014

With Ukraine struggling to contain a pro-Russian uprising in its eastern region bordering Russia, the Obama administration is readying additional sanctions against Moscow and a boost in aid for the Ukrainian military in the coming days, U.S. officials said Wednesday … The U.S. military aid was expected to stop short of body armor and other equipment for Ukraine's troops. Additionally, the Obama administration is reluctant to send weapons and ammunition, as Kiev has requested, amid fears that lethal supplies would be seen as an escalatory step by the U.S. and trigger a more aggressive response from the estimated 40,000 Russian forces massed on its border with Ukraine…

In Brussels, NATO chief Anders Fogh Rasmussen said the military alliance would increase its presence in Eastern Europe, including flying more sorties over the Baltic region west of Ukraine and deploying allied warships to the Baltic Sea and the eastern Mediterranean. NATO's supreme commander in Europe, U.S. Air Force Gen. Philip Breedlove, told reporters that ground forces also could be involved at some point, but gave no details.

So far, the military movements and two initial rounds of sanctions against Russians and Ukrainians accused by the West of stirring up the unrest have done little to ease tensions. http://www.onlinesentinel.com/news/UKraine__U_S__to_team_up_to_placate__threaten_Russia_.html
Russia is starting to accelerate the awaking of the military power that will emerge in Europe.  Few have focuses on that, but since Bible prophecy warns of a militaristic power arising in Europe (Revelation 13:4; Daniel 11:30-43), this will happen.
The events with Ukraine, Russia, and the US's limited involvement are likely to be factors in getting more in Europe to support additional military development.  The situation in Ukraine is that serious.
Some items of possibly related interest may include:
The Eurasian Union, the Kings of the East, and Bible Prophecy Is there a Eurasian union that will be formed? Is one being formed right now? Are any leaders working on that in the 21st century? Does the Bible teach that there will be a Eurasian union? If some type of Eurasian union is formed, who might it benefit and who will it destroy? A related video would be Is The Eurasian Union Rising?
Is Russia the King of the North? Some claim it is. But what does the Bible teach? Here is a link to a video, also titled Is Russia the King of the North?
Russia and Ukraine: Their Origins and Prophesied Future Where do the Russians come from? What about those in the Ukraine? What is prophesied for Russia and its allies? What will they do to the Europeans that supported the Beast in the end?
Ukraine in Prophecy? What is happening in Ukraine? What is known and what is unsure about its future? What is the origin of those who live in Ukraine? What does the Bible teach about the role of the Medes in the end times? Will Ukraine split? Why might part of Ukraine end up in the European Union? Why might part of Ukraine end up in the Eurasian Union? Is war in the prophesied future for Ukraine? What is the ultimate destiny for nearly all Ukrainians?
Europa, the Beast, and Revelation Where did Europe get its name? What might Europe have to do with the Book of Revelation? What about "the Beast"? Is an emerging European power "the daughter of Babylon"? What is ahead for Europe? Here is a link to a video titled: Can You Prove that the Beast to Come is European?
European Technology and the Beast of Revelation Will the coming European Beast power would use and develop technology that will result in the taking over of the USA and its Anglo-Saxon allies? Is this possible? What does the Bible teach?
When Will the Great Tribulation Begin? 2014, 2015, or 2016? Can the Great Tribulation begin today? What happens before the Great Tribulation in the "beginning of sorrows"? What happens in the Great Tribulation and the Day of the Lord? Is this the time of the Gentiles? When is the earliest that the Great Tribulation can begin? What is the Day of the Lord? Who are the 144,000? Here is a version of the article in the Spanish language: ¿Puede comenzar la Gran Tribulación en 2013 o 2014? ¿Es el Tiempo de los Gentiles? You can also see the English language sermon video: The Great Tribulation from the Mount of Olives.
Blood Moons and Prophecy There are four 'blood moons' expected in 2014 and 2015. Do they signal the Day of the Lord or the return of Jesus Christ? A related YouTube video is also available: Blood Moons, Prophecy, 2014, and 2015.
Barack Obama, Prophecy, and the Destruction of the United States-Second Edition for Second Obama Term This is a 160 page book for people truly interested in prophecies related to Barack Obama and the United States, including learning about many that have already been fulfilled (which the book documents in detail) and those that will be fulfilled in the future. It also has a chapter about a Republican choice. This book is available to order at www.barackobamaprophecy.com. The physical book can also be purchased at Amazon from the following link: Barack Obama, Prophecy, and the Destruction of the United States: Is Barack Obama Fulfilling Biblical, Islamic Catholic, Kenyan, and other America-Related Prophecies? What About Republican Leaders? Second Edition for Second Obama Term.
Barack Obama, Prophecy, and the Destruction of the United States-Second Term-Amazon Kindle edition. This electronic version is available for only US$2.99. And you do not need an actual Kindle device to read it. Why? Amazon will allow you to download it to almost any device: Please click HERE to download one of Amazon s Free Reader Apps. After you go to for your free Kindle reader and then go to Barack Obama, Prophecy, and the Destruction of the United States-Second Term-Amazon Kindle edition.