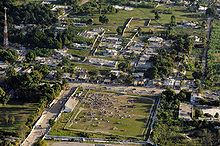 Earthquake Damage in Port-au-Prince, Haiti

In its weekly prophetic update that came out today, the Living Church of God had the following about the situation in Haiti:
New plague for Haiti.

As if the devastating January earthquake was not enough, displaced Haitian families living in tent cities now face a new threat–cholera–a disease that kills within 24-48 hours of contact if not aggressively treated with rehydration therapy. As of Thursday, more than 4,000 Haitians had been treated for cholera–a disease not seen in Haiti in 50 years. Two hundred ninety people have died from the disease and another 174 cases are suspected in hospitalized victims.The current outbreak is centered about an hour from the capital of Port-au-Prince. More than a million homeless people are living in camps in and around the capital. Public health officials fear that spread of the disease into these camps could create an epidemic, and that the disease could become

endemic

in Haiti–remaining for a very long time.

One aid worker in Haiti has observed, "There's so much stagnant pools of water, it's rainy season here at the moment, families are living on top of each other, with rubbish everywhere. It's spread so fast, this disease." Cholera spreads through contaminated water supplies, poor sanitation, and poor hygiene–a situation that is rampant in the vast, dirty, densely populated tent cities of refugees (Sky News online, October 28, 2010).

When Jesus was asked by His disciples about signs of the end of the age, He said that besides "earthquakes in various places," there would be an obvious rise in pestilences or disease outbreaks (Matthew 24:7). These and other devastating events will be just the "beginning" of sorrows (v. 8). We need to pray fervently for ALL those made in God's image around the globe, yet also realize that the tragic events we are witnessing with increasing frequency MUST come to pass before Jesus returns.
Here is another report related to Haiti that also came out today:
LCG had the following information in its prophetic update concerning Indonesia:
Double disasters in Indonesia.

This week a deadly tsunami and volcanic eruptions struck different parts of Indonesia within a 24-hour period. So far, more than 300 people have been killed, hundreds are missing and more than 40,000 people have been displaced.The ten foot high tsunami, generated by an undersea 7.7 magnitude earthquake, smashed into coastal villages in the Mentawai Islands off western Sumatra. The volcanic eruptions occurred in central Java at Mount Merapi–Indonesia's most active volcano. Rescue crews are still searching for survivors (

Straights Times,

October 28, 2010). These disasters occurred along a major fault line referred to as the Pacific "Ring of Fire."

In light of this deadly geologic activity, it should be noted that Jesus Christ predicted that "earthquakes in various places" would be one of the signs of the approaching end of the age (Matthew 24:7). Events like this should motivate all Christians to pray more fervently, "Thy kingdom come" (Matthew 6:10, KJV)!
The following news reports about Indonesia also came out today:
The death toll from Indonesia's Mt. Merapi doubled Friday when rescue workers uncovered more than 50 victims who had succumbed to the latest blast of superheated gas from a fierce eruption that began late Thursday night. The eruption burned villages up to nine miles away from the volcano's crater and forced authorities to widen the evacuation zone.

The volatile volcano has killed more than 100 people and left nearly 90,000 in need of shelter since it first began erupting 10 days ago.

Shelters closer than 12 miles to the summit have been relocated and many evacuees were forced to move for a second time in two days. On Friday afternoon, President Susilo Bambang Yudhoyono declared the eruption a national disaster and tasked the country's disaster management agency with overseeing relief operations.

Read more: http://www.csmonitor.com/World/Asia-Pacific/2010/1105/New-Mt.-Merapi-eruption-in-Indonesia-raises-death-toll-into-triple-digits

MOUNT MERAPI, Indonesia (AP) — A surge of searing gas raced down the sides of Mount Merapi on Friday, smothering houses, cattle and villagers in its path. The death toll after the volcano's largest eruption in a century soared to 122.

The worst hit village of Bronggang lay nine miles (15 kilometers) from the fiery crater, just on the perimeter of the government-delineated "danger zone."  http://www.google.com/hostednews/ap/article/ALeqM5hsRIJSh-3KmHxpRWIhAi82eyhkGw?docId=d373df8ed59142ebabbb850b2ed44a6a
Both island nations have been having very tough times.
More disasters are biblically expected.
Yet, the Bible also tells of a time when these problems will be gone.
For more information, please see the following articles:
Islands and Bible Prophecy What's ahead for islands? What does the Bible prophesy about them?  Is there a major earthquake prophesied?
Did The Early Church Teach Millenarianism? Was the millennium (sometimes called chiliasm) taught by early Christians? Who condemned it. Will Jesus literally reign for 1000 years on the earth? Is this time near?