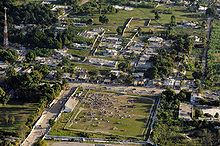 Earthquake Damage in Port-au-Prince
Haiti was struck by what seems to have been a 6.1 earthquake this morning:
Aftershock Strikes Unstable Haiti, Shaking Buildings

(Jan. 20) — A 6.1-magnitude aftershock rattled Haiti early Wednesday morning, shaking already-unstable buildings and sparking panic among the many homeless survivors of last week's devastating quake.  http://www.sphere.com/2010/01/20/aftershock-rattles-unstable-haiti/19323804/?icid=main|htmlws-main-n|dl1|link3|http%3A%2F%2Fwww.sphere.com%2F2010%2F01%2F20%2Faftershock-rattles-unstable-haiti%2F19323804%2F
Haiti has had many problems, and it appears that they may have once again increased.
Followers of biblical prophecy realize that earthquakes are one of the signs that are associated with what Jesus referred to as "the beginning of sorrows".  My prayers remain with those in Haiti.
Two articles of possibly related interest may include:
Does God Have a 6,000 Year Plan? What Year Does the 6,000 Years End? Was a 6000 year time allowed for humans to rule followed by a literal thousand year reign of Christ on Earth taught by the early Christians? When does the six thousand years of human rule end?
Can the Great Tribulation Begin in 2010, 2011, or 2012? Can the Great Tribulation begin today? When is the earliest that the Great Tribulation can begin? What is the Day of the Lord? What is "the beginning of sorrows"?  Have we begun or are we about ready for "the beginning of sorrows" to begin.