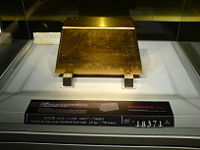 220 kg Gold brick displayed in Taiwan
For a long time, Haiti has essentially been the economic basket-case in the Western Hemisphere.  But with a discovery of substantial amounts of gold, this may change:
Its capital is blighted with earthquake rubble. Its countryside is shorn of trees, chopped down for fuel. And yet, Haiti's land may hold the key to relieving centuries of poverty, disaster and disease: There is gold hidden in its hills — and silver and copper, too.A flurry of exploratory drilling in the past year has found precious metals worth potentially $20 billion deep below the tropical ridges in the country's northeastern mountains. Now, a mining company is drilling around the clock to determine how to get those metals out.

In neighboring Dominican Republic, workers are poised to start mining the other side of this seam later this year in one of the world's largest gold deposits: 23 million ounces worth about $40 billion.

The Haitian government's annual budget is $1 billion, more than half provided by foreign assistance. The largest single source of foreign investment, $2 billion, came from Haitians working abroad last year.  http://today.msnbc.msn.com/id/47398045/ns/world_news-americas/#.T6_B78X3OBs

"If the mining companies are honest and if Haiti has a good government, then here is a way for this country to move forward," said Bureau of Mines Director Dieuseul Anglade.

"The gold in the mountains belongs to the people of Haiti," he said. "And they need it."

Haiti's geological vulnerability is also its promise. Massive tectonic plates squeeze the island with horrifying consequences, but deep cracks between them form convenient veins for gold, silver and copper pushed up from the hot innards of the planet. Prospectors from California to Chile know earthquake faults often have, quite literally, a golden lining.

Until now, few Haitians have known about this buried treasure. Mining camps are unmarked, and the work is being done miles up dirt roads near remote villages. But U.S. and Canadian investors have spent more than $30 million in recent years on everything from exploratory drilling to camps for workers, new roads, offices and laboratory studies of samples. Actual mining could be under way in five years.  http://www.newsday.com/news/world/haiti-may-sit-on-billions-in-precious-metals-1.3714948
If handled properly, this is fantastic news for Haiti, as well as the Dominican Republic.  The fact that Haiti's devastating earthquake apparently pushed the gold to a point where it was found is also interesting news.  Gold can be a major economic benefit.
Interestingly, the Bible is clear that until at least the first couple of years of the Great Tribulation, that gold will be valuable.  Notice the following end time prophetic scriptures:
40 "At the time of the end…43 He shall have power over the treasures of gold and silver (Daniel 11:40,43)

16…'Alas, alas, that great city that was clothed in fine linen, purple, and scarlet, and adorned with gold and precious stones and pearls! (Revelation 18:16)

4 The woman was arrayed in purple and scarlet, and adorned with gold and precious stones and pearls (Revelation 17:4)
Anyway, having been hit the devastating earthquake in 2010, combined with the fact that its economy has been bad for decades, finding gold in Haiti should help lift that nation up if this new found wealth is handled properly.
This find should help those of Haiti, hopefully including, for one example, the members of the Living Church of God that live there.  And this should help those in the Dominican Republic (I have read reports that COGWA and/or UCG has members, at least prospective ones, there).
Of course, gold and an improved economy will not save humanity, only Jesus can do that.  But lifting the nation of Haiti out of its severe economic hardship should be a blessing for many people.  And, this should also help its neighbor, the Dominican Republic, which is also not a wealthy country (though, economically, historically, stronger than Haiti).
For additional information, check out the following articles:
The Plain Truth About Gold in Prophecy. How Should a Christian View Gold? What do economists and the Bible teach about gold? Gold and silver may drop in value. Inflation/deflation? What do Christians need to know about gold?
Are You Saved? Do You Love Jesus? What is a True Christian? What is the Gospel? Evangelist Richard Ames answers those important questions.
Can the Great Tribulation Begin in 2012, 2013, or 2014? Can the Great Tribulation begin today? What happens before the Great Tribulation in the "beginning of sorrows"? What happens in the Great Tribulation and the Day of the Lord? When is the earliest that the Great Tribulation can begin? What is the Day of the Lord?
Earthquakes Today and Bible Prophecy Contains a cool up-to-the-hour update of earthquakes around the world from USGS. It also explains what did Jesus teach about earthquakes and how the Bible describes "the big one" (as well as when it is expected).
Mexico, Central America, South America, Brazil, and the Caribbean in Prophecy [Español: México, America Central, Suramérica, y el Brasil en profecíal] [Português: México, América Central, Ámérica do Sul, e Brasil na profecia] What will happen to those of Latin America? Will they have prosperity? Will they cooperate with Europe? Will they suffer in the future? What role might the various Caribbean nations/territories play?
Islands and Bible Prophecy What's ahead for islands? What does the Bible prophesy about them?