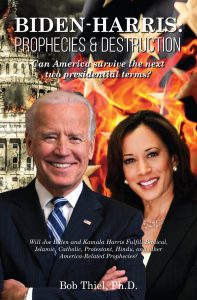 Michael Snyder posted the following:
If You Believe Life Will "Return To Normal", You Have A Fundamental Misunderstanding Of The Times In Which We Live

Despite all of the craziness that is going on out there, many pundits are trying to convince us that life will soon "return to normal" and that great days are just around the corner. … This isn't a period of time when America is going to "build back better".  Rather, this is a time when America is going to go even deeper into "the perfect storm".
One of the reasons why so many on the left are feeling optimistic right now is because the COVID pandemic appears to be subsiding…
Of course many experts are far more concerned about the new COVID variants that have emerged in Brazil and South Africa. Both of those variants have now made it to the U.S., and we already know that the current vaccines don't work very well against the South African variant.
Meanwhile, the U.S. economy continues to crumble right in front of our eyes. …
Unemployment claims have been at catastrophic levels for nearly a year, and now they are starting to surge higher once again.

We also just learned that a whopping 92 percent of all restaurants in New York City "could not afford to pay their rent in December"…

92 percent!

That isn't what a "recession" looks like.

The truth is that we are in an economic depression, and there is no end in sight.

At the same time, communities all over the U.S. continue to be plagued by civil unrest and crime. …

Just look at what just took place in Texas. A single wave of cold weather plunged the state into a nightmare scenario.

If cold weather can cause this much chaos in Texas, what would a much more severe long-term emergency mean for our entire nation?

The events of the past week should be a wake up call for all of us, because the road ahead is certainly not going to get any easier. 02/19/21 http://endoftheamericandream.com/if-you-believe-life-will-return-to-normal-you-have-a-fundamental-misunderstanding-of-the-times-in-which-we-live/
Related to COVID and returning to normal, we made the following video:
US President Joe Biden said on 2/19/21 that the USA may NOT "return to normal" in 2021 because of vaccine and mutation issues. Is there another approach? Would it make sense to improve nutrition to strengthen the immune system and to help people with COVID-19? What about zinc, selenium, vitamin C, and vitamin D? What about avoiding unclean meats? What about eating more fruits and vegetables and items such as pumpkin seeds and Brazil nuts? What about eating bovine glandulars? What about herbs? Could fasting help? What about exercise and sunlight? What about masks, lockdowns, junk food, obesity, and weight gain? Dr. Thiel, who possesses a US regionally accredited PhD. in nutrition science from the Union Institute and University, a Master of Science degree from the University of Southern California, and a natural scientist license from the State of Alabama, explains why people may wish to consider approaches for their immune system. He also goes over scriptures related to worse pandemics coming (associated with the ride of the fourth horseman of the Apocalypse–Revelation 6:7-8), and the fact that the Bible teaches to "eat what is good" (Isaiah 55:2).
Here is a link to our video: COVID-19: Eat what is good!
As far as a so-called "perfect storm" goes, notice something from my book Biden-Harris: Prophecies and Destruction:
Like many politicians, Joe Biden and Kamala Harris, do not meet the following leadership criteria:

21 Moreover you shall select from all the people able men, such as fear God, men of truth, hating covetousness; (Exodus 18:19)

3 The God of Israel said, The Rock of Israel spoke to me: 'He who rules over men must be just, Ruling in the fear of God. (2 Samuel 23:3)

This does not bode well for the U.S.A.

Furthermore, the Bible warns against the type of moral decline that is occurring in the U.S.A.:

12 Therefore thus says the Holy One of Israel:  "Because you despise this word, And trust in oppression and perversity, And rely on them,  13 Therefore this iniquity shall be to you Like a breach ready to fall, A bulge in a high wall, Whose breaking comes suddenly, in an instant. (Isaiah 30:12-13)

But how can this happen to the U.S.A.?  It will likely happen with a combination of events. Notice:

5 "Moreover the multitude of your foes Shall be like fine dust, And the multitude of the terrible ones Like chaff that passes away; Yes, it shall be in an instant, suddenly. 6 You will be punished by the Lord of hosts with thunder and earthquake and great noise, With storm and tempest and the flame of devouring fire. (Isaiah 29:5-6)

The debt situation of the U.S.A. is putting it at risk of being unable to recover should it be hit by weather problems, terrorist acts, war, riots, solar flares, severe earthquakes, civil unrest, devastation of their genetically-modified food supplies, food shortages, and/or various pestilences–an intensity of "sorrows" such as Jesus discussed in Matthew 24:4-8 leading up to the time of the Great Tribulation. Political issues, climate change, trade policies, communication's deals, and other events are pushing the U.S.A. to a position that will encourage its takeover someday. Disasters, especially if there is an ElectroMagnetic Pulse (EMP) attack, a severe solar flare storm, devastating hurricane (s) something like a massive volcanic eruption and/or massive earthquake could be part of a so-called "perfect storm" of events that could set up the U.S.A. for destruction.

Consider the devastation of New Orleans by Hurricane Katrina. Multiply that by other disasters. The U.S.A. is at risk. Notice, also, the following related to Dr. Michio Kaku's assessment of Yellowstone:

Scientists assure us that one day the absolutely massive Yellowstone supervolcano will once again experience a Category 8 eruption, and if it happened today it would "literally tear the guts out of the United States of America" … "Instead of having 50 states of the Union, we would have 30 states of the Union." (Snyder M. As Yellowstone Awakens, Dr. Michio Kaku Warns That It Could "Literally Tear The Guts Out Of The United States Of America". Economic Collapse Blog, February 2019)

A 'perfect storm' of disasters, internal strife, and misplaced confidences will make the U.S.A. a nation that can be defeated.

Many sorrows that the U.S.A. will face, like severe weather problems, diseases and earthquakes, will happen in the future, irrespective of who is in the White House (Amos 4:7-10; Luke 21:11). Joe Biden and Kamala Harris look to hasten the day of destruction. (Thiel B. Biden-Harris: Prophecies and Destruction. Nazarene Books, January 2021)
While we are not to that point yet, there are prophecies that point to the USA being gone by 2028. Related to that, we put out the following video:
Are there prophetic reasons to believe that the USA will not last two complete presidential terms? Yes. There is a tradition attributed to the Hebrew prophet Elijah that humanity had 6,000 years to live before being replaced by God's Kingdom. There are scriptures, writings in the Talmud, early Christian teachings that support this. Also, even certain Hindu writings support it.

Here is a summary of ten items to consider:

1. If as the School of Elijah taught, that God inspired Elijah to state that the world as we have known it would last 6,000 years, to be followed by a thousand year sabbatical time, which Jewish tradition (Talmud, Tractate Sanhedrin [97a]) and early Christian traditions records (e.g. Irenaeus, a hearer of Polycarp. Adversus haereses, Book V, Chapter 30:4), then we are getting close to the end of that time.

2. And if, consistent with scriptures in both the Old and New Testaments, we can apply the concept that a thousand years is as a day to God (Psalm 90:4; 2 Peter 3:8).

3. And if, as generally understood in the Church of God that Jesus was killed and resurrected no later than the Spring of 31 A.D. on Passover.

4. And if we can presume that the "last days" of a 7,000 year prophetic week began AFTER the middle day (day 4), then the last days prior to the "sabbatical" time which some would refer to as the millennial Kingdom of God, would last two thousand years.

5. And if when Peter referred to being in the last days (Acts 2:17-18) and since Hebrews 1:1-12 teaches that "God … has in these last days spoken to us by His Son."

6. Then adding 2,000 years to a period of time leads to the end of the 6,000 years no later than 2031 (and it could be earlier than that).

7. Since the Great Tribulation is expected to start 3 1/2 years prior to that (cf. Revelation 12:14; 13:5) subtracting 3 1/2 years from the Spring of 2031 would be late in 2027.

8. Understand that the U.S.A. is prophesied to be taken over near the rise of the Beast and start of the Great Tribulation (cf. Daniel 11:39; Jeremiah 30:7; Matthew 24:21-22).

9. Therefore, since the end of two full U.S.A. presidential terms would end in January of 2029, these prophetic understandings point to the end of the U.S.A. prior to two full presidential terms.

10. This is also consistent with certain Hindu and Roman Catholic prophetic writings as well. This video gives more details and quotes which point to the destruction of the United States of America by 2028.
Here is a link to the video: Is the USA prophesied to be destroyed by 2028?
One thing that Michael Snyder did not mention had to do with immoral political moves, such as abortion funding and the LGBTQ+ agenda, which will end in destruction per Habakkuk 2:6-8 and Romans 1:18-32 respectively.
Speaking of pushing immorality, notice something else from my book Biden-Harris: Prophecies and Destruction:
Here is what the Biden-Harris Administration's top priority is:

The Equality Act is the best vehicle for ensuring equal rights under the law for LGBTQ+ Americans, and will guarantee that LGBTQ+ individuals are protected under existing civil rights laws. Biden will make enactment of the Equality Act during his first 100 days as President a top legislative priority. Biden will also direct his Cabinet to ensure immediate and full enforcement of the Equality Act across all federal departments and agencies. … End the misuse of broad exemptions to discriminate. Religious freedom is a fundamental American value. But states have inappropriately used broad exemptions to allow businesses, medical providers, social service agencies, state and local government officials, and others to discriminate against LGBTQ+ people. Guaranteeing transgender students have access to facilities based on their gender identity… Biden will reverse Trump's policies misusing these broad exemptions and fight so that no one is turned away from a business or refused service by a government official just because of who they are or who they love. [The Biden Plan to Advance LGBTQ+ Equality in America and Around the World. JoeBiden.com accessed 10/16/20]

The above is a concern to many people who believe that they will be discriminated against if they hold to various religious and/or biblical beliefs on sexuality. Claiming religious freedom is "a fundamental American value" (which is clearly stated in the U.S. Constitution) while at the same time saying it must be not allowed for certain matters is wrong, insincere, and hypocritical.

The Bible, KJV translation, predicts the end of "an hypocritical nation" (Isaiah 10:5-11).

That being said, despite the Biden-Harris priorities and what has so far happened with matters like COVID-19, I can state with biblical assurance that the time that the Bible calls the "Great Tribulation" (Matthew 24:21) will NOT begin until sometime after the first presidential term of Joe Biden ends.

However, the end of the 6,000 years God has granted humanity to rule itself will likely be over within the next decade or so (some details are in Chapter 6 and a more  detailed discussion of this is in an article at the website www.cogwriter.com). Thus, simply by the virtue of timing, Joe Biden is destined to take steps that ultimately will aid in the fulfillment of end-time biblical prophecies. Furthermore, several of the stated policies for the Biden-Harris Administration have biblical ramifications.

For example, as president, Joe Biden will have to deal with the fact that the U.S.A. is the most indebted nation in the history of humanity. Plus, he has pledged increasing it further. (Thiel B. Biden-Harris: Prophecies and Destruction. Nazarene Books, January 2021)
Here is what Joe Biden officially released last Friday about the 'Equality Act':
I applaud Congressman David Cicilline and the entire Congressional Equality Caucus for introducing the Equality Act in the House of Representatives yesterday, and I urge Congress to swiftly pass this historic legislation. Every person should be treated with dignity and respect, and this bill represents a critical step toward ensuring that America lives up to our foundational values of equality and freedom for all.

Full equality has been denied to LGBTQ+ Americans and their families for far too long. Despite the extraordinary progress the LGBTQ+ community has made to secure their basic civil rights, discrimination is still rampant in many areas of our society. The Equality Act provides long overdue federal civil rights protections on the basis of sexual orientation and gender identity, locking in critical safeguards in our housing, education, public services, and lending systems — and codifying the courage and resilience of the LGBTQ+ movement into enduring law.

On my first day in office, I was proud to sign an Executive Order on Preventing and Combating Discrimination on the Basis of Gender Identity or Sexual Orientation. I directed agencies to implement the Supreme Court's Bostock ruling, and fully enforce Title VII of the Civil Rights Act of 1964 and other laws that prohibit discrimination on the basis of gender identity or sexual orientation. Now, it's time for Congress to secure these protections once and for all by passing the Equality Act — because no one should ever face discrimination or live in fear because of who they are or whom they love. https://www.whitehouse.gov/briefing-room/statements-releases/2021/02/19/statement-by-president-joseph-r-biden-jr-on-the-introduction-of-the-equality-act-in-congress/
As far as "whom they love" goes, the Bible clearly condemns sexual sins (and many as abominable–e.g. Deuteronomy 22:5; Leviticus 20:13)–which is something the Biden-Harris Administration should do, but instead promotes as "moral." Related to that we put out the following video:
he Biden-Harris Administration has issues memorandums in order to provide funding and other support for abortions and the LGBTQI+ agenda in the USA and around the world. This funding will also increase USA debt–this is in addition to something that Kamala Harris also did when she voted to add an additional $1.9 trillion in debt. The Biden-Harris Administration wants to punish foreign nations not onboard with its LGBTQI+ policies. Joe Biden said his Administration was doing this to help repair the USA's "moral leadership" internationally. Is this promotion of immoral sins going to lead to destruction of the USA, perhaps by 2028? Can the strongest military in the world be taken over? Is the USA prophesied to repent or be take over if it does not repent? Dr. Thiel covers these topics and reveals biblical answers to these questions.
Here is a link to our video: USA pushing (im)'moral leadership'?
Here is a report about Joe Biden and the 'Equality Act':
Joe Biden's 'War on Women': Equality Act to End Legal Recognition of Biological Sex

February 19, 2021

President Joe Biden released a statement Friday urging Congress to "swiftly pass" the Equality Act, a bill that would eliminate the legal recognition of male and female sex, cater to gender ideology, and designate protection for the unborn as "pregnancy" discrimination.

The House is expected to vote on the Equality Act, H.R. 5, next week. The legislation, which would rewrite civil rights law to include "sexual orientation and gender identity" as protected classes, would likely upend the national culture as Americans have known it.

"The so-called Equality Act is legislative malpractice that turns equality on its head," said Ryan Anderson, president of Ethics & Public Policy Center (EPPC), in a statement. "It isn't drafted as a shield to protect vulnerable minorities from unjust discrimination, but as a sword to persecute those who do not embrace new sexual and gender ideologies."

Anderson underscored the tremendous impact the legislation will have on the privacy of women and girls, as well as the punitive consequences to which faith-based institutions and organizations will be exposed at its hands:

It sacrifices the equality, safety, and privacy of women, while privileging men who identify as women: If this bill becomes law, they'd have a civil right to spend the night in a battered women's shelter, disrobe in a women's locker room, and compete on a women's sports team—even children at K-12 public schools.

Religious institutions fare no better. Religious schools, adoption agencies, and other charities would face federal sanction for operating according to basic biology and mainstream Biblical teaching on sex and marriage. Outrageously, this act exempts itself from the Religious Freedom Restoration Act. Pope Francis would be treated as the legal equivalent of a Jim Crow segregationist.

Anderson noted that any questioning of transgender medical treatments and surgeries would be labeled "discrimination" if the Equality Act becomes law.

"And any refusal to support or provide abortions would now be treated as 'pregnancy' discrimination," he continued. "And no one—not even the act's sponsors—can tell us what would be required under the act to avoid committing 'discrimination' in the case of 'non-binary' gender identities."

A new study that examined students who claim to have gender identity issues found that, compared with 45% of students who are comfortable with their biological sex, 78% of gender-disturbed students met the criteria for at least one mental health problem. https://t.co/VzNAYJFNs5

— Breitbart News (@BreitbartNews) August 24, 2019

Terry Schilling, executive director of American Principles Project (APP), explained further the Equality Act will make permanent in federal law Biden's executive order on his first day as president regarding "Discrimination on the Basis of Gender Identity or Sexual Orientation." …

"Every member of Congress should recognize that a vote for the 'Equality' Act is a vote against women, particularly women and girl athletes, as well as a vote against Americans of faith."

Read APP's statement on the Equality Act herehttps://t.co/UdIdJEsizH

— American Principles 🇺🇸 (@approject) February 19, 2021

EPPC Fellow Mary Rice Hasson commented on the far-reaching consequences of passage of the Equality Act, warning the measure would extend the "federal octopus" into "almost every aspect of Americans' lives, imposing 'gender identity' requirements that effectively snuff out the sex-based rights of females, endanger parental rights, and silence religious believers in the public square."

Hasson continued:

Make no mistake, if the Equality Act becomes law, children in every public school in America will be sold on a cult concept of the human person—that "who we are" is self-defined by feelings, regardless of biological sex. Female students will be forced into silence—or required to celebrate—when yesterday's male classmate announces he "identifies" as a "girl" and demands to shower in the girls' locker room, compete against her in sports, and claim for himself the hard-won rights of women.

"The Equality Act is nothing short of a Pandora's Box which, once opened, will unleash damaging consequences impossible to undo," she warned. https://www.breitbart.com/politics/2021/02/19/jjoe-bidens-war-on-women-equality-act-to-end-legal-recognition-of-biological-sex/
Yes, what Congress may do this week is horrible. It also did some things last month which were not good as the following video points out:
The 117th US Congress had an opening prayer by Protestant pastor and Missouri Democratic representative Emanuel Cleaver in which he prayed to the Hindu deity Brahma and ended with the words amen and a-woman. Does "amen" have to do with gender? The next day the US House of Representatives adopted a proposal forbidding the use of gendered terms in rules documents. The changes mean that the rules document will use language such as "parent," "child," and "sibling" instead of "mother," "father," "son," daughter," "brother," and "sister." It will also replace "chairman" with "chair," "seamen" with "seafarers," and "himself" and "herself" with "themself." Some Democrats, such as Tulsi Gabbard have objected to this as hypocritical, against science, and against truth. The Bible itself uses a lot of "gendered language." It also teaches woes to "those who call evil good, and good evil; who put darkness for light, and light for darkness" (Isaiah 5:20). The direction that the USA is going is consistent with the view that the USA will not last two full presidential terms. Dr. Thiel goes over several scriptures to point out the errors of some of the word positions of the 117th US Congress.

Here is a link to the video: 117th US Congress and Gendered Words.
The type of new normal that the USA is heading for is not good.
Yes, the days of the USA are numbered–the USA may well no longer exist as a nation before the end of 2027. For prophesies related to that, check out the video: Is the USA prophesied to be destroyed by 2028?
Regarding the end times, Jesus warned:
12 And because lawlessness will abound, the love of many will grow cold. (Matthew 24:12)
Yes, lawlessness and hypocrisy is abounding without real love.
After warning about lawlessness and the love of many growing cold, Jesus said:
13 But he who endures to the end shall be saved. 14 And this gospel of the kingdom will be preached in all the world as a witness to all the nations, and then the end will come. (Matthew 24:13-14)
So, faithful Philadelphian Christians need to endure to the end (cf. Revelation 3:7-13).
Furthermore since, "this gospel of the kingdom will be preached in all the world as a witness to all the nations," before the end comes, consider also something that the Apostle Paul wrote:
14 How … shall they hear without a preacher? 15 And how shall they preach unless they are sent? As it is written:

"How beautiful are the feet of those who preach the gospel of peace, Who bring glad tidings of good things! (Romans 10:14-15)
Yes, Christians need to support the work of preaching the gospel to the world as a witness.
The truly faithful understand that and will not mainly be focused on themselves, but supporting the preaching of the gospel to the world as a witness.
That is needed before the end comes. See also the article: Should the Church Still Try to Place its Top Priority on Proclaiming the Gospel or Did Herbert W. Armstrong Change that Priority for the Work?
If you think that God will take care of it without your help, you are right.
Jesus said:
42 … Who then is that faithful and wise steward, whom his master will make ruler over his household, to give them their portion of food in due season? 43 Blessed is that servant whom his master will find so doing when he comes. 44 Truly, I say to you that he will make him ruler over all that he has. (Luke 12:42-44)
While that does include providing physical food for the poor, it is actually a parable about supporting the work of God which involves getting spiritual food to the world.
Some who claim to be Church of God Christians think that the two witnesses are the ones to fulfill Matthew 24:14 and other aspects of the work. And while the two witnesses have a job to do, their 3 1/2 years begins shortly AFTER Matthew 24:14 is fulfilled.
Hence it IS NOT the two witnesses that do that, but the Philadelphian Christians, those whose work Jesus praises in Revelation 3:7-13 that are supporting that work.
God does not need your help for Matthew 24:14 to be fulfilled, but to develop the right type of loving character, you do need to support it–unless you prefer to be Laodicean (cf. Revelation 3:14-18).
But if you think that not supporting it because you have other issues, worries, or priorities is acceptable in God's eyes, you are wrong (cf. Matthew 25:24-30; Revelation 3:14-18).
Consider also the following from the Apostle Paul:
11 And do this, knowing the time, that now it is high time to awake out of sleep; for now our salvation is nearer than when we first believed. 12 The night is far spent, the day is at hand. Therefore let us cast off the works of darkness, and let us put on the armor of light. (Romans 13:11-12)
The USA and the world is changing–and not for the better.
The type of 'normal' its leadership wants to implement will end in destruction.
Do not think you can wait to the last minute to do what needs to be done.
The prophet Zephaniah warned:
1 Gather yourselves together, yes, gather together,
O undesirable nation,
2 Before the decree is issued,
Or the day passes like chaff,
Before the Lord's fierce anger comes upon you,
Before the day of the Lord's anger comes upon you!
3 Seek the Lord, all you meek of the earth,
Who have upheld His justice.
Seek righteousness, seek humility.
It may be that you will be hidden
In the day of the Lord's anger. (Zephaniah 2:1-3)
Will YOU heed those scriptures?
The time for you to take action is now.
See also the article:There is a Place of Safety for the Philadelphians. Why it May Be Near Petra and/or watch the video Zephaniah's 'Gather Together' Prophecy.
Can you see what is happening?
Some items of related interest may include the following:
Biden-Harris: Prophecies and Destruction Can the USA survive two full presidential terms? In what ways are Joe Biden and Kamala Harris apocalyptic? This book has hundreds of prophecies and scriptures to provide details. A Kindle version is also available and you do not need an actual Kindle device to read it. Why? Amazon will allow you to download it to almost any device: Please click HERE to download one of Amazon s Free Reader Apps. After you go to your free Kindle reader app (or if you already have one or a Kindle), you can go to: Biden-Harris: Prophecies and Destruction (Kindle) to get the book in seconds.
Might the U.S.A. Be Gone by 2028? Are there prophetic reasons to believe that the USA will not last two complete presidential terms? Yes. There is a tradition attributed to the Hebrew prophet Elijah that humanity had 6,000 years to live before being replaced by God's Kingdom. There are scriptures, writings in the Talmud, early Christian teachings that support this. Also, even certain Hindu writings support it. Here is a link to a related video: Is the USA prophesied to be destroyed by 2028?
Prayer: What Does the Bible Teach? This free booklet contains 28 biblically-based tips on improving the effectiveness of your prayers. This is a pdf. A related two part sermon is available: What Does the Bible Teach About Prayer? and What does the Bible Teach About Prayer (& Healing)?
Abortion, the Bible, and a Woman's Right to Choose Do you know what the Bible teaches on this? Has the Roman Catholic Church allowed abortions? What about the real Church of God? Some may wish to view the YouTube videos: Abortion and Birth Control: History and Scriptures. Abortion, the Bible, and US Debt, American Infanticide, Euthanasia: Mercy killing or murder?, and Land of 'Free' Abortions and Debt.
Cross-dressing and other assaults against your children. What should you do? Is there an agenda to turn your children and/or grandchildren away from biblical morality and towards practices promoted by homosexuals? What does the Bible teach about cross-dressing? What should parents do? If there is an agenda, what has been going on? There are also three YouTube videos related to this, titled Transgender 'Woe to those who call evil good' and Cross dressing and Other Assaults Against Your Children and USA pushing gender confusion.
The Bible Condemns Homosexuality "Same-sex marriage" for "gays" and lesbians is becoming more acceptable to many. What does the Bible teach about homosexuality and the LGBTQ agenda? Can homosexuals change? A related video sermon is titled: What Does the Bible Really Teach about Homosexuality? A short video is available titled: Gay Gene? Born That Way?
Pornography: A scourge on society Is pornography harmless fun? Does the Bible teach anything about it? What are the views of some involved with it? A related sermons is titled: Pornography, False Comfort, and False Religion. Here a shorter YouTube video Pornography: Harmless Fun or a Scourge on Society?
Does God Have a 6,000 Year Plan? What Year Does the 6,000 Years End? Was a 6000 year time allowed for humans to rule followed by a literal thousand year reign of Christ on Earth taught by the early Christians? Does God have 7,000 year plan? What year may the six thousand years of human rule end? When will Jesus return? 2028 or or 2031 or 20xx? There is also a video titled 6000 Years: When will God's Kingdom Come? Here is a link to the article in Spanish: ¿Tiene Dios un plan de 6,000 años?
The Great Tribulation: What Happens First? What events have happened? What are some events that are now happening? And what events need to happen for the Great Tribulation to start? Here is a link to a related sermon video: Counting Down to the Great Tribulation.
When Will the Great Tribulation Begin? 2021, 2022, or 2023? Can the Great Tribulation begin today? What happens before the Great Tribulation in the "beginning of sorrows"? What happens in the Great Tribulation and the Day of the Lord? Is this the time of the Gentiles? When is the earliest that the Great Tribulation can begin? What is the Day of the Lord? Who are the 144,000? Here is a version of the article in the Spanish language: ¿Puede la Gran Tribulación comenzar en el 2020 o 2021? ¿Es el Tiempo de los Gentiles? A related video is: 2021: The Great Tribulation or the Great Reset?
USA in Prophecy: The Strongest Fortresses Can you point to scriptures, like Daniel 11:39, that point to the USA in the 21st century? This article does. Two related sermon are available: Identifying the USA and its Destruction in Prophecy and Do these 7 prophesies point to the end of the USA?
Who is the King of the West? Why is there no Final End-Time King of the West in Bible Prophecy? Is the United States the King of the West? Here is a version in the Spanish language: ¿Quién es el Rey del Occidente? ¿Por qué no hay un Rey del Occidente en la profecía del tiempo del fin? A related sermon is also available: The Bible, the USA, and the King of the West.
Should the Church Still Try to Place its Top Priority on Proclaiming the Gospel or Did Herbert W. Armstrong Change that Priority for the Work? Some say the Church should mainly feed the flock now as that is what Herbert W. Armstrong reportedly said. Is that what he said? Is that what the Bible says? What did Paul and Herbert W. Armstrong expect from lower level leaders? Two related sermons are available The Work per HWA and the Bible and Priority of the Philadelphia Work.
Preparing for the 'Short Work' and The Famine of the Word What is the 'short work' of Romans 9:28? Who is preparing for it? Here is a link to a related video sermon titled: The Short Work.
There is a Place of Safety for the Philadelphians. Why it May Be Near Petra This article discusses a biblical 'place of safety,' Zephaniah 2 to 'gather together,' and includes quotes from the Bible and Herbert W. Armstrong on fleeing to a place–thus, there is a biblically supported alternative to the rapture theory. Two sermon-length videos of related interest are available Physical Protection During the Great Tribulation and Might Petra be the Place of Safety? Here is something related in the Spanish language: Hay un lugar de seguridad para los Filadelfinos. ¿Puede ser Petra?
The Gospel of the Kingdom of God This free online pdf booklet has answers many questions people have about the Gospel of the Kingdom of God and explains why it is the solution to the issues the world is facing. Here are links to three related sermons: The World's False Gospel, The Gospel of the Kingdom: From the New and Old Testaments, and The Kingdom of God is the Solution.