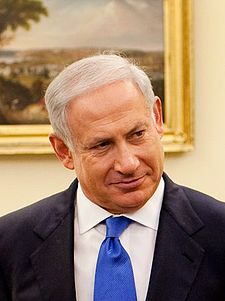 Israel's Prime Minister is warning against a US proposed plan to deal with Iran's nuclear intentions:
November 08, 2013
JERUSALEM — Israel's worst fears will be realized if a proposed deal by world powers goes ahead with Tehran, sharply curtailing Prime Minister Benjamin Netanyahu options in his campaign against Iran's contested nuclear program.

The possible accord might not only tie Israel's hand in any future military action against Iran, but it could also have an unexpected knock-on effect and stymie U.S.-brokered negotiations between Israel and the Palestinians.

In a bitter outburst, Netanyahu denounced on Friday the contours of an Iranian agreement leaked to the media, once again putting himself in direct conflict with Washington.

"This is a very bad deal and Israel utterly rejects it," Netanyahu said as he headed into his third round of talks in just 48 hours with U.S. Secretary of State John Kerry.

"Israel will do everything it needs to do to defend itself and to defend the security of its people," he told reporters.

Tellingly, Kerry did not appear in public with the Israeli leader on Friday and instead flew off in silence to Geneva to join talks between Iran and six world powers, including Russia, China and the European Union.

Despite his veiled threat, Netanyahu would find it almost impossible to launch an attack on Iran should it clinch an initial deal to relax tough economic sanctions in return for a partial pullback of its large nuclear program…
Many Western experts believe Iran is seeking to build an atomic bomb, something that Israel views as an existential threat. Iran says its nuclear program is for civilian needs.

"Worst nightmare"

Israel has long feared that world powers would not back its demand for a full dismantlement of Iran's enrichment facilities before any rollback of sanctions. It has argued that this approach is the only way to ensure Tehran never builds a bomb.

"Netanyahu's worst nightmare is about to come true," said Ehud Yaari, an Israel-based fellow at the Washington Institute for Near East Policy. "This is not just Netanyahu. This is the position of everyone in the Israeli security establishment."  http://www.voanews.com/content/furious-israel-confronts-us-rejects-proposed-iran-nuclear-deal/1786396.html
November 8, 2013
Israeli Prime Minister Benjamin Netanyahu's rejection of a potential agreement on Iran's nuclear program, which he denounced as a "very bad deal," threatens to ignite the most serious U.S.-Israel dispute in years…
"My sense is it's going to be a very, very tough sell to hold off" congressional action on additional sanctions, "especially with the Israelis and the Saudis just completely freaking out," said Dubowitz, who consults with the Obama administration and Congress on sanctions policy.

The Senate Banking Committee is preparing to discuss legislation imposing new curbs on Iran. Chairman Tim Johnson, a South Dakota Democrat, said in a statement that he hasn't decided on timing for committee action.

"I don't know the outcome of negotiations now under way in Geneva, and I plan to wait to hear any results of those talks from our negotiators before making a final decision on any additional sanctions," Johnson said.  http://www.bloomberg.com/news/2013-11-08/netanyahu-attack-on-iran-deal-threatens-rift-with-u-s-.html
Both the Israelis and Saudis are concerned because they believe that Iran absolutely is developing nuclear weapons and that Iran is ran by the type of leaders that may very well use them.  Iran has repeatedly stated that it wants to eliminate the nation of Israel.  Iran has also made it clear that it wants to rule the Arab peoples and all Islam.
Well, Iran will not succeed in eliminating Israel or ruling over all the Arabs, it very well may make (and possibly try to use) nuclear bombs of some type.
In the past, the USA and Israel have stated that it was unacceptable for Iran to acquire nuclear weapons–but Israel's Prime Minister has been more vocal about many aspects of it than US President Obama has been.
As regular readers of the COGwriter news page are aware, I have been warning for some time that a regional war involving Iran, Israel, the USA, and/or Syria seems likely. And Israel and Iran keep taking steps which may help it get ready for such a war (Isaiah 22:6-13).
Since Iran, however, is NOT really south of Jerusalem (though it may support such a king per certain interpretations of the peoples listed in Ezekiel 30:1-9), it will not be the final King of the South of Bible prophecy (cf. Daniel 11:40-43). Because of that, I have tended to believe that Iran may somehow get "neutralized" before this final king rises up. A serious attack by the USA and/or Israel may neutralize Iran and much of its influence. It also may take a regional war for the seven-year confirmation of the deal in Daniel 9:27 to come about.
My reading and re-reading of Bible prophecy simply does not show that Iran will be a major player in Daniel 11:21-44 nor the deal of Psalm 83:4-8 (Arabs, Turks, and Europeans are).
"Neutralizing" Iran would allow most of the other Islamic states (like Saudi Arabia and Egypt) to continue to exist (Syria might not do well per Isaiah 17:1) and allow for the rising of the prophesied King of the South to rise up (revolution in Iran, is also another possibility, for its "neutralization").
Leaders in the USA and Israel have sometimes suggested that they may intervene and attack Iran. But if the USA and/or Israel do hit Iran, Iran would likely not fare well, but that does not mean that Israel and/or the USA would not suffer. Israel seems prophesied to possibly be hit by Iran per Isaiah 22:6-13.
And Israel's Prime Minister keeps making statements that suggests that he fully does intend to attack Iran over the nuclear matter. This is a matter those of us who follow prophecy should watch.
Some items of possibly related interest may include:
Is the Future King of the South Rising Up? Some no longer believe there needs to be a future King of the South. Might Egypt, Islam, Iran, Arabs, or Ethiopia be involved? Might this King be called the Mahdi or Caliph? What does the Bible say? A YouTube video of related interest may be: The Future King of the South is Rising.
The Arab and Islamic World In the Bible, History, and Prophecy The Bible discusses the origins of the Arab world, discusses Turkey and Iran, and discusses the Middle East in prophecy. What is ahead for the Middle East and those who follow Islam?
Jerusalem To be divided and eliminated Many want Jerusalem. Who does the Bible teach will control Jerusalem? Will the Jews be forced out of Jerusalem and many made captive? What did Jesus teach about this? Are nations even now considering providing the prophesied armies to surround Jerusalem? What is Jerusalem Day? What is Nakba Day? What events should Christians watch in Jerusalem as signs that the Great Tribulation will begin? What is the solution to Jerusalem? This is a video.
Jerusalem: Past, Present, and Future What does the Bible say about Jerusalem and its future? Is Jerusalem going to be divided and eliminated? Is Jesus returning to the area of Jerusalem?
Anglo – America in Prophecy & the Lost Tribes of Israel Are the Americans, Canadians, English, Scottish, Welsh, Australians, Anglo (non-Dutch) Southern Africans, and New Zealanders descendants of Joseph? Where are the lost ten-tribes of Israel? Who are the lost tribes of Israel? What will happen to Jerusalem and the Jews in Israel? Will God punish the U.S.A., Canada, United Kingdom, and other Anglo nations? Why might God allow them to be punished first?
Who is the King of the West? Why is there no End-Time King of the West in Bible Prophecy? Is the United States the King of the West?
When Will the Great Tribulation Begin? 2013, 2014, or 2015? Can the Great Tribulation begin today? What happens before the Great Tribulation in the "beginning of sorrows"? What is the seven-year deal? What happens in the Great Tribulation and the Day of the Lord? Is this the time of the Gentiles? When is the earliest that the Great Tribulation can begin? What is the Day of the Lord? Who are the 144,000?
Barack Obama, Prophecy, and the Destruction of the United States-Second Edition for Second Obama Term This is a 160 page book for people truly interested in prophecies related to Barack Obama and the United States, including learning about many that have already been fulfilled (which the book documents in detail) and those that will be fulfilled in the future. It also has a chapter about a Republican choice. This book is available to order at www.barackobamaprophecy.com. The physical book can also be purchased at Amazon from the following link: Barack Obama, Prophecy, and the Destruction of the United States: Is Barack Obama Fulfilling Biblical, Islamic Catholic, Kenyan, and other America-Related Prophecies? What About Republican Leaders? Second Edition for Second Obama Term.
Barack Obama, Prophecy, and the Destruction of the United States-Second Term-Amazon Kindle edition. This electronic version is available for only US$2.99. And you do not need an actual Kindle device to read it. Why? Amazon will allow you to download it to almost any device: Please click HERE to download one of Amazon s Free Reader Apps. After you go to for your free Kindle reader and then go to Barack Obama, Prophecy, and the Destruction of the United States-Second Term-Amazon Kindle edition.