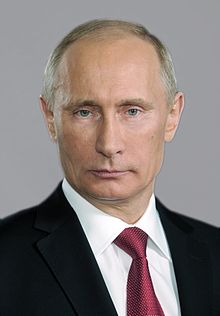 Vladimir Putin (www.kremlin.ru)

The Vatican-supporting news agency Zenit reported the following:
Vatican City,

The Vatican has confirmed that Pope Francis will meet Russian President Vladimir Putin in private audience later this month.

Although details are still being worked out, the Holy See press office said the meeting is scheduled to take place in the afternoon of November 25.

President Putin has recently been defending Christianity both domestically and internationally, not notably in his vocal defense of persecuted Christians in the Middle East. Like the Vatican, he also sought to prevent escalation of the conflict in Syria after a chemical weapons attack in August.  http://www.zenit.org/en/articles/russian-president-putin-to-meet-pope-francis
As regular readers of this news page are aware, I have reported that Vladimir Putin is perhaps the most powerful political leader in the world who has come out against the recent increased acceptance of homosexuality in the West (see Russia's Putin blasts West on Syria and Western media disapproves of his position on homosexuality and Obama goes on Leno and supposedly cancels meeting with Russia's Putin because of Snowden asylum).  Vladimir Putin is part of the Russian Orthodox Church.
The relationship between the Russian Orthodox Church and the Vatican is complex and has tended to be filled with distrust, but with some shared interests.
On January 27, 2009, I posted that I believed that the Russian Orthodox would be a bit distant, but ultimately to a degree at least, cooperate with the Church of Rome (see New Russian Orthodox Patriarch). Interestingly, the Russian Orthodox Patriarch Kirill has sometimes sounded "ecumenical" and cooperative since the Fall of 2009. Metropolitan Kirill was once so opposed to unity with the Vatican, that a few days prior to his election to his current position in January 2009, he publicly stated "there is no room for compromise" with the Vatican (see Russian Orthodox Leader Urges No Compromise With Catholics). However, by mid-November 2009, he apparently changed his mind (Cooper R. Russian Orthodox and Catholic church may end 950-year rift. Telegraph, November 13, 2009).
Sadly, since taking office, Patriarch Kirill and his followers have sometimes taken steps to get into closer unity with Rome and others. Plus he has been fairly involved in Russian politics and was a factor in Vladimir Putin's "re-election" to the Russian presidency in 2012:
Prime Minister Vladimir Putin has taken a day off from "commitments of government," according to his spokesman. And religious leaders have formally endorsed the candidacy.

Hosted by the Russian Orthodox Patriarch Kirill – who described the Putin era a "miracle" – the event has brought to the monastery of St. Daniel in Moscow, representatives of both the so-called 'traditional religions' (Orthodox, Buddhist, Muslim and Jews) and non (Catholics, Armenians and other Christian denominations). Kirill "blessed" the political ambitions of the Prime Minister, calling him the "candidate who certainly has the best chance to turn his candidacy into a real office."

The patriarch, who supported the demands for change expressed by the protesters who took to the streets against electoral fraud in December, urging the authorities to listen to the people – then thanked Putin for the "crucial role" played in moving the country out of crisis of the 1990s. Kirill then defined the last 12 years a "miracle" for the Church in Russia. Vladimir Vladimirovich Putin was president from 2000 to 2008, when he was appointed prime minister by the current head of the Kremlin, Dmitri Medvedev. (Achmatova A. Kirill and religious leaders "bless" Putin's candidacy. February 13, 2012. http://www.asianews.it/news-en/Kirill-and-religious-leaders-bless-Putin%25E2%2580%2599s-candidacy-23956.html viewed 05/06/12)
Some are displeased with the support of Putin by the leadership of the Russian Orthodox Church:
Critics of Russian Orthodox Church say it's sold its soul to Putin

May 13, 2012…Kirill himself is a focus of the growing opposition to the church.

The patriarch's reputation has been tarnished by a pair of scandals involving a $38,832 Breguet watch he was seen wearing and a court case in which he sought $630,000 from a cancer-stricken neighbor — despite his monastic vows not to have any worldly possessions while serving the church.

And just as Putin is supported by gangs of youth thugs who intimidate his opponents, the church enjoys the backing of its own roaming enforcers of orthodoxy — tacitly approved of by church leaders…

Political analyst Stanislav Belkovsky said the church has turned into the Kremlin's "Salvation Ministry," obediently approving Kremlin policies and slamming Western democracy as concepts alien to Russian traditions — all the while enjoying hefty government donations and tax immunity.

"The church inherited its full loyalty to the existing government from Soviet times," Belkovsky said.  http://seattletimes.nwsource.com/html/nationworld/2018204136_russiachurch14.html
Despite the political nature of the Russian Orthodox Patriarch, whatever arrangements he and/or President Putin may temporarily make with the Vatican in the future will not last per Daniel 11:44 and other scriptures–for more details, please see Russia: Its Origins and Prophesied Future. But temporary cooperation with Rome seems prophesied (cf. Revelation 13 and 17).
Steps towards such a temporary union are taking place.
Some items of possibly related interest may include:
Some Similarities and Differences Between the Eastern Orthodox Church and the Continuing Church of God Both groups claim to be the original church, but both groups have differing ways to claim it. Both groups have some amazing similarities and some major differences. Do you know what they are?
Orthodox Must Reject Unity with the Roman Catholics Unity between these groups will put them in position to be part of the final end time Babylon that the Bible warns against as well as require improper compromise.
Which Is Faithful: The Roman Catholic Church or the Continuing Church of God? Do you know that both groups shared a lot of the earliest teachings? Do you know which church changed? Do you know which group is most faithful to the teachings of the apostolic church? Which group best represents true Christianity? This documented article answers those questions. [Português: Qual é fiel: A igreja católica romana ou a igreja do deus?]
Why Should American Catholics Should Fear Unity with the Orthodox? Are the current ecumenical meetings a good thing or will they result in disaster? Is doctrinal compromise good?
Cross-dressing and other assaults against your children.  What should you do? Is there an agenda to turn your children and/or grandchildren away from biblical morality and towards practices promoted by homosexuals? What does the Bible teach about cross-dressing? What should parents do? If there is an agenda, what has been going on?  There is also a YouTube video on this, titled Cross dressing and Other Assaults Against Your Children.
The Bible Condemns Homosexuality "Same-sex marriage" for "gays" and lesbians is becoming more acceptable to many. What does the Bible teach about homosexuality?  Can homosexuals change?
The Eurasian Union, the Kings of the East, and Bible Prophecy Is there a Eurasian union that will be formed? Is one being formed right now? Are any leaders working on that in the 21st century? Does the Bible teach that there will be a Eurasian union? If some type of Eurasian union is formed, who might it benefit and who will it destroy? A related video would be Is The Eurasian Union Rising?
Is Russia the King of the North? Some claim it is. But what does the Bible teach? Here is a link to a video, also titled Is Russia the King of the North?
Russia: Its Origins and Prophesied Future Where do the Russians come from? What about those in the Ukraine? What is prophesied for Russia and its allies? What will they do to the Europeans that supported the Beast in the end?